Alisertib Induces Cell Cycle Arrest, Apoptosis, Autophagy and Suppresses EMT in HT29 and Caco-2 Cells
1
Department of Gastrointestinal Surgery, Shunde First People's Hospital Affiliated to Southern Medical University, Guangdong 528300, China
2
Department of Pharmaceutical Sciences, College of Pharmacy, University of South Florida, 12901 Bruce B. Downs Blvd., MDC 30, Tampa, FL 33612, USA
*
Authors to whom correspondence should be addressed.
Academic Editor: William Chi-shing Cho
Received: 2 November 2015 / Revised: 7 December 2015 / Accepted: 9 December 2015 / Published: 29 December 2015
Abstract
Colorectal cancer (CRC) is one of the most common malignancies worldwide with substantial mortality and morbidity. Alisertib (ALS) is a selective Aurora kinase A (AURKA) inhibitor with unclear effect and molecular interactome on CRC. This study aimed to evaluate the molecular interactome and anticancer effect of ALS and explore the underlying mechanisms in HT29 and Caco-2 cells. ALS markedly arrested cells in G
2
/M phase in both cell lines, accompanied by remarkable alterations in the expression level of key cell cycle regulators. ALS induced apoptosis in HT29 and Caco-2 cells through mitochondrial and death receptor pathways. ALS also induced autophagy in HT29 and Caco-2 cells, with the suppression of phosphoinositide 3-kinase (PI3K)/protein kinase B (Akt)/mammalian target of rapamycin (mTOR), but activation of 5′ AMP-activated protein kinase (AMPK) signaling pathways. There was a differential modulating effect of ALS on p38 MAPK signaling pathway in both cell lines. Moreover, induction or inhibition of autophagy modulated basal and ALS-induced apoptosis in both cell lines. ALS potently suppressed epithelial to mesenchymal transition (EMT) in HT29 and Caco-2 cells. Collectively, it suggests that induction of cell cycle arrest, promotion of apoptosis and autophagy, and suppression of EMT involving mitochondrial, death receptor, PI3K/Akt/mTOR, p38 MAPK, and AMPK signaling pathways contribute to the cancer cell killing effect of ALS on CRC cells.
View Full-Text
►

▼

Figures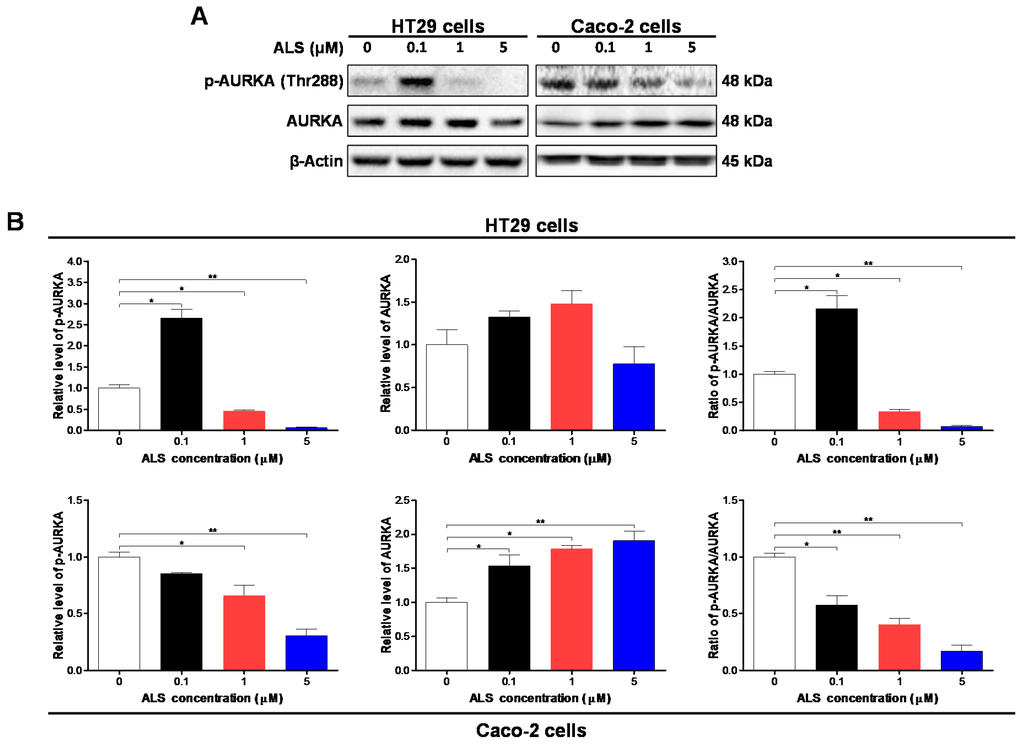 Figure 1
This is an open access article distributed under the
Creative Commons Attribution License
which permits unrestricted use, distribution, and reproduction in any medium, provided the original work is properly cited (CC BY 4.0).

Share & Cite This Article
MDPI and ACS Style
Ren, B.-J.; Zhou, Z.-W.; Zhu, D.-J.; Ju, Y.-L.; Wu, J.-H.; Ouyang, M.-Z.; Chen, X.-W.; Zhou, S.-F. Alisertib Induces Cell Cycle Arrest, Apoptosis, Autophagy and Suppresses EMT in HT29 and Caco-2 Cells. Int. J. Mol. Sci. 2016, 17, 41.
Note that from the first issue of 2016, MDPI journals use article numbers instead of page numbers. See further details here.
Related Articles
Comments
[Return to top]