Dimethyl Fumarate Protects Neural Stem/Progenitor Cells and Neurons from Oxidative Damage through Nrf2-ERK1/2 MAPK Pathway
1
Department of Neurology, University of Michigan Medical School, 4015 Alfred Taubman Biomedical Sciences Research Building, 109 Zina Pitcher Place, Ann Arbor, MI 48109-2200, USA
2
Department of Internal Medicine, Division of Rheumatology, University of Michigan Medical School, Ann Arbor, MI 48109-2200, USA
3
Geriatrics Research, Education, and Clinical Center (GRECC), VA Ann Arbor Healthcare Center, Ann Arbor, MI 48109-2200, USA
4
Department of Biomedical Engineering, University of Michigan, Ann Arbor, MI 48109-2200, USA
5
Graduate Program in Immunology, Program in Biomedical Sciences, University of Michigan Medical School, Ann Arbor, MI 48109-2200, USA
*
Author to whom correspondence should be addressed.
Academic Editors: Christoph Kleinschnitz and Sven Meuth
Received: 8 May 2015 / Revised: 9 June 2015 / Accepted: 12 June 2015 / Published: 17 June 2015
Abstract
Multiple sclerosis (MS) is the most common multifocal inflammatory demyelinating disease of the central nervous system (CNS). Due to the progressive neurodegenerative nature of MS, developing treatments that exhibit direct neuroprotective effects are needed. Tecfidera™ (BG-12) is an oral formulation of the fumaric acid esters (FAE), containing the active metabolite dimethyl fumarate (DMF). Although BG-12 showed remarkable efficacy in lowering relapse rates in clinical trials, its mechanism of action in MS is not yet well understood. In this study, we reported the potential neuroprotective effects of dimethyl fumarate (DMF) on mouse and rat neural stem/progenitor cells (NPCs) and neurons. We found that DMF increased the frequency of the multipotent neurospheres and the survival of NPCs following oxidative stress with hydrogen peroxide (H
2
O
2
) treatment. In addition, utilizing the reactive oxygen species (ROS) assay, we showed that DMF reduced ROS production induced by H
2
O
2
. DMF also decreased oxidative stress-induced apoptosis. Using motor neuron survival assay, DMF significantly promoted survival of motor neurons under oxidative stress. We further analyzed the expression of oxidative stress-induced genes in the NPC cultures and showed that DMF increased the expression of transcription factor nuclear factor-erythroid 2-related factor 2 (
Nrf2
) at both levels of RNA and protein. Furthermore, we demonstrated the involvement of Nrf2-ERK1/2 MAPK pathway in DMF-mediated neuroprotection. Finally, we utilized SuperArray gene screen technology to identify additional anti-oxidative stress genes (
Gstp1
,
Sod2
,
Nqo1
,
Srxn1
,
Fth1
). Our data suggests that analysis of anti-oxidative stress mechanisms may yield further insights into new targets for treatment of multiple sclerosis (MS).
View Full-Text
►

▼

Figures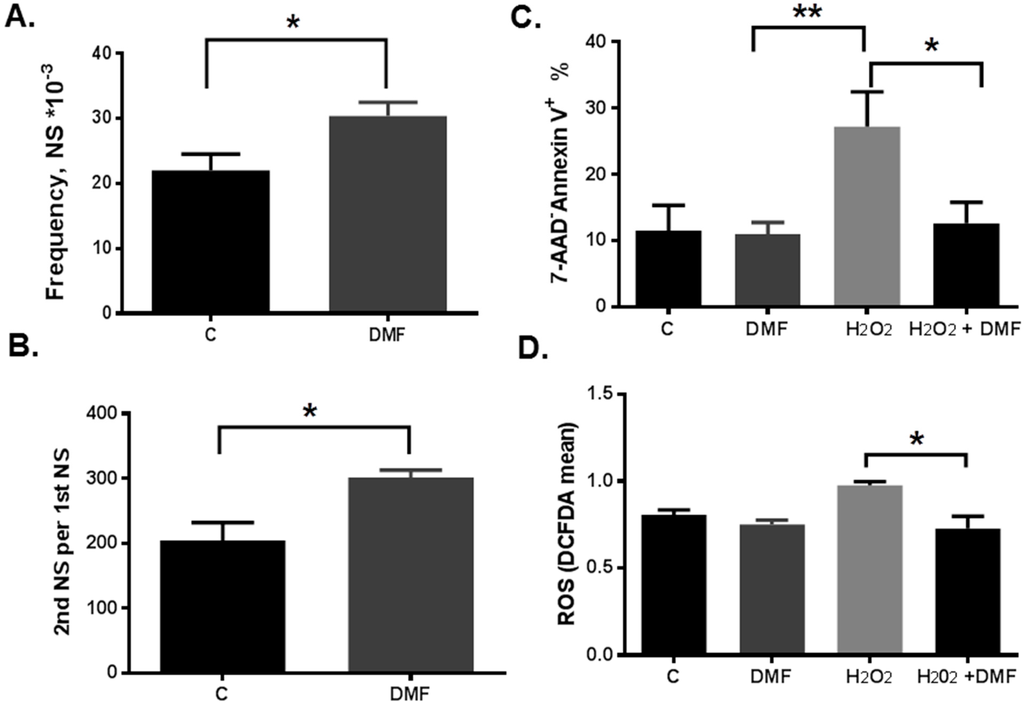 Figure 1
This is an open access article distributed under the
Creative Commons Attribution License
which permits unrestricted use, distribution, and reproduction in any medium, provided the original work is properly cited (CC BY 4.0).

Share & Cite This Article
MDPI and ACS Style
Wang, Q.; Chuikov, S.; Taitano, S.; Wu, Q.; Rastogi, A.; Tuck, S.J.; Corey, J.M.; Lundy, S.K.; Mao-Draayer, Y. Dimethyl Fumarate Protects Neural Stem/Progenitor Cells and Neurons from Oxidative Damage through Nrf2-ERK1/2 MAPK Pathway. Int. J. Mol. Sci. 2015, 16, 13885-13907.
Related Articles
Comments
[Return to top]