Neuropeptide Trefoil Factor 3 Reverses Depressive-Like Behaviors by Activation of BDNF-ERK-CREB Signaling in Olfactory Bulbectomized Rats
1
National Institute on Drug Dependence, Peking University, Beijing 100191, China
2
Department of Pharmacology, School of Basic Medical Sciences, Peking University Health Science Center, Beijing 100191, China
3
Beijing Key Laboratory on Drug Dependence Research, Beijing 100191, China
4
The State Key Laboratory of Natural and Biomimetic Drugs, Beijing 100191, China
5
Key Laboratory for Neuroscience of the Ministry of Education and Ministry of Public Healthy, Beijing 100191, China
*
Authors to whom correspondence should be addressed.
Academic Editors: Domenico de Berardis and Michele Fornaro
Received: 21 October 2015 / Revised: 16 November 2015 / Accepted: 17 November 2015 / Published: 30 November 2015
Abstract
The trefoil factors (TFFs) are a family of three polypeptides, among which TFF1 and TFF3 are widely distributed in the central nervous system. Our previous study indicated that TFF3 was a potential rapid-onset antidepressant as it reversed the depressive-like behaviors induced by acute or chronic mild stress. In order to further identify the antidepressant-like effect of TFF3, we applied an olfactory bulbectomy (OB), a classic animal model of depression, in the present study. To elucidate the mechanism underlying the antidepressant-like activity of TFF3, we tested the role of brain-derived neurotrophic factor (BDNF)-extracellular signal-related kinase (ERK)-cyclic adenosine monophosphate response element binding protein (CREB) signaling in the hippocampus in the process. Chronic systemic administration of TFF3 (0.1 mg/kg, i.p.) for seven days not only produced a significant antidepressant-like efficacy in the OB paradigm, but also restored the expression of BDNF, pERK, and pCREB in the hippocampal CA3. Inhibition of BDNF or extracellular signal-related kinase (ERK) signaling in CA3 blocked the antidepressant-like activity of TFF3 in OB rats. Our findings further confirmed the therapeutic effect of TFF3 against depression and suggested that the normalization of the BDNF-ERK-CREB pathway was involved in the behavioral response of TFF3 for the treatment of depression.
View Full-Text
►

▼

Figures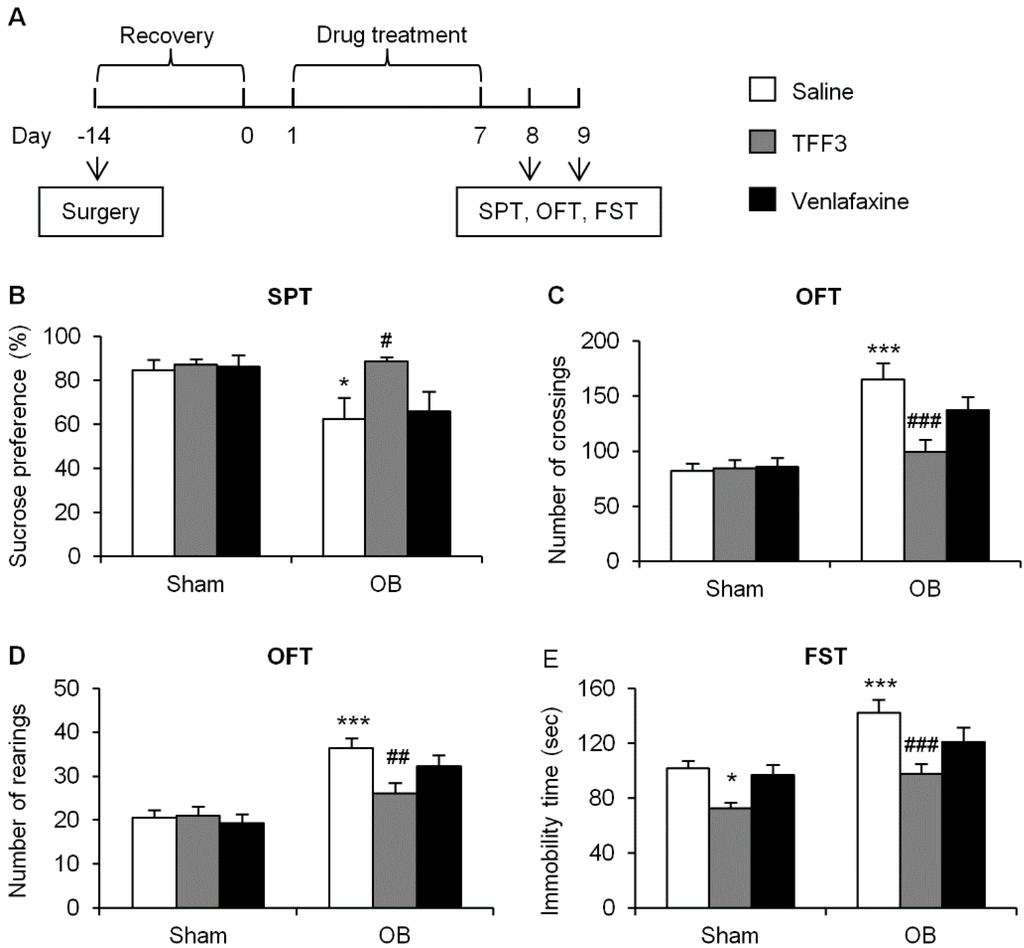 Figure 1
This is an open access article distributed under the
Creative Commons Attribution License
which permits unrestricted use, distribution, and reproduction in any medium, provided the original work is properly cited (CC BY 4.0).

Share & Cite This Article
MDPI and ACS Style
Li, J.; Luo, Y.; Zhang, R.; Shi, H.; Zhu, W.; Shi, J. Neuropeptide Trefoil Factor 3 Reverses Depressive-Like Behaviors by Activation of BDNF-ERK-CREB Signaling in Olfactory Bulbectomized Rats. Int. J. Mol. Sci. 2015, 16, 28386-28400.
Related Articles
Comments
[Return to top]