Interleukins 6 and 15 Levels Are Higher in Subcutaneous Adipose Tissue, but Obesity Is Associated with Their Increased Content in Visceral Fat Depots
1
Department of Human Epigenetics, Mossakowski Medical Research Centre, Polish Academy of Sciences, 5 Pawinskiego Street, 02-106 Warsaw, Poland
2
Department of General and Transplantation Surgery, Medical University of Warsaw, 59 Nowogrodzka Street, 02-005 Warsaw, Poland
3
Department of Internal Medicine and Cardiology, Medical University of Warsaw, Lindleya 4, 02-005 Warsaw, Poland
4
Department of Geriatrics and Gerontology, Medical Centre of Postgraduate Education, 99 Marymoncka Street, 01-813 Warsaw, Poland
†
These authors contributed equally to this work.
*
Authors to whom correspondence should be addressed.
Academic Editor: Toshiro Arai
Received: 15 September 2015 / Revised: 8 October 2015 / Accepted: 15 October 2015 / Published: 28 October 2015
Abstract
Excess adiposity is associated with chronic inflammation, which takes part in the development of obesity-related complications. The aim of this study was to establish whether subcutaneous (SAT) or visceral (VAT) adipose tissue plays a major role in synthesis of pro-inflammatory cytokines. Concentrations of interleukins (IL): 1β, 6, 8 and 15 were measured at the protein level by an ELISA-based method and on the mRNA level by real
-
time PCR in VAT and SAT samples obtained from 49 obese (BMI > 40 kg/m
2
) and 16 normal-weight (BMI 20–24.9 kg/m
2
) controls.
IL-6 and IL-15 protein concentrations were higher in SAT than in VAT for both obese (
p
= 0.003 and
p
< 0.0001, respectively) and control individuals (
p
= 0.004 and
p
= 0.001, respectively), while for IL-1β this was observed only in obese subjects (
p
= 0.047). What characterized obese individuals was the higher expression of IL-6 and IL-15 at the protein level in VAT compared to normal-weight controls (
p
= 0.047 and
p
= 0.016, respectively). Additionally, obese individuals with metabolic syndrome had higher IL-1β levels in VAT than did obese individuals without this syndrome (
p
= 0.003). In conclusion, concentrations of some pro-inflammatory cytokines were higher in SAT than in VAT, but it was the increased pro-inflammatory activity of VAT that was associated with obesity and metabolic syndrome.
View Full-Text
►

▼

Figures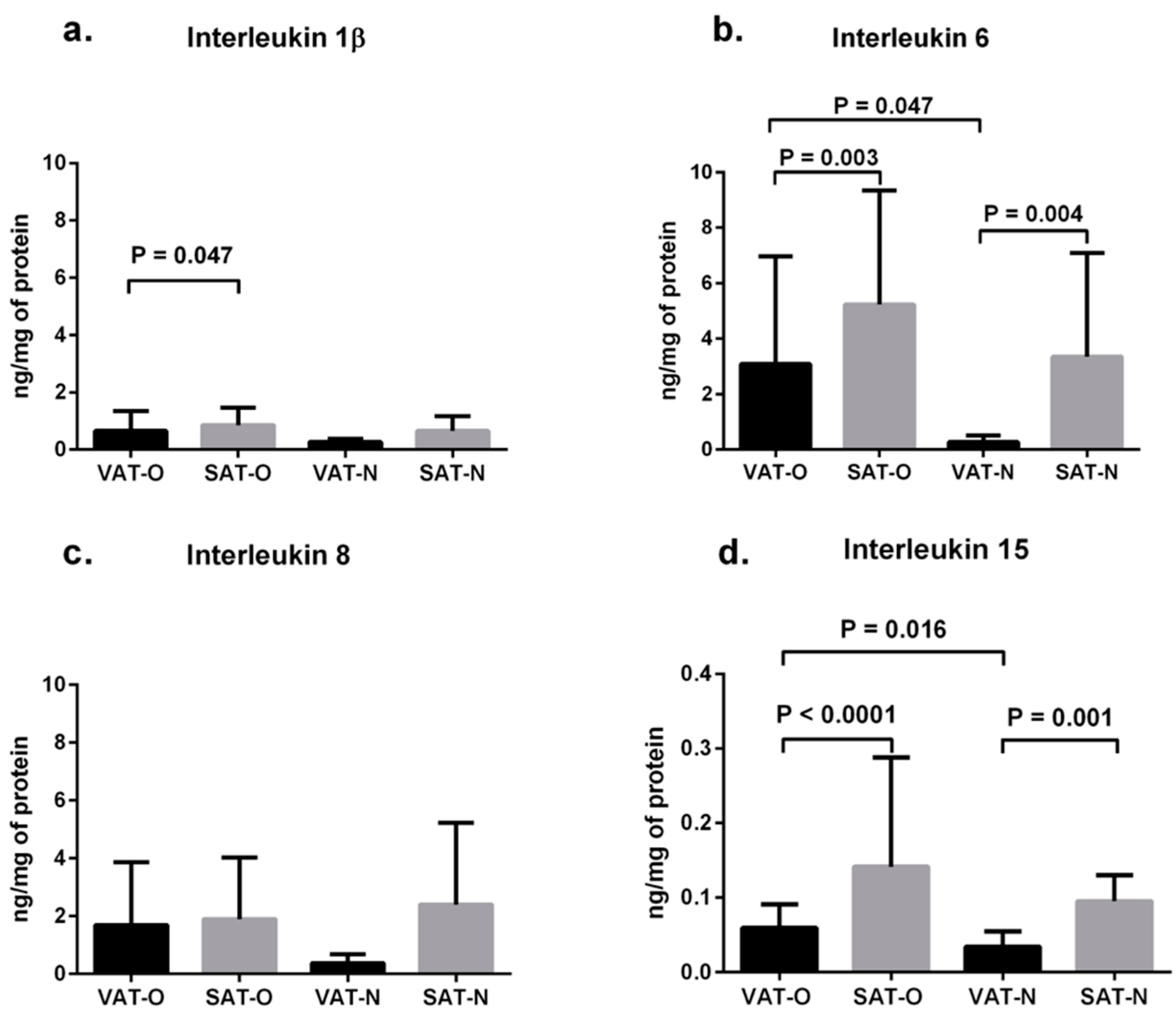 Figure 1
This is an open access article distributed under the
Creative Commons Attribution License
which permits unrestricted use, distribution, and reproduction in any medium, provided the original work is properly cited (CC BY 4.0).

Share & Cite This Article
MDPI and ACS Style
Jonas, M.I.; Kurylowicz, A.; Bartoszewicz, Z.; Lisik, W.; Jonas, M.; Wierzbicki, Z.; Chmura, A.; Pruszczyk, P.; Puzianowska-Kuznicka, M. Interleukins 6 and 15 Levels Are Higher in Subcutaneous Adipose Tissue, but Obesity Is Associated with Their Increased Content in Visceral Fat Depots. Int. J. Mol. Sci. 2015, 16, 25817-25830.
Related Articles
Comments
[Return to top]