G Protein-Coupled Receptor 87 (GPR87) Promotes Cell Proliferation in Human Bladder Cancer Cells
1
Department of Urology, Kagawa University Faculty of Medicine, 1750-1 Ikenobe, Miki-cho, Kita-gun, Kagawa 761-0793, Japan
2
Department of General Thoracic Surgery, Kagawa University Faculty of Medicine, 1750-1 Ikenobe, Miki-cho, Kita-gun, Kagawa 761-0793, Japan
3
Department of Cardiovascular Physiology, Kagawa University Faculty of Medicine, 1750-1 Ikenobe, Miki-cho, Kita-gun, Kagawa 761-0793, Japan
*
Authors to whom correspondence should be addressed.
Academic Editor: Kathleen Van Craenenbroeck
Received: 3 July 2015 / Revised: 21 September 2015 / Accepted: 24 September 2015 / Published: 14 October 2015
Abstract
G protein-coupled receptor 87 (GPR87) is a newly deorphanized member of the cell surface molecule G protein-coupled receptor family. GPR signaling was shown to play a role in promotion of cell growth and survival, metastasis, and drug resistance. The overexpression of GPR87 has also been reported in many malignant tumors including bladder cancer. The aim of the present study is to examine the effect of silencing GPR87 expression with a replication-deficient recombinant adenoviral vector expressing short hairpin RNA targeting GPR87 (Ad-shGPR87) and to explore the underlying molecular mechanisms in bladder cancer cells. Six GPR87-expressing human bladder cancer cells, HT1197, HT1376, J82, RT112, TCCSUP and UMUC3, were used. Infection with Ad-shGPR87 effectively downregulated the GPR87 expression, and significantly reduced the percentage of viable cells in 4 of 6 cell lines as detected by an MTT assay. Significant inhibition on cell proliferation with Ad-shGPR87 was observed in the wild-type p53 bladder cancer cell lines (HT1197, RT112, TCCSUP and UMUC3), but not in the mutant p53 cells (HT1376 and J82). As represented by a wild-type p53 RT112 cell, Ad-shGPR87 infection significantly enhanced p53 and p21 expression and caused caspase-dependent apoptosis. Furthermore, the treatment with Ad-shGPR87 exerted a significant antitumor effect against the GPR87-expressing RT112 xenografts. GPR87 appeared to be a promising target for gene therapy, and Ad-shGPR87 had strong antitumor effects, specifically anti-proliferative and pro-apoptotic effects, against GPR87-expressing human bladder cancer cells.
View Full-Text
►

▼

Figures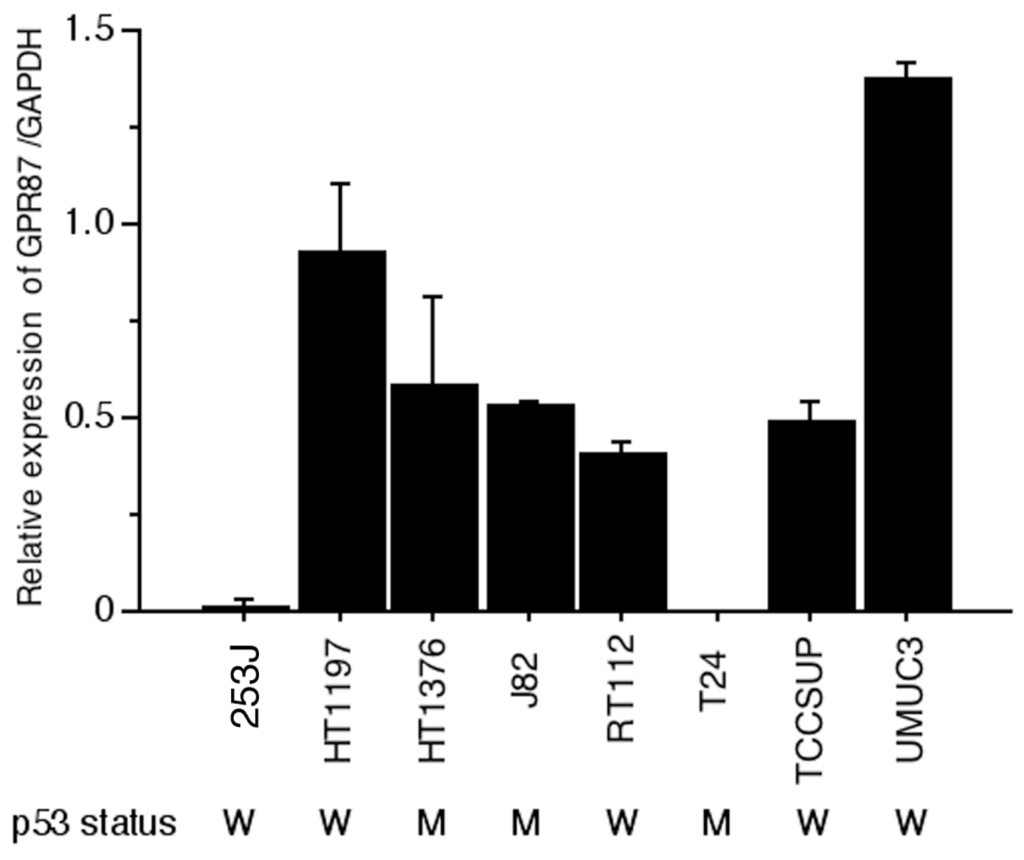 Figure 1
This is an open access article distributed under the
Creative Commons Attribution License
which permits unrestricted use, distribution, and reproduction in any medium, provided the original work is properly cited (CC BY 4.0).

Share & Cite This Article
MDPI and ACS Style
Zhang, X.; Liu, D.; Hayashida, Y.; Okazoe, H.; Hashimoto, T.; Ueda, N.; Sugimoto, M.; Kakehi, Y. G Protein-Coupled Receptor 87 (GPR87) Promotes Cell Proliferation in Human Bladder Cancer Cells. Int. J. Mol. Sci. 2015, 16, 24319-24331.
Related Articles
Comments
[Return to top]