Active Transport Can Greatly Enhance Cdc20:Mad2 Formation
1
Al-Qunfudah University College, Umm Al-Qura University, 1109 Makkah Al-Mukarramah, Saudi Arabia
2
Al-Qunfudah Center for Scientific Research (QCSR), 21912 Al-Qunfudah, Saudi Arabia
3
Bio Systems Analysis Group, Institute of Computer Science, Jena Center for Bioinformatics and Friedrich Schiller University, 07743 Jena, Germany
*
Author to whom correspondence should be addressed.
Received: 28 August 2014 / Revised: 30 September 2014 / Accepted: 11 October 2014 / Published: 21 October 2014
Abstract
To guarantee genomic integrity and viability, the cell must ensure proper distribution of the replicated chromosomes among the two daughter cells in mitosis. The mitotic spindle assembly checkpoint (SAC) is a central regulatory mechanism to achieve this goal. A dysfunction of this checkpoint may lead to aneuploidy and likely contributes to the development of cancer. Kinetochores of unattached or misaligned chromosomes are thought to generate a diffusible "wait-anaphase" signal, which is the basis for downstream events to inhibit the anaphase promoting complex/cyclosome (APC/C). The rate of Cdc20:C-Mad2 complex formation at the kinetochore is a key regulatory factor in the context of APC/C inhibition. Computer simulations of a quantitative SAC model show that the formation of Cdc20:C-Mad2 is too slow for checkpoint maintenance when cytosolic O-Mad2 has to encounter kinetochores by diffusion alone. Here, we show that an active transport of O-Mad2 towards the spindle mid-zone increases the efficiency of Mad2-activation. Our in-silico data indicate that this mechanism can greatly enhance the formation of Cdc20:Mad2 and furthermore gives an explanation on how the "wait-anaphase" signal can dissolve abruptly within a short time. Our results help to understand parts of the SAC mechanism that remain unclear.
View Full-Text
►

▼

Figures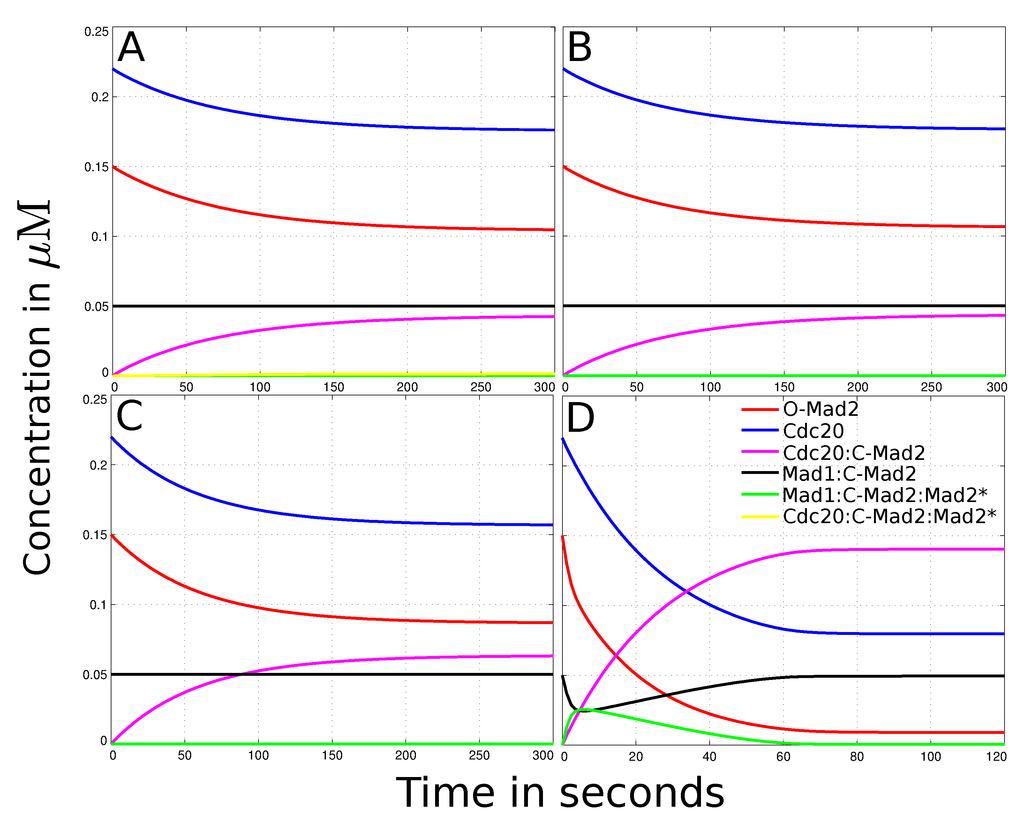 Figure 1
This is an open access article distributed under the
Creative Commons Attribution License
which permits unrestricted use, distribution, and reproduction in any medium, provided the original work is properly cited (CC BY 4.0).

Share & Cite This Article
MDPI and ACS Style
Ibrahim, B.; Henze, R. Active Transport Can Greatly Enhance Cdc20:Mad2 Formation. Int. J. Mol. Sci. 2014, 15, 19074-19091.
Related Articles
Comments
[Return to top]