Angiogenesis-Related Pathways in the Pathogenesis of Ovarian Cancer
Department of Clinical Therapeutics, Medical School, University of Athens, Alexandra Hospital, 80 Vas. Sofias Avenue, Athens 115 28, Greece
*
Author to whom correspondence should be addressed.
Received: 20 May 2013 / Revised: 13 June 2013 / Accepted: 27 June 2013 / Published: 30 July 2013
Abstract
Ovarian Cancer represents the most fatal type of gynecological malignancies. A number of processes are involved in the pathogenesis of ovarian cancer, especially within the tumor microenvironment. Angiogenesis represents a hallmark phenomenon in cancer, and it is responsible for tumor spread and metastasis in ovarian cancer, among other tumor types, as it leads to new blood vessel formation. In recent years angiogenesis has been given considerable attention in order to identify targets for developing effective anti-tumor therapies. Growth factors have been identified to play key roles in driving angiogenesis and, thus, the formation of new blood vessels that assist in "feeding" cancer. Such molecules include the vascular endothelial growth factor (VEGF), the platelet derived growth factor (PDGF), the fibroblast growth factor (FGF), and the angiopoietin/Tie2 receptor complex. These proteins are key players in complex molecular pathways within the tumor cell and they have been in the spotlight of the development of anti-angiogenic molecules that may act as stand-alone therapeutics, or in concert with standard treatment regimes such as chemotherapy. The pathways involved in angiogenesis and molecules that have been developed in order to combat angiogenesis are described in this paper.
View Full-Text
►

▼

Figures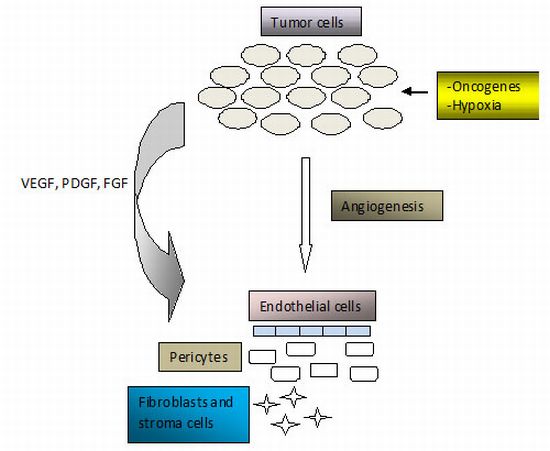 Graphical abstract

Share & Cite This Article
MDPI and ACS Style
Gavalas, N.G.; Liontos, M.; Trachana, S.-P.; Bagratuni, T.; Arapinis, C.; Liacos, C.; Dimopoulos, M.A.; Bamias, A. Angiogenesis-Related Pathways in the Pathogenesis of Ovarian Cancer. Int. J. Mol. Sci. 2013, 14, 15885-15909.
Related Articles
Comments
[Return to top]