Open Access This article is
freely available
re-usable
Review
Biophysical Techniques for Detection of cAMP and cGMP in Living Cells
Emmy Noether Group of the DFG, Department of Cardiology and Pneumology, European Heart Research Insitute Göttingen, Georg August University Medical Center, University of Göttingen, Göttingen 37075, Germany
*
Author to whom correspondence should be addressed.
Received: 31 January 2013; in revised form: 22 March 2013 / Accepted: 7 April 2013 / Published: 12 April 2013
Abstract
:
Cyclic nucleotides cAMP and cGMP are ubiquitous second messengers which regulate myriads of functions in virtually all eukaryotic cells. Their intracellular effects are often mediated via discrete subcellular signaling microdomains. In this review, we will discuss state-of-the-art techniques to measure cAMP and cGMP in biological samples with a particular focus on live cell imaging approaches, which allow their detection with high temporal and spatial resolution in living cells and tissues. Finally, we will describe how these techniques can be applied to the analysis of second messenger dynamics in subcellular signaling microdomains.
Keywords:
cAMP; cGMP; Förster resonance energy transfer (FRET); bioluminescence resonance energy transfer (BRET); imaging; compartmentation; microdomain
1. Introduction
In this review, we will summarize state-of-the-art techniques to measure cyclic nucleotide concentrations in cells and tissues. In particular, we will focus on biophysical approaches to study cAMP and cGMP compartmentation and dynamics in living cells with high temporal and spatial resolution.
2. Techniques to Measure Cyclic Nucleotides
2.1. Biochemical Methods
Radioimmunoassays (RIAs) allow quantification of total cAMP or cGMP concentrations in various cells and tissues [
45
–
47
]. RIAs use immobilized anti-cAMP or anti-cGMP antibodies and
125
I-labeled cAMP/cGMP as a tracer molecule. The
125
I-labeled cAMP/cGMP binds to the specific antibodies, and a radioactive signal can be detected. Upon addition of a cell or tissue sample to the anti-cAMP/cGMP antibodies, the cAMP or cGMP from the sample competes with the
125
I-labeled cAMP/cGMP and the radioactive signal decreases, inversely proportional to the cAMP/cGMP concentration in the sample. Using a calibration curve, the amount of free cAMP or cGMP in a sample can be determined.
There are also several non-radioactive approaches to measure cyclic nucleotide concentration
in vitro
, such as enzyme-linked immunoassays. Here, the cyclic nucleotide from the sample binds to a specific first antibody and competes with the cGMP conjugated to alkaline phosphatase. The reagent mixtures are normally incubated in a secondary antibody coated multiwell plate, and the enzyme activity can be quantified by adding a substrate, which is converted into a colored product. The different antibody-based techniques are described in more detail elsewhere [
47
]. In principle, it is also possible to use Western blot analysis as an indirect way to detect changes in cyclic nucleotide levels. cAMP and cGMP activate PKA and PKG, respectively, and these kinases, in turn, phosphorylate several substrates. The phosphorylation status of these target proteins can be detected by phospho-specific antibodies as an indirect measure of intracellular cAMP and cGMP concentrations.
Despite being quite sensitive and specific, all biochemical methods described above require high amounts of cells or tissues that need to be disrupted. This makes it impossible to analyze real-time dynamics of cyclic nucleotides in various subcellular microdomains under physiologically relevant conditions. Therefore, it is necessary to use additional approaches which allow the visualization of cyclic nucleotide fluctuations in single living cells with high temporal and spatial resolution as described in the following sections.
2.2. Cyclic Nucleotide Gated Channels (CNGCs)
Cyclic nucleotide gated channels (CNGCs) are nonselective cation channels in the plasma membrane, which consist of four subunits, each bearing an intracellular binding site for cAMP and cGMP. The channels are activated upon binding of these cyclic nucleotides [
13
,
48
,
49
] leading to a measurable cation current and an increase in intracellular calcium [
50
]. This CNG current (I
CNG
) can be recorded by a patch-clamp technique. Alternatively, calcium influx through these channels can be visualized using calcium sensitive dyes [
51
–
53
]. Both approaches prove an indirect measure of subsarcolemmal cyclic nucleotide concentrations (see
Figure 1a
).
Rich and colleagues introduced rat olfactory CNGC α-subunits as sensors for subsarcolemmal cAMP (see
Table 1
). These sensors can be expressed in various cell types using transfection or adenoviral gene transfer. When heterologously expressed, the α-subunits form homomultimeric channels. In C6-2B glioma cells, stimulation of endogenous ACs with the direct activator forskolin resulted in high cAMP concentrations close to the channels, while the global cytosolic cAMP concentration remained relatively low [
54
]. This led to the conclusion that CNGCs co-localize with ACs in the subsarcolemmal compartment, supporting the theory of compartmentalized cAMP signaling.
Wildtype CNGC α-subunits have a relatively low affinity for cAMP (~36 μM), while showing a much higher affinity for cGMP (~1.6 μM). Therefore, a series of mutants with increased affinity for cAMP (up to 1 μM in the C460W/E583M double-mutant) were generated and used to measure compartmentalized cAMP signaling in various cells, including adult rat ventricular cardiomyocytes (ARVMs) [
53
,
55
]. Due to their high affinity for cGMP, wildtype CNGCs have been used for real-time monitoring of cGMP. This has been extensively done to understand the visual transduction in retinal rods which show endogenous CNGC expression [
56
]. It was possible to unravel the interaction of cGMP specific PDEs and GCs [
57
], to understand the nature of single photon response [
58
] and to determine the cGMP concentration required for the dark current activation [
59
]. In ARVMs, adenoviral expression and measurements using wildtype CNGCs uncovered the role of various PDE families in shaping subcellular cGMP dynamics [
60
] and the regulatory role of PKG in cGMP accumulation in ARVMs [
61
] (see Section 3).
Although CNGCs as biosensors helped clarify several molecular mechanisms involved in the regulation of compartmentalized cyclic nucleotide signaling at the membrane, this technique has many important limitations, such as, its restriction to only one subsarcolemmal compartment and low cAMP/cGMP selectivity. The need for rather sophisticated electrophysiological measurements has further restricted the broad application of the technique.
2.3. Förster Resonance Energy Transfer (FRET) Based Sensors
The techniques described above are suitable approaches to measure cAMP and cGMP concentrations in cell lysates or to monitor their real-time dynamics close to the plasma membrane. However, these techniques either lack any spatial resolution or are too restricted to a specific location within the cell. Therefore, other methods have been developed to monitor cyclic nucleotide dynamics in living cells under real-time conditions. One important approach uses Förster resonance energy transfer (FRET) to generate biosensors for cyclic nucleotides. FRET is a non-radiative energy transfer between an excited donor and an acceptor fluorophore which leads to specific fluorescence emission of the acceptor without its direct excitation [
62
]. The donor and the acceptor fluorophores need to be in close proximity, usually at a distance of less than 10 nm, and in favorable spatial orientation to allow the energy transfer to take place [
63
]. The degree of FRET can be measured by various approaches, of which the most popular is represented by simple ratiometry. In this case, emission intensities of the donor and the acceptor molecules upon donor excitation are detected, and the FRET signal is calculated on a donor/acceptor or acceptor/donor ratio. Based on FRET, several biosensors for cAMP and cGMP have been developed which follow some common designs (see
Figure 1b
,
Table 1
).
2.3.1. FRET Sensors to Detect cAMP
2.3.1.1. Protein Kinase A (PKA) Based cAMP Sensors
2.3.1.2. Epac-Based cAMP Sensors
2.3.1.3. Cyclic Nucleotide Gated Channels (CNGC) Based cAMP Sensors
Cyclic nucleotide gated channels (CNGCs) contain a C-terminal cyclic nucleotide binding domain that is involved in channel gating [
8
]. Nikolaev
et al.
used a single cAMP binding domain from the murine hyperpolarization activated cyclic nucleotide-gated potassium channel 2 (HCN2) and sandwiched it between CFP and YFP [
88
]. The resultant cytosolic cAMP biosensor was called HCN2-camps and showed high dynamic range and optimized cAMP sensitivity (~ 6 μM) for cells with higher basal cAMP concentrations. This sensor was useful for real-time measurements of cAMP dynamics in cardiomyocytes. The authors generated a transgenic mouse line, which expresses HCN2-camps in a tissue-specific manner and measured cAMP responses in single freshly isolated adult cardiomyocytes. These experiments showed that local stimulation of β
1
-AR led to far-reaching cAMP diffusion patterns across the entire cell, while β
2
-AR-cAMP signals were highly locally confined by an unknown mechanism [
88
]. This approach allowed direct visualization of different cAMP spatial patterns induced by two G
s
-coupled receptors.
2.3.2. FRET Sensors to Detect cGMP
2.4. Single GFP-Linked Biosensors
cGMP signaling is believed to act in spatially defined compartments at low concentrations [
37
,
60
,
105
,
106
], which makes it necessary to create highly sensitive cGMP sensors which allow high temporal and spatial resolution of intracellular cGMP dynamics. Nausch
et al.
developed non-FRET cGMP biosensors which were called fluorescent indicators of cGMP (FlincGs), containing two in-tandem PKG-I derived cGMP binding sites fused to the N-terminus of a circularly permuted (
i.e.
, having a changed order of amino acid sequence) enhanced GFP (cpGFP) [
107
,
108
] (see
Figure 1c
). They used the differently truncated PKG-I variants α, β, δ, which differ in their N-terminal regulatory domain leading to α-FlincG, β-FlincG, and δ-FlincG, respectively. These sensors show diverse dynamic ranges, dissociation constants and selectivities for cGMP. Binding of cGMP to the PKG-derived sequence leads to a conformational changes and an increase of fluorescence from cpGFP. Especially rapid dissociation and association kinetics of δ-FlincG (affinity of 170 nM for cGMP and 48 μM for cAMP) allow detection of rapid changes in cGMP concentrations using confocal microscopy. The δ-FlincG biosensor was expressed in rat vascular smooth muscle cells (VSMCs) via adenoviral gene transfer. The cells were treated either with the NO-donor DEA-NO to activate sGC or with ANP to activate its receptor GC-A. Confocal microscopy was used to analyze spatially resolved changes of cGMP in real time. Stimulation with DEA-NO led to a transient and global increase of cGMP concentration, while ANP produced a sustained but clearly submembrane cGMP signal. ANP stimulation upon PDE5 inhibition had the same effect as DEA-NO stimulation leading to the conclusion that in rat VSMCs, sGC and pGC create distinct intracellular cGMP patterns, which are controlled by PDE5 [
108
].
δ-FlincG was also used to analyze cGMP signaling in the plant
Arabidopsis thaliana.
Isner and Maathuis investigated the influence of NO, gibberellic acid [
109
] and other plant hormones such as abscisin acid and brassinosteroids [
110
] on changes in cGMP concentrations, showing the broad application potential of this newly developed cGMP biosensor.
2.5. Bioluminescence Resonance Energy Transfer (BRET) Based Sensors
3. Analysis of Compartmentalized Cyclic Nucleotide Signaling
4. Conclusions and Outlook
Over the last few decades, a variety of powerful biophysical techniques and biosensors have been developed to allow direct visualization of cyclic nucleotides in intact living cells and tissues. These innovative methods should be further developed and applied to the analysis of compartmentalized cAMP and cGMP signaling. Compartmentation of cyclic nucleotides is a challenging field to investigate, and it will take a lot of effort to fully understand the complex interactions of receptors, PDEs, AKAPs, and cyclic nucleotides. Especially, imaging of cGMP is sometimes difficult because of its relatively low, compared to cAMP, concentrations. Therefore, new techniques and biosensors, which would provide high sensitivity, temporal and spatial resolution still need to be developed. Transgenic mouse models expressing genetically encoded cAMP and cGMP biosensors, either globally or targeted to specific microdomains, could greatly facilitate the investigation of cyclic nucleotide dynamics directly in functionally relevant subcellular compartments. Combination of such biosensors with the SICM technique could uncover the localization of the involved receptors and their interactions with cAMP and cGMP microdomains under normal and pathological conditions. Last but not least, the results gained in animal or cell culture models need to be verified in regard to their relevance for human cells and tissues.
Acknowledgments
The work in the authors' laboratory is supported by the Deutsche Forschungsgemeinschaft (grants NI 1301/1-1, SFB 1002 TP A01, FOR 2060 and IRTG1816 RP4 to V.O.N) and the University of Göttingen Medical Center ("pro futura" grant to V.O.N.).
Conflict of Interest
The authors declare no conflict of interest.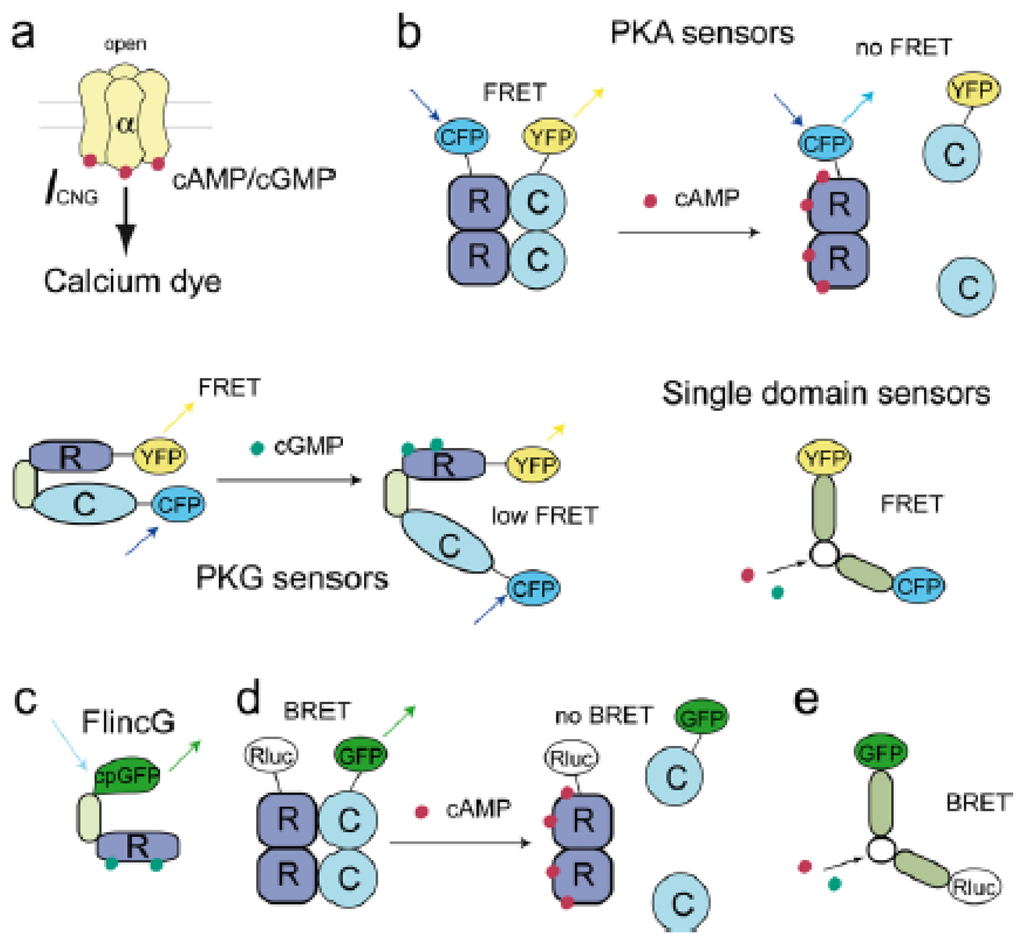 Figure 1. Common principles of biosensors designed to measure cAMP and cGMP. (a) Cyclic nucleotides can be monitored by directly measuring cyclic nucleotide gated channel (CNGC) currents or calcium influx through these channels by a calcium sensitive dye; (b) FRET sensors can be constructed based on the fluorophore-labeled protein kinase A (PKA) heterotetramer (R and C subunits), partially truncated protein kinase G (PKG) or single cAMP or cGMP binding domains; (c) Single circularly permuted cpGFP fused to cGMP binding sites from PKG can be used as a sensor for cGMP termed FlincG; (d,e) BRET biosensors use similar parts of proteins fused to Rluc and GFP.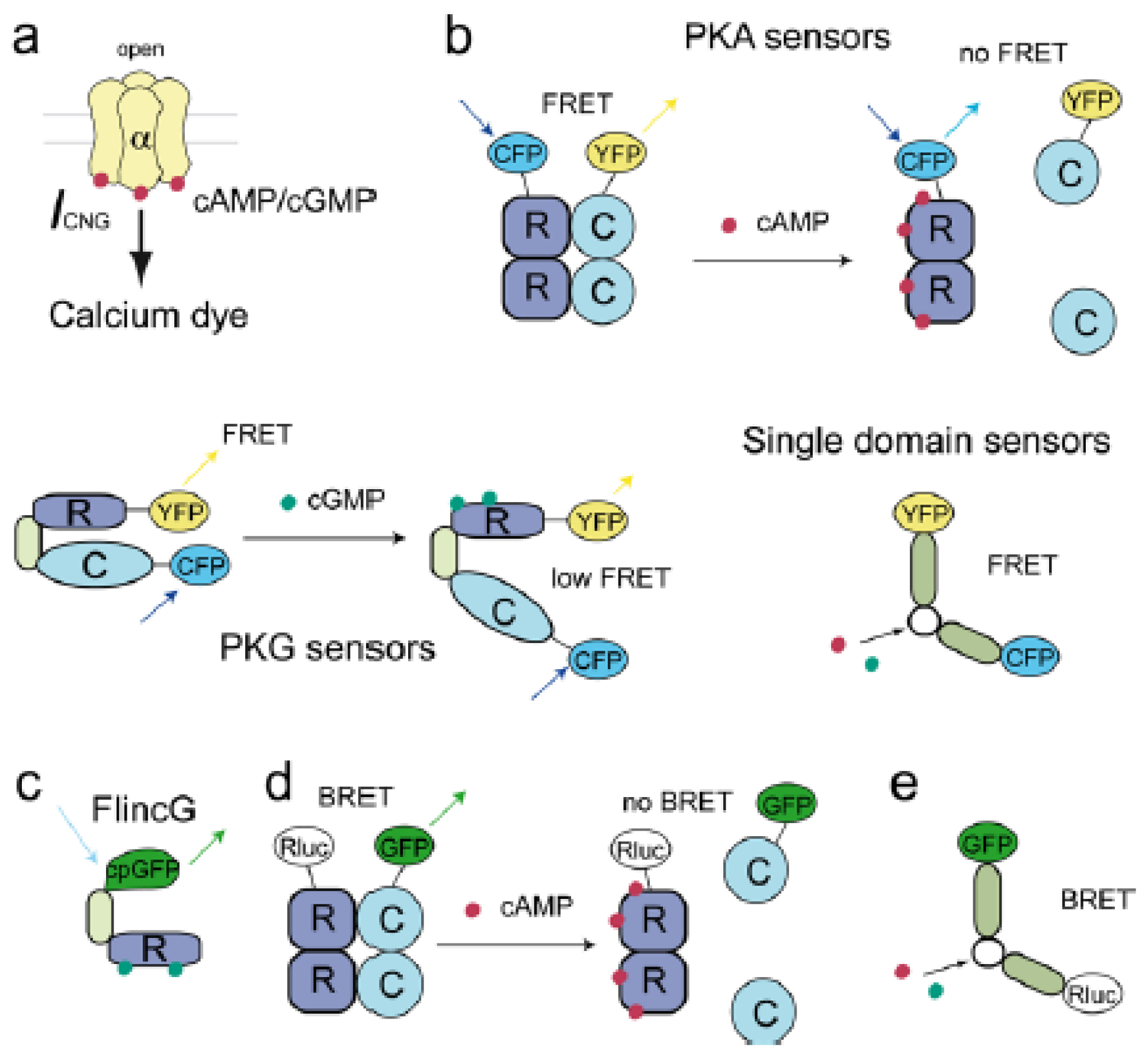 Table 1. Currently available Förster Resonance Energy Transfer (FRET) biosensors for cAMP, cGMP, and PKA activity.
Table 1. Currently available Förster Resonance Energy Transfer (FRET) biosensors for cAMP, cGMP, and PKA activity.
Biosensor
Sensitivity
Advantages/Disadvantages
References
CNGC -subunit
wildtype
C460W/E583M mutant
cAMP EC50 = 36 μM
cGMP EC50 = 1.6 μM
cAMP EC50 = 1 μM
Low cAMP/cGMP selectivity. Restriction to the subsarcolemmal compartment
[53,55]

FRET based biosensors

:
FlCRhR (PKA based)
cAMP EC50 = 90 nM
Chemical labeling, purification and microinjection Relatively slow kinetics
[64]
R-CFP, C-YFP (PKA based)
cAMP EC50 = 0.5–0.9 μM
Multimeric. Here and below: genetically encoded
[72–74]
PKA-camps (PKA based)
cAMP EC50 = 1.9 μM
Single-chain architecture
[78]
AKAR1-3
Not applicable
Measures PKA catalytic activity in real time
[79–81]
AKAR4
Not applicable
Improved dynamic range
[82]
Epac1/2-camps (Epac based)
cAMP EC50 = 2.4/0.9 μM
Single-chain. Faster kinetics than for multimeric sensors
[78]
Epac2-camp300
CFP-Epac-YFP
( DEP,CD)
cAMP EC50 = 300 nM
cAMP EC50 ~ 50 μM
cAMP EC50 ~ 15 μM
High sensitivity Single-chain. Relatively low sensitivity
[104]
[84,111,112]
ICUE1/2 (Epac based)
cAMP EC50 ~ 10–50 μM
As above
[83,87]
HCN2-camps (CNGC based)
cAMP EC50 = 6 μM
Good for cells with high basal cAMP concentrations
[88]
CGY-Del1
cGMP EC50 = 20 nM
Low cGMP/cAMP selectivity
[92,98]
Cygnet-1/2 (PKG based)
cGMP EC50 = 1.5/1.9 μM
Single-chain. Relatively low sensitivity and temporal resolution
[90]
cGES-DE2/5 (PDE2/5 based)
cGMP EC50 = 0.9/1.5 μM
Small size. Relatively low sensitivity
[98]
redcGES-DE5 (PDE5 based)
cGMP EC50 = 40 nM
High sensitivity
[99]
cGi-500/3000/6000 (PKG based)
cGMP EC50 = 500/3000/6000 nM
Small size. Relatively high sensitivity and dynamic range. Fast kinetics
[91]

Non-FRET sensors

: FlincGs cGMP
EC50 = 150nM (δ-FlincG)
Good dynamic range. Rapid kinetics
[108]
Table 2. Currently available targeted FRET biosensors for cAMP, cGMP and PKA activity.

| Targeted biosensor | Structure | Microdomain | References |
| --- | --- | --- | --- |
| RI_epac and RII_epac | N-terminal dimerization-docking domains of RI or RII fused to Epac1-camps | PKA-RI and PKA-RII | [126] |
| Epac1-camps-PDE3/4 | Fusion of Epac1-camps to N-terminus of PDEs | PDE3/4 | [127] |
| cGES-DE2-PDE5 | Fusion of cGES-DE2 to N-terminus of PDE5 | PDE5 | [127] |
| Epac1-camps-Hsp20 | Fusion of Epac1-camps to Hsp20 | Hsp20 | [128] |
| SR-AKAR3 | Fusion of AKAR3 to the N-terminal helical transmembrane domain of phospholamban | SR membrane | [129] |
| pm PKA-RII-CFP/C-YFP | 26 amino acid CAAX box sequence fused to the C-terminus of PKA-CFP | Subsarcolemmal | [130] |
| pmEpac2-camps and AC8-Epac2-camps pmEpac1-camps | 10 amino acid sequence form Lyn kinase or AC8 are fused to N-terminus of Epac1/2-camps | Subsarcolemmal caveolar or associated with AC8 | [111,112] |
| pm ICUE, NLS-ICUE, | mitoICUE Fusions of ICUE to CAAX box, nuclear localization signals or two different mitochondrial sequences | Subsarcolemmal, nuclear, mitochondrial | [83,131] |
© 2013 by the authors; licensee MDPI, Basel, Switzerland This article is an open access article distributed under the terms and conditions of the Creative Commons Attribution license (http://creativecommons.org/licenses/by/3.0/).