The Role of Metallothionein in Oxidative Stress
1
Central European Institute of Technology, Brno University of Technology, Technicka 3058/10, CZ-616 00 Brno, Czech Republic
2
Department of Chemistry and Biochemistry, Faculty of Agronomy, Mendel University in Brno, Zemedelska 1, CZ-613 00 Brno, Czech Republic
3
Department of Pathological Physiology, Faculty of Medicine, Masaryk University, Kamenice 5, CZ-612 00 Brno, Czech Republic
4
Department of Paediatric Haematology and Oncology, 2nd Faculty of Medicine, Charles University and University Hospital Motol, V Uvalu 84, CZ-150 06 Prague 5, Czech Republic
5
Department of Biochemistry, Faculty of Science, Charles University, Albertov 2030, CZ-128 40 Prague 2, Czech Republic
*
Author to whom correspondence should be addressed.
Received: 14 January 2013 / Revised: 14 February 2013 / Accepted: 20 February 2013 / Published: 15 March 2013
Abstract
Free radicals are chemical particles containing one or more unpaired electrons, which may be part of the molecule. They cause the molecule to become highly reactive. The free radicals are also known to play a dual role in biological systems, as they can be either beneficial or harmful for living systems. It is clear that there are numerous mechanisms participating on the protection of a cell against free radicals. In this review, our attention is paid to metallothioneins (MTs) as small, cysteine-rich and heavy metal-binding proteins, which participate in an array of protective stress responses. The mechanism of the reaction of metallothioneins with oxidants and electrophilic compounds is discussed. Numerous reports indicate that MT protects cells from exposure to oxidants and electrophiles, which react readily with sulfhydryl groups. Moreover, MT plays a key role in regulation of zinc levels and distribution in the intracellular space. The connections between zinc, MT and cancer are highlighted.
View Full-Text
►

▼

Figures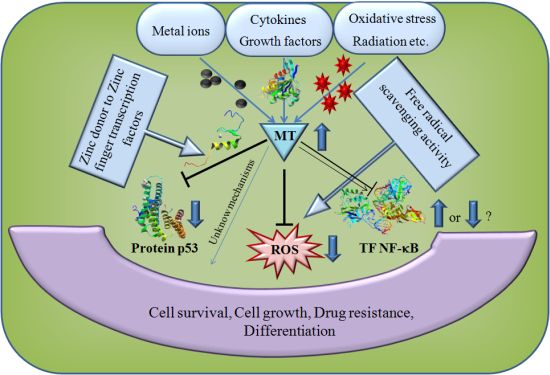 Graphical abstract

Share & Cite This Article
MDPI and ACS Style
Ruttkay-Nedecky, B.; Nejdl, L.; Gumulec, J.; Zitka, O.; Masarik, M.; Eckschlager, T.; Stiborova, M.; Adam, V.; Kizek, R. The Role of Metallothionein in Oxidative Stress. Int. J. Mol. Sci. 2013, 14, 6044-6066.
Related Articles
Comments
[Return to top]