Amyloidogenic Peptides in Human Neuro-Degenerative Diseases and in Microorganisms: A Sorrow Shared Is a Sorrow Halved?
Department of Psychiatry and Psychotherapy, University Medical Center Johannes Gutenberg-University Mainz, 55131 Mainz, Germany
Received: 28 January 2020 / Revised: 17 February 2020 / Accepted: 17 February 2020 / Published: 19 February 2020
The term "amyloid" refers to proteinaceous deposits of peptides that might be generated from larger precursor proteins e.g., by proteolysis. Common to these peptides is a stable cross-β dominated secondary structure which allows self-assembly, leading to insoluble oligomers and lastly to fibrils. These highly ordered protein aggregates have been, for a long time, mainly associated with human neurodegenerative diseases such as Alzheimer's disease (Amyloid-β peptides). However, they also exert physiological functions such as in release of deposited hormones in human beings. In the light of the rediscovery of our microbial commensals as important companions in health and disease, the fact that microbes also possess amyloidogenic peptides is intriguing. Transmission of amyloids by iatrogenic means or by consumption of contaminated meat from diseased animals is a well-known fact. What if also our microbial commensals might drive human amyloidosis or suffer from our aggregated amyloids? Moreover, as the microbial amyloids are evolutionarily older, we might learn from these organisms how to cope with the sword of Damocles forged of endogenous, potentially toxic peptides. This review summarizes knowledge about the interplay between human amyloids involved in neurodegenerative diseases and microbial amyloids.
2. The Impact of Host Amyloidogenic Peptides on Microbial Commensals
3. Occurrence and Function of Amyloidogenic Peptides in Microbial Organisms
4. Impact of Microbial Amyloids on Host Health and Neurodegeneration
In sum, microbial amyloids seem to have the potential to affect human amyloid aggregation. If this holds true for a situation bearing physiological concentrations and parameters within the human body will surely be difficult to demonstrate.
5. Therapeutic Strategies Derived from Microbes against Human Amyloidosis
Probiotics have been suggested for therapeutic usage in regard to human neurodegenerative diseases such as AD. First reports indicate successful application in animal models:
Lactobacillus plantarum
, for example, was able to restore cognition and levels of acetylcholine esterase in the brain of a D-galactose-evoked AD-like rat model [
94
]. Similar results were obtained from investigations using genetic AD mouse models with
Bifidobacterium breve
strain A1 [
95
], SLAB51 (probiotic formulation, [
96
]) but also with
Lactobacillus acidophilus
,
Lactobacillus fermentum
,
Bifidobacterium lactis
, and
Bifidobacterium longum
in rodent sporadic AD models due to amyloid-β injection [
97
,
98
,
99
]. As only one explorative intervention study reports on a small cohort of AD human patients [
100
], the usefulness in humans is still not proven. Additionally, the underlying mechanism has not been resolved. However, amyloids from microorganisms also might be target to this treatment as
Lactobacillus helveticus
is for example able to produce biosurfactants that are able to suppress biofilm formation from
S. aureus
[
101
]. Moreover, a modified functional amyloid from Pseudomonas (FapC) not only itself showed prolonged lag time for aggregation but additionally attenuated α-synuclein fibrillation in vitro [
102
]. While the authors of this report themselves doubted that wild type FapC might have an impact on α-synuclein deposition in the gut due to its rapid self-aggregation, speculation about administering bacteria with such modified proteins might be nevertheless warranted. Additionally, significant amyloid release from
E. coli
biofilms upon induction by prophages has been described which might contribute to development of Type 1 diabetes-associated autoimmunity in children [
103
]. The stimulus leading to prophage induction has not been identified yet; however, this might open up new avenues for controlling curli-release also in people at risk for developing neurodegenerative diseases.
Interestingly, the green tea polyphenol epigallocatechin-3-gallate (EGCG), which has been tested as a therapeutic drug in AD and PD in animal models but also in patients [
104
], shows anti-amyloidogenic properties also on bacterial biofilms [
105
]. This indicates that these biofilms might also serve as simple models for identifying and investigating amyloid-destabilizing drugs for human use.
6. Conclusions
Potentially, many more amyloids will in future be identified in microorganisms. A proteomics approach in different yeast strains e.g., revealed 33 amyloid-like detergent-resistant proteins in
Saccharomyces cerevisiae
[
106
]. Moreover, further functional amyloids still may have to be identified in mammals (for a recent example: RNA-binding protein FXR1, [
107
]). Some of the microbial amyloid producers are physiological commensals that have a continuous impact on our health status and some might represent occasionally occurring pathogens that could promote amyloid deposition in the human body. As the human amyloids partially have been shown to act anti-microbial, future investigations will have to consider this as an additional aspect in unravelling the gut-microbiota-brain axis in human amyloidoses.
Funding
The author appreciates the support by the Alfons Geib-Stiftung for Alzheimer's disease research.
Acknowledgments
The help of Francesco Valeri providing exemplary plaque-staining within mouse brain and of Mareike Keßler for staining of bacterial biofilm (both: Department of Psychiatry and Psychotherapy, University Medical Center JGU Mainz) is appreciated.
Conflicts of Interest
The author declares no conflict of interest. The funders had no role in the design of the study, in the collection, analyses, or interpretation of data, in the writing of the manuscript, or in the decision to publish the results.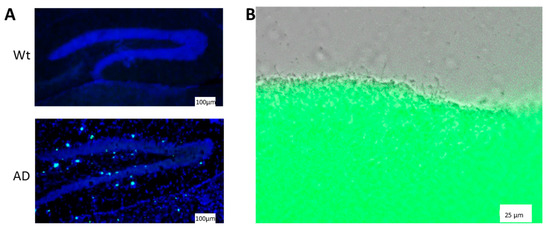 Figure 1.
Amyloid deposits in the brain of an AD mouse model and in
Escherichia coli
biofilm layer. (
A
) Sagittal sections of murine brain were fixed with 4% PFA and amyloid plaques stained with ThT (turquois spots; merged with blue counterstain of cell nuclei by DAPI). The region of hippocampus of an AD model mouse (5 × FAD, [
24
]) is shown in comparison to a wild type mouse brain (Wt). (
B
)
E. coli
bacteria (DH5α) were grown for 48 h on YESCA agar and the biofilm stained with ThT (shown is a merge of bright field and green fluorescent channel).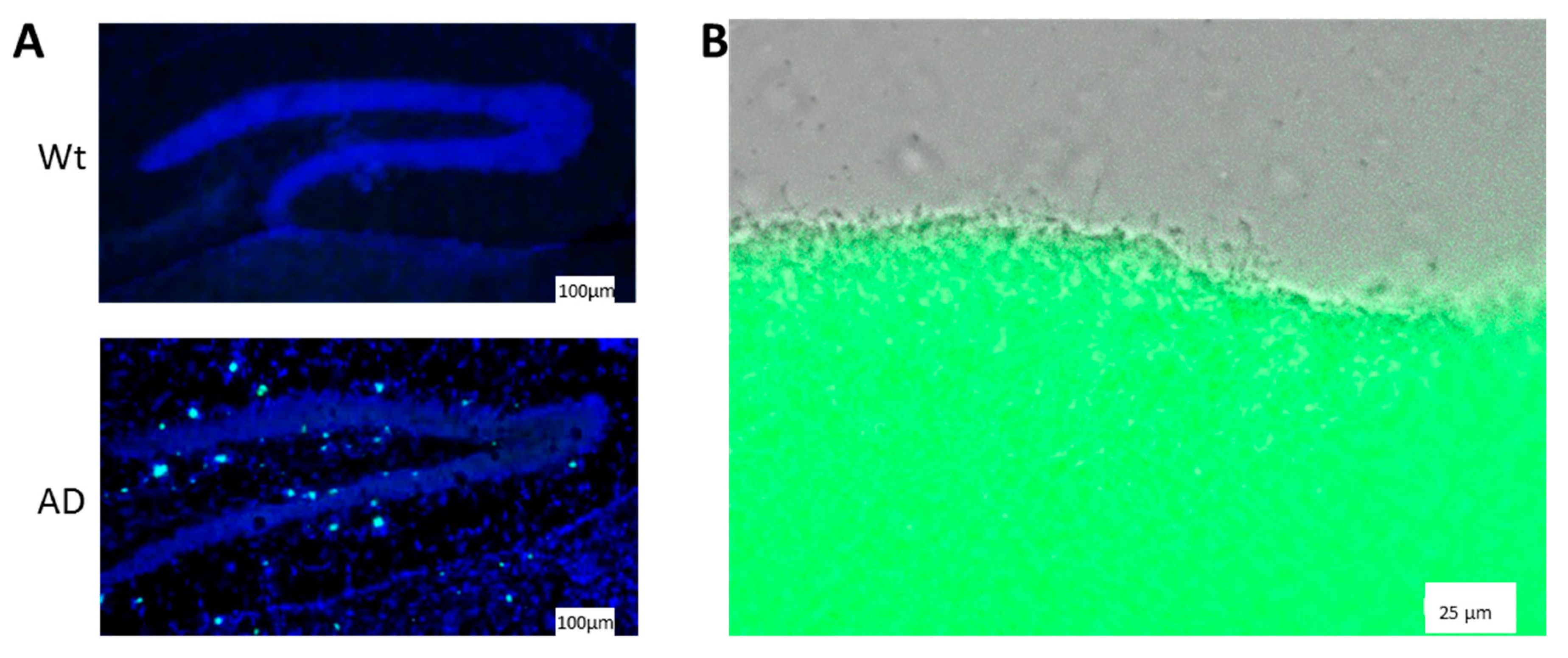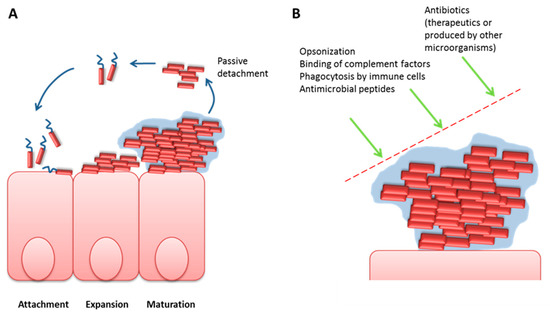 Figure 2.
Biofilm formation on a biotic surface and protection against harms. (
A
) Bacterial biofilms form in three main steps: after initial attachment, bacteria expand and start to produce specialized components such as cellulose [
45
] to form a protective "slime" along with forfeiting motility. In a later phase, the mature biofilm allows detachment of clumps of cells or newly built cells to translocate to new areas of settling. Pore-building by PSMs (see
Table 2
) is assumed to play a major role in these events. (
B
) While one can imagine the biofilm to provide an ecosystem with restricted access to nutrition and space, it in contrast provides an especially protected area against attacks of the host immune system but also against exogenously added drugs or toxic compounds of other microbial species.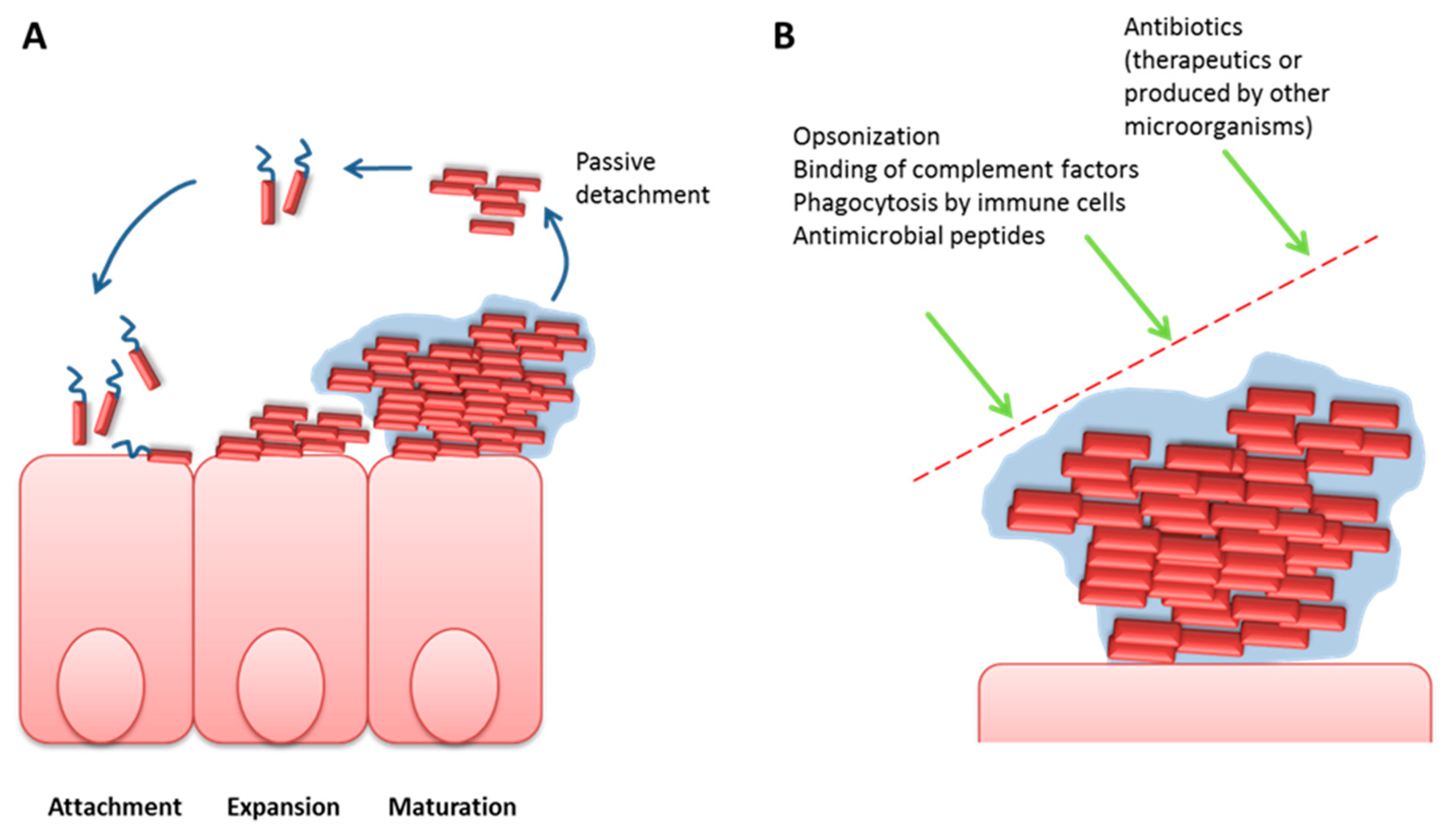 Table 1. Human amyloidoses with manifestation in the central nervous system (neurodegenerative disorders). While some proteins/peptides represent a characteristic hallmark for just one disease, some are also found in various diseases such as hyperphosphorylated Tau protein.
Name of Peptide or Protein
Disease
α-synuclein
Parkinson's disease (PD)
Lewy body disease
Multiple systemic atrophy
Amyloid-β
Alzheimer's disease (AD)
Ataxin
Spirocerebellar ataxia
F-box protein 7 (FBXO7)
Parkinson's disease (PD)/Alzheimer's disease (AD)
Prion protein (PrPsc)
Transmissible spongiform encephalopathy (TSE)
Tau (hyperphosphorylated)
Frontotemporal dementia (FTD)
Alzheimer's disease (AD)
Niemann Pick disease
Progressive supranuclear palsy
Amyotrophic lateral sclerosis (ALS)
Transactive response DNA binding protein 43 (TDP43)
Amyotrophic lateral sclerosis (ALS)
Alzheimer's disease (AD)
Frontotemporal lobar degeneration with ubiquitin-positive inclusions (FTLD-U)
Superoxide dismutase 1 (SOD1)
Amyotrophic lateral sclerosis (ALS)
Huntingtin (with polyQ tract >33 residues)
Huntington's disease

Table 2. Amyloidogenic proteins and peptides from microbial organisms. The indicated organism or family must not be imperatively the only organism producing the respective peptide or protein but was used in the underlying investigation. (nn: not known so far).
Name of Organism/Family
B = Bacterial F = Fungal
V = Viral
Name of Peptide or Protein
Function
Reference

B. burgdorferi

B
Peptide designed from outer surface protein A (Osp)A
nn
[63]

E. coli

B
RNA binding protein Hfq
Interaction with biological membranes, potentially export of RNA
[64]

E. coli

B
MinE
Interaction with biological membranes, lipid redistribution
[65,66]

E. coli

B
Hydrogenase maturation factor HypF (HypF-N)
Permeabilization of membranes
[67]
Enterobacteriaceae
B
CsgB
Biofilm formation
[47,68]

Gallibacterium anatis

*
B
Elongation factor-Tu (EF-Tu)
Adhesion-like function
[69]

Mannheimia haemolytica

B
Amyloid-like protein (ALP)
Cell adhesion, biofilm formation
[70]

Mycobacterium tuberculosis

B
Early secreted antigen 6-kDa protein (ESAT-6)
Potentially pore-formation
[71,72]

Pseudomonas aeruginosa

B
Functional Amyloid in Pseudomonas (Fap) C
Strengthening of biofilms
[73,74]

S. aureus

B
Phenol soluble modulins (PSMs)
Resistance of biofilms to various dispersion agents
[75]

S. aureus

B
N-terminal leader fragment of accessory gene regulatory (Agr) D
Seeding the amyloid polymerization of PSM peptides (in vitro)
[76]

S. epidermidis

B
C-repeat of Biofilm associated protein (Bap)
Potentially bacteria-bacteria-adhesion
[77]

C. albicans

F
Agglutinin-like sequence family 3 (Als3)
nn
[78]

Saccharomyces cerevisiae

F
glucantransferase Bgl2
Assumed cell protection against oxidative stress
[79]

Avibirnavirus infectious bursal disease virus (IBDV)

V
Viral protease VP4
Reduction of cytotoxicity of protease activity in host cells
[62]
Coronavirus
V
Peptide C6
nn
[80]

© 2020 by the author. Licensee MDPI, Basel, Switzerland. This article is an open access article distributed under the terms and conditions of the Creative Commons Attribution (CC BY) license (http://creativecommons.org/licenses/by/4.0/).