The Anti-Proliferation, Cycle Arrest and Apoptotic Inducing Activity of Peperomin E on Prostate Cancer PC-3 Cell Line
1
School of Pharmacy, Anhui University of Chinese Medicine, Hefei 230031, China
2
School of Basic Medical Science, Guizhou Medical University, Guiyang 550025, China
3
School of Life Sciences, Liaoning Normal University, Dalian 116081, China
*
Authors to whom correspondence should be addressed.
Received: 28 March 2019 / Revised: 12 April 2019 / Accepted: 12 April 2019 / Published: 15 April 2019
Abstract
Peperomin E is a natural secolignan existing distributed in the plants of the genus
Peperomia
. Previous investigations demonstrated that peperomin E showed potential antitumor activity in some cancer lines, but it is unclear whether peperomin E has an effect on prostate cancer cell lines. The aim of the present study is to investigate its effects on proliferation inhibition, apoptosis-inducing and cell-cycle arrest activity using a prostate cancer PC-3 cell line. The proliferation inhibition was evaluated by MTT assay, apoptosis was detected by Annexin V/propidium iodide (PI) staining and Hoechst 33258 staining, cell cycle distributions were measured by flow cytometry, and western blot analysis was used to determine specific cellular apoptotic protein expressions of Bcl-2, Bax, caspase-3 and cleaved-caspase-3. According to the results of this study, peperomin E exhibited significant anti-proliferation activity on PC-3 cell lines in vitro in a dose-dependent manner. Peperomin E treatments lead to marked morphological changes. Apoptotic cell count and cell-cycle distribution at G2/M phase significantly increased with increasing concentrations of peperomin E. The down-regulated expression level of Bcl-2 and up-regulated expression level of Bax and cleaved-caspase-3 compared with the controls were also observed after peperomin E treatment. These data suggest that peperomin E exhibited proliferation inhabitation, apoptosis-inducing and cell-cycle arrest activity on PC-3 cell lines. The anti-proliferation effect of peperomin E on PC-3 cells should result partly from its cell-cycle arrest and apoptosis-inducing activity, whereas the increasing of the Bax/Bcl-2 ratio and activation of caspases-3 play an important role in the development of apoptosis.
View Full-Text
►

▼

Figures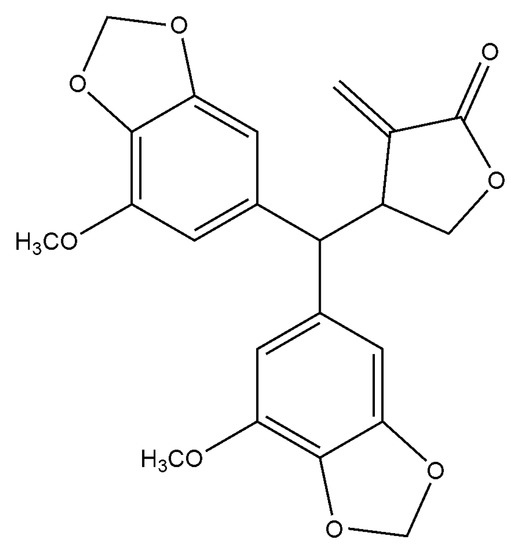 Figure 1
This is an open access article distributed under the
Creative Commons Attribution License
which permits unrestricted use, distribution, and reproduction in any medium, provided the original work is properly cited (CC BY 4.0).

Share & Cite This Article
MDPI and ACS Style
Li, Y.; Pan, J.; Gou, M. The Anti-Proliferation, Cycle Arrest and Apoptotic Inducing Activity of Peperomin E on Prostate Cancer PC-3 Cell Line. Molecules 2019, 24, 1472.
Note that from the first issue of 2016, MDPI journals use article numbers instead of page numbers. See further details here.
Related Articles
Comments
[Return to top]