Open Access This article is
freely available
re-usable
Article
Three Output Membrane Hydrocyclone: Classification and Filtration
Department of Chemical and Materials Engineering, Tamkang University, 151 Ying-chuan Road, Tamsui, Taipei 25137, Taiwan
*
Author to whom correspondence should be addressed.
Academic Editor: Teresa Poerio
Received: 5 March 2019 / Accepted: 19 March 2019 / Published: 21 March 2019
Abstract
:
In this study, through simulation and experimental verification, we proposed a novel hydrocyclone in which a tubular ceramic membrane passed through the overflow outlet to the underflow outlet. The centers of overflow and underflow outlets were tubular membranes equipped with an exit of outside-in filtration, and the overflow the underflow outlets were shaped into annular (donut shape) exits. Thus, this novel hydrocyclone has three outlets, namely the overflow dilute liquid, the underflow concentrated liquid, and clear filtrate. This system enabled higher dilution of hydrocyclone overflow concentration than that in the traditional system. Furthermore, underflow was more concentrated, and we obtained a clear filtrate. Therefore, this device can simultaneously perform classification and filtration, which is valuable for special liquid recycling. For instance, in wafer cutting fluid recovery in solar energy processes, the fluid with more silicon can function as the overflow, the fluid with more silicon carbide can function as the underflow, and the polyethylene glycol (PEG) organic solvent can function as the clear filtrate.
Keywords:
classification; filtration; membrane; hydrocyclone; three outputs
1. Introduction
Among the classifying equipment [
1
,
2
] currently available, hydrocyclones are one of the most popular pieces of equipment [
3
,
4
,
5
] and can be applied in minering [
6
] and bio-engineering [
7
,
8
] processes and slurry treatment [
9
] (an emerging field). Based on previous studies, hydrocyclones have proven to be universal devices with various advantages such as its compact size, no moving parts, simple and inexpensive manufacturing, and minimal maintenance.
In the past, several attempts have been made to design hydrocyclones with different structures and changing fluid characteristics, with special emphasis on the development of high separation efficiency hydrocyclones. For example, Yoshida et al. [
10
] developed an electric field-assisted cyclone capable of removing ultrafine particles (0.3 μm) with enhanced efficiency. Hwang and Chou [
11
] designed a vortex finder structure for improving hydrocyclone particle separation efficiency. Vieira et al. [
12
,
13
] proposed a filtering hydrocyclone, in which the conical portion was replaced by the filter material, which enhanced classification efficiency. Because of advances in computing technology [
14
], computational fluid dynamics (CFD) is being increasingly used in multiphase flow fields [
11
,
15
,
16
,
17
,
18
]. Hydrocyclone separator flow pattern complexity, changing hydrocyclone air core patterns, and unsteady flow have been discussed in previous studies. Large-eddy simulation (LES) has been used to simulate cyclone swirls [
19
,
20
,
21
]. LES is a dynamic simulation, and under the same structure and size, LES requires finer grid than any other simulation model. As long as the grid is sufficiently fine, the disturbance within the hydrocyclone flow field coordination can be clearly calculated through LES. Slack et al. [
22
] used LES to simulate cyclones and observed excellent velocity prediction. The LES turbulence model is an extension of the multiphase flow CFD model that includes the stream of hydrocyclone particles; this model may be a very effective tool to study the effect of the structure size on separation. Most importantly, the hydrocyclones that are replaced by various structures and sizes can be promptly examined. Today, not only does the overall behavior of the flow pattern inside the hydrocyclone prompt the universal application of the technology, but so do many numerical, CFD calculation, and experimental verification research [
23
,
24
,
25
]. Furthermore, the particle–fluid interaction force has been studied [
26
]. Relatively fewer studies have mentioned the effect of particle concentration. Two fluid numerical simulation models developed recently have shown the influence of particle concentration on hydrocyclone size; in smaller hydrocyclones, more fine particles flow out from the underflow, whereas in larger hydrocyclones, more coarse particles flow out from the overflow [
15
]. Velocity profiles demonstrated that the turbulence intensity in the vicinity of the air core and in the hydrocyclone inner wall was the highest and those in other locations were diminished [
27
]. At the spiral flow area under the overflow pipe, the radial pressure gradient, pressure disturbances, as well as the relative pressure disturbance were considerable. That is, the energy loss and turbulent energy dissipation in this region is severe [
28
]. Thus, controlling the central region of the hydrocyclone or controlling the turbulent structure at the spiral flow area is a highly effective method to improve performance [
29
].
Membrane filtration and centrifugal driving force have been demonstrated as efficient separation techniques to obtain valuable materials [
30
,
31
]. Thus, in this study, we inserted a tubular ceramic membrane in the central region of the hydrocyclone to offset the air core and change the turbulence structure for enhancing separation efficiency; when the tubular membrane was used, this hydrocyclone had one inlet and three outlets [
32
]. The three outlets are overflow, underflow, and filtrate, which satisfy classification and filtration requirements. The numerical solution can be implemented using commercial CFD FLUENT 6.1 software. The previously mentioned LES model implements turbulence simulation. After the flow field within the hydrocyclone was solved, the motion of the particle flow was tracked using the discrete phase model (DPM) in a Lagrangian reference frame. The CFD method can predict hydrocyclone performance under various operating conditions, and this has been confirmed in the literature [
20
,
33
,
34
]. In addition, the tubular membrane was compared by replacing it with a solid cylindrical tube. Traditional hydrocyclone is labeled THC; the hydrocyclone in which a solid cylinder is inserted in the center is labeled SHC; and the hydrocyclone with a tubular ceramic membrane inserted in the center is labeled MHC.
2. Results and Discussion
4. Conclusions
In this study, silicon carbide particles were used to implement hydrocyclone experiments, and the simulation verification was calculated by using Fluent CFD software. Air core areas with metal cylinders and ceramic tubular membranes were compared, and the effects of the separation phenomena of different hydrocyclones were explored.
By inserting a tubular membrane, the resultant hydrocyclone has three outlets, namely the overflow dilute liquid, underflow concentrated liquid, and clear filtrate. This hydrocyclone can accomplish classification and filtration. The proposed hydrocyclone had a classification function equivalent to that of the conventional hydrocyclone. However, the overflow concentration was relatively dilute, the underflow concentration was relatively concentrated, and a clear filtrate was obtained.
Author Contributions
Conceptualization, R.-M.W.; Methodology, R.-M.W.; Software, J.-Y.L.; Validation, J.-Y.L. and R.-M.W.; Formal Analysis, R.-M.W.; Investigation, J.-Y.L.; Resources, R.-M.W.; Data Curation, J.-Y.L.; Writing—Original Draft Preparation, R.-M.W.; Writing—Review & Editing, R.-M.W.; Visualization, J.-Y.L.; Supervision, R.-M.W.; Project Administration, R.-M.W.; Funding Acquisition, R.-M.W.
Funding
The authors would like to thank the National Science Council of the Republic of China, Taiwan, for financially supporting this research under contract No. NSC 97-2221-E-032-030-MY3.
Conflicts of Interest
The authors declare no conflict of interest.
| | |
| --- | --- |
| | Sample Availability: Samples of the compounds are not available from the authors. |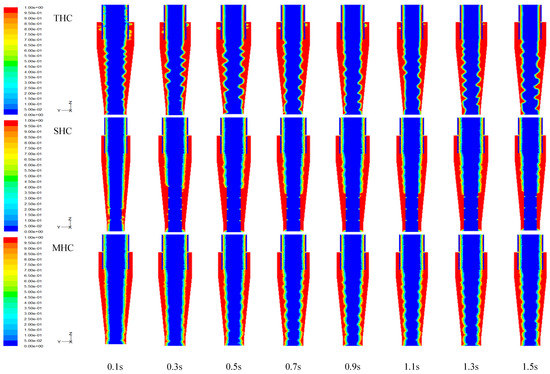 Figure 1. Transient development of air core structure in the hydrocyclone separator system obtained from CFD simulations.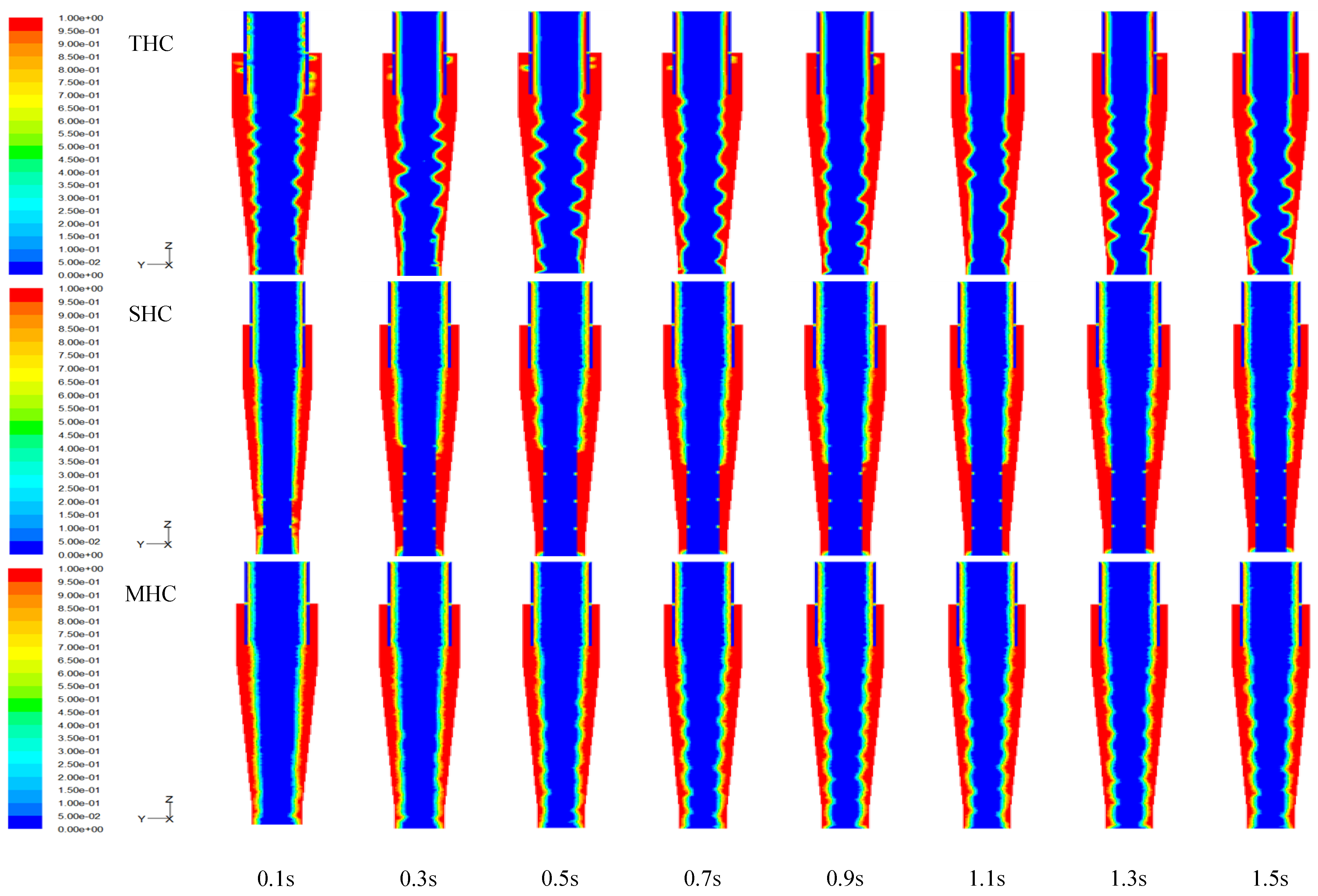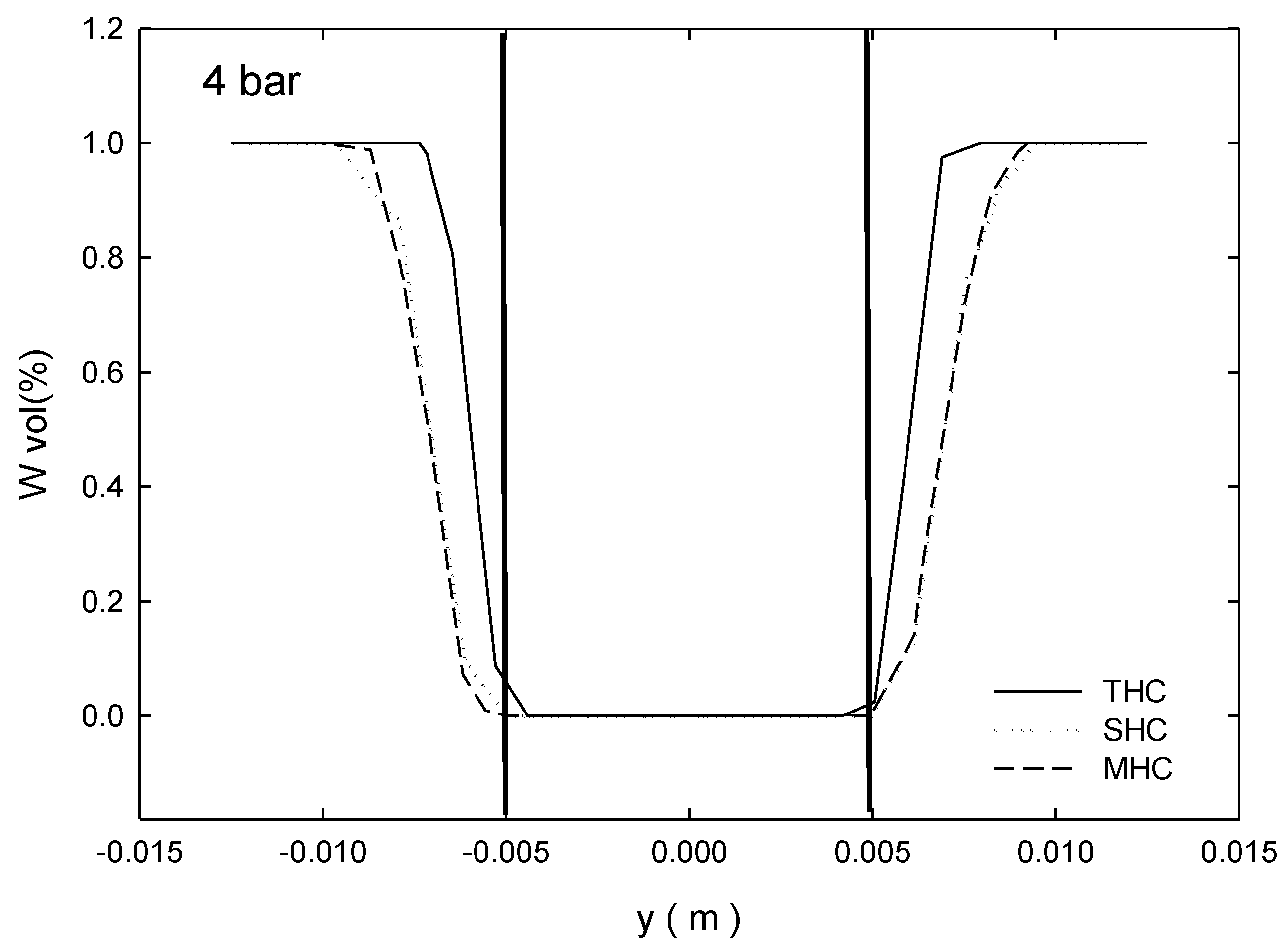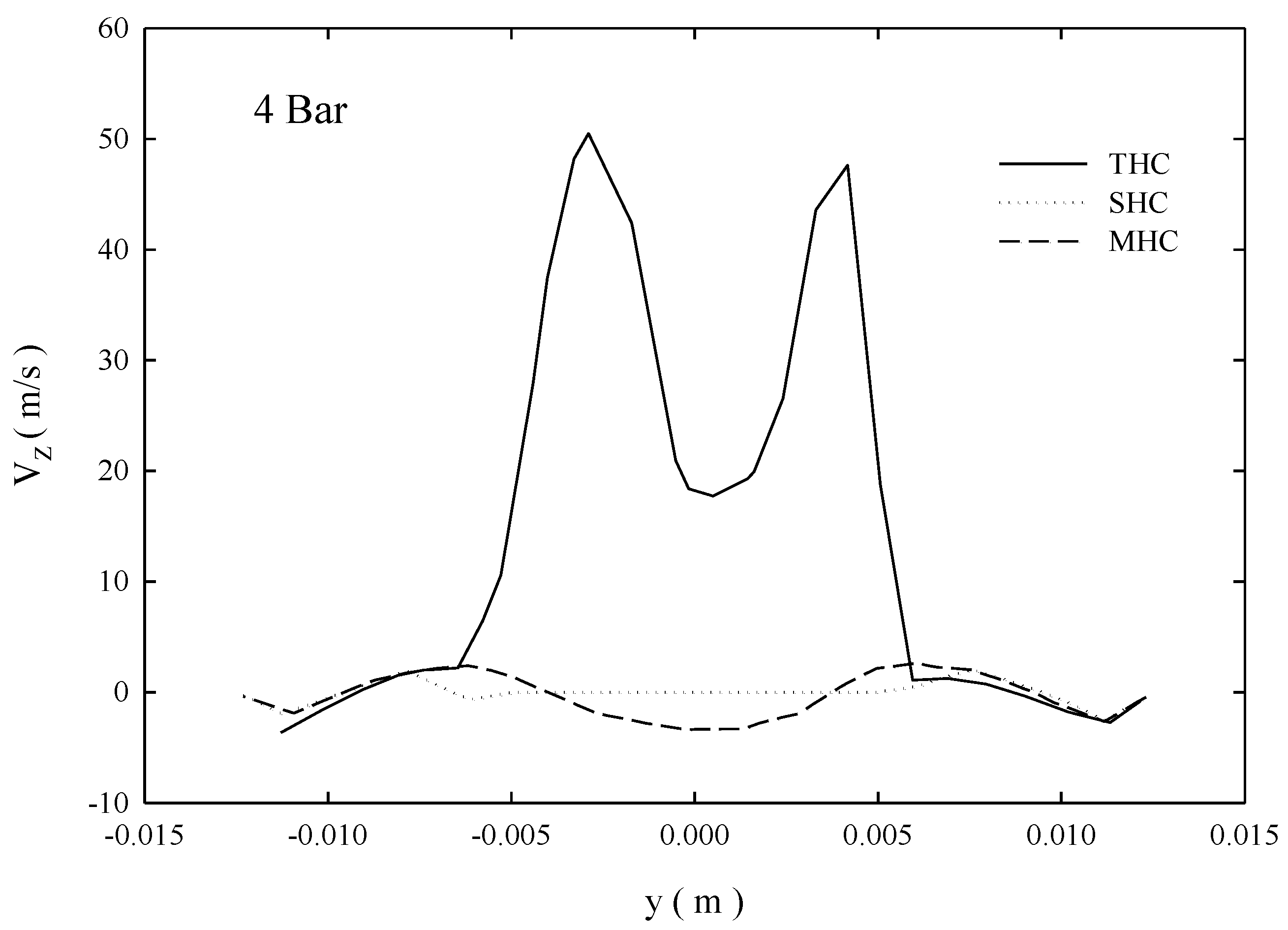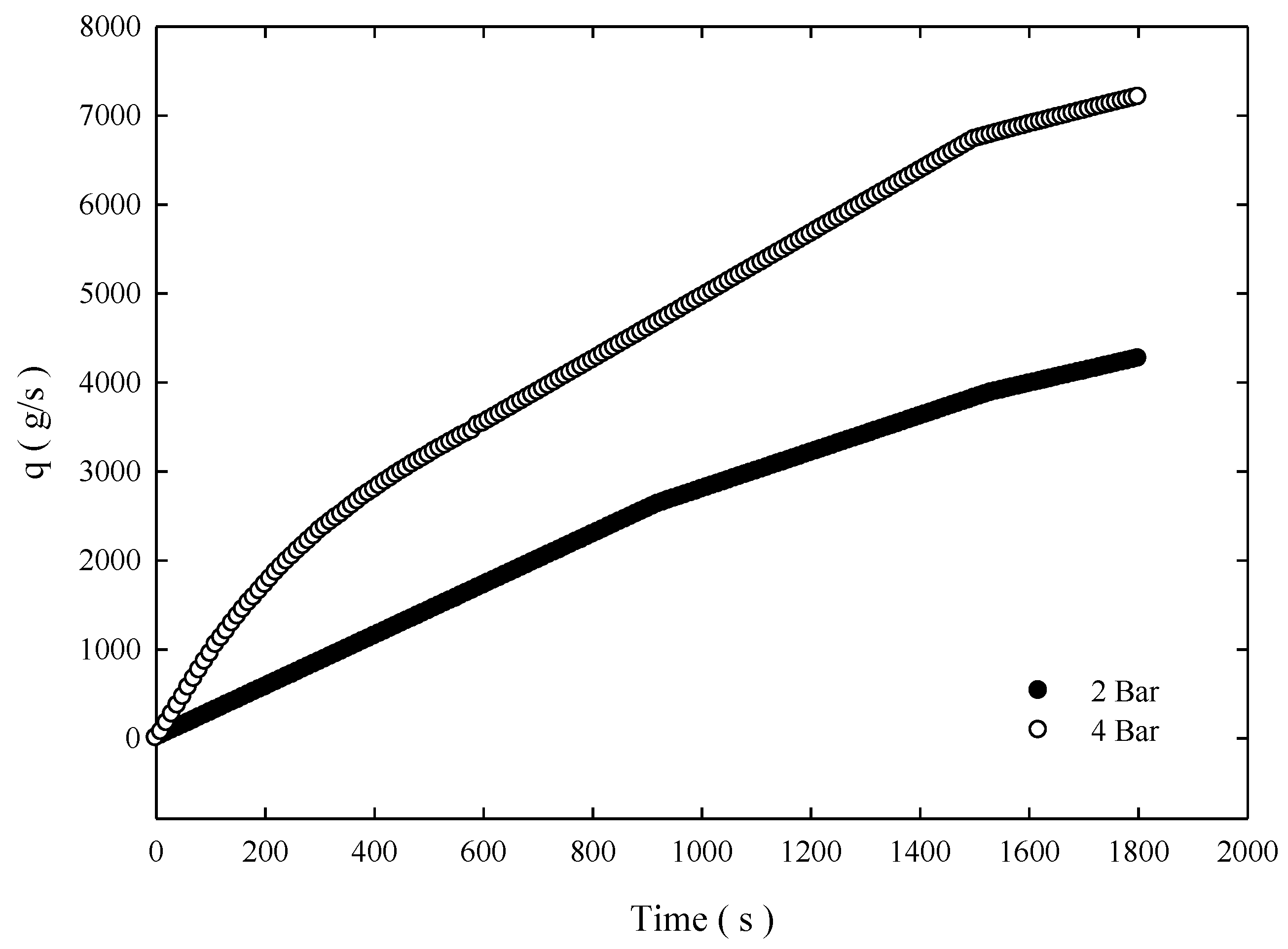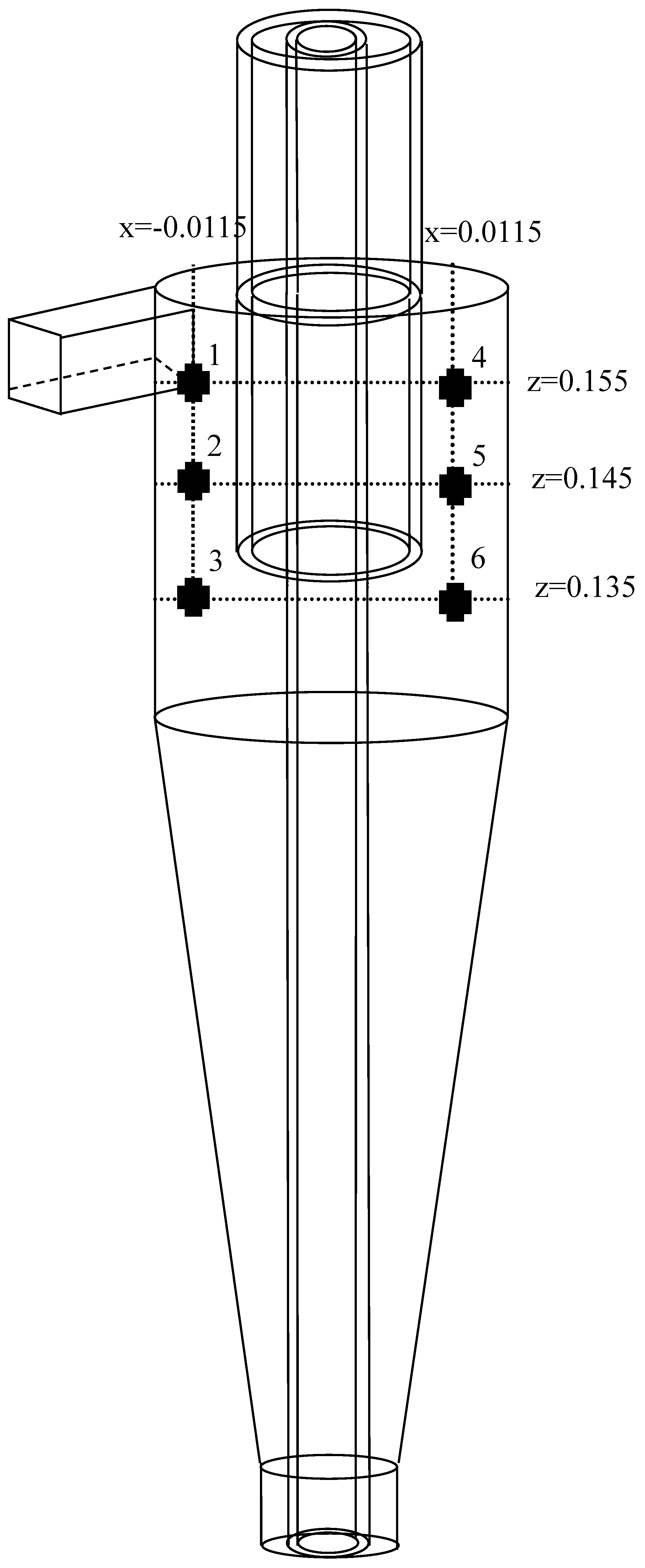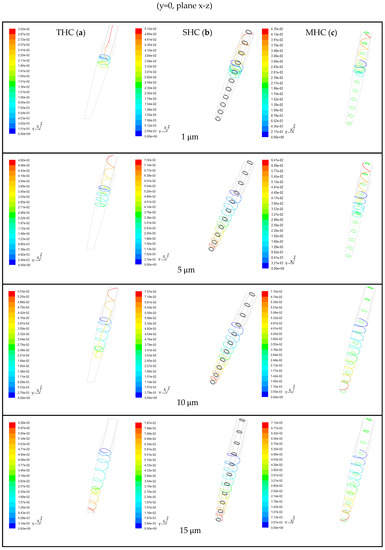 Figure 6. Particle trajectory of size 1, 5, 10, and 15 μm in three hydrocyclones. (a) THC; (b) SHC; and (c) MHC.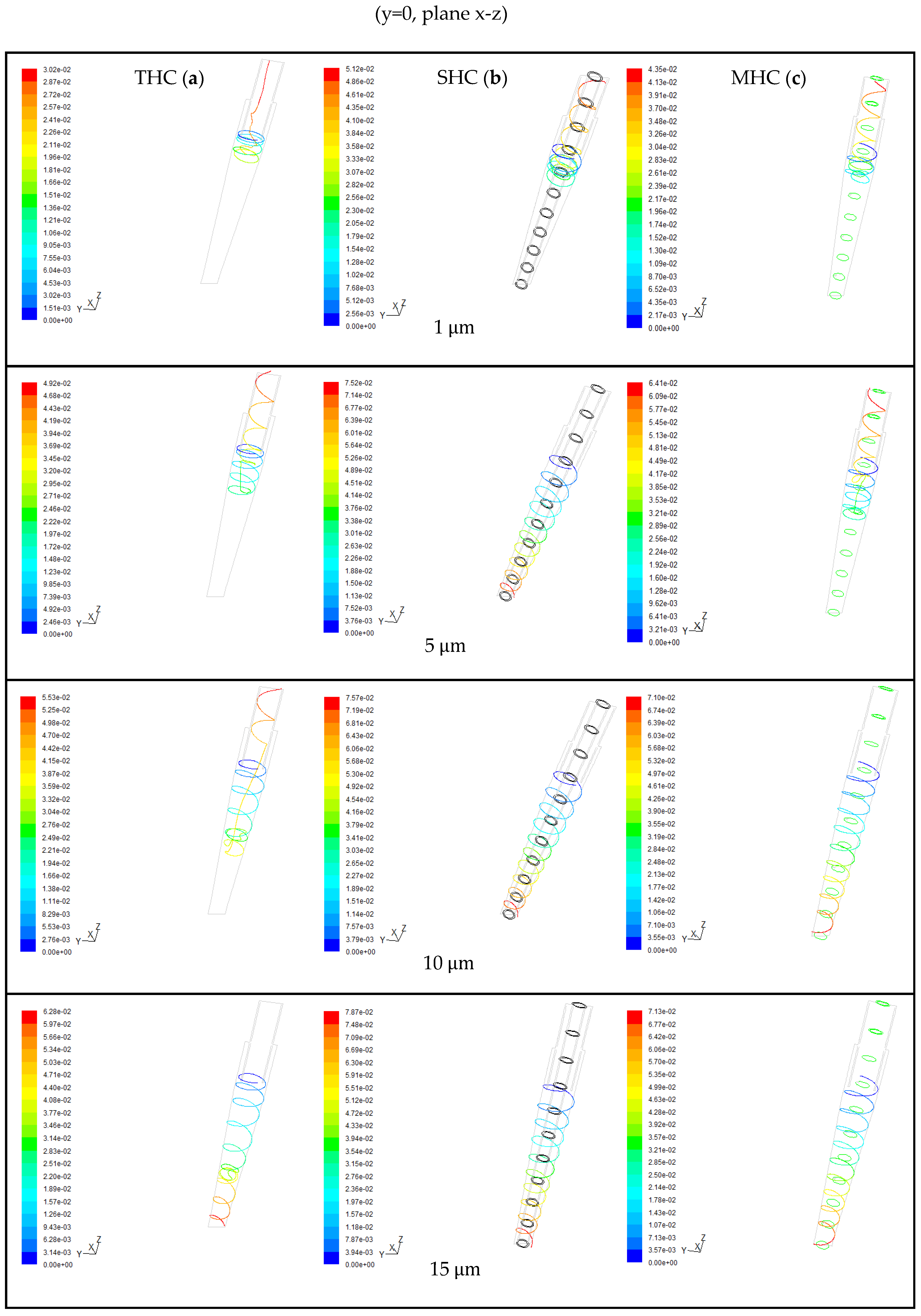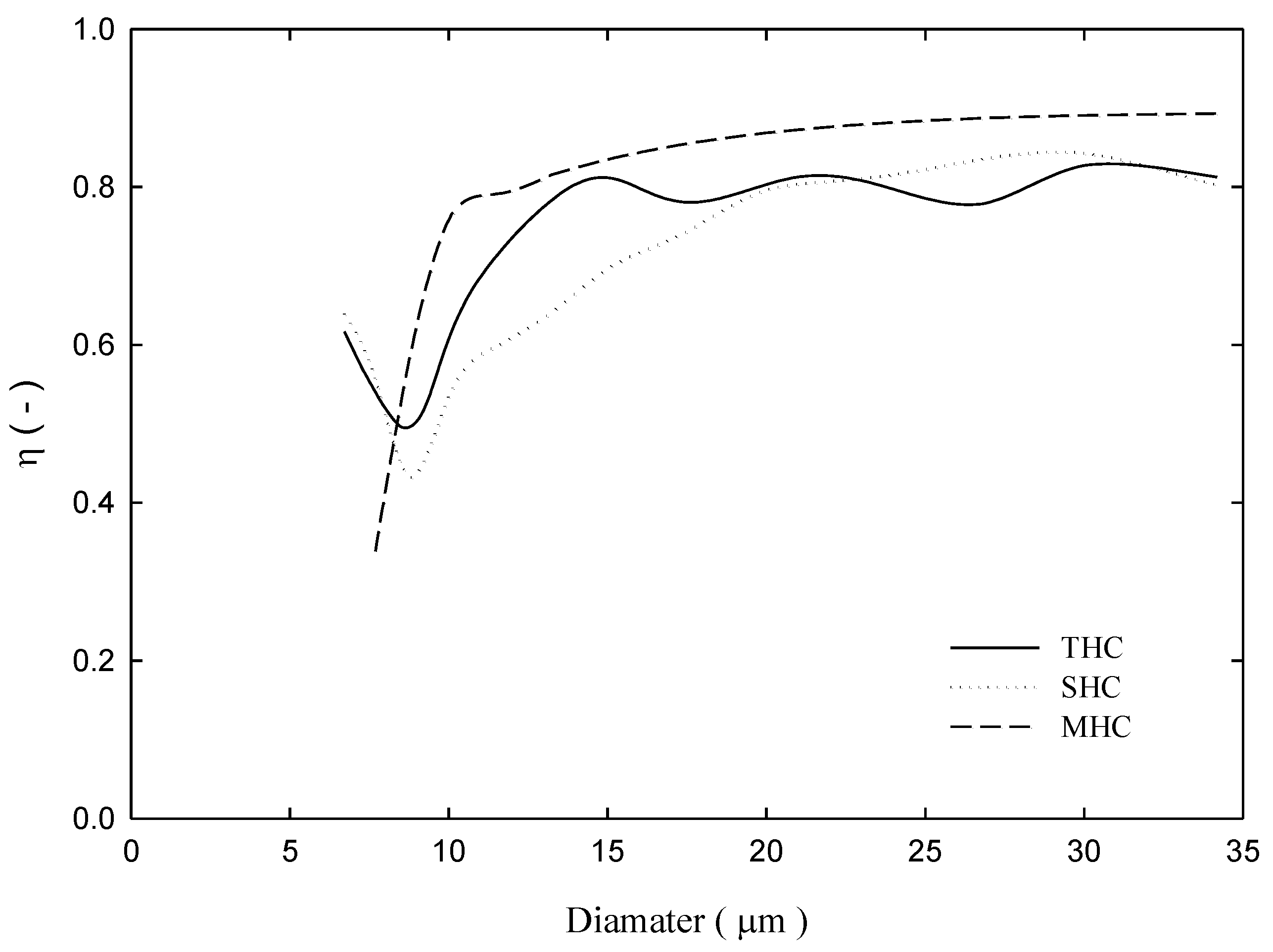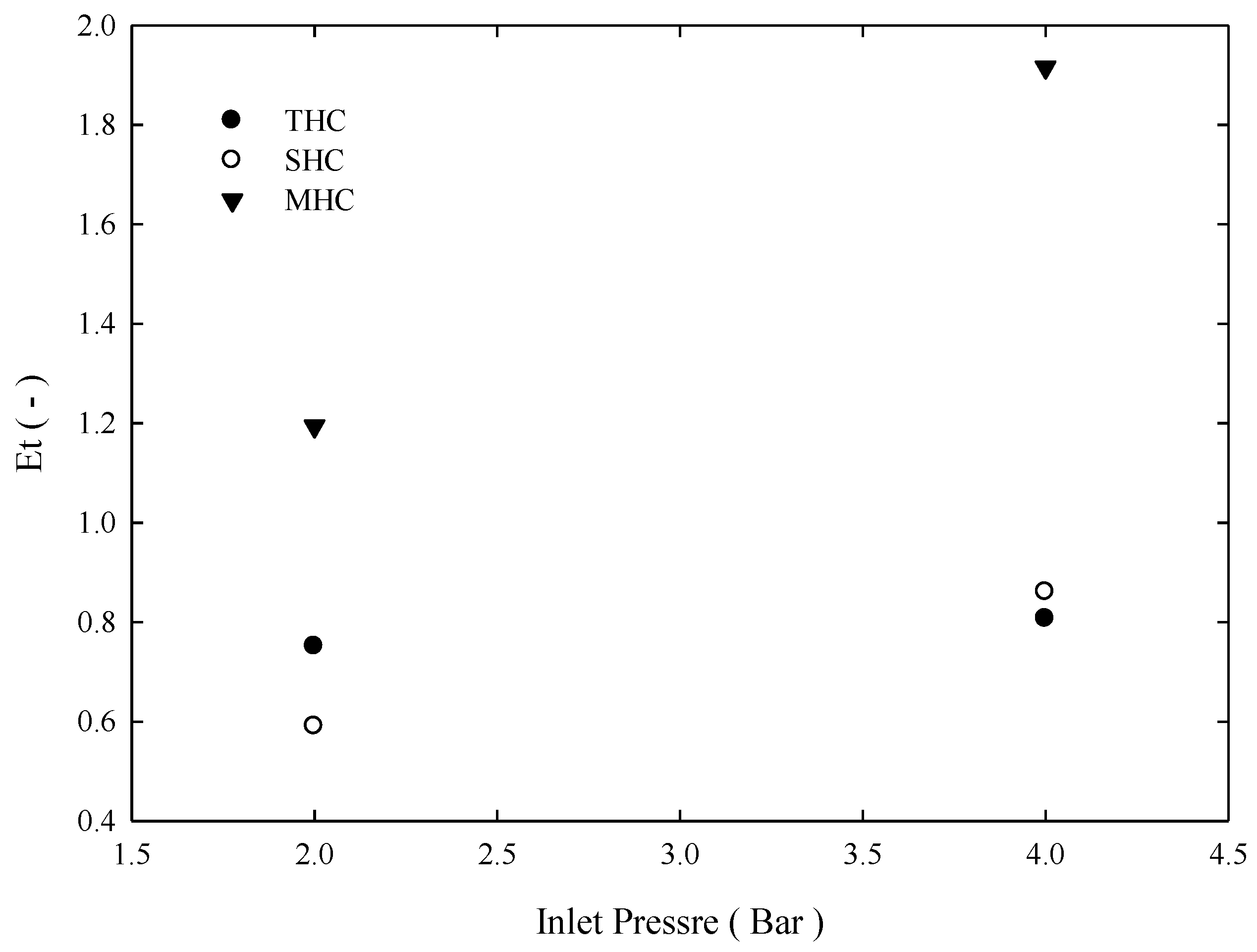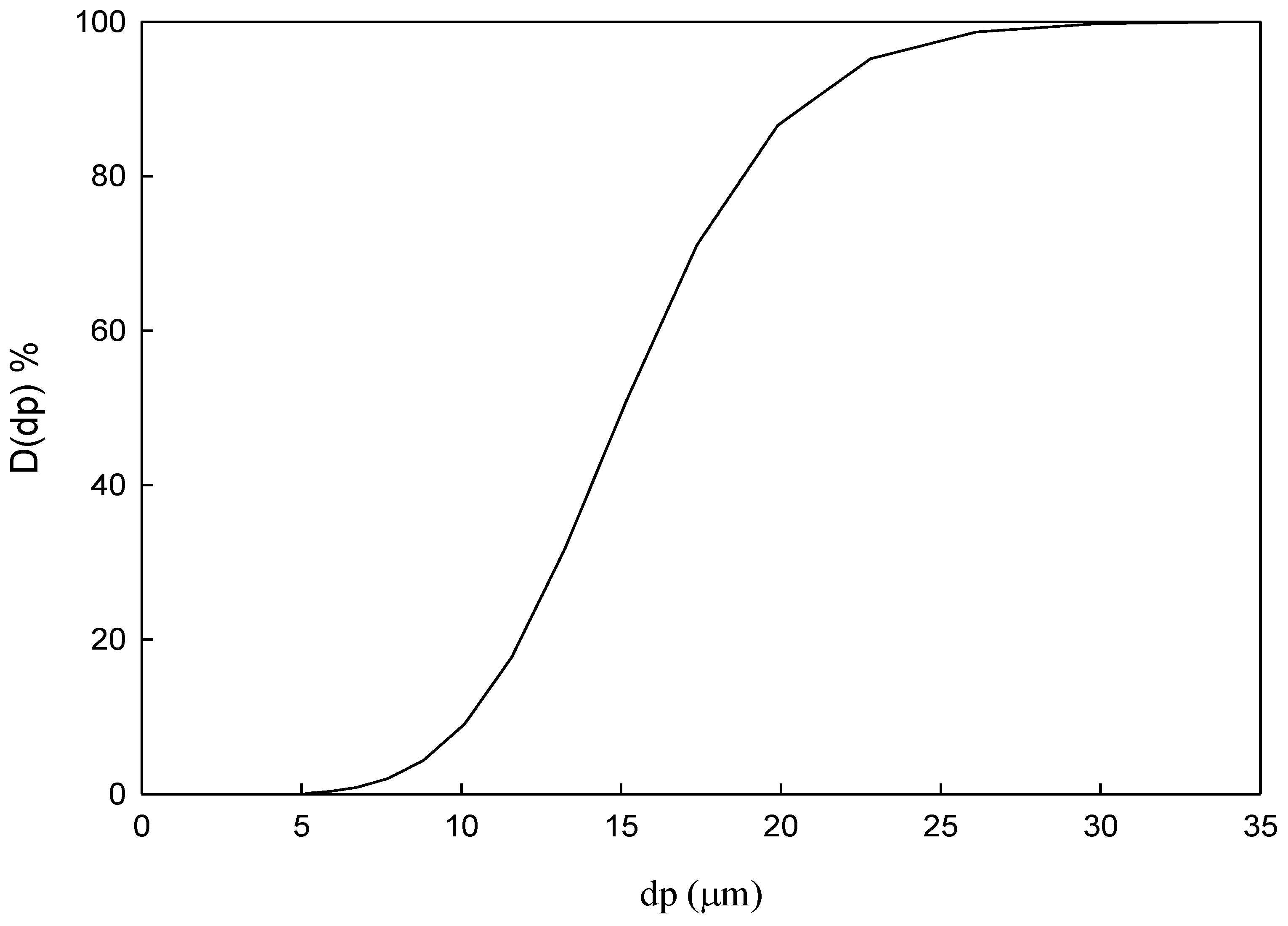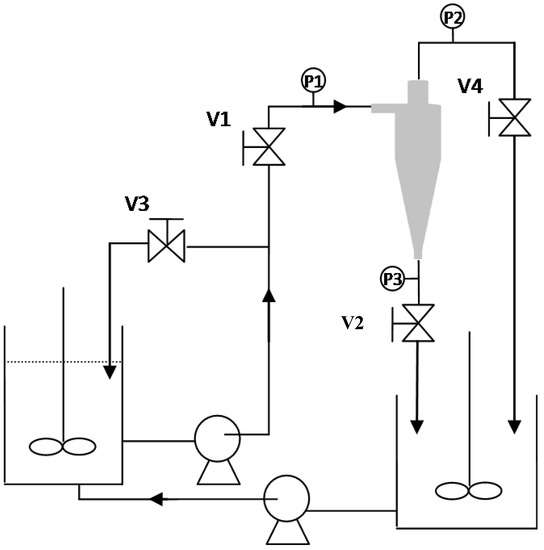 Figure 10. Hydrocyclone separator system experimental setup. The various components include a centrifugal pump, storage tank, agitator, pressure gauges (P1, P2, P3), recycle valve (V3), inlet valve (V1), overflow valve (V4), underflow valve (V2), and the hydrocyclone separator.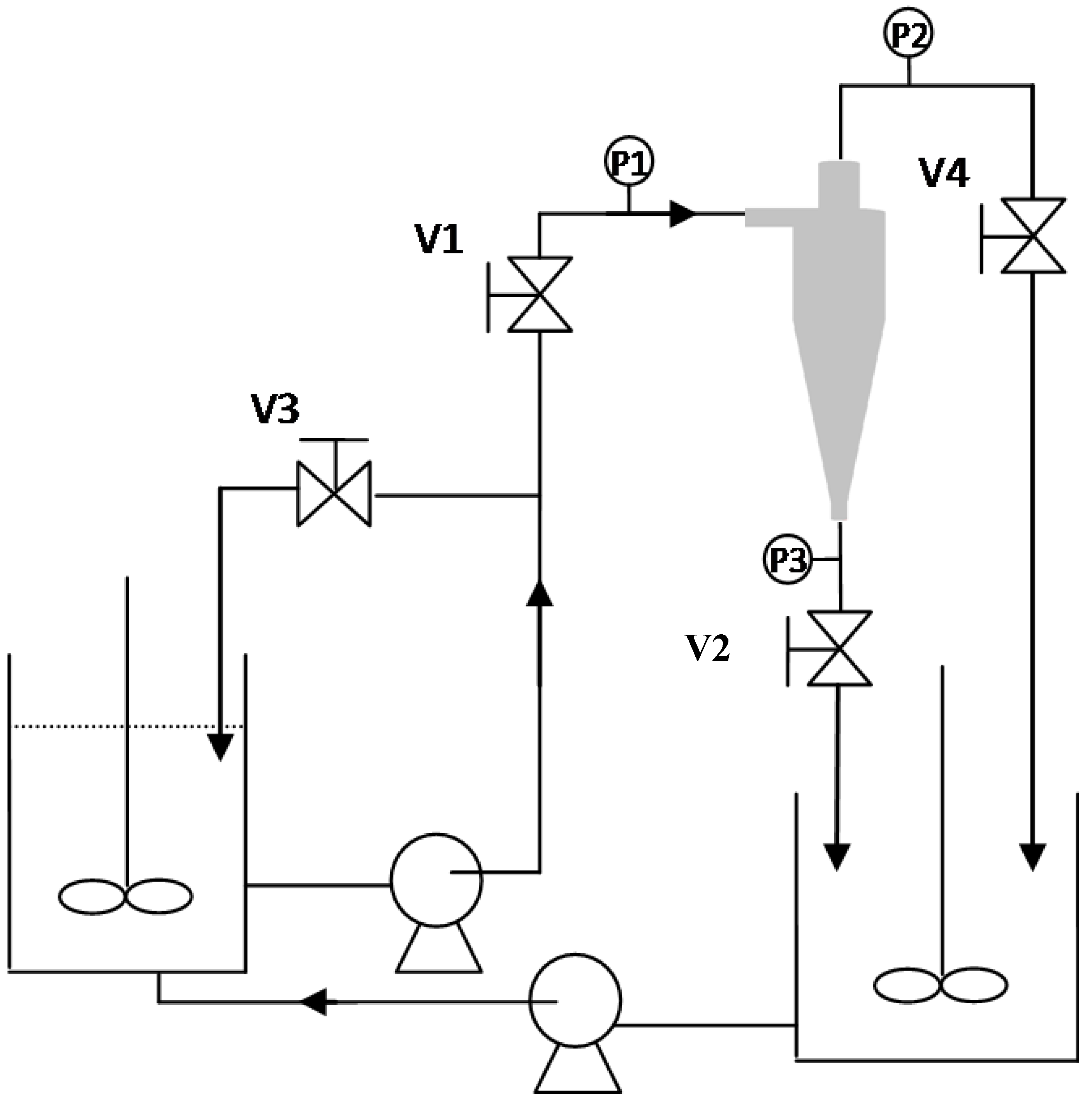 Figure 11. Hydrocyclone separator system geometry used for both computational fluid dynamics (CFD) simulations and experiments. (a) THC; (b) SHC; (c) MHC.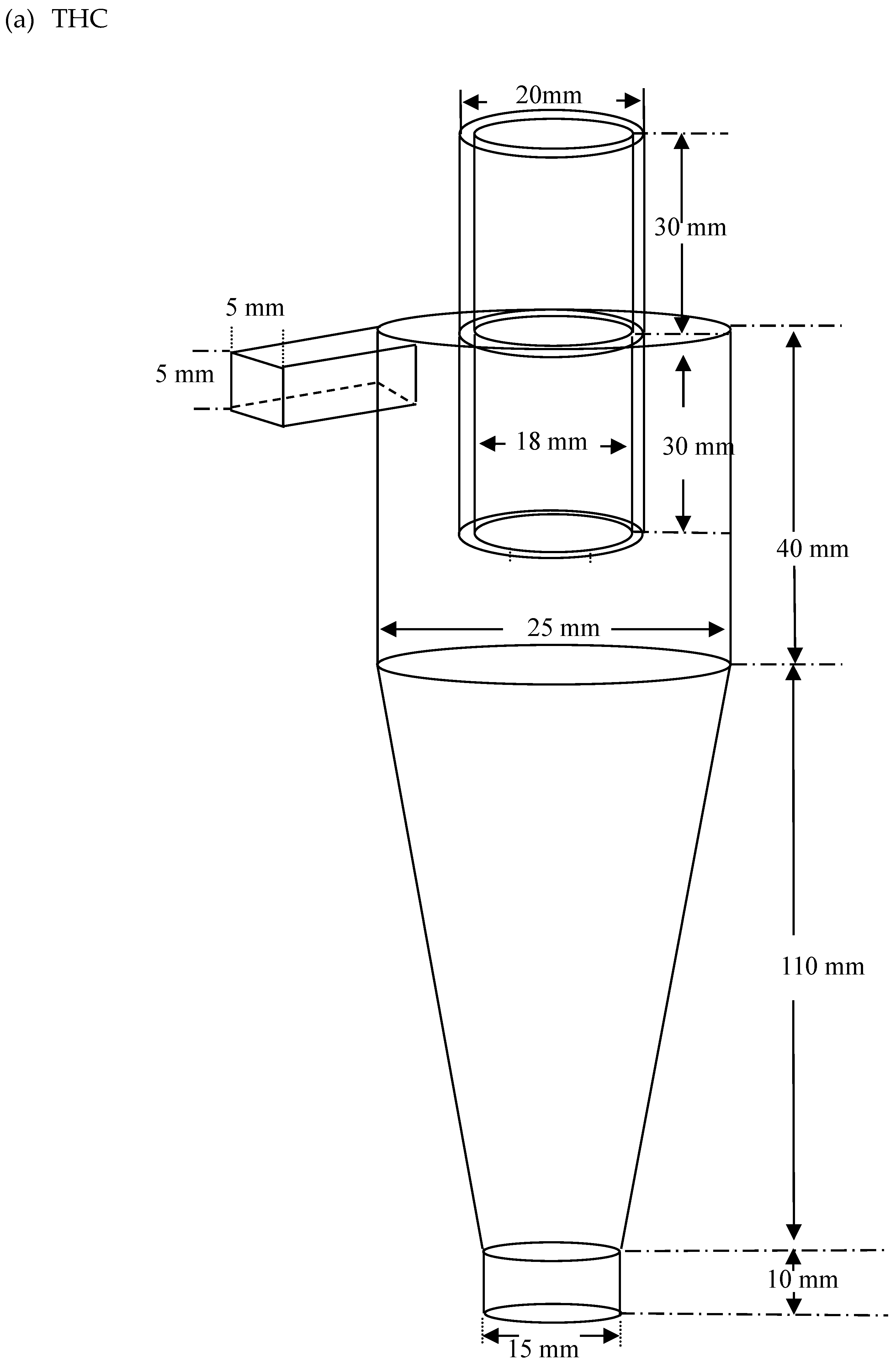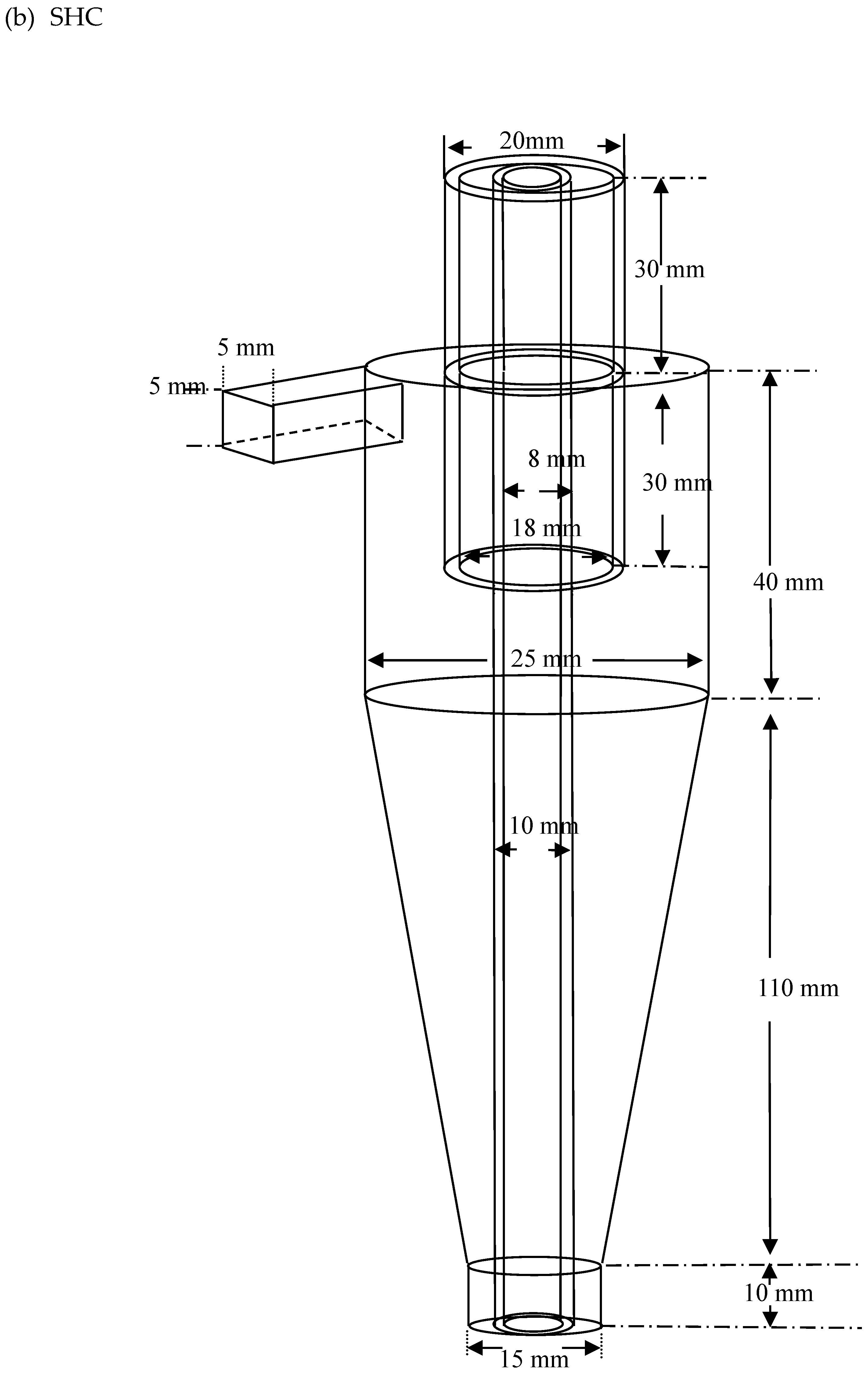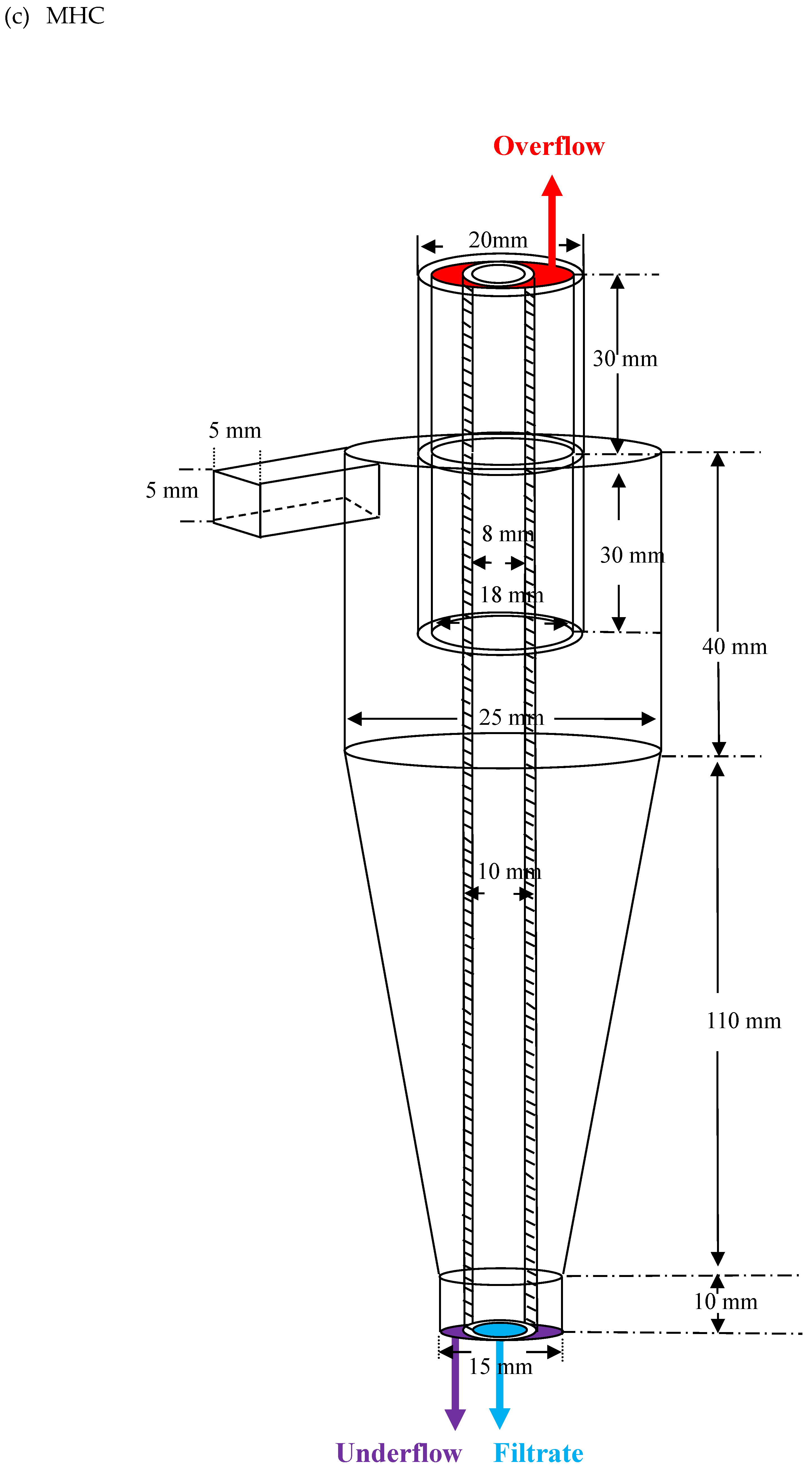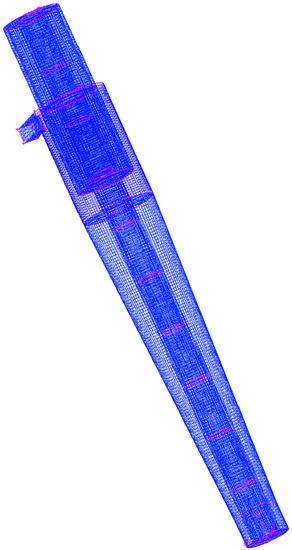 Figure 12. Hydrocyclone separator system mesh structure. The total number of computational cells was approximately 105.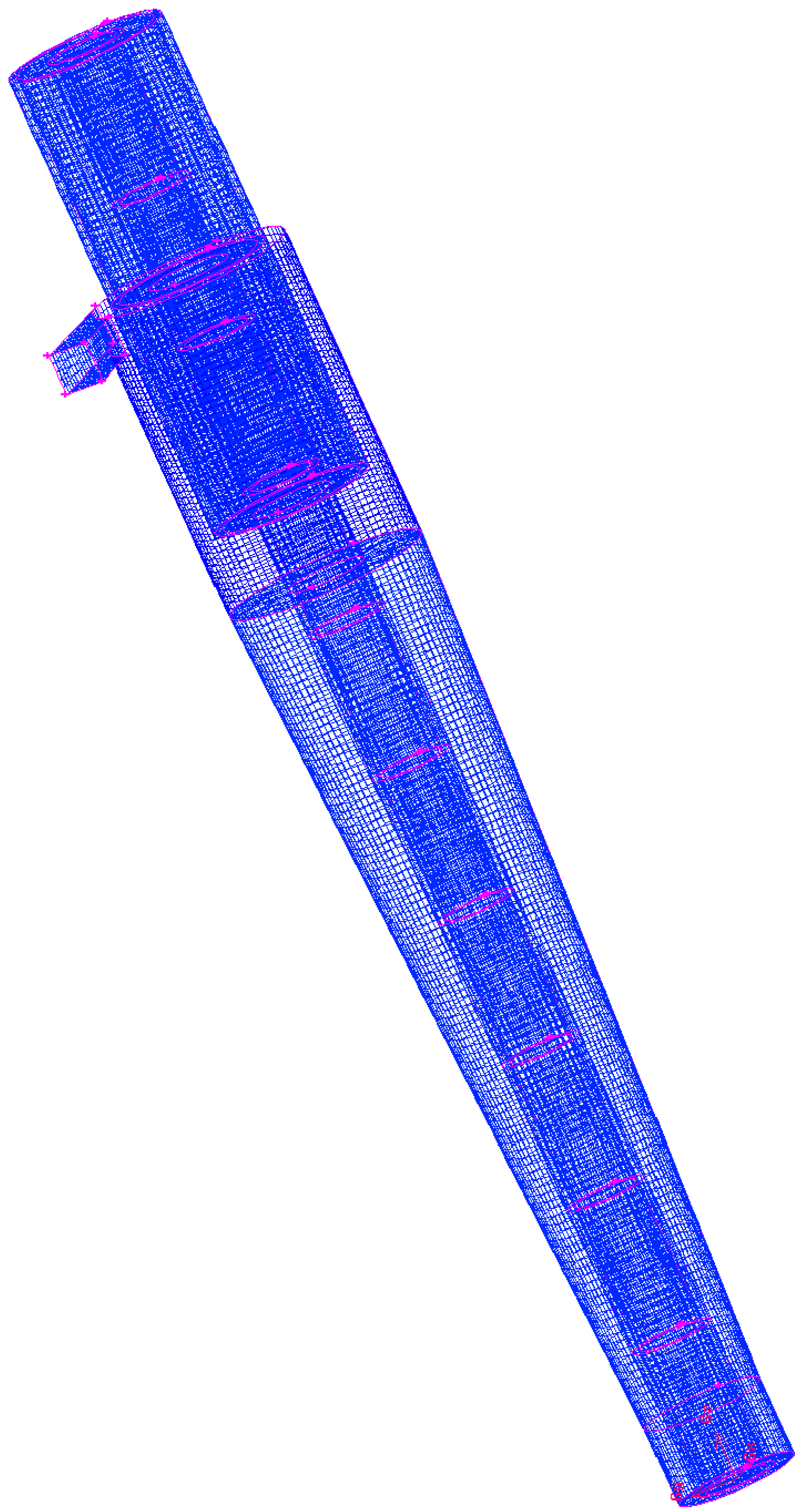 Origin = 0.35 wt %
Pressure (Bar)
Over (wt %)
Under (wt %)
Filtration (wt %)
THC
2
0.324
0.405
-
4
0.301
0.416
SHC
2
0.295
0.423
-
4
0.236
0.590
MHC
2
0.321
0.821
0.004
4
0.211
1.305
0.008

© 2019 by the authors. Licensee MDPI, Basel, Switzerland. This article is an open access article distributed under the terms and conditions of the Creative Commons Attribution (CC BY) license (http://creativecommons.org/licenses/by/4.0/).