Antimycobacterial and Nitric Oxide Production Inhibitory Activities of Triterpenes and Alkaloids from
Psychotria nuda

(Cham. & Schltdl.) Wawra

1

Instituto Federal de Santa Catarina, Câmpus Criciúma, Criciúma 88800-000, Santa Catarina, Brazil

2

Colegiado de Ciências Exatas e Biotecnológicas, Universidade Federal do Tocantins, Gurupi 77400-000, Tocantins, Brazil

3

Laboratório de Ciências Químicas, Centro de Ciência e Tecnologia, Universidade Estadual do Norte Fluminense Darcy Ribeiro, Campos dos Goytacazes, Rio de Janeiro 20000-000, Brazil

4

Laboratório de Produtos Bioativos/LPBio, Curso de Farmácia, Universidade Federal do Rio de Janeiro, Campus Macaé, Macaé, Rio de Janeiro 20000-000, Brazil

5

Laboratório de Biologia do Reconhecer, Universidade Estadual do Norte Fluminense Darcy Ribeiro, Campos dos Goytacazes, 28013-602, Rio de Janeiro 20000-000, Brazil

6

Departamento de Química, Instituto de Ciências Exatas, Universidade Federal Rural do Rio de Janeiro, Seropédica, Rio de Janeiro 20000-000, Brazil

*

Author to whom correspondence should be addressed.

Academic Editor: Alessandra Guerrini

Received: 1 February 2019 / Revised: 20 February 2019 / Accepted: 5 March 2019 / Published: 15 March 2019

Full-Text

|

PDF

[689 KB, uploaded 15 March 2019]

|

|

Review Reports
Abstract
A phytochemical study of leaves and twigs of
Psychotria nuda
resulted in 19 compounds, including five indole alkaloids,
N
,
N
,
N
-trimethyltryptamine, lyaloside, strictosamide, strictosidine, and 5α-carboxystrictosidine; two flavonolignans, cinchonain Ia and cinchonain Ib; an iridoid, roseoside; a sugar, lawsofructose; a coumarin, scopoletin; a diterpene, phytol; three triterpenes, pomolic acid, spinosic acid, and rotungenic acid; and five steroids, sitosterol, stigmasterol, campesterol,
β
-sitosterol-3-
O
-
β
-
d
-glucoside, and
β
-stigmasterol-3-
O
-
β
-
d
-glucoside. Some compounds were evaluated for their in vitro activity against
Mycobacterium tuberculosis
and their ability to inhibit NO production by macrophages stimulated by lipopolysaccharide (LPS). The compounds pomolic acid, spinosic acid, strictosidine, and 5α-carboxystrictosidine displayed antimycobacterial activity with minimum inhibitory concentrations ranging from 7.1 to 19.2 µg/mL. These compounds showed promising inhibitory activity against NO production (IC
50
3.22 to 25.5 μg/mL).
5
α-carboxystrictosidine did not show cytotoxicity against macrophages RAW264.7 up to a concentration of 100 µg/mL. With the exception of strictosamide, this is the first report of the occurrence of these substances in
P. nuda
.
View Full-Text
►

▼

Figures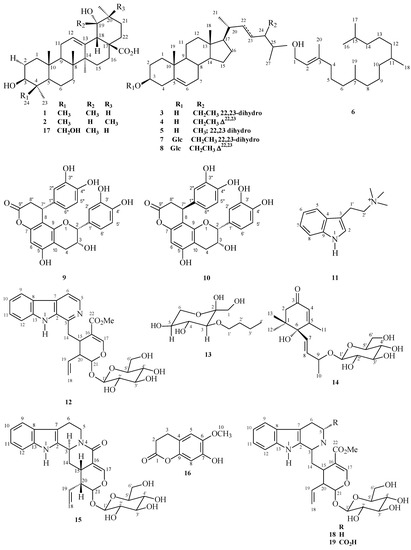 Figure 1
This is an open access article distributed under the
Creative Commons Attribution License
which permits unrestricted use, distribution, and reproduction in any medium, provided the original work is properly cited (CC BY 4.0).

Share & Cite This Article
MDPI and ACS Style
de Carvalho Junior, A.R.; Oliveira Ferreira, R.; de Souza Passos, M.; da Silva Boeno, S.I.; Glória das Virgens, L.L.; Ventura, T.L.B.; Calixto, S.D.; Lassounskaia, E.; de Carvalho, M.G.; Braz-Filho, R.; Curcino Vieira, I.J. Antimycobacterial and Nitric Oxide Production Inhibitory Activities of Triterpenes and Alkaloids from Psychotria nuda (Cham. & Schltdl.) Wawra. Molecules 2019, 24, 1026.
Note that from the first issue of 2016, MDPI journals use article numbers instead of page numbers. See further details here.
Related Articles
Comments
[Return to top]