Open Access This article is
freely available
re-usable
Review
Novel Therapeutics for Epstein–Barr Virus
Laboratory of Virology and Chemotherapy, Department of Microbiology and Immunology, Rega Institute for Medical Research, KU Leuven, 3000 Leuven, Belgium
*
Author to whom correspondence should be addressed.
Academic Editor: Stefano Aquaro
Received: 15 February 2019 / Accepted: 4 March 2019 / Published: 12 March 2019
Abstract
:
Epstein–Barr virus (EBV) is a human γ-herpesvirus that infects up to 95% of the adult population. Primary EBV infection usually occurs during childhood and is generally asymptomatic, though the virus can cause infectious mononucleosis in 35–50% of the cases when infection occurs later in life. EBV infects mainly B-cells and epithelial cells, establishing latency in resting memory B-cells and possibly also in epithelial cells. EBV is recognized as an oncogenic virus but in immunocompetent hosts, EBV reactivation is controlled by the immune response preventing transformation in vivo. Under immunosuppression, regardless of the cause, the immune system can lose control of EBV replication, which may result in the appearance of neoplasms. The primary malignancies related to EBV are B-cell lymphomas and nasopharyngeal carcinoma, which reflects the primary cell targets of viral infection in vivo. Although a number of antivirals were proven to inhibit EBV replication in vitro, they had limited success in the clinic and to date no antiviral drug has been approved for the treatment of EBV infections. We review here the antiviral drugs that have been evaluated in the clinic to treat EBV infections and discuss novel molecules with anti-EBV activity under investigation as well as new strategies to treat EBV-related diseases.
Keywords:
Epstein–Barr virus; antivirals; nucleoside analogues; nucleotide analogues; cellular targets
2. Why Is There No Antiviral Drug Approved for the Treatment of EBV Infections?
Nucleoside (i.e., acyclovir (ACV), penciclovir (PCV), ganciclovir (GCV), and its oral prodrugs; valacyclovir (VACV), famciclovir (FAM), and valganciclovir (VGCV), respectively), nucleotide (i.e., cidofovir (CDV)), and pyrophosphate (i.e., foscavir (foscarnet sodium, PFA)) analogues are approved for the treatment of herpes simplex virus 1 (HSV-1) and 2 (HSV-2), varicella-zoster virus (VZV), and/or human cytomegalovirus (HCMV) [
10
,
11
]. In some European countries, brivudin (BVDU) is approved for the therapy of HSV-1 and VZV associated diseases. Although some of these antiviral agents proved to be effective inhibitors of EBV replication in vitro and were used experimentally [
11
,
12
,
13
], none of them received approval by the FDA (Food and Drug Administration) or EMA (European Medicines Agency) for treatment of EBV infections.
In 2005, Gershburg and Pagano proposed three main explanations for the lack of an anti-EBV drug [
14
]. First, the difficulty in diagnosing infectious mononucleosis may be, at least in part, responsible for the lack of success in the development of a drug to treat EBV-associated infections. While EBV infects most persons at the age of 30, only a few of them suffer from infectious mononucleosis (usually those who acquired the infection in the twenties). The infectious mononucleosis symptoms are subtle in onset and the disease has a long incubation time (4–6 weeks), resulting in a late diagnosis, in contrast to infections caused by the α-herpesviruses HSV (i.e., herpes labialis) or VZV (i.e., chickenpox).
Second, antivirals should be achieving high concentrations in the oropharynx where EBV is released at high titers. Although acyclovir was shown to significantly reduced EBV shedding in the oropharynx when administered intravenously and orally, virus release resumed at the initial level within 3 weeks of cessation of the treatment [
15
,
16
]. Maybe the most important reason for the failure of antivirals for infectious mononucleosis therapy can be ascribed to the fact that the symptoms and signs of the disease are not the consequences of viral replication but the immunological response to EBV-infected B-cells that circulate in the blood and infiltrate the tissues of different organs. Infectious mononucleosis is characterized by atypical lymphocytosis due to the massive cell-mediated immune response against viral-infected B-lymphocytes. Thus, antivirals in combination with immunomodulatory drugs (such as corticosteroids, used empirically by physicians to treat infectious mononucleosis) might be effective. However in a multicenter, double-blind, placebo controlled study, prednisolone administered with acyclovir for treatment of infectious mononucleosis inhibited oropharyngeal EBV replication without affecting duration of clinical symptoms or development of EBV-specific cellular immunity [
16
].
3. Medical Need for Anti-EBV Therapeutics Targeting Lytic Replication
4. Antivirals Against EBV Evaluated in The Clinic
4.1. Nucleoside Analogues (Acyclovir, Valacyclovir, Ganciclovir, and Valganciclovir)
4.2. Nucleotide Analogues
The nucleotide analogue cidofovir (CDV) is a broad spectrum anti-DNA virus agent. The compound is approved for the treatment of retinitis in AIDS patients but is used off-labeled to treat several infections caused by DNA viruses [
40
]. Besides its recognized antiviral properties, the drug is also known for its antiproliferative effects [
41
].
Successful treatment of locally recurrent EBV-associated nasopharyngeal carcinoma using the antiviral agent cidofovir was reported in two patients [
42
]. Further, injection of cidofovir into the tumor tissue of EBV-positive nasopharyngeal carcinoma xenografts in nude mice suppressed tumor growth [
43
]. In combination with the ribonucleotide reductase inhibitors hydroxyurea and didox (3,4-dihydroxybenzohydroxamic acid), cidofovir-induced apoptosis in EBV-transformed epithelial cells and in EBV-positive nasopharyngeal carcinoma xenografts was augmented [
44
]. Cidofovir decreased EBV oncoproteins and enhanced the radiosensitivity in EBV-related malignancies (Burkitt's lymphoma and nasopharyngeal carcinoma) [
45
].
4.3. Pyrophosphate Analogues
Foscarnet, an inorganic pyrophosphate analogue, is a direct inhibitor of herpesvirus DNA polymerases. It blocks the pyrophosphate-binding site and prevents cleavage of pyrophosphate from deoxynucleoside triphosphates. Foscarnet, a non-competitive inhibitor of viral DNA polymerases, does not incorporate into the growing viral DNA and is ~100-fold more active against viral than cellular enzymes. Although the drug has activity against all human herpesviruses, including EBV, foscarnet is approved for treatment of HCMV retinitis in AIDS patients and for the therapy of acyclovir-resistant HSV infections in immunocompromised patients. It has also been used for therapy of ganciclovir-resistant HCMV infections due to mutations in the UL97 protein kinase (PK). Its safety and efficacy for the treatment of other herpesvirus infections has not yet been established [
10
]. The successful use of foscarnet to manage a persistent EBV infection was occasionally reported. Foscarnet in combination with immunoglobulins was successful to control the persistent EBV infection in a lung transplant patient that showed clinical improvement of PTLD following reduction in immunosuppression intensity [
46
]. This patient required treatment with an antiviral drug and immunoglobulins since restoration of the cellular immunity improved PTLD but was ineffective against controlling the EBV infection. Regression of EBV-associated lymphoproliferative disorders in two AIDS patients during therapy with foscarnet has also been described [
47
].
5. Anti-EBV Compounds Under Investigation
5.1. Inhibitors of EBV Protein Kinase BGLF4
Maribavir (MBV) is an investigational oral benzimidazole L-riboside with significant activity against both HCMV and EBV but no other human herpesviruses [
48
,
49
]. Maribavir has fewer adverse side effects and is more specific compared to anti-HCMV drugs that target the viral DNA polymerase. Unlike nucleoside and nucleotide analogues, maribavir's inhibitory effects are mainly produced through inhibition of the HCMV and EBV PKs [
50
]. This compound selectively inhibits the HCMV UL97 PK (as determined by direct inhibition of kinase activity) and single point mutations in the UL97 gene confer maribavir resistance in HCMV [
51
]. UL97 is a serine/threonine-specific PK playing an important role in HCMV egress. UL97 is necessary for the phosphorylation of several viral and cellular proteins in HCMV infected cells [
50
,
52
]. In vitro and in vivo UL97 mutations selected under ganciclovir and maribavir were found to be distinct and to confer no cross-resistance [
53
,
54
], while partial cross-resistance between ganciclovir and cyclopropavir, a methylenecyclopropane nucleoside analog active against HCMV was observed [
51
,
55
]. However, Chou and colleagues [
56
] reported UL97 kinase mutations either found in ganciclovir-treated subjects or after propagation under cyclopropavir in vitro with moderate- to high-level resistance to all three drugs. Low levels of resistance (two- to three-fold) to maribavir can also arise due to mutations in the HCMV
UL27
gene. Although the function of UL27 is unknown, it does not appear to be a direct target for maribavir.
The efficacy of maribavir prophylaxis for prevention of HCMV disease in recipients of allogeneic stem-cell transplants was evaluated in phase three: double blind, placebo-controlled, randomized trials [
57
,
58
]. The clinical development of maribavir for the management of HCMV infections is currently on hold because the drug failed to meet the primary endpoint (prevention of HCMV disease) in recipients of allogeneic stem-cell transplants although several critics on the study design were raised [
59
].
Maribavir exhibits also marked activity against EBV, having a unique dual effect against EBV: inhibition of viral DNA replication and of virus transcription [
14
,
60
]. In contrast to HCMV, the activity of maribavir against EBV could not be ascribed to direct inhibition of the EBV PK BGLF4. In fact, maribavir treatment was shown to inhibit the phosphorylation of the EBV DNA polymerase processivity factor
BMRF1
[
49
]. Unlike acyclovir that has little effect on EBV RNAs, maribavir inhibits the expression of multiple RNAs. Furthermore, the inhibitory profile of maribavir transcripts appeared to be similar to that produced by an EBV mutant in which PK expression and activity were knocked out [
61
], suggesting that maribavir largely affects EBV transcript levels through inhibition of BGLF4 although the drug does not directly affects the EBV PK [
62
]. Considering that EBV BGLF4 has at least 20 viral targets, maribavir may also affect downstream targets indirectly.
5.2. Inhibitors of EBV DNA Polymerase
5.3. Inhibitors of EBV Nuclear Antigen 1 (EBNA1)
The EBV-encoded nuclear antigen 1 (EBNA1) is a versatile protein with functions in the maintenance, replication, and segregation of the EBV genome and represents an attractive therapeutic target to treat EBV-associated malignancies. This protein is express in all EBV latency types except for latency 0. The replication and persistence of the EBV episomal genome in latently infected cells primarily depend on the binding of EBV-encoded nuclear antigen 1 (EBNA1) to the cognate EBV oriP element.
Considerable efforts have been done the last years in the design or identification of inhibitors of EBNA-1 to decrease its expression or interfere with its functions. The salient features of EBNA-1, its functional domains and advances in the development of EBNA-1 inhibitors have been recently reviewed in detail [
76
]. For example, Lee and colleagues [
77
] characterized EBNA1 small molecule inhibitors (H20, H31) and their underlying inhibitory mechanisms. H20 fits into a pocket in the EBNA1 DNA binding domain (DBD) as predicted by in silico docking analyses but H20 did not significantly affect EBNA1 binding to its cognate sequence. A limited structure-relationship study of H20 allowed the identification of H31, a hydrophobic compound, as an EBNA1 inhibitor. H31 inhibited EBNA1-dependent oriP sequence-specific DNA binding activity, but did not affect sequence-nonspecific chromosomal association. H31 repressed the EBNA1-dependent transcription, replication, and persistence of an EBV oriP plasmid, consistent with the inhibition of EBNA1 binding activities. Importantly, H31 produced gradual loss of EBV episome and selectively delayed the growth of EBV-infected lymphoblastoid cell lines or Burkitt's lymphoma cells. Thus, inhibition of EBNA1-dependent DNA binding by H31 decreased EBNA1-dependent transcription and persistence of EBV episome in EBV-infected cells. Screening approaches also identified molecules that could block EBNA1-DNA binding, EBNA1-oriP transactivation, EBNA1 linking regions. Also, inhibitors based on truncated peptides from EBNA1 dimeric interface were described confirming the "druggability" of EBNA1 for the treatment of EBV-related cancers [
78
].
Computational identification and structural characterization of EBNA1 binding pockets, likely to accommodate ligand molecules (i.e., "druggable" binding sites) were validated by docking against a set of compounds previously tested in vitro for EBNA1 inhibition (PubChem AID-2381) [
79
]. Assessments of pocket druggability were performed by induced fit docking and molecular dynamics simulations paired with binding affinity predictions by Molecular Mechanics Generalized Born Surface Area calculations for a number of hits belonging to druggable binding sites. These investigations established EBNA1 as a target for drug discovery, and provided the computational evidence that active AID-2381 hits disrupt EBNA1:DNA binding upon interacting at individual sites. Cullinan Oncology is developing a novel EBNA1 inhibitor, VK-2019 (that binds to EBNA1 and inhibits EBNA1 DNA binding activity), discovered by the Wistar Institute. There is currently a Phase 1–2a clinical trial (
https://clinicaltrials.gov/ct2/show/NCT03682055
), open-label, dose escalation and expansion, first-in-human clinical study to evaluate the safety and tolerability, pharmacokinetics, pharmacodynamics and preliminary efficacy of VK-2019.
6. Cellular Targets
An alternative strategy to direct acting antivirals designed to target a step of the viral replicative cycle, cellular proteins that are indispensable for viral replication may serve as novel targets to specifically hamper virus replication. Classical antiviral agents are active against a small number of viruses and resistance development is considered a hallmark of their specificity. In contrast, antivirals targeting cellular proteins essential for viral replication are expected to be active against a broader spectrum of viruses because replication of various unrelated viruses may involve the same cellular proteins. Further, antivirals targeting cellular events are expected to select less rapidly drug-resistant viral mutants than antivirals acting on viral proteins. Besides, they should remain active against viral mutants resistant to conventional antiviral agents. Yet, one of major drawbacks of targeting cellular proteins might be increased cytotoxicity and side effects.
As cellular topoisomerases I and II (Topo I and II) are essential for γ-herpesvirus lytic DNA replication [
80
,
81
], certain Topo I and II inhibitors may be considered as potential antivirals against EBV infection [
82
]. Topo II inhibitors are classified in two categories: Topo II poisons that target the topoisomerase-DNA intermediate and Topo II catalytic inhibitors that disrupt the turnover of the enzyme [
83
]. Topoisomerase II poisons include etoposide and doxorubicin, which are used as antitumor drugs and although they were shown to inhibit KSHV replication and virion production, as expected, they exhibited considerable toxicities [
83
]. In contrast, Topo II catalytic inhibitors, encompassing novobiocin, merbarone and rutamarin, exhibited antiviral activities against human γ-herpesviruses with minimal toxicities [
83
]. In particular, (+)rutamarin showed the highest selectivity (SI > 63) among the Topo II inhibitors tested and was able of inhibiting EBV DNA replication and virus production with little adverse effects on cell proliferation [
82
]. Therefore, rutamarin may be considered as a safe drug with potential for the treatment of human diseases associated with EBV infection.
Verdinexor belongs to a new class of novel small molecules known as SINE (Selective Inhibitors of Nuclear Export) compounds. These compounds covalently bind and block the nuclear export protein XPO1, leading to sequestration of XPO1-dependent proteins in the cell nucleus. Verdinexor showed various levels of efficacy against opportunistic viruses affecting immunocompromised individuals [
84
]. It was effective in inhibiting EBV replication in Akata cells, with 50% effective concentrations (EC
50
) of 50 nM and a selectivity index of 7. The efficacy of verdinexor could be explained by the dependence of the viral protein SM (adaptor protein involved in the nuclear-cytoplasmatic export of EBV mRNAs during lytic replication) on XPO1-mediated nuclear export. By blocking nuclear export, verdinexor prevents shuttling of EBV mRNAs to the cytoplasm for translation.
Several cellular protein kinase inhibitors have been tested for anti-herpesvirus efficacy as there is abundant evidence that host cellular protein kinases, and the downstream pathways that they control, play a crucial role in herpesvirus infections [
85
]. The success of mammalian target of rapamycin (mTOR) inhibitors in reducing HCMV disease in transplant patients may encourage further studies on the potential of cellular protein kinase inhibitors for therapy of herpesvirus-associated diseases [
86
,
87
,
88
]. Recently, everolimus was shown to delayed and suppress DNA synthesis, spread of the infection, and alleviated cytomegalovirus infection [
89
].
8. Use of Antivirals in Lytic Induction Therapy
The development of strategies that reactivate viral lytic replication in latently infected tumor cells (lytic induction therapy) are of increasing interest as lytic replication promotes the death of tumor cells. In addition, tumor cells carrying the virus may also be killed by antiviral drugs (e.g., ganciclovir) which are activated by viral kinases expressed during the lytic cycle. The combination of antiviral agents with inducers of the lytic cycle is being considered as a promising strategy to treat EBV- and KSHV-driven tumors [
112
,
113
,
114
,
115
]. Further research is required to improve the efficiency of induction to lytic cycle as some cell lines are particularly resistant to lytic activation by external stimuli and even in cell lines that are responsive to lytic induction stimuli, a subpopulation of cells remain unresponsive to lytic cycle activation [
112
,
116
].
9. Conclusions and Perspectives
Anti-EBV therapy remains a major unmet medical need, in particular for patients with an impaired immune system. Antivirals approved for other herpesviruses that have been evaluated for EBV-associated diseases have delivered disappointing results. A few candidate anti-EBV drugs are available but much work remains to be done to show their efficacy. Further research is needed to develop therapeutic strategies for EBV-associated diseases as well as molecules that could be used in prophylaxis among immunosuppressed patients to avoid complications related to EBV disease. Although an EBV vaccine should be of high benefit to reduce the substantial burden due to primary EBV infection and to diminish the incidence of certain human malignancies, the development of an EBV vaccine has been extremely slow.
A novel strategy that could potentially be used to combat both productive and latent EBV infections is the targeting of viral genetic elements required for viral fitness by CRISPR/Cas9 genome editing techniques. Lebbink's group demonstrated that by simultaneous targeting of EBV genome with multiple guided RNAs (gRNAs), almost complete clearance of the virus from latently infected EBV-transformed cells was achieved. This opens new avenues for the development of therapeutic approaches to manage pathogenic human herpesviruses by means of novel genome-engineering technologies [
117
].
Funding
This research received no external funding.
Conflicts of Interest
The authors declare no conflict of interest.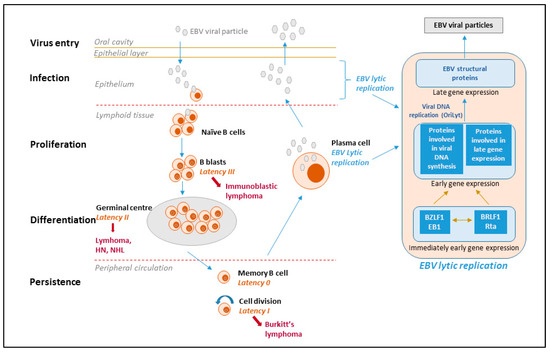 Figure 1. EBV life cycle, latency stages and derived lymphomas. The viral life cycle includes at least five different stages (virus entry, infection, proliferation, differentiation and persistence), and four of them are associated with EBV diseases. The virus is transmitted through the saliva and infects naïve B-cells in the oropharyngeal mucosa. During primary infection, EBV-infected naïve B-cells express the entire latency gene complex (10 proteins: EBV nuclear antigens (EBNAs), latent membrane protein (LMPs)) as well as EBV-encoded small RNAs (EBERs) and microRNAs. This is called type III latency and this form of latency activates the resting B-cells and drives them to proliferation and transformation. However, these cells are highly immunogenic and are rapidly eliminated by EBV-specific T cells. The virus is able to survive in B-cells because it downregulates its immunogenic proteins. EBV mimics antigen driven B-cell responses and similar to antigen-stimulated blasts, the EBV-infected B-cells enter the follicles, expand, and form germinal centers where they express only three viral proteins (type II latency). Finally, they exit the lymph node expressing only a single viral protein (EBNA1, which ensures that the viral genome divides with the cellular genome) (type I latency). The entry of EBV-infected cells into the peripheral blood results in the shutdown of all viral genes encoding for proteins; this is called latency 0 or latency program where no viral proteins are expressed. Resting memory cells, in which the virus is quiescent, are not attacked by the host immune system and are likely the sites of long-term persistence. Memory B cells occasionally divide to maintain stable number of cells and when a cell that is carrying the virus divides, the viral EBNA1 protein is expressed to allow the viral genome to replicate along with the cell. Memory B-cells may also undergo terminal differentiation into plasma cells and secrete antibodies. If such a cell contains the virus, the EBV lytic program is activated and the infectious virus released from the plasma cells can infect epithelial cells, where the virus can replicate and be shed at high amounts and then be transmitted to other hosts. With the exception of latency type 0, each latency state is found in specific types of EBV-associated malignancies.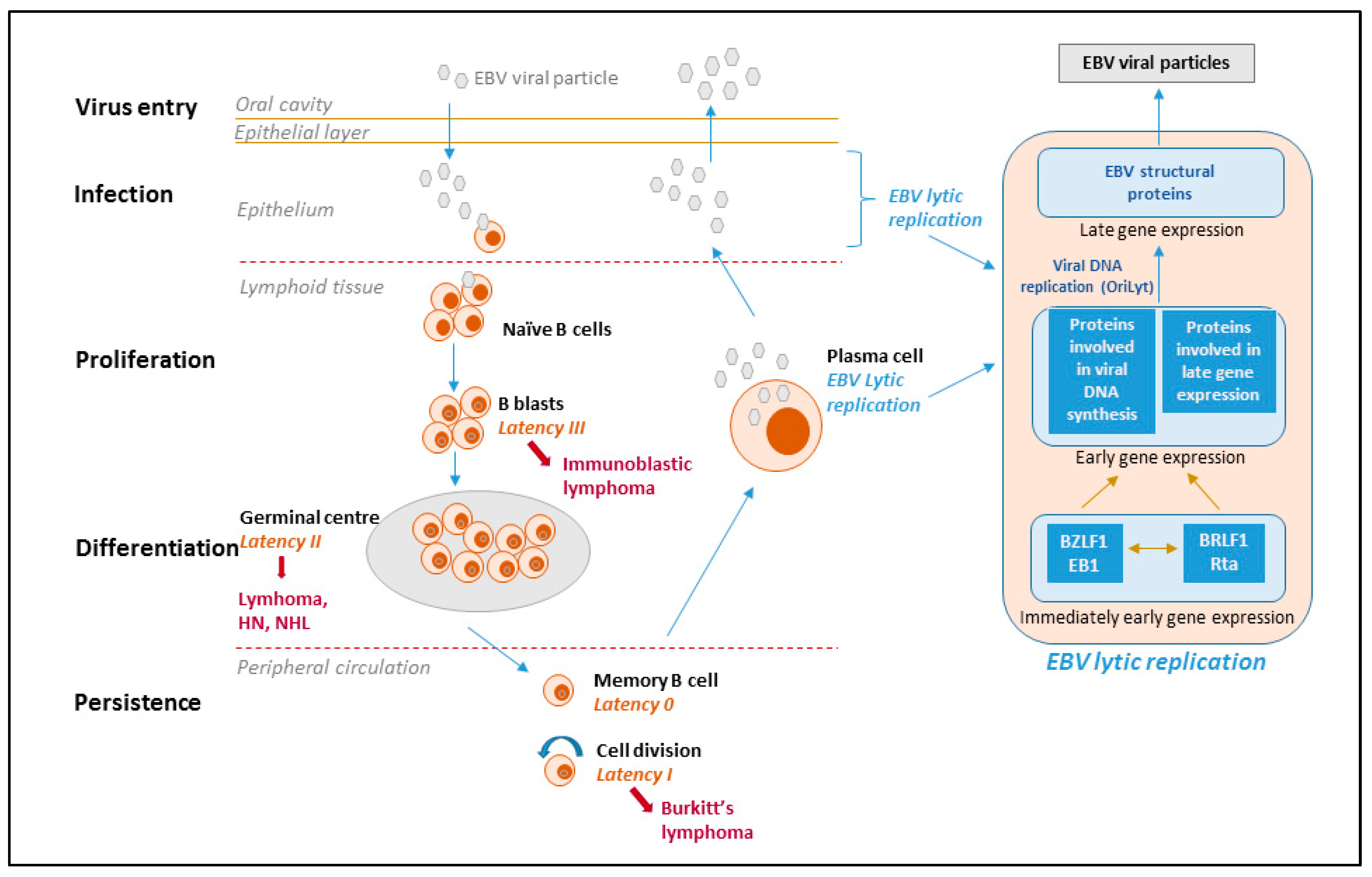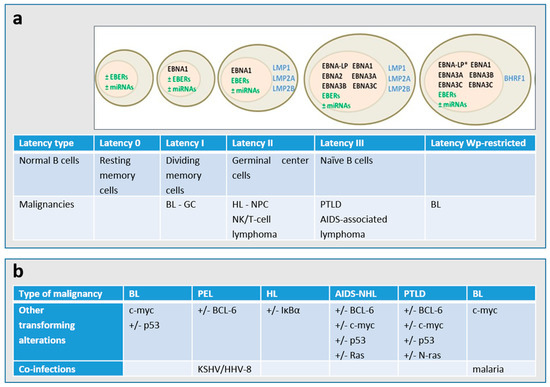 Figure 2.
(
a
) Patterns of gene expression during EBV latency. The majority of the endemic BL presents a latency I type and carry a wild-type transformation-competent EBV genome and express only the Epstein–Barr nuclear antigen 1 (EBNA1) from the
EBNA1
-specific latent promoter Qp, non-coding EBERs (Epstein–Barr virus-encoded small RNAs) and several microRNAs (miRNAs). Around 15% of BL endemic tumors, the so called Wp-restricted BLs, carry an
EBNA2
gene-deleted genome and express EBNA1, -3A, -3B, and-3C and the viral Bcl2 homologue BHRF1 from the Wp latent promoter [
2
,
6
]. * The EBNA-LP gene is partially deleted in the Wp-restricted latency. A major type of latency in EBV-associated malignancies is latency II, in which the latent membrane proteins LMP1, LMP2A, and LMP2B are expressed in addition to the Latency I genes. The entire EBV latency gene complex, which consists of several EBNA proteins, LMP1, LMP2A, LMP2B, EBERs, and miRNAs are expressed in the type III latency. (
b
) The cellular genetic alterations and/or co-infections are known to occur in the different types of EBV-associated malignancies. PEL: primary effusion lymphoma; HL: Hodgkin lymphoma; BL: Burkitt lymphoma; NHL: non-Hodgkin lymphoma; PTLD: post-transplant lymphoproliferative disorder; NPC: nasopharyngeal carcinoma; GC: gastric carcinoma.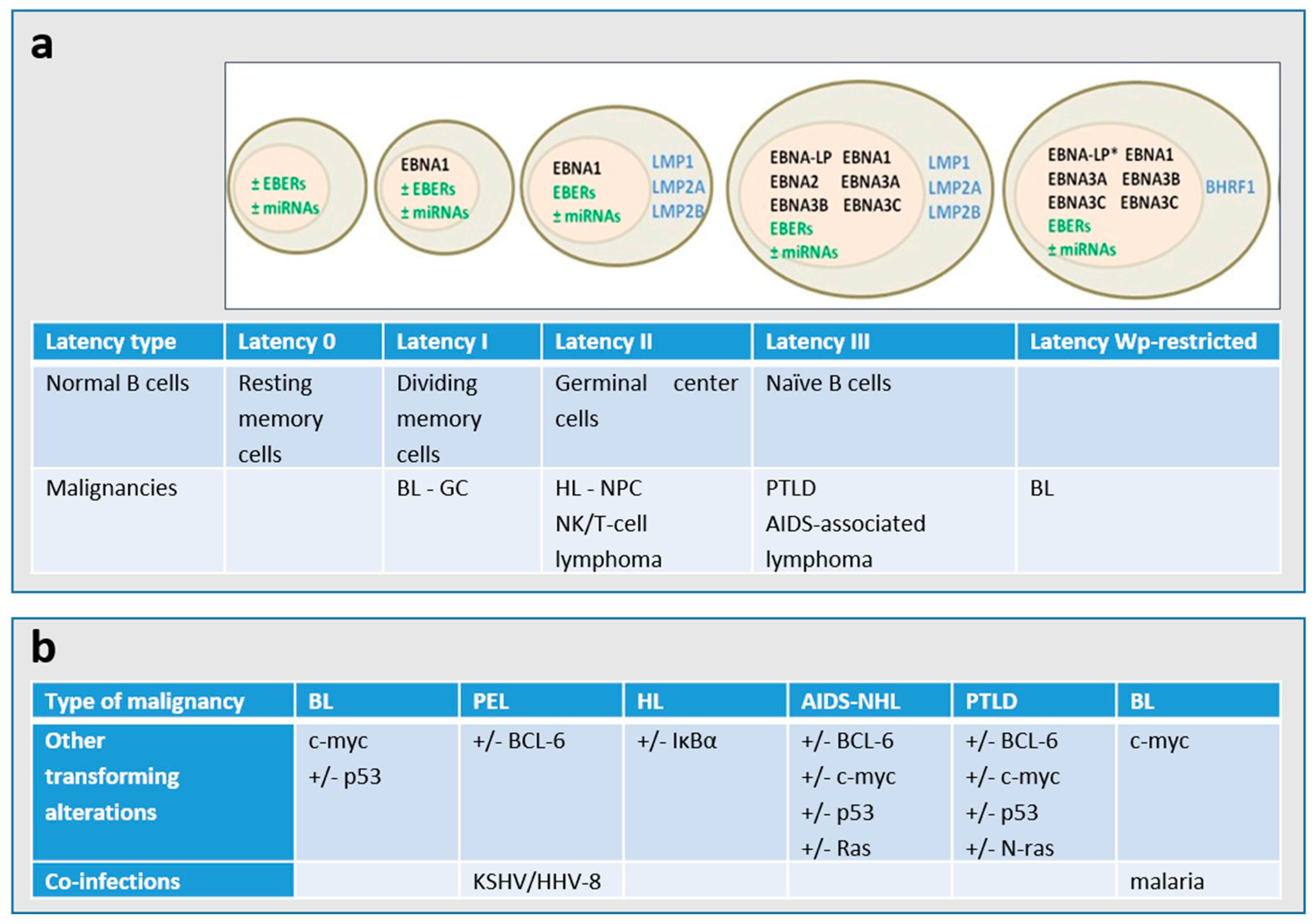 Immunocompetent Host
Immunocompromised Hosts
Lymphoma
EBV Association
Latency Program
Lymphoma
EBV Association
Latency Program
BL (endemic)
100%
I or Wp- restricted
PTLD, B-cell
>90%
III
BL (sporadic)
15–85%
I
BL (HIV)
25–35%
I
Classical HL
40%
II
HL (HIV)
>80%
II
DLBCL associated with chronic inflammation
~70%
II
PEL (primary effusion lymphoma)
>80%
I
EBV-positive DLBCL of the elderly
100%
II
Plasmablastic lymphoma
~70%
I or II
Lymphomatoid granulomatosis
100%
II
Plasmablastic lymphoma, oral type (HIV)
100%
I
Angioimmunoblastic T-cell lymphoma *
>90%
II
Primary CNS lymphoma (HIV)
100%
III
Extranodal NK/T-cell lymphoma, nasal type *
100%
II
NHLs with primary immune disorders
>90%
III
Aggressive NK-cell leukemia *
>90%
II
Iatrogenic immunodeficiency lymphoma
40–50%
III
PTLD, NK/T-cell *
>70%
III

© 2019 by the authors. Licensee MDPI, Basel, Switzerland. This article is an open access article distributed under the terms and conditions of the Creative Commons Attribution (CC BY) license (http://creativecommons.org/licenses/by/4.0/).