Tea Seed Oil Prevents Obesity, Reduces Physical Fatigue, and Improves Exercise Performance in High-Fat-Diet-Induced Obese Ovariectomized Mice
1
Graduate Institute of Metabolism and Obesity Sciences, Taipei Medical University, Taipei 11031, Taiwan
2
Nutrition Research Center, Taipei Medical University Hospital, Taipei City 11031, Taiwan
3
Graduate Institute of Sports Science, National Taiwan Sport University, Taoyuan 33301, Taiwan
4
School of Nutrition and Health Sciences, Taipei Medical University, Taipei 11031, Taiwan
5
Research Center of Geriatric Nutrition, College of Nutrition, Taipei Medical University, Taipei 11031, Taiwan
6
Department of Exercise and Health Science, National Taipei University of Nursing and Health Sciences, Taipei 11219, Taiwan
*
Authors to whom correspondence should be addressed.
†
These authors contributed equally to this work.
Academic Editor: Francesca Mancianti
Received: 15 February 2019 / Accepted: 5 March 2019 / Published: 11 March 2019
Abstract
Menopause is associated with changes in body composition (a decline in lean body mass and an increase in total fat mass), leading to an increased risk of metabolic syndrome, nonalcoholic fatty liver disease, and heart disease. A healthy diet to control body weight is an effective strategy for preventing and treating menopause-related metabolic syndromes. In the present study, we investigated the effect of long-term feeding of edible oils (soybean oil (SO), tea seed oil (TO), and lard oil (LO)) on female ovariectomized (OVX) mice. SO, TO, and LO comprise mainly polyunsaturated fatty acids (PUFA), monounsaturated fatty acids (MUFA), and saturated fatty acids (SFA), respectively. However, there have been quite limited studies to investigate the effects of different fatty acids (PUFA, MUFA, and SFA) on physiological adaption and metabolic homeostasis in a menopausal population. In this study, 7-week-old female Institute of Cancer Research (ICR) mice underwent either bilateral laparotomy (sham group,
n
= 8) or bilateral oophorectomy (OVX groups,
n
= 24). The OVX mice given a high-fat diet (HFD) were randomly divided into three groups: OVX+SO, OVX+TO, and OVX+LO. An HFD rich in SO, TO, or LO was given to the OVX mice for 12 weeks. Our findings revealed that the body weight and relative tissues of UFP (uterus fatty peripheral) and total fat (TF) were significantly decreased in the OVX+TO group compared with those in the OVX+SO and OVX+LO groups. However, no significant difference in body weight or in the relative tissues of UFP and TF was noted among the OVX+SO and OVX+LO groups. Furthermore, mice given an HFD rich in TO exhibited significantly decreased accumulation of liver lipid droplets and adipocyte sizes of UFP and brown adipose tissue (BAT) compared with those given an HFD rich in SO or LO. Moreover, replacing SO or LO with TO significantly increased oral glucose tolerance. Additionally, TO improved endurance performance and exhibited antifatigue activity by lowering ammonia, blood urea nitrogen, and creatine kinase levels. Thus, tea seed oil (TO) rich in MUFA could prevent obesity, reduce physical fatigue, and improve exercise performance compared with either SO (PUFA)- or LO(SFA)-rich diets in this HFD-induced obese OVX mice model.
View Full-Text
►

▼

Figures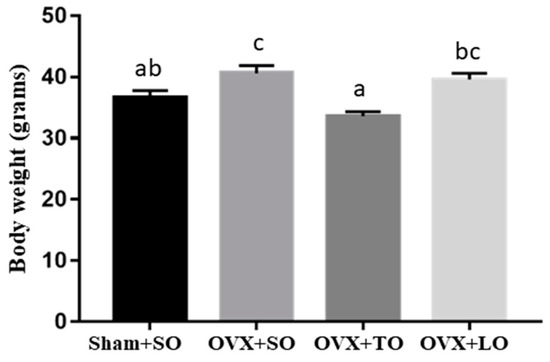 Figure 1
This is an open access article distributed under the
Creative Commons Attribution License
which permits unrestricted use, distribution, and reproduction in any medium, provided the original work is properly cited (CC BY 4.0).

Share & Cite This Article
MDPI and ACS Style
Tung, Y.-T.; Hsu, Y.-J.; Chien, Y.-W.; Huang, C.-C.; Huang, W.-C.; Chiu, W.-C. Tea Seed Oil Prevents Obesity, Reduces Physical Fatigue, and Improves Exercise Performance in High-Fat-Diet-Induced Obese Ovariectomized Mice. Molecules 2019, 24, 980.
Note that from the first issue of 2016, MDPI journals use article numbers instead of page numbers. See further details here.
Related Articles
Comments
[Return to top]