Profiling Metabolites and Biological Activities of Sugarcane (
Saccharum officinarum

Linn.) Juice and its Product Molasses

via

a Multiplex Metabolomics Approach

1

Department of Pharmaceutical Biology, Faculty of Pharmacy & Biotechnology, The German University in Cairo, New Cairo 12613, Egypt

2

Pharmacognosy Department, Faculty of Pharmacy, Cairo University, Kasr el Aini st., Cairo 11562, Egypt

3

Department of Pharmaceutical Botany, "Iuliu Hațieganu" University of Medicine and Pharmacy, 400337 Cluj-Napoca, Romania

4

Department of Chemistry, School of Sciences & Engineering, The American University in Cairo, New Cairo 11835, Egypt

5

Pharmacognosy Group, Department of Medicinal Chemistry, Uppsala University, Biomedical Centre, Box 574, SE-75 123 Uppsala, Sweden

6

Faculty of Science, Menoufia University, Shebin El-Kom 32512, Egypt

*

Author to whom correspondence should be addressed.

Academic Editor: Jesus Simal-Gandara

Received: 15 February 2019 / Revised: 27 February 2019 / Accepted: 28 February 2019 / Published: 7 March 2019
Abstract
Sugarcane (
Saccharum officinarum
L.) is an important perennial grass in the Poaceae family cultivated worldwide due to its economical and medicinal value. In this study, a combined approach using mass spectrometry (MS) and nuclear magnetic resonance (NMR) spectroscopy was employed for the large-scale metabolite profiling of sugarcane juice and its by-product molasses. The polyphenols were analysed via UPLC-UV-ESI-MS, whereas the primary metabolites such as sugars and organic and amino acids were profiled using NMR spectroscopy and gas chromatography/mass spectrometry (GC/MS). UPLC/MS was more effective than NMR spectroscopy or GC/MS for determining differences among the metabolite compositions of the products. Under the optimized conditions, UPLC/MS led to the identification of 42 metabolites, including nine flavonoids, nine fatty acids, and two sterols. C/O Flavone glycosides were the main subclass detected, with tricin-7-O-deoxyhexosyl glucuronide being detected in sugarcane and molasses for the first time. Based on GC/MS analysis, disaccharides were the predominant species in the sugarcane juice and molasses, with sucrose accounting for 66% and 59%, respectively, by mass of all identified metabolites. The phenolic profiles of sugarcane and molasses were further investigated in relation to their in vitro antioxidant activities using free radical scavenging assays such as 2,2-Diphenyl-1-picrylhydrazyl free radical-scavenging ability (DPPH), Trolox equivalent antioxidant capacity (TEAC) and ferric reducing antioxidant power (FRAP). In view of its higher total phenolic content (TPC) (196 ± 2.1 mg GAE/100 g extract) compared to that of sugarcane juice (93 ± 2.9 mg GAE/100 g extract), molasses exhibited a substantially higher antioxidant effect. Interestingly, both extracts were also found to inhibit α-glucosidase and α-amylase enzymes, suggesting a possible antihyperglycaemic effect. These findings suggest molasses may be a new source of natural antioxidants for functional foods.
View Full-Text
►

▼

Figures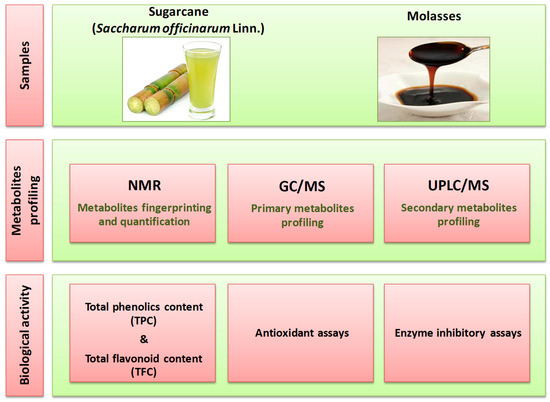 Figure 1
This is an open access article distributed under the
Creative Commons Attribution License
which permits unrestricted use, distribution, and reproduction in any medium, provided the original work is properly cited (CC BY 4.0).

Share & Cite This Article
MDPI and ACS Style
Ali, S.E.; El Gedaily, R.A.; Mocan, A.; Farag, M.A.; El-Seedi, H.R. Profiling Metabolites and Biological Activities of Sugarcane (Saccharum officinarum Linn.) Juice and its Product Molasses via a Multiplex Metabolomics Approach. Molecules 2019, 24, 934.
Note that from the first issue of 2016, MDPI journals use article numbers instead of page numbers. See further details here.
Related Articles
Comments
[Return to top]