Kurarinone from
Sophora Flavescens

Roots Triggers ATF4 Activation and Cytostatic Effects Through PERK Phosphorylation

1

Department of Cell Signaling, Graduate School of Pharmaceutical Sciences and Nagoya City University, Nagoya 467-8603, Japan

2

Department of Biochemistry, Graduate School of Medicine, University of Yamanashi, Yamanashi 409-3898, Japan

3

Department of Innovative Therapeutic Sciences, Cooperative Major in Nanopharmaceutical Sciences, Graduate School of Pharmaceutical Sciences, Nagoya City University, Nagoya 467-8603, Japan

4

Laboratory of Medicinal Resources, School of Pharmacy, Aichi Gakuin University, Nagoya 464-8650, Japan

5

Division of Molecular Target and Gene Therapy Products, National Institute of Health Sciences, Kanagawa 210-9501, Japan

6

Department of Pharmacognosy, Graduate School of Pharmaceutical Sciences, Nagoya City University, Nagoya 467-8603, Japan

*

Authors to whom correspondence should be addressed.

†

These authors contributed equally to this work.

‡

Present address: The Kochi Prefectural Makino Botanical Garden, Kochi 781-8125, Japan.

Academic Editor: Tran Dang Xuan

Received: 8 August 2019 / Revised: 23 August 2019 / Accepted: 23 August 2019 / Published: 27 August 2019
In response to cellular stresses, activating transcriptional factor 4 (ATF4) regulates the expression of both stress-relieving genes and apoptosis-inducing genes, eliciting cell fate determination. Since pharmacological activation of ATF4 exerts potent anti-tumor effects, modulators of ATF4 activation may have potential in cancer therapy. We herein attempted to identify small molecules that activate ATF4. A cell-based screening to monitor
TRB3
promoter activation was performed using crude drugs used in traditional Japanese Kampo medicine. We found that an extract from
Sophora flavescens
roots exhibited potent
TRB3
promoter activation. The activity-guided fractionation revealed that kurarinone was identified as the active ingredient. Intriguingly, ATF4 activation in response to kurarinone required PKR-like endoplasmic reticulum kinase (PERK). Moreover, kurarinone induced the cyclin-dependent kinase inhibitor p21 as well as cytostasis in cancer cells. Importantly, the cytostatic effect of kurarinone was reduced by pharmacological inhibition of PERK. These results indicate that kurarinone triggers ATF4 activation through PERK and exerts cytostatic effects on cancer cells. Taken together, our results suggest that modulation of the PERK-ATF4 pathway with kurarinone has potential as a cancer treatment.
View Full-Text
►

▼

Show Figures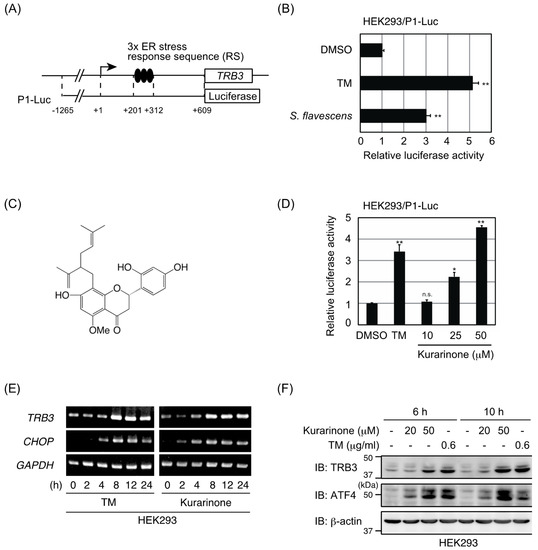 Figure 1
This is an open access article distributed under the
Creative Commons Attribution License
which permits unrestricted use, distribution, and reproduction in any medium, provided the original work is properly cited

MDPI and ACS Style
Nishikawa, S.; Itoh, Y.; Tokugawa, M.; Inoue, Y.; Nakashima, K.-I.; Hori, Y.; Miyajima, C.; Yoshida, K.; Morishita, D.; Ohoka, N.; Inoue, M.; Mizukami, H.; Makino, T.; Hayashi, H. Kurarinone from Sophora Flavescens Roots Triggers ATF4 Activation and Cytostatic Effects Through PERK Phosphorylation. Molecules 2019, 24, 3110.
Show more citation formats
Show less citations formats
Note that from the first issue of 2016, MDPI journals use article numbers instead of page numbers. See further details
here
.