Bread-Derived Bioactive Porous Scaffolds: An Innovative and Sustainable Approach to Bone Tissue Engineering
1
Institute of Materials Physics and Engineering, Department of Applied Science and Technology (DISAT), Politecnico di Torino, Corso duca degli Abruzzi 24, 10129 Torino, Italy
2
Department of Mechanical and Aerospace Engineering (DIMEAS), Politecnico di Torino, Corso Duca degli Abruzzi 24, 10129 Torino, Italy
*
Authors to whom correspondence should be addressed.
Received: 27 July 2019 / Revised: 8 August 2019 / Accepted: 14 August 2019 / Published: 14 August 2019
Abstract
In recent years, bioactive glasses gained increasing scientific interest in bone tissue engineering due to their capability to chemically bond with the host tissue and to induce osteogenesis. As a result, several efforts have been addressed to use bioactive glasses in the production of three-dimensional (3D) porous scaffolds for bone regeneration. In this work, we creatively combine typical concepts of porous glass processing with those of waste management and propose, for the first time, the use of bread as a new sacrificial template for the fabrication of bioactive scaffolds. Preliminary SEM investigations performed on stale bread from industrial wastes revealed a suitable morphology characterized by an open-cell 3D architecture, which is potentially able to allow tissue ingrowth and vascularization. Morphological features, mechanical performances and in vitro bioactivity tests were performed in order to evaluate the properties of these new "sustainable" scaffolds for bone replacement and regeneration. Scaffolds with total porosity ranging from 70 to 85 vol% and mechanical strength comparable to cancellous bone were obtained. Globular hydroxyapatite was observed to form on the surface of the scaffolds after just 48-h immersion in simulated body fluid. The results show great promise and suggest the possibility to use bread as an innovative and inexpensive template for the development of highly-sustainable bone tissue engineering approaches.
View Full-Text
►

▼

Figures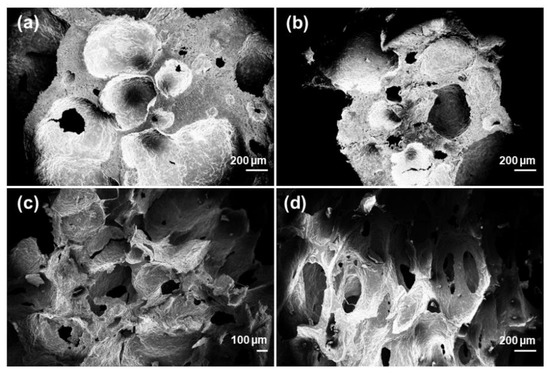 Figure 1
This is an open access article distributed under the
Creative Commons Attribution License
which permits unrestricted use, distribution, and reproduction in any medium, provided the original work is properly cited (CC BY 4.0).

Share & Cite This Article
MDPI and ACS Style
Fiume, E.; Serino, G.; Bignardi, C.; Verné, E.; Baino, F. Bread-Derived Bioactive Porous Scaffolds: An Innovative and Sustainable Approach to Bone Tissue Engineering. Molecules 2019, 24, 2954.
Note that from the first issue of 2016, MDPI journals use article numbers instead of page numbers. See further details here.
Related Articles
Comments
[Return to top]