Remarkable Effect of [Li(G4)]TFSI Solvate Ionic Liquid (SIL) on the Regio- and Stereoselective Ring Opening of α-Gluco Carbasugar 1,2-Epoxides
1
Dipartimento di Farmacia, Università di Pisa, Via Bonanno 33, 56126 Pisa, Italy
2
Present address: Max Planck Institute of Colloids and Interfaces, Am Mühlen- berg 1, 14476 Potsdam, Germany
3
Fondazione Pisana per la Scienza, via F. Giovannini 13, San Giuliano Terme (PI), 56017 Pisa, Italy
4
Dipartimento di Chimica e Chimica Industriale, Università di Pisa, Via G. Moruzzi 3, 56124 Pisa, Italy
*
Authors to whom correspondence should be addressed.
Received: 31 July 2019 / Revised: 9 August 2019 / Accepted: 13 August 2019 / Published: 14 August 2019
Abstract
Carba analogues of biologically relevant natural carbohydrates are promising structures for the development of future drugs endowed with enhanced hydrolytic stability. An open synthetic challenge in this field is the optimization of new methodologies for the stereo- and regioselective opening of α-gluco carbasugar 1,2-epoxides that allow for the preparation of pseudo mono- and disaccharides of great interest. Therefore, we investigated the effect of Lewis acids and solvate ionic liquids (SILs) on the epoxide ring opening of a model substrate. Of particular interest was the complete stereo- and regioselectivity, albeit limited to simple nucleophiles, toward the desired C(1) isomer that was observed using LiClO
4
. The results obtained with SILs were also remarkable. In particular, Li[NTf
2
]/tetraglyme (
[Li(G4)]TFSI
) was able to function as a Lewis acid and to direct the attack of the nucleophile preferentially at the pseudo anomeric position, even with a more complex and synthetically interesting nucleophile. The regioselectivity observed for LiClO
4
and
[Li(G4)]TFSI
was tentatively ascribed to the formation of a bidentate chelating system, which changed the conformational equilibrium and ultimately permitted a trans-diaxial attack on C(1). To the best of our knowledge, we report here the first case in which SILs were successfully employed in a ring-opening process of epoxides.
View Full-Text
►

▼

Figures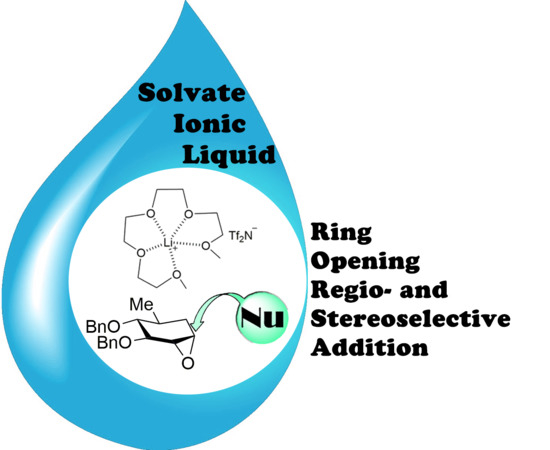 Graphical abstract
This is an open access article distributed under the
Creative Commons Attribution License
which permits unrestricted use, distribution, and reproduction in any medium, provided the original work is properly cited (CC BY 4.0).

Share & Cite This Article
MDPI and ACS Style
Di Pietro, S.; Bordoni, V.; Mezzetta, A.; Chiappe, C.; Signore, G.; Guazzelli, L.; Di Bussolo, V. Remarkable Effect of [Li(G4)]TFSI Solvate Ionic Liquid (SIL) on the Regio- and Stereoselective Ring Opening of α-Gluco Carbasugar 1,2-Epoxides. Molecules 2019, 24, 2946.
Note that from the first issue of 2016, MDPI journals use article numbers instead of page numbers. See further details here.
Related Articles
Comments
[Return to top]