Thiol-ene "Click" Synthesis and Pharmacological Evaluation of
C

-Glycoside sp2-Iminosugar Glycolipids

1

Department of Organic Chemistry, Faculty of Chemistry, University of Seville, C/Profesor García González 1, 41012 Seville, Spain

2

Instituto de Parasitología y Biomedicina "López-Neyra", IPBLN-CSIC, Parque Tecnológico de Ciencias de la Salud, 18016 Granada, Spain

3

BioLab, Instituto Universitario de Bio-Orgánica Antonio González (IUBO AG), Centro de Investigaciones Biomédicas de Canarias (CIBCAN), Universidad de La Laguna, 38206 La Laguna, Spain

4

Instituto de Investigaciones Químicas (IIQ), CSIC - University of Sevilla, Avda. Américo Vespucio 49, 41092 Sevilla, Spain

*

Authors to whom correspondence should be addressed.

Academic Editors: David Díez and María Ángeles Castro

Received: 22 July 2019 / Revised: 5 August 2019 / Accepted: 7 August 2019 / Published: 8 August 2019
Abstract
The unique stereoelectronic properties of sp
2
-iminosugars enable their participation in glycosylation reactions, thereby behaving as true carbohydrate chemical mimics. Among sp
2
-iminosugar conjugates, the sp
2
-iminosugar glycolipids (sp
2
-IGLs) have shown a variety of interesting pharmacological properties ranging from glycosidase inhibition to antiproliferative, antiparasitic, and anti-inflammatory activities. Developing strategies compatible with molecular diversity-oriented strategies for structure–activity relationship studies was therefore highly wanted. Here we show that a reaction sequence consisting in stereoselective
C
-allylation followed by thiol-ene "click" coupling provides a very convenient access to α-
C
-glycoside sp
2
-IGLs. Both the glycone moiety and the aglycone tail can be modified by using sp
2
-iminosugar precursors with different configurational profiles (
d
-
gluco
or
d
-
galacto
in this work) and varied thiols, as well as by oxidation of the sulfide adducts (to the corresponding sulfones in this work). A series of derivatives was prepared in this manner and their glycosidase inhibitory, antiproliferative and antileishmanial activities were evaluated in different settings. The results confirm that the inhibition of glycosidases, particularly α-glucosidase, and the antitumor/leishmanicidal activities are unrelated. The data are also consistent with the two later activities arising from the ability of the sp
2
-IGLs to interfere in the immune system response in a cell line and cell context dependent manner.
View Full-Text
►

▼

Figures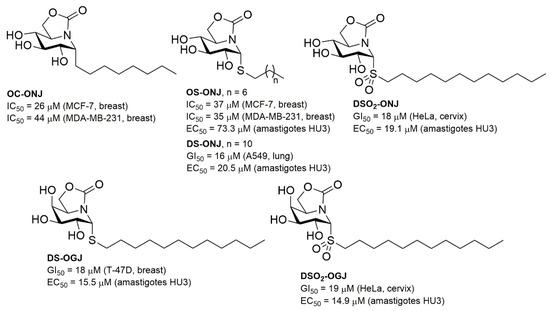 Figure 1
This is an open access article distributed under the
Creative Commons Attribution License
which permits unrestricted use, distribution, and reproduction in any medium, provided the original work is properly cited (CC BY 4.0).

Share & Cite This Article
MDPI and ACS Style
Sánchez-Fernández, E.M.; García-Moreno, M.I.; García-Hernández, R.; Padrón, J.M.; García Fernández, J.M.; Gamarro, F.; Ortiz Mellet, C. Thiol-ene "Click" Synthesis and Pharmacological Evaluation of C-Glycoside sp2-Iminosugar Glycolipids. Molecules 2019, 24, 2882.
Note that from the first issue of 2016, MDPI journals use article numbers instead of page numbers. See further details here.
Related Articles
Comments
[Return to top]