A DNA-Based Biosensor Assay for the Kinetic Characterization of Ion-Dependent Aptamer Folding and Protein Binding
Dynamic Biosensors GmbH, Lochhamer Str. 15, 82152 Martinsried, Germany
*
Author to whom correspondence should be addressed.
Academic Editors: Giorgia Oliviero and Nicola Borbone
Received: 17 July 2019 / Revised: 2 August 2019 / Accepted: 5 August 2019 / Published: 8 August 2019
Abstract
Therapeutic and diagnostic nucleic acid aptamers are designed to bind tightly and specifically to their target. The combination of structural and kinetic analyses of aptamer interactions has gained increasing importance. Here, we present a fluorescence-based switchSENSE aptasensor for the detailed kinetic characterization of aptamer–analyte interaction and aptamer folding, employing the thrombin-binding aptamer (TBA) as a model system. Thrombin-binding aptamer folding into a G-quadruplex and its binding to thrombin strongly depend on the type and concentration of ions present in solution. We observed conformational changes induced by cations in real-time and determined the folding and unfolding kinetics of the aptamer. The aptamer's affinity for K
+
was found to be more than one order of magnitude higher than for other cations (K
+
> NH
4
+
>> Na
+
> Li
+
). The aptamer's affinity to its protein target thrombin in the presence of different cations followed the same trend but differed by more than three orders of magnitude (K
D
= 0.15 nM to 250 nM). While the stability (k
OFF
) of the thrombin–TBA complex was similar in all conditions, the cation type strongly influenced the association rate (k
ON
). These results demonstrated that protein–aptamer binding is intrinsically related to the correct aptamer fold and, hence, to the presence of stabilizing ions. Because fast binding kinetics with on-rates exceeding 10
8
M
−1
s
−1
can be quantified, and folding-related phenomena can be directly resolved, switchSENSE is a useful analytical tool for in-depth characterization of aptamer–ion and aptamer–protein interactions.
View Full-Text
►

▼

Figures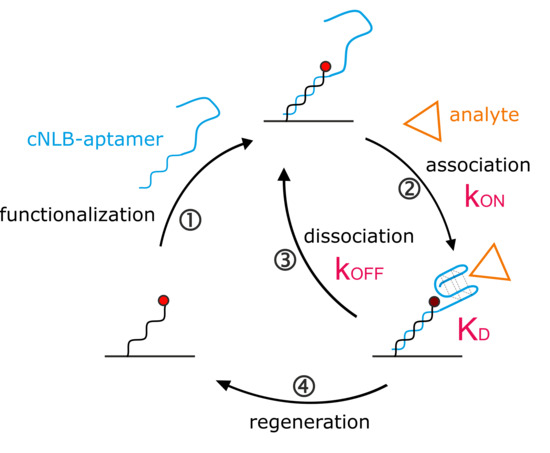 Graphical abstract
This is an open access article distributed under the
Creative Commons Attribution License
which permits unrestricted use, distribution, and reproduction in any medium, provided the original work is properly cited (CC BY 4.0).

Share & Cite This Article
MDPI and ACS Style
Ponzo, I.; Möller, F.M.; Daub, H.; Matscheko, N. A DNA-Based Biosensor Assay for the Kinetic Characterization of Ion-Dependent Aptamer Folding and Protein Binding. Molecules 2019, 24, 2877.
Note that from the first issue of 2016, MDPI journals use article numbers instead of page numbers. See further details here.
Related Articles
Comments
[Return to top]