Solid State Room Temperature Dual Phosphorescence from 3-(2-Fluoropyridin-4-yl)triimidazo[1,2-
a

:1′,2′-

c

:1″,2″-

e

][1,3,5]triazine

1

Department of Chemistry, Università degli Studi di Milano and INSTM RU, via Golgi 19, 20133 Milano, Italy

2

Institute of Molecular Science and Technologies (ISTM) of CNR and INSTM RU, via Golgi 19, 20133 Milano, Italy

3

Institute for Macromolecular Studies (ISMAC) of CNR, via Corti 12, 20133 Milano, Italy

*

Authors to whom correspondence should be addressed.

Academic Editor: Gregor Drummen

Received: 10 June 2019 / Revised: 5 July 2019 / Accepted: 12 July 2019 / Published: 13 July 2019
Abstract
Organic room temperature persistent luminescence is a fascinating but still largely unexplored phenomenon. Cyclic-triimidazole and its halogenated (Br, I) derivatives have recently revealed as intriguing phosphors characterized by multifaceted emissive behavior including room temperature ultralong phosphorescence (RTUP) associated with the presence of H-aggregates in their crystal structure. Here, we move towards a multicomponent system by incorporating a fluoropyridinic fragment on the cyclic-triimidazole scaffold. Such chromophore enhances the molecular properties resulting in a high photoluminescence quantum yield (PL QY) in solution but preserves the solid-state RTUP. By means of X-ray diffraction (XRD) analysis, theoretical calculations, steady-state and time-resolved spectroscopy on solutions, polymethylmethacrylate (PMMA) blends and crystals, the nature of the different radiative deactivation channels of the compound has been disclosed. In particular, the molecular fluorescence and phosphorescence, this latter observed in frozen solution and in PMMA blends, are associated to deactivation from S
1
and T
1
respectively, while the low energy RTUP, observed only for crystals, is interpreted as originated from H aggregates.
View Full-Text
►

▼

Figures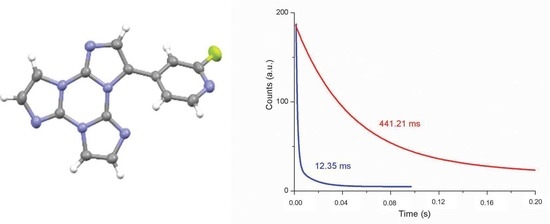 Graphical abstract
This is an open access article distributed under the
Creative Commons Attribution License
which permits unrestricted use, distribution, and reproduction in any medium, provided the original work is properly cited (CC BY 4.0).

Share & Cite This Article
MDPI and ACS Style
Previtali, A.; Lucenti, E.; Forni, A.; Mauri, L.; Botta, C.; Giannini, C.; Malpicci, D.; Marinotto, D.; Righetto, S.; Cariati, E. Solid State Room Temperature Dual Phosphorescence from 3-(2-Fluoropyridin-4-yl)triimidazo[1,2-a:1′,2′-c:1″,2″-e][1,3,5]triazine. Molecules 2019, 24, 2552.
Note that from the first issue of 2016, MDPI journals use article numbers instead of page numbers. See further details here.
Related Articles
Comments
[Return to top]