Velutin, an Aglycone Extracted from Korean Mistletoe, with Improved Inhibitory Activity against Melanin Biosynthesis
1
Department of Bio-Health Technology, College of Biomedical Science, Kangwon National University, Chuncheon 24341, Korea
2
Division of Biomedical Convergence, College of Biomedical Science, Kangwon National University, Chuncheon 24341, Korea
*
Authors to whom correspondence should be addressed.
†
These authors contributed equally to this work.
Academic Editors: Celestino Santos-Buelga and Ana M. González-Paramás
Received: 16 June 2019 / Revised: 9 July 2019 / Accepted: 11 July 2019 / Published: 12 July 2019
Abstract
The abnormal regulation of melanin synthesis leads to a wide range of pigmentary disorders. Although various melanin biosynthesis inhibitors have been developed, their efficacy and long-term safety needs to be further improved, and thus the goal of this study is to develop promising natural compound inhibitors of melanin biosynthesis. Here, we obtained aglycone flavonoid extract through the microwave-assisted hydrolysis of glycoside extract from Korean mistletoe in acidic condition. The aglycone extract inhibited tyrosinase activity more efficiently with better antioxidant activity than glycoside extract in vitro. The microwave-assisted aglycone extract of mistletoe was further analyzed for in vivo activity, and the results showed the aglycone extract inhibited both early melanocyte development and melanin synthesis more efficiently in zebrafish embryo in a dose-dependent manner. Our in vivo toxicity assay quantitatively measured cell death in zebrafish embryos and showed that the microwave-assisted aglycone extract of mistletoe had no significant effect on cell death (
p
< 0.001), indicating that aglycone extract is more biocompatible than glycoside extract. Furthermore, our in vitro and in vivo analyses successfully identified and characterized velutin, an aglycone of a homoflavoyadorinin B glycoside, as a major inhibitory component in the microwave-assisted mistletoe extract. Ultimately, this study showed that the novel natural compound inhibitor velutin, which was generated through microwave-assisted extraction from mistletoe, improved the efficacy of melanin biosynthesis inhibition with little toxicity.
View Full-Text
►

▼

Figures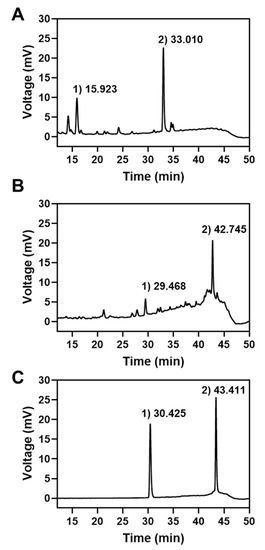 Figure 1
This is an open access article distributed under the
Creative Commons Attribution License
which permits unrestricted use, distribution, and reproduction in any medium, provided the original work is properly cited (CC BY 4.0).

Share & Cite This Article
MDPI and ACS Style
Jung, S.-H.; Kim, J.; Eum, J.; Choe, J.W.; Kim, H.H.; Kee, Y.; Lee, K. Velutin, an Aglycone Extracted from Korean Mistletoe, with Improved Inhibitory Activity against Melanin Biosynthesis. Molecules 2019, 24, 2549.
Note that from the first issue of 2016, MDPI journals use article numbers instead of page numbers. See further details here.
Related Articles
Comments
[Return to top]