A Novel 3-Phytosterone-9α-Hydroxylase Oxygenation Component and Its Application in Bioconversion of 4-Androstene-3,17-Dione to 9α-Hydroxy-4-Androstene-3,17-Dione Coupling with A NADH Regeneration Formate Dehydrogenase
1
The Key Laboratory of Industrial Biotechnology, Ministry of Education, School of Biotechnology, Jiangnan University, 1800 Liu Avenue, Wuxi 214122, Jiangsu, China
2
Biochemical Engineering College, Beijing Union University, Beijing 100023, China
3
School of Food Science and Technology, Jiangnan University, 1800 Liu Avenue, Wuxi 214122, Jiangsu, China
4
School of Medicine, Yichun University, Yichun 336000, Jiangxi, China
*
Authors to whom correspondence should be addressed.
Received: 22 May 2019 / Revised: 1 July 2019 / Accepted: 9 July 2019 / Published: 11 July 2019
Abstract
9α-Hydroxy-4-androstene-3,17-dione (9-OH-AD) is one of the significant intermediates for the preparation of β-methasone, dexamethasone, and other steroids. In general, the key enzyme that enables the biotransformation of 4-androstene-3,17-dione (AD) to 9-OH-AD is 3-phytosterone-9α-hydroxylase (KSH), which consists of two components: a terminal oxygenase (KshA) and ferredoxin reductase (KshB). The reaction is carried out with the concomitant oxidation of NADH to NAD
+
. In this study, the more efficient 3-phytosterone-9α-hydroxylase oxygenase (KshC) from the
Mycobacterium
sp. strain VKM Ac-1817D was confirmed and compared with reported KshA. To evaluate the function of KshC on the bioconversion of AD to 9-OH-AD, the characterization of KshC and the compounded system of KshB, KshC, and NADH was constructed. The optimum ratio of KSH oxygenase to reductase content was 1.5:1. An NADH regeneration system was designed by introducing a formate dehydrogenase, further confirming that a more economical process for biological transformation from AD to 9-OH-AD was established. A total of 7.78 g of 9-OH-AD per liter was achieved through a fed-batch process with a 92.11% conversion rate (mol/mol). This enzyme-mediated hydroxylation method provides an environmentally friendly and economical strategy for the production of 9-OH-AD.
View Full-Text
►

▼

Figures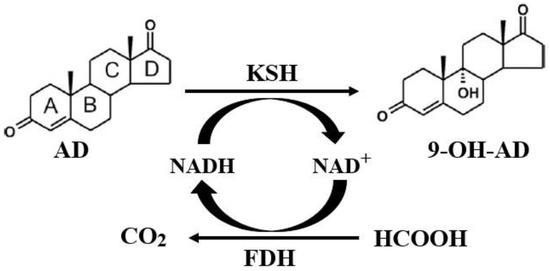 Figure 1
This is an open access article distributed under the
Creative Commons Attribution License
which permits unrestricted use, distribution, and reproduction in any medium, provided the original work is properly cited (CC BY 4.0).

Share & Cite This Article
MDPI and ACS Style
Zhang, X.; Zhu, M.; Han, R.; Zhao, Y.; Chen, K.; Qian, K.; Shao, M.; Yang, T.; Xu, M.; Xu, J.; Rao, Z. A Novel 3-Phytosterone-9α-Hydroxylase Oxygenation Component and Its Application in Bioconversion of 4-Androstene-3,17-Dione to 9α-Hydroxy-4-Androstene-3,17-Dione Coupling with A NADH Regeneration Formate Dehydrogenase. Molecules 2019, 24, 2534.
Note that from the first issue of 2016, MDPI journals use article numbers instead of page numbers. See further details here.
Related Articles
Comments
[Return to top]