Benzotriazine Di-Oxide Prodrugs for Exploiting Hypoxia and Low Extracellular pH in Tumors
1
Auckland Cancer Society Research Centre, School of Medical Sciences, Faculty of Medical and Health Sciences, University of Auckland, Auckland 1142, New Zealand
2
Maurice Wilkins Centre for Molecular Biodiscovery, University of Auckland, Symonds St, Auckland 1142, New Zealand
3
School of Chemical Sciences, University of Auckland, Auckland 1142, New Zealand
*
Author to whom correspondence should be addressed.
Received: 20 June 2019 / Revised: 5 July 2019 / Accepted: 6 July 2019 / Published: 10 July 2019
Abstract
Extracellular acidification is an important feature of tumor microenvironments but has yet to be successfully exploited in cancer therapy. The reversal of the pH gradient across the plasma membrane in cells that regulate intracellular pH (pHi) has potential to drive the selective uptake of weak acids at low extracellular pH (pHe). Here, we investigate the dual targeting of low pHe and hypoxia, another key feature of tumor microenvironments. We prepared eight bioreductive prodrugs based on the benzotriazine di-oxide (BTO) nucleus by appending alkanoic or aminoalkanoic acid sidechains. The BTO acids showed modest selectivity for both low pHe (pH 6.5 versus 7.4, ratios 2 to 5-fold) and anoxia (ratios 2 to 8-fold) in SiHa and FaDu cell cultures. Related neutral BTOs were not selective for acidosis, but had greater cytotoxic potency and hypoxic selectivity than the BTO acids. Investigation of the uptake and metabolism of representative BTO acids confirmed enhanced uptake at low pHe, but lower intracellular concentrations than expected for passive diffusion. Further, the modulation of intracellular reductase activity and competition by the cell-excluded electron acceptor WST-1 suggests that the majority of metabolic reductions of BTO acids occur at the cell surface, compromising the engagement of the resulting free radicals with intracellular targets. Thus, the present study provides support for designing bioreductive prodrugs that exploit pH-dependent partitioning, suggesting, however, that that the approach should be applied to prodrugs with obligate intracellular activation.
View Full-Text
►

▼

Figures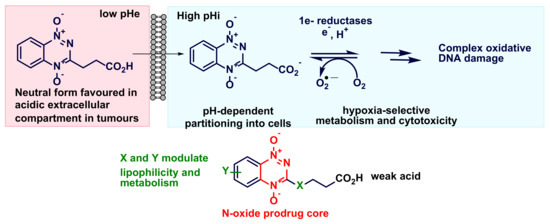 Graphical abstract
This is an open access article distributed under the
Creative Commons Attribution License
which permits unrestricted use, distribution, and reproduction in any medium, provided the original work is properly cited (CC BY 4.0).

Share & Cite This Article
MDPI and ACS Style
Hay, M.P.; Shin, H.N.; Wong, W.W.; Sahimi, W.W.; Vaz, A.T.; Yadav, P.; Anderson, R.F.; Hicks, K.O.; Wilson, W.R. Benzotriazine Di-Oxide Prodrugs for Exploiting Hypoxia and Low Extracellular pH in Tumors. Molecules 2019, 24, 2524.
Note that from the first issue of 2016, MDPI journals use article numbers instead of page numbers. See further details here.
Related Articles
Comments
[Return to top]