The Antibiofilm Effect of a Medical Device Containing TIAB on Microorganisms Associated with Surgical Site Infection
1
Department of Medicine and Aging Science, "G. d′Annunzio" of Chieti-Pescara, Via dei Vestini 31, 66100 Chieti, Italy
2
Center of Excellence on Aging and Translational Medicine (CeSI-MeT), Via Luigi Polacchi 11, 66100 Chieti, Italy
3
Department of Medical, Oral, and Biotechnological Sciences, "G. d'Annunzio" University of Chieti-Pescara, Via dei Vestini 31, 66100 Chieti, Italy
4
Department of Neuroscience Imaging and Clinical Sciences, "G. d′Annunzio" University Chieti-Pescara, Via Luigi Polacchi 11, 66100 Chieti, Italy
5
Department of Pharmacy, "G. d'Annunzio" University of Chieti-Pescara, Via dei Vestini 31, 66100 Chieti, Italy
6
Department of Biomedical, Surgical and Dental Sciences, University of Milan, Via della Commenda 10, 20122 Milan, Italy
7
Department of Urology, University of Milan, ASST Santi Paolo e Carlo, Via Antonio di Rudinì 8, 20142 Milan, Italy
*
Author to whom correspondence should be addressed.
†
This authors contributed equally to this work.
Academic Editors: Manuel Simões, Sérgio F. Sousa and Efstathios Giaouris
Received: 14 May 2019 / Revised: 10 June 2019 / Accepted: 18 June 2019 / Published: 19 June 2019
Abstract
Surgical site infections (SSIs) represent the most common nosocomial infections, and surgical sutures are optimal surfaces for bacterial adhesion and biofilm formation.
Staphylococcus
spp.,
Enterococcus
spp., and
Escherichia coli
are the most commonly isolated microorganisms. The aim of this research was to evaluate the antibiofilm activity of a medical device (MD) containing TIAB, which is a silver-nanotech patented product. The antibacterial effect was evaluated against
Staphylococcus aureus
ATCC 29213,
Enterococcus faecalis
ATCC 29212, and
E. coli
ATCC 25922 by assessing the minimum inhibitory concentration (MIC) by the Alamar Blue
®
(AB) assay. The antibiofilm effect was determined by evaluation of the minimum biofilm inhibitory concentration (MBIC) and colony-forming unit (CFU) count. Subsequently, the MD was applied on sutures exposed to the bacterial species. The antimicrobial and antibiofilm effects were evaluated by the agar diffusion test method, confocal laser scanning microscopy (CLSM), and scanning electron microscopy (SEM). The MIC was determined for
S. aureus
and
E. faecalis
at 2 mg/mL, while the MBIC was 1.5 mg/mL for
S. aureus
and 1 mg/mL for
E. faecalis
. The formation of an inhibition zone around three different treated sutures confirmed the antimicrobial activity, while the SEM and CLSM analysis performed on the MD-treated sutures underlined the presence of a few adhesive cells, which were for the most part dead. The MD showed antimicrobial and antibiofilm activities versus
S. aureus
and
E. faecalis
, but a lower efficacy against
E. coli
. Surgical sutures coated with the MD have the potential to reduce SSIs as well as the risk of biofilm formation post-surgery.
View Full-Text
►

▼

Figures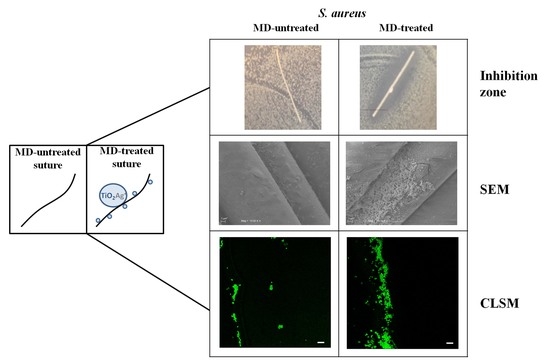 Graphical abstract
This is an open access article distributed under the
Creative Commons Attribution License
which permits unrestricted use, distribution, and reproduction in any medium, provided the original work is properly cited (CC BY 4.0).

Share & Cite This Article
MDPI and ACS Style
Puca, V.; Traini, T.; Guarnieri, S.; Carradori, S.; Sisto, F.; Macchione, N.; Muraro, R.; Mincione, G.; Grande, R. The Antibiofilm Effect of a Medical Device Containing TIAB on Microorganisms Associated with Surgical Site Infection. Molecules 2019, 24, 2280.
Note that from the first issue of 2016, MDPI journals use article numbers instead of page numbers. See further details here.
Related Articles
Comments
[Return to top]