Open Access This article is
freely available
re-usable
Article
N1-Propargylguanosine Modified mRNA Cap Analogs: Synthesis, Reactivity, and Applications to the Study of Cap-Binding Proteins
1
College of Inter-Faculty Individual Studies in Mathematics and Natural Sciences, University of Warsaw, S. Banacha 2c, 02-097 Warsaw, Poland
2
Centre of New Technologies, University of Warsaw; S. Banacha 2c, 02-097 Warsaw, Poland
3
Faculty of Physics, University of Warsaw; L. Pasteura 5, 02-093 Warsaw, Poland
*
Author to whom correspondence should be addressed.
Received: 23 April 2019 / Accepted: 15 May 2019 / Published: 17 May 2019
Abstract
:
The mRNA 5′ cap consists of N7-methylguanosine bound by a 5′,5′-triphosphate bridge to the first nucleotide of the transcript. The cap interacts with various specific proteins and participates in all key mRNA-related processes, which may be of therapeutic relevance. There is a growing demand for new biophysical and biochemical methods to study cap–protein interactions and identify the factors which inhibit them. The development of such methods can be aided by the use of properly designed fluorescent molecular probes. Herein, we synthesized a new class of m7Gp3G cap derivatives modified with an alkyne handle at the N1-position of guanosine and, using alkyne-azide cycloaddition, we functionalized them with fluorescent tags to obtain potential probes. The cap derivatives and probes were evaluated in the context of two cap-binding proteins, eukaryotic translation initiation factor (eIF4E) and decapping scavenger (DcpS). Biochemical and biophysical studies revealed that N1-propargyl moiety did not significantly disturb cap–protein interaction. The fluorescent properties of the probes turned out to be in line with microscale thermophoresis (MST)-based binding assays.
Keywords:
mRNA cap; 7-methylguanosine; DcpS; eIF4E; fluorescent probes; MST
Supplementary Materials
The supplementary materials are available online.
Author Contributions
J.J. and J.K. designed the study. M.K. and B.A.W. performed the chemical syntheses. R.K. conducted the eIF4E binding experiment. M.K. conducted the enzymatic degradation assay and MST experiments. J.K. and J.J. provided guidance for the data interpretation. M.K. wrote the manuscript draft and the
supplementary information
. J.K., J.J., B.A.W., and R.K. contributed to, commented on, and reviewed the manuscript and
supplementary information
. All authors reviewed the manuscript and approved the final version.
Funding
This work was funded by the Foundation for Polish Science (TEAM/2016−2/13) for J.J. and National Science Centre (SONATA/501-D313-66-0005752) for B.A.W.
Acknowledgments
The authors thank J. Oledzki of the Institute of Biochemistry and Biophysics of the National Science Academy for HRMS measurements and P. Wanat, M. Chrominski, and M. Baranowski of the University of Warsaw for recording the NMR spectra.
Conflicts of Interest
The authors declare no conflict of interest.
| | |
| --- | --- |
| | Sample Availability: Samples of the compounds 1–14 are available from the authors on request. |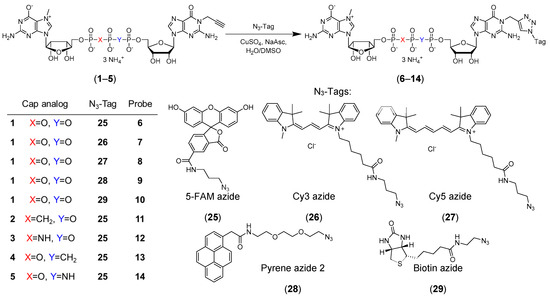 Figure 1. Synthesis of N1 functionalized dinucleotides (6–14) from N1-propargylated cap precursors (1–5) via a CuAAC reaction.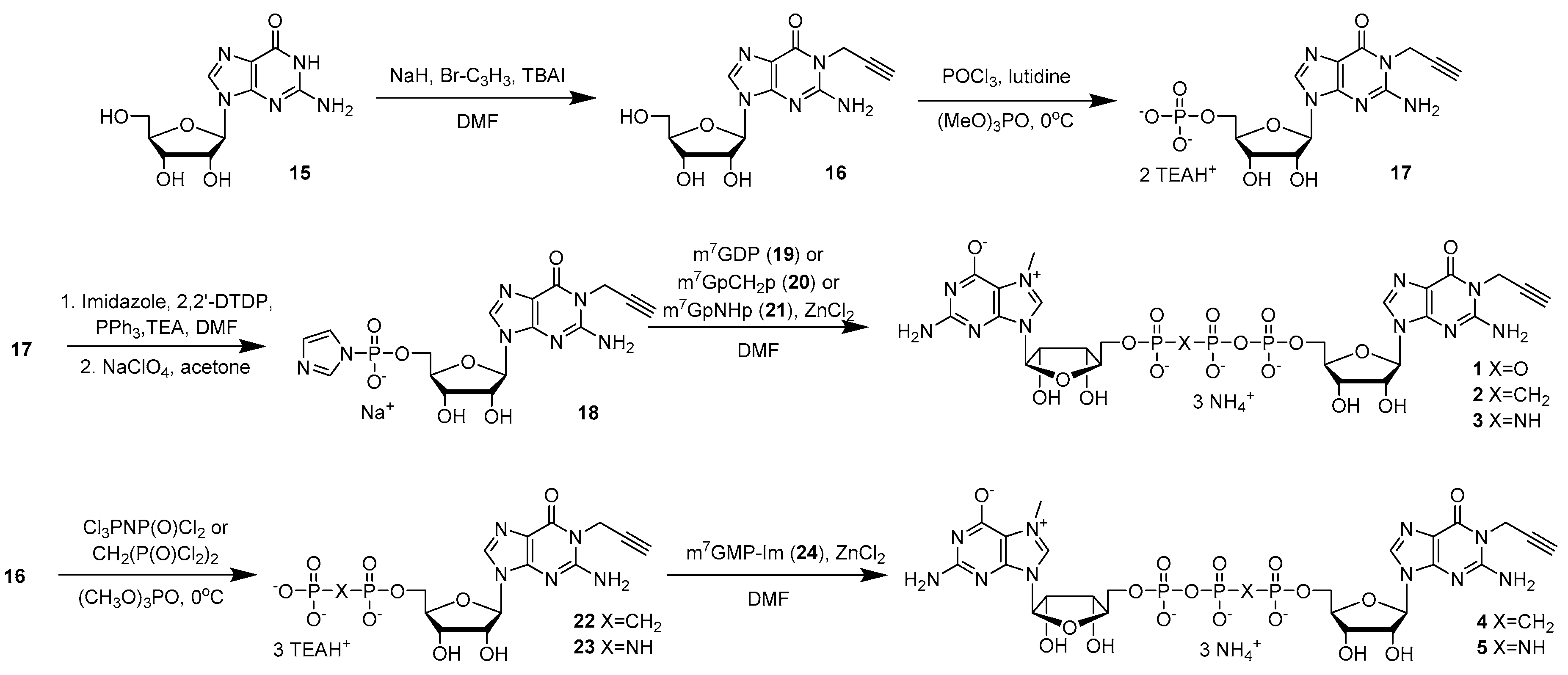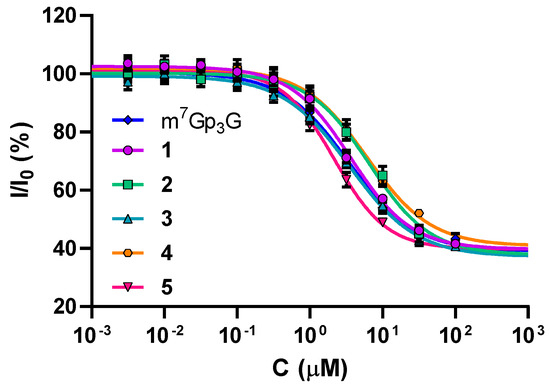 Figure 2.
Dose–response curves for compounds
1
–
5
and m
7
Gp
3
G plotted from a competition binding assay for meIF4E [
16
]. eIF4E (75 nM) and a pyrene-labeled fluorescent probe (10 nM) were incubated at 30 °C with the indicated concentrations of the investigated compounds (
1
–
5
or m
7
Gp
3
G as a reference). IC
50
and
K
D
values from triplicate experiments are shown in
Table 1
.

Figure 3. Enzymatic degradation of cap analogs 1–5 (30 µM) by human decapping scavenger enzyme (hDcpS) (30 nM) monitored by RP-HPLC. Representative time-dependent RP-HPLC profiles for compounds 1 (a) and 2 (b). Percentage of residual substrate as a function of time for all compounds (c). Data are average of triplicate experiments ± SD.


Figure 4. The influence of complete cleavage by hDcpS (30 nM) on the fluorescence properties of probes 6–9 (100 nM). Emission spectra before (0 min) and after (60 min) decapping scavenger (DcpS) cleavage for compounds 6 (a) and 9 (b); (c) The ratios of fluorescence intensity after and before cleavage (I/I0) for all studied probes.


Figure 5.
Direct binding microscale thermophoresis (MST) experiments with eIF4E and DcpS. (
a
) MST binding curves for probes
6, 11
,
12,
and meIF4E. Probe
6
,
11
, or
12
(50 nM) was mixed with a half-log dilution series of an meIF4E solution (10 µM–0.30 nM). (
b
) MST binding curves for probes
11
and
12
and DcpS. A solution of probe
11
or
12
(50 nM) was mixed with a dilution series of hDcpS solution (2.0 µM–0.061 nM for
11;
700–1.6 nM for
12
). MST traces for each experiment are shown in
Figures S5 and S6
. Data were analyzed in Palmist v. 1.4.4 using 1:1 binding model. The
K
D
values were calculated from triplicate experiments and are shown in
Table 2
.


Compound
IC50 (µM)

K

D (nM)
1
3.57 ± 0.25
305 ± 45
2
6.37 ± 0.73
548 ± 95
3
3.48 ± 0.22
297 ± 43
4
6.04 ± 0.46
520 ± 78
5
2.16 ± 0.20
182 ± 29
m7Gp3G
3.46 ± 0.30
294 ± 46

Table 2.
K
D
values of the binding affinities for murine eIF4E and human DcpS determined by MST.
K
D
values were calculated from triplicate experiments.
Compound
meIF4E
hDcpS

K

D [nM]
Confidence Interval

K

D [nM]
Confidence Interval
6
50
(43, 58)
n.d.
n.d.
11
201
(184, 220)
38
(28, 51)
12
53
(46, 62)
14
(7, 24)

© 2019 by the authors. Licensee MDPI, Basel, Switzerland. This article is an open access article distributed under the terms and conditions of the Creative Commons Attribution (CC BY) license (http://creativecommons.org/licenses/by/4.0/).