Open Access This article is
freely available
re-usable
Article
Oriented Immobilization and Quantitative Analysis Simultaneously Realized in Sandwich Immunoassay via His-Tagged Nanobody
Liaoning Key Laboratory of Molecular Recognition and imaging, School of Bioengineering, Dalian University of Technology, No.2 Linggong Road, Dalian, Liaoning, 116023, China
*
Author to whom correspondence should be addressed.
Academic Editor: José Manuel Herrero-Martínez
Received: 18 April 2019 / Accepted: 13 May 2019 / Published: 16 May 2019
Abstract
:
Despite the advantages of the nanobody, the unique structure limits its use in sandwich immunoassay. In this study, a facile protocol of sandwich immunoassay using the nanobody was established. In brief, β amyloid and SH2, an anti-β amyloid nanobody, were used as capture antibody and antigen, respectively. The SH2 fused with His-tag was first purified and absorbed on Co2+-NTA functional matrix and then immobilized through H2O2 oxidation of Co2+ to Co3+ under the optimized conditions. Then, 150 mM imidazole and 20 mM EDTA were introduced to remove the unbound SH2. The immobilized SH2 showed highly-sensitive detection of β amyloid. It is interesting that the quantification of the sandwich immunoassay was carried out by determining the His-tag of the detection nanobody, without interference from the His-tag of the capture nanobody. The immobilized SH2 detached exhibited outstanding stability during 30 days of storage. Taken together, His6-tag facilitated both the oriented immobilization of capture antibody and quantitative assay of detection antibody in sandwich immunoassay. We propose a facile and efficient sandwich immunoassay method that opens new avenue to the study of His-tagged protein interactions.
Keywords:
sandwich immunoassay; nanobody; His-tag; oriented immobilization; β amyloid detection
Author Contributions
Conceptualization, L.X.; Formal analysis, L.X.; Funding acquisition, L.X. and L.J.; Investigation, L.X.and H.C.; Methodology, Y.Z. and C.H.; Supervision, L.X. and L.J.; Writing—original draft H.C.; Writing—review and editing, L.X. and H.C.
Funding
This work was supported by the National Natural Science Foundation of China [No.81671073] and the National Key Technologies R & D Program, China [2016YFC1103000].
Conflicts of Interest
The funders had no role in the design of the study; in the collection, analyses, or interpretation of data; in the writing of the manuscript, or in the decision to publish the results.
Abbreviations
| | |
| --- | --- |
| NTA | nitrotriacetic acid |
| scFv | single chain antibody fragment |
| Aβ | β amyloid |
| Aβo | oligomer oligomer β amyloid |
| ELISA | enzyme linked immunosorbent assay |
| | |
| --- | --- |
| | Sample Availability: Samples of the compounds are available from the authors, except the nanobody. |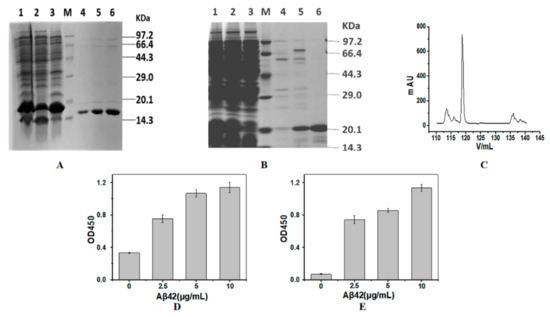 Figure 1.
Preparation of the nanobodies. SDS-PAGE analysis of purified SDP6 (
A
) and SH2 (
B
,
C
) by Ni-NTA affinity chromatography (
A
,
B
) and gel chromatography (
C
). Activities of SDP6 (
D
) and SH2 (
E
) were detected by ELISA. Lane M, protein molecular weight marker; Lane 1, Total proteins expressed by
E.coli
; Lane 2, precipitated proteins after the cells were disrupted and centrifuged; Lane 3, supernatant proteins after the cells were disrupted and centrifuged; Lanes 4–6 of SDP6 were SDP6 nanobody eluted by 60 mM imidazole; Lanes 4 and 5 were SH2 nanobody eluted by 100 mM imidazole; Lane 6 of SH2 was SH2 nanobody after gel chromatography.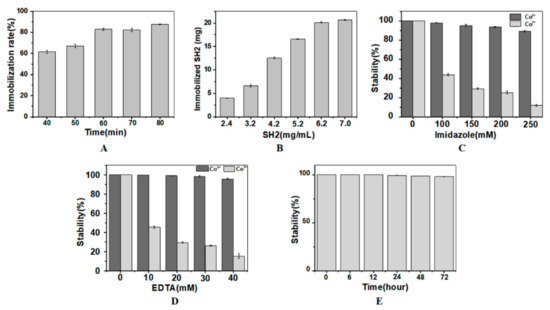 Figure 2.
Immobilization of SH2. Optimization of H
2
O
2
oxidation time (
A
) and SH2 concentration (
B
) for SH2 immobilization. In (
A
), 50 mg SH2 at the loading concentration of 6.2 mg/mL was considered as 100%. Optimization of concentrations and incubation time of imidazole (
C
) and EDTA (
D
,
E
) for the stable immobilization of SH2. In (
A
,
B
), nanobody added in system was considered as 100%. In (
C
,
D
), the amount of immobilized SH2 washed by buffer without imidazole or EDTA was considered as 100%. In (
E
), the amount of immobilized SH2 treated by 150 mM imidazole and 20 mM EDTA for 2 h was considered as 100%. (
n
= 3).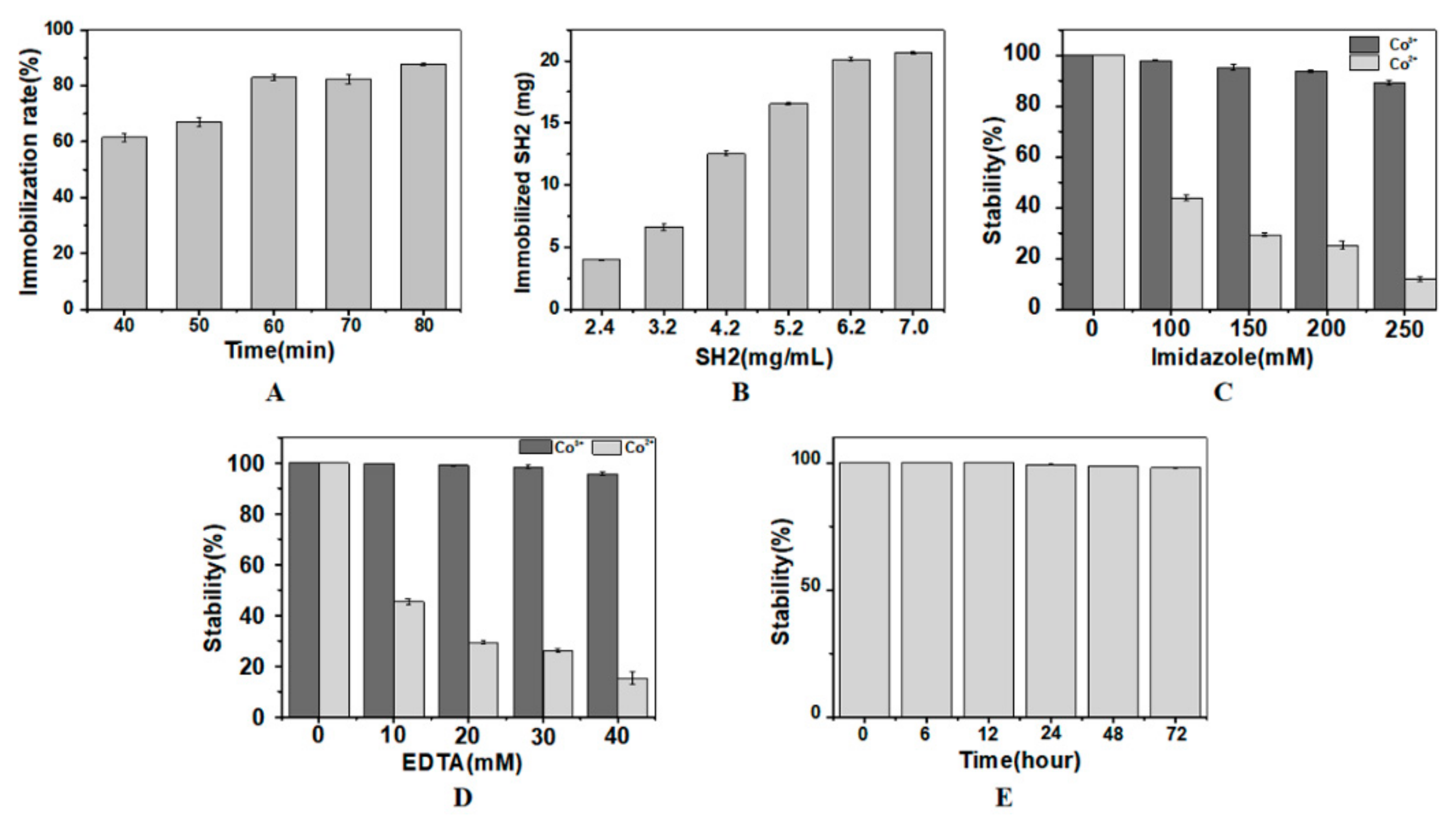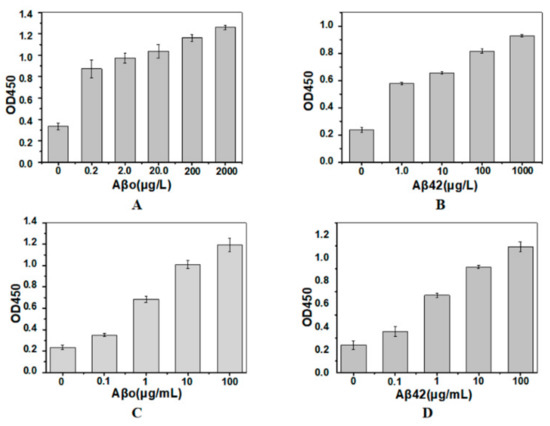 Figure 3.
Sandwich immunoassay of Aβo (
A
,
C
) and Aβ42 monomer (
B
,
D
) in simulated cerebrospinal fluid (
A
,
B
) and serum (
C
,
D
). The capture nanobody was the immobilized SH2. The detection nanobodies for Aβo and Aβ42 were His-tagged SH2 and SDP6, respectively (
n
= 3).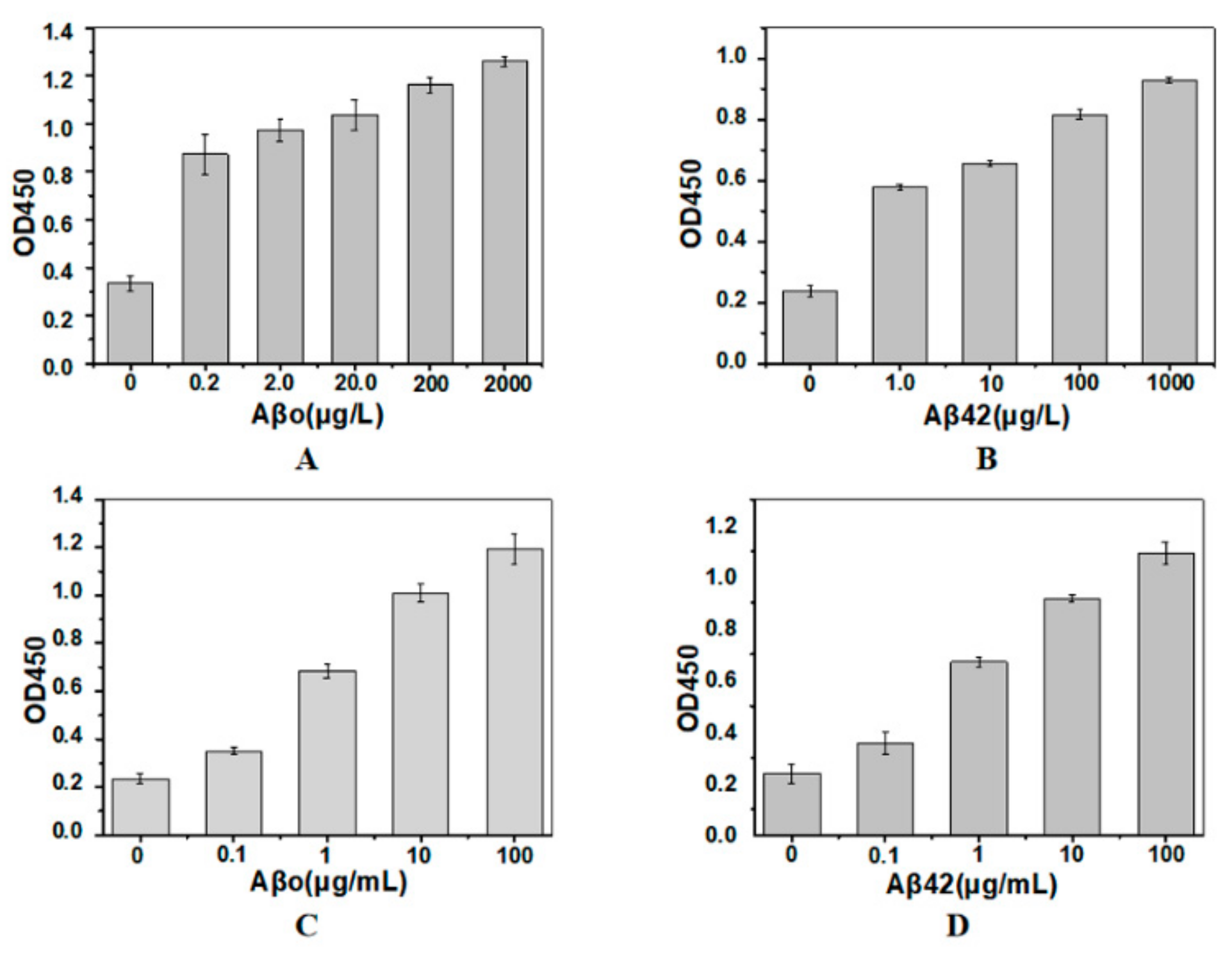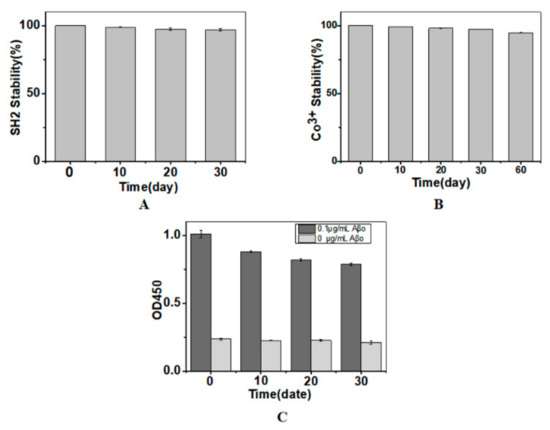 Figure 4.
Release of SH2 (
A
); release of Co
3+
(
B
); and the immuno-activity of SH2 (
C
) during storage. Total amount of the nanobody or Co
3+
and the immune-activity of the nanobody detected immediately after SH2 immobilization were considered as 100% (
n
= 3).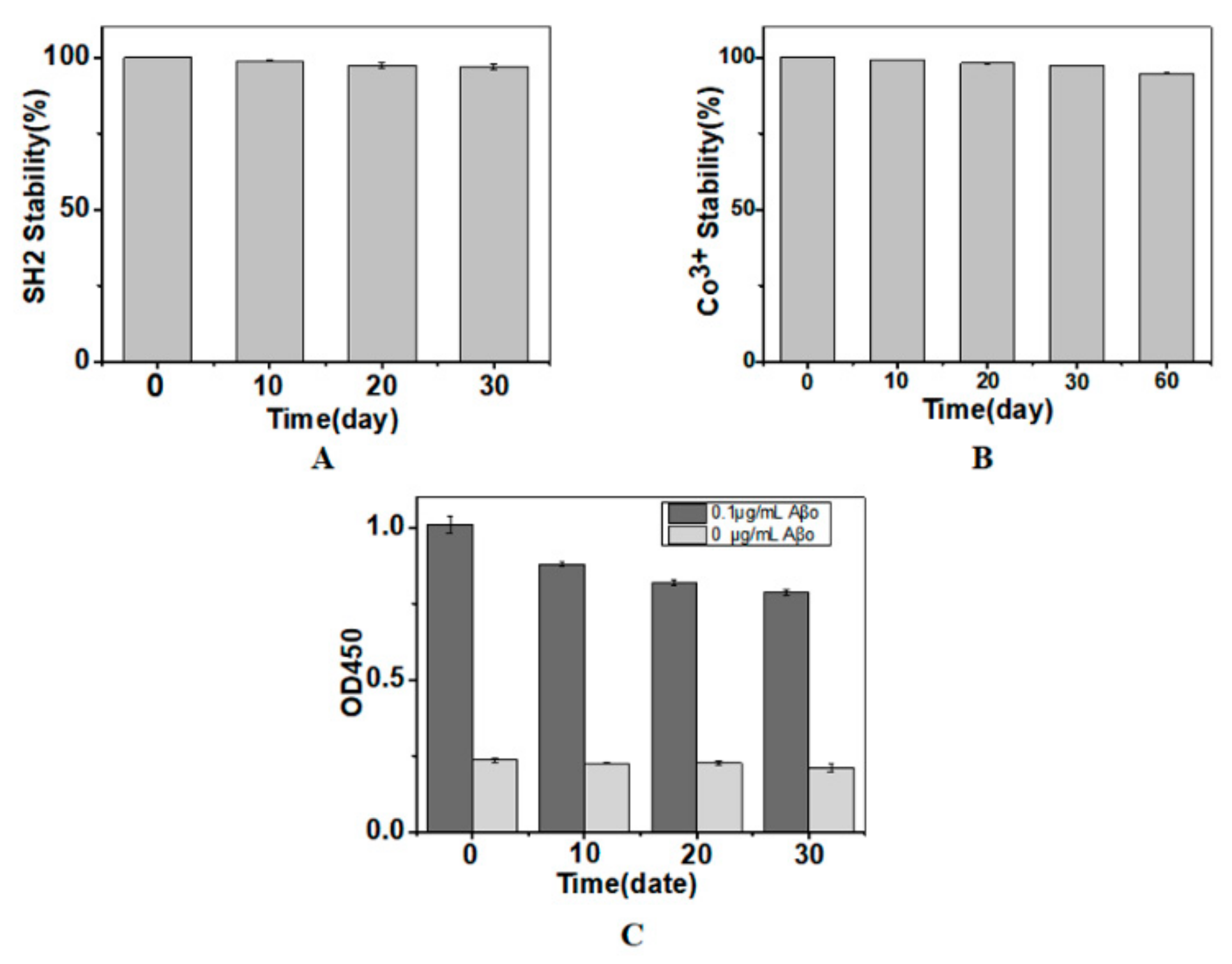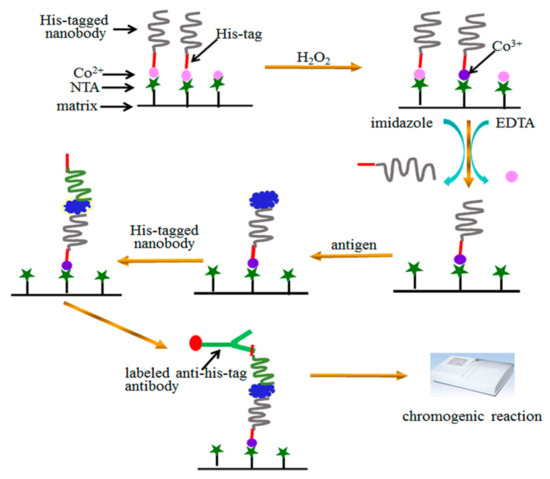 Figure 5. A scheme for oriented immobilization and quantitative analysis in sandwich immunoassay via His-tagged nanobody.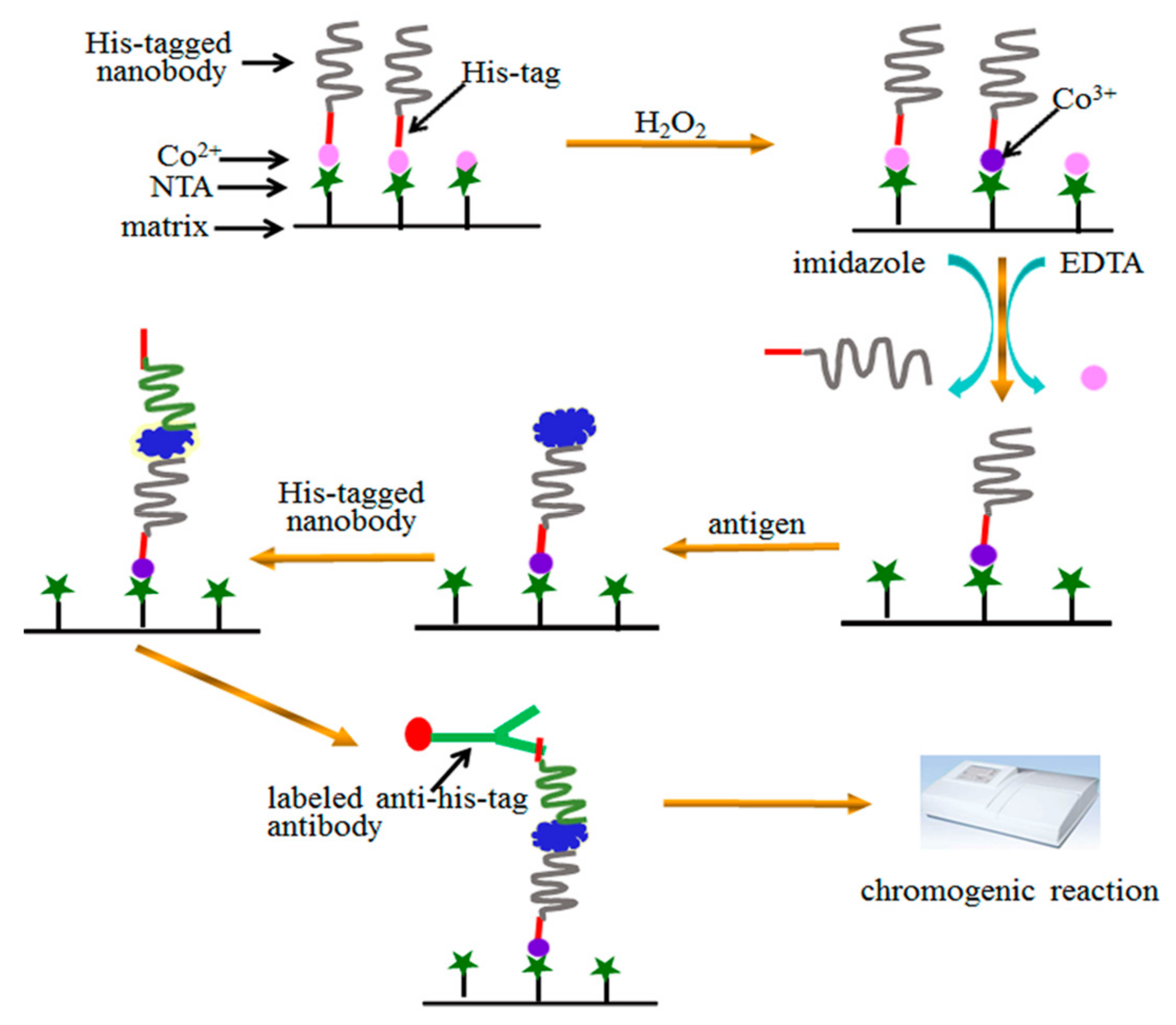 © 2019 by the authors. Licensee MDPI, Basel, Switzerland. This article is an open access article distributed under the terms and conditions of the Creative Commons Attribution (CC BY) license (http://creativecommons.org/licenses/by/4.0/).