Icariin Prevents Diabetes-Induced Bone Loss in Rats by Reducing Blood Glucose and Suppressing Bone Turnover
1
College of Biological Science and Engineering, Shaanxi University of Technology, Hanzhong 723000, China
2
Chinese-German Joint Laboratory for Natural Product Research, Shaanxi University of Technology, Hanzhong 723000, China
*
Authors to whom correspondence should be addressed.
Received: 10 April 2019 / Revised: 9 May 2019 / Accepted: 10 May 2019 / Published: 15 May 2019
Abstract
Diabetic Osteoporosis (DOP) is a common metabolic bone disease, characterized by decreased bone mineral density (BMD) and destruction of bone microstructure. It has been reported that icariin is beneficial for estrogen deficiency-induced osteoporosis, and alcohol-induced osteoporosis; whether icariin has protective effects on diabetes-induced osteoporosis has not been reported. In this study, a rat model of diabetic osteoporosis was established by streptozotocin injection, the bone protective effects and potential mechanism of icariin on diabetes-induced bone loss was observed. Thirty 8-week-old female Sprague Dawley rats were divided into control group (vehicle treatment), T1DM (diabetic) group and T1DM-icariin (ICA) group (diabetic rats treated with icariin), 10 rats in each group. The bone histomorphometry parameters, bone mineral density (BMD), serum bone turnover markers, and bone marrow adipogenesis were analyzed after 8 weeks of icariin administration. The results showed consumption of icariin at a doses of 100 mg kg
−1
decreased blood glucose, and increased the BMD of diabetic rats. Icariin effectively decreased serum bone turnover marker levels, including CTX-1, ALP, TRACP 5b, osteocalcin, and PINP. Meanwhile, the bone histomorphometry parameters, the number of osteoclasts per bone perimeter were turned to be normal level, and the icariin treatment suppressed bone marrow adipogenesis. The runt-related transcription factor 2 (RUNX 2), as well as the osteoprotegerin (OPG)/receptor activator of nuclear factor-κ B ligand (RANKL) ratio in serum and bone tissues were increased significantly after icariin treatment in diabetic rats. All of the above indicate that oral administration of icariin can prevent diabetic osteoporosis; the effect is mainly related to its ability to reduce blood glucose, inhibit bone turnover and bone marrow adipogenesis, as well as up-regulate bone RUNX 2, and OPG expression.
View Full-Text
►

▼

Figures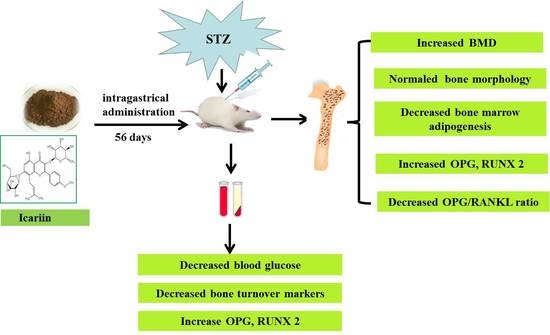 Graphical abstract
This is an open access article distributed under the
Creative Commons Attribution License
which permits unrestricted use, distribution, and reproduction in any medium, provided the original work is properly cited (CC BY 4.0).

Share & Cite This Article
MDPI and ACS Style
Qi, S.; He, J.; Zheng, H.; Chen, C.; Lan, S. Icariin Prevents Diabetes-Induced Bone Loss in Rats by Reducing Blood Glucose and Suppressing Bone Turnover. Molecules 2019, 24, 1871.
Note that from the first issue of 2016, MDPI journals use article numbers instead of page numbers. See further details here.
Related Articles
Comments
[Return to top]