Phenethyl Isothiocyanate Inhibits In Vivo Growth of Xenograft Tumors of Human Glioblastoma Cells
1
Department of Neurosurgery, Neurological Institute, Taichung Veterans General Hospital, Taichung 40754, Taiwan
2
Department of Neurological Surgery, Tri-Service General Hospital, National Defense Medical Center, Taipei 114, Taiwan
3
Rong Hsing Research Center for Translational Medicine, National Chung Hsing University, Taichung 402, Taiwan
4
Institute of Medical Sciences, Tzu Chi University, Hualien 970, Taiwan
5
Graduate Institute of Medical Sciences, National Defense Medical Center, Taipei 11490, Taiwan
6
Department of Physical Therapy, Hung Kuang University, Taichung 43302, Taiwan
7
Department of Neurosurgery, Hualien Tzu Chi General Hospital, Buddhist Tzu Chi Medical Foundation, Hualien 970, Taiwan
8
College of Medicine, Tzu Chi University 970, Hualien, Taiwan
9
Department of Anesthesiology, China Medical University Hospital, Taichung 404, Taiwan
10
Department of Anesthesiology, China Medical University, Taichung 40402, Taiwan
11
Department of Medical Laboratory Science and Biotechnology, College of Medicine and Life Science, Chung Hwa University of Medical Technology, Tainan 71703, Taiwan
12
Departments of Biological Science and Technology, China Medical University, Taichung 40402, Taiwan
13
Department of Biotechnology, Asia University, Taichung 413, Taiwan
*
Authors to whom correspondence should be addressed.
†
These authors contributed equally to this work.
Received: 24 July 2018 / Revised: 28 August 2018 / Accepted: 4 September 2018 / Published: 10 September 2018
Abstract
Phenethyl isothiocyanate (PEITC) from cruciferous vegetables can inhibit the growth of various human cancer cells. In previous studies, we determined that PEITC inhibited the in vitro growth of human glioblastoma GBM 8401 cells by inducing apoptosis, inhibiting migration and invasion, and altering gene expression. Nevertheless, there are no further in vivo reports disclosing whether PEITC can suppress the growth of glioblastoma. Therefore, in this study we investigate the anti-tumor effects of PEITC in a xenograft model of glioblastoma in nude mice. Thirty nude mice were inoculated subcutaneously with GBM 8401 cells. Mice with one palpable tumor were divided randomly into three groups: control, PEITC-10, and PEITC-20 groups treated with 0.1% dimethyl sulfoxide (DMSO), and 10 and 20 μmole PEITC/100 μL PBS daily by oral gavage, respectively. PEITC significantly decreased tumor weights and volumes of GBM 8401 cells in mice, but did not affect the total body weights of mice. PEITC diminished the levels of anti-apoptotic proteins MCL-1 (myeloid cell leukemia 1) and XIAP (X-linked inhibitor of apoptosis protein) in GBM 8401 cells. PEITC enhanced the levels of caspase-3 and Bax in GBM 8401 cells. The growth of glioblastoma can be suppressed by the biological properties of PEITC in vivo. These effects might support further investigations into the potential use of PEITC as an anticancer drug for glioblastoma.
View Full-Text
►

▼

Figures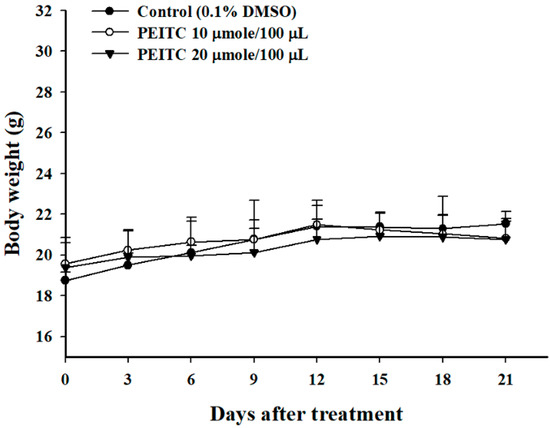 Figure 1
This is an open access article distributed under the
Creative Commons Attribution License
which permits unrestricted use, distribution, and reproduction in any medium, provided the original work is properly cited (CC BY 4.0).

Share & Cite This Article
MDPI and ACS Style
Chou, Y.-C.; Chang, M.-Y.; Lee, H.-T.; Shen, C.-C.; Harnod, T.; Liang, Y.-J.; Wu, R.S.-C.; Lai, K.-C.; Hsu, F.-T.; Chung, J.-G. Phenethyl Isothiocyanate Inhibits In Vivo Growth of Xenograft Tumors of Human Glioblastoma Cells. Molecules 2018, 23, 2305.
Note that from the first issue of 2016, MDPI journals use article numbers instead of page numbers. See further details here.
Related Articles
Comments
[Return to top]