Synthesis of New 5-Aryl-benzo[
f

][1,7]naphthyridines via a Cascade Process (Ugi-3CR/Intramolecular Aza-Diels-Alder Cycloaddition)/Aromatization

1

Unidad Profesional Interdisciplinaria de Biotecnología, Instituto Politécnico Nacional, Av. Acueducto de Guadalupe S/N, Barr. La Laguna Ticomán, Gustavo A Madero C.P. 07340, Ciudad de México, Mexico

2

Departamento de Química, Universidad Autónoma Metropolitana-Iztapalapa, San Rafael Atlixco 186, Col. Vicentina, Iztapalapa C.P. 09340, Ciudad de México, Mexico

3

Departamento de Biotecnología, Universidad Autónoma Metropolitana-Iztapalapa, San Rafael Atlixco 186, Col. Vicentina, Iztapalapa C.P. 09340, Ciudad de México, Mexico

4

Laboratorio de Fisicoquímica y Reactividad de Superficies, Instituto de Investigaciones en Materiales, Universidad Nacional Autónoma de México, Circuito Exterior S/N, Ciudad Universitaria, Coyoacán C.P. 04510, Ciudad de México, Mexico

*

Authors to whom correspondence should be addressed.

Received: 25 July 2018 / Revised: 11 August 2018 / Accepted: 11 August 2018 / Published: 14 August 2018
Abstract
A series of eight new 5-aryl-benzo[
f
][1,7]naphthyridines were synthesized in 17 to 64% overall yields via an improved MW-assisted cascade-like one pot process (Ugi–three component reaction/intramolecular aza-Diels-Alder cycloaddition) coupled to an aromatization process from tri-functional dienophile-containing ester-anilines, substituted benzaldehydes and the chain-ring tautomerizable 2-isocyano-1-morpholino-3-phenylpropan-1-one as starting reagents, under mild conditions. The doubly activated dienophile and the aza-diene functionalities of the eight new Ugi-adducts were exploited to perform an in situ aza-Diels-Alder cycloaddition/aromatization (dehydration/oxidation) process, toward the complex polysubstituted 5-aryl-polyheterocycles, which could be taken as starting point for further SAR studies because the benzo[
f
][1,7]naphthyridine is the core of various bioactive products. It is relevant to emphasize that the synthesis or isolation of benzo[
f
][1,7]naphthyridines containing a substituted aromatic ring in the C-5 position, has not been published before.
View Full-Text
►

▼

Figures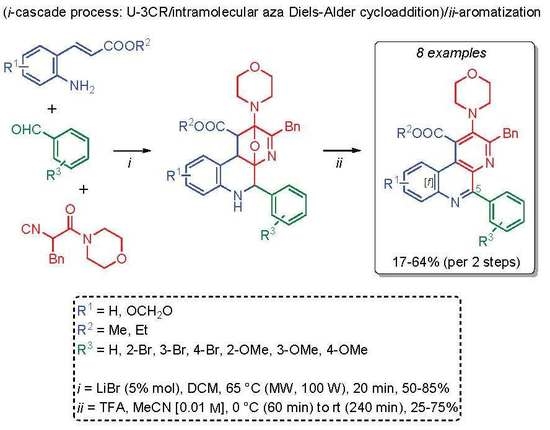 Graphical abstract
This is an open access article distributed under the
Creative Commons Attribution License
which permits unrestricted use, distribution, and reproduction in any medium, provided the original work is properly cited (CC BY 4.0).

Share & Cite This Article
MDPI and ACS Style
Vázquez-Vera, Ó.; Segura-Olvera, D.; Rincón-Guevara, M.A.; Gutiérrez-Carrillo, A.; García-Sánchez, M.A.; Ibarra, I.A.; Lomas-Romero, L.; Islas-Jácome, A.; González-Zamora, E. Synthesis of New 5-Aryl-benzo[f][1,7]naphthyridines via a Cascade Process (Ugi-3CR/Intramolecular Aza-Diels-Alder Cycloaddition)/Aromatization. Molecules 2018, 23, 2029.
Note that from the first issue of 2016, MDPI journals use article numbers instead of page numbers. See further details here.
Related Articles
Comments
[Return to top]