Open Access This article is
freely available
re-usable
Review
Applications of Cancer Cell-Specific Aptamers in Targeted Delivery of Anticancer Therapeutic Agents
1
Department of Bioscience and Biotechnology, Konkuk University, Seoul 05029, Korea
2
Department of Biomedical Laboratory Science, Konyang University, Daejeon 35365, Korea
3
Department of Emergency Medicine Kyung Hee University Hospital at Gangdong, Seoul 05278, Korea
†
These two authors contributed equally.

Received: 7 March 2018 / Accepted: 2 April 2018 / Published: 4 April 2018
Abstract
:
Aptamers are single-stranded oligonucleotides that specifically bind and interact with their corresponding targets, including proteins and cells, through unique three-dimensional structures. Numerous aptamers have been developed to target cancer biomarkers with high specificity and affinity, and some are employed as versatile guiding ligands for cancer-specific drug delivery and anti-cancer therapeutics. In this review, we list the aptamers that target tumor surface biomarkers and summarize the representative applications of aptamers as agonists and antagonists that activate anti-cancer and inactivate pro-cancer biomarkers, respectively. In addition, we describe applications of aptamer-drug or aptamer-oligonucleotide conjugates that can deliver therapeutic agents, including small interfering RNAs, micro RNAs, short hairpin RNAs, and chemotherapeutic molecules, to cancer cells. Moreover, we provide examples of aptamer- conjugated nano-vehicles, in which cancer-targeting oligonucleotide aptamers are conjugated with nano-vehicles such as liposomes, micelles, polymeric nanoparticles, and quantum dots. Conjugation of aptamers with anti-cancer drugs and nano-vehicles will facilitate innovative applications of aptamer-based cancer therapeutics.
Keywords:
aptamer; targeted delivery; targeted cancer therapy; aptamer conjugates
Acknowledgments
This work was supported by research funds of Konkuk University in 2017.
Author Contributions
Minhee Kim, Dong-Min Kim, and Dong-Eun Kim reviewed previous studies and wrote the manuscript; Keun-Sik Kim and Woong Jung discussed and revised the manuscript.
Conflicts of Interest
The authors declare no conflict of interest.
Abbreviations
| | |
| --- | --- |
| MAPK | mitogen-activated protein kinase |
| PI3K | phosphoinositide 3-kinase |
| PKC | protein kinase C |
| STAT | signal transducer and activator of transcription |
| e-fabp | epidermal fatty acid binding protein |
| EMT | epithelial-to-mesenchymal transition |
| | |
| --- | --- |
| | Sample Availability: Samples of the compounds are not available from the authors. |
Figure 1. Schematics of aptamers used as agonists or antagonists against cancer biomarkers. (A) Bivalent CD28 aptamer conjugate. CD28 aptamers are linked through 21 base-paired double-stranded RNA molecules; (B) Bivalent OX40 aptamer conjugate. The 3′-end stick sequence of OX40 aptamers are annealed to a DNA scaffold; (C) Bivalent OX40 aptamer conjugate. Biotin modified OX40 RNA aptamers are assembled via streptavidin; (D) Bispecific PSMA-4-4BB aptamer conjugate. A PSMA aptamer and bivalent 4-1BB aptamer are non-covalently annealed with a stick sequence; (E) An MP7 aptamer is conjugated with PEG; (F) Bivalent anti-VEGF aptamer. Two aptamers are tethered through a hexaethylene glycol spacer; (G) Anti-VEGF aptamer-antibody conjugate. This "oligobody" was developed to improve in vivo therapeutic responses.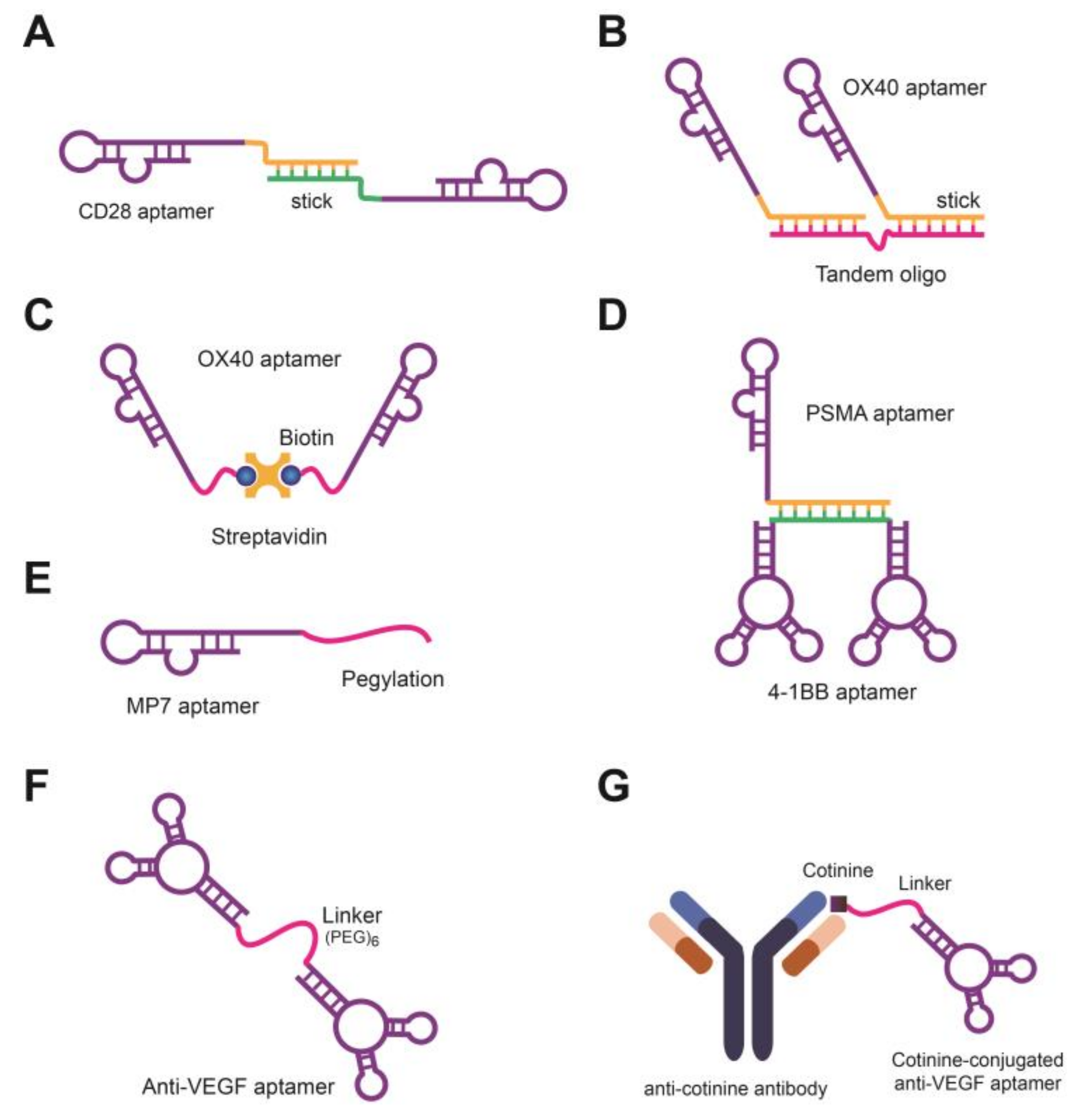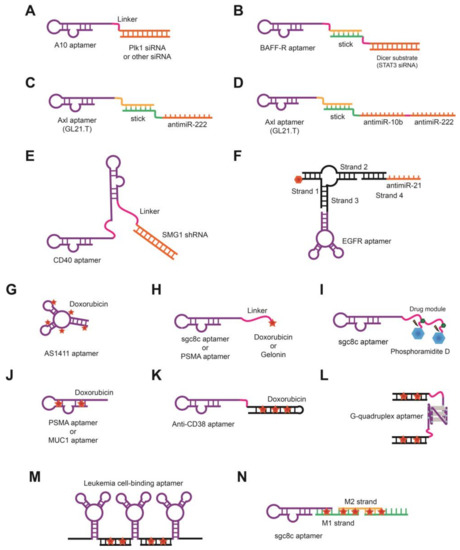 Figure 2. Schematics of aptamer-oligonucleotides and aptamer-drug conjugates. (A) Aptamer-siRNA conjugate. A PSMA aptamer is covalently conjugated with Plk1 siRNA via a linker; (B) Aptamer stick sequence-siRNA conjugate. A BAFF-R aptamer is complexed with STAT3 siRNA via a pair of complementary stick sequences; (C) Aptamer stick sequence-miRNA conjugate. The stick sequence (17-mer) of the GL21.T aptamer and extended stick sequence of anti-miRNA-222 at the 3′-end are fully annealed; (D) Aptamer stick sequence-dual anti-miRNA conjugate. Anti-miRNA-10b and anti-miRNA-222 are conjugated with the GL21.T aptamer; (E) Bivalent aptamer-shRNA conjugate. Two CD40 aptamers are conjugated with SMG1 shRNA; (F) Three-way junction-aptamer-anti-miRNA conjugate. The trifunctional aptamer consists of four DNA strands containing EGFR aptamer, anti-miRNA-21, and Alexa 647 dye; (G) Aptamer-drug conjugate. An AS1411 aptamer is directly conjugated with Dox by incubation with formaldehyde; (H) Aptamer-linker-drug conjugate. An Sgc8c aptamer and Dox or PSMA aptamer and gelonin are conjugated via a linker; (I) Aptamer-multiple drug conjugate. Sgc8 aptamer is conjugated with modified phosphoramidite containing a photocleavable linker and an anti-cancer drug; (J) Drug-intercalating aptamer. Dox is loaded into double-stranded regions of the PSMA aptamer or MUC1 aptamer; (K) Aptamer-cargo conjugate. A CD38 aptamer conjugated with the CG-rich sequence of "CG cargo" carries Dox; (L) Aptamer-dual cargo conjugate. A G-quadruplex DNA aptamer is conjugated with two double-stranded DNAs carrying Dox by a linker; (M) Polyvalent aptamer-drug conjugate. Multiple aptamers specific to leukemia cells are synthesized by rolling circle amplification and Dox is loaded between the aptamer units; (N) Aptamer-tethered DNA nanotrains. An Sgc8c aptamer and two short DNA strands were assembled to form "nanotrains".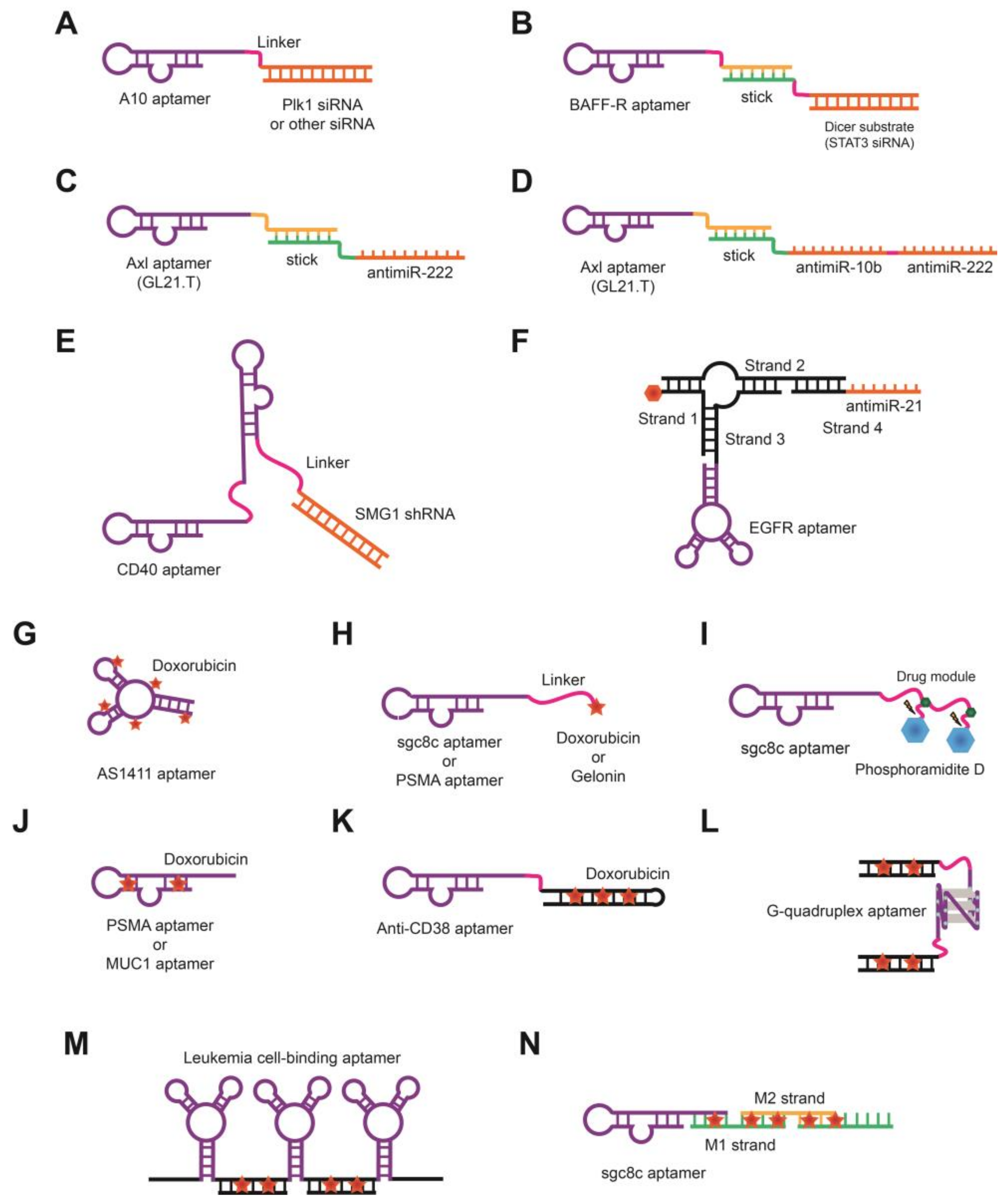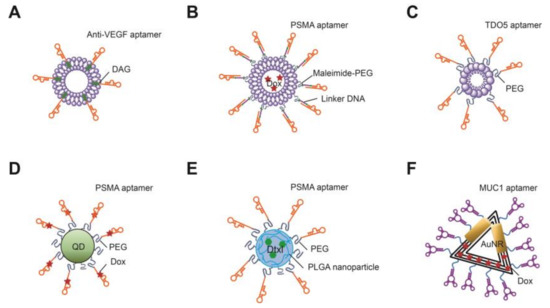 Figure 3. Schematics of aptamer nano-vehicle conjugates. (A) Aptamer-conjugated liposome. NX213 aptamers are directly conjugated with liposomes; (B) An aptamosome. A PSMA aptamer is annealed to linker DNA and conjugated with liposomes to form Dox-encapsulating "aptamosomes"; (C) Aptamer-micelle conjugate. A TDO5 aptamer is conjugated with a PEG-modified lipid to form aptamer-functionalized micelles; (D) Aptamer-nanoparticle conjugate. A Dox-encapsulated PSMA aptamers is conjugated with a quantum dot; (E) Aptamer-polymeric nanoparticle conjugate. An aptamer is conjugated with a PLGA nanoparticle containing docetaxel; (F) Aptamer-DNA origami conjugate. MUC1 aptamers are conjugated with DNA origami harboring gold nanorods and Dox.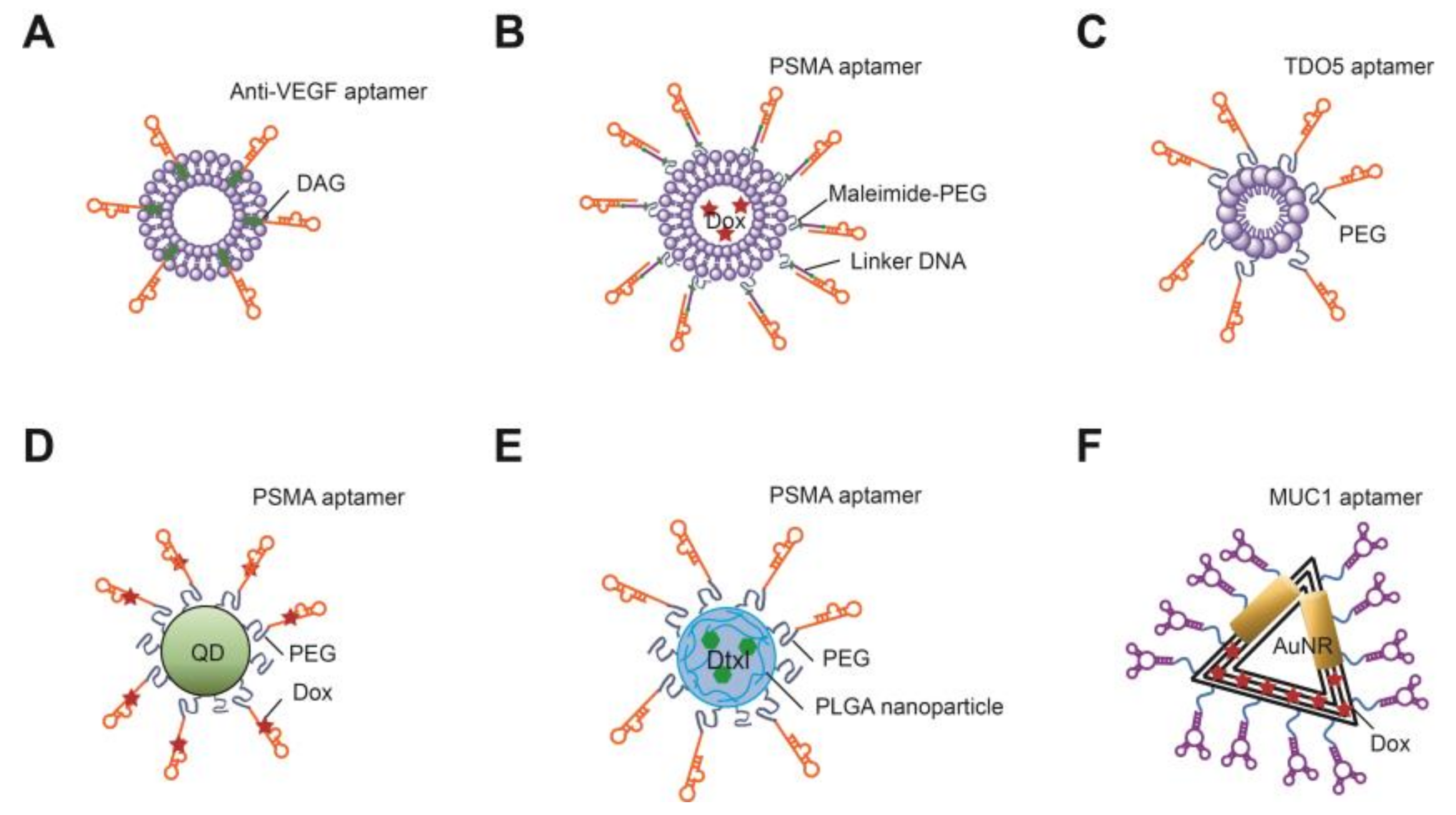 Target
Known Expressing Cancer Type
Therapeutic Applications
Aptamer/Type (nts)
Reference
MUC1 (mucin 1)
ovarian, breast, lung, pancreatic cancers, multiple myeloma etc.
Prevent cancer cell invasion through beta catenin
S2.1/DNA (25)
[60]
Apt/DNA (25)
[82]
HER2 (human epidermal growth factor 2)
Breast, gastric, lung, colorectal, esophageal, ovarian cancers, etc.
Inhibition of tumorigenic signaling via MAPK, PI3K, PKC and STAT pathways
HB5/DNA (86)
[61]
Apt/DNA (31)
[83]
HER3 (human epidermal growth factor receptor 3)
Breast, lung, gastric, prostate, ovarian, pancreatic cancers etc.
Reduction of drug resistance in HER2+ cancer
A30/RNA (49)
[62]
EpCAM (epithelial cell adhesion molecule)
Bladder, breast, colon, lung, ovarian, pancreas, prostate cancers, etc.
Regulate gene expression of c-myc, e-fabp, cyclin, and modulate EMT
SYL3/DNA (80)
[63]
Apt/RNA (18)
[84]
EpDT3-DY647/RNA (19)
[66]
NF-kB (nuclear factor kappa-light-chain-enhancer of activated B cells)
Cervical, prostate, lung, breast cancers, etc.
Inhibit the genes that control cell proliferation and cell survival
Apt/RNA (29)
[85]
ARGO100/DNA (26)
[64]
PSMA (prostate specific membrane antigen)
Prostate, kidney, bladder cancers, etc.
Prevent hydrolysis of N-acetylaspartyl-glutamate for over-proliferation
xPSM-A10/RNA (40)
[64,78]
Apt/DNA (32)
[86,87]
CD44
Breast, prostate, and cancer stem cells, etc.
Inhibit cell proliferation, differentiation, migration, and angiogenesis
TA1/DNA (30)
[67,88]
PD-1 (programmed death-1)
Colon cancer, carcinoma, etc.
Inhibiting immune response to cancer cells
MP5, MP7/DNA (75)
[68]
CD137 (4-1BB)
Prostate cancer etc.
Stimulating immune response to cancer
PSMA-4-1BB/RNA (293)
[69]
CD134 (OX40)
Melanoma tumor etc.
Stimulating immune response to cancer
Aptamer 9.8/RNA (80)
[70]
PDGF (platelet derived growth factor)
Ovarian, breast, thyroid, cervical, lung cancers, etc.
Inhibit tumor angiogenesis and development
36t/DNA (39)
[71,89]
VEGF (vascular endothelial growth factor
Breast, brain, lung, colon, gastric, pancreatic, melanoma, myeloid, leukemia, etc.
Prevent neovascularization
NX-191/RNA (24)
[72]
NX-213/RNA (24)
[90]
Vap7, V7t1/DNA (25)
[91,92]
NCL (Nucleolin)
Leukemia, gastric, breast cancers etc.
Induce

bcl-2

mRNA instability
AS1411/DNA (26)
[74]
Type
Name of Aptamer Drugs
Function in Cancer Therapy
Reference
Agonist & Antagonist
CD28Apt
Either reducing the T-cell tolerance by blocking the interaction with B7 or enhancing the vaccine-induced immune response
[94]
OX40 aptamer
Stimulating the T cell proliferation and cytokine production
[70,95]
PSMA-4-1BB aptamer
Promoting the survival and expansion of activated CD8+ T cells
[69]
PEG-MP7
Inhibiting the PD-L1-mediated suppression of IL-2 secretion in T cells
[68]
NX1838 aptamer
Binding to VEGF165 with high affinity and preventing blood vessel growth and arresting the progression
[98]
Cot-pega oligobody
Inhibiting the Akt pathway that induces the cell survival, angiogenesis, differentiation, cell growth, proliferation
[99]
Aptamer-drug conjugates
A10-Plk1
Suppressing the expression of polo-like kinase 1 that pro-survival genes
[100]
BAFF-R-STAT3 siRNA
Blocking the BAFF-mediated proliferation of B-cell malignancies and suppressing the transcription factor STAT3 to inhibit the cell cycle progression, angiogenesis and tumor cell evasion of immune system
[101]
GL21.T-222
Inhibiting the receptor tyrosine kinases Axl and PDGFR β and reducing the level of miR-222 or miR-10b
[102]
CD40-SMG1-shRNA chimera
Inhibiting SMG1 kinase that is essential for nonsense mRNA mediated decay initiation in tumor cells
[103]
3WJ-EGFRapt/anti-miR-21
Inhibiting of tumor progression, invasion, and metastasis by suppressing of miR-21
[104]
AS1411-Dox
Inhibiting of tumor cell proliferation by inducing G2/M arrest
[105]
Sgc8c-Dox
Recognizing the protein tyrosine kinase 7 and delivering Dox to the target CCRF-CEM (T-cell Acute Lymphoblastic Leukemia) cells
[106]
ApDCs
Recognizing target cancer cells and release the Fluorouracil in a photocontrollable manner
[108]
MA3 Apt-Dox
Selectively delivering the cytotoxic agent doxorubicin to MUC1-positivie adenocarcinomas cancer cells
[111]
ApDC
Delivering the Dox to CD38-positive m1ultiple myeloma tumor cells and intracellular release of a high drug payload under a pH-controlled mechanism
[112]
ApS&Dox
Targeting nucleolin molecule and circumventing Dox resistance by cell cycle arrest in S phase, effectively increased cell uptake
[113]
Poly-Aptamer-Drug
Targeting and killing leukemia cells due to enhanced binding affinity and cell internalization via multivalent effects
[114]
aptNTrs
Targeting human T-cell acute lymphocytic leukemia with high payload of drugs
[115]
Aptamer-conjugated nano-vehicles
DAG-NX213-L
Inhibiting the VEGF-induced endothelial cell proliferation and vascular permeability increase and angiogenesis
[90]
Aptamosome
Selectively delivering the drug to PSMA-positive prostate cancer cells by Dox-encapsulating liposome conjugated with aptamers
[81]
TDO5-micelle
Efficient delivering the drug to target cancer cells by aptamer-micelle assembly with high sensitivity and specificity in flow channel system
[118]
QD-Apt
Delivering Dox to the prostate cancer cells and imaging the cancer cells by quantum dot
[120]
NP-Apt
Suppressing the metastatic cancer progression and inducing the apoptosis of cancer cells
[79]
MUC-1 Origami-Dox-AuNRs
Chemotherapeutically and photothermally killing the MUC1-overexpressed multidrug resistant breast cancer cells
[126]

© 2018 by the authors. Licensee MDPI, Basel, Switzerland. This article is an open access article distributed under the terms and conditions of the Creative Commons Attribution (CC BY) license (http://creativecommons.org/licenses/by/4.0/).