Open Access This article is
freely available
re-usable
Review
Targeting Receptor-Type Protein Tyrosine Phosphatases with Biotherapeutics: Is Outside-in Better than Inside-Out?
1
Institute of Cardiovascular Sciences, College of Medical and Dental Sciences, University of Birmingham, Birmingham B15 2TT, UK
2
Department of Biomedical Science, Faculty of Science and Technology, University of Westminster, London W1W 6UW, UK
*
Author to whom correspondence should be addressed.
Received: 30 January 2018 / Accepted: 26 February 2018 / Published: 2 March 2018
Abstract
:
Protein tyrosine phosphatases (PTPs), of the receptor and non-receptor classes, are key signaling molecules that play critical roles in cellular regulation underlying diverse physiological events. Aberrant signaling as a result of genetic mutation or altered expression levels has been associated with several diseases and treatment via pharmacological intervention at the level of PTPs has been widely explored; however, the challenges associated with development of small molecule phosphatase inhibitors targeting the intracellular phosphatase domain (the "inside-out" approach) have been well documented and as yet there are no clinically approved drugs targeting these enzymes. The alternative approach of targeting receptor PTPs with biotherapeutic agents (such as monoclonal antibodies or engineered fusion proteins; the "outside-in" approach) that interact with the extracellular ectodomain offers many advantages, and there have been a number of exciting recent developments in this field. Here we provide a brief overview of the receptor PTP family and an update on the emerging area of receptor PTP-targeted biotherapeutics for CD148, vascular endothelial-protein tyrosine phosphatase (VE-PTP), receptor-type PTPs σ, γ, ζ (RPTPσ, RPTPγ, RPTPζ) and CD45, and discussion of future potential in this area.
Keywords:
tyrosine phosphatase; receptor; phosphorylation; ectodomain; biotherapeutic; biological; inhibitor; disease
1. Introduction
Protein tyrosine phosphorylation is a key signaling event that regulates cellular pathways involved in a wide range of physiological processes in the cardiovascular, immune, neuronal, and metabolic systems of the body. The overall level of tyrosine phosphorylation is determined by the balanced actions of kinases and phosphatases. Of the 37 classical human protein tyrosine phosphatases (PTPs), 21 are receptor-like transmembrane proteins and 16 are intracellular non-transmembrane proteins [
1
,
2
]. Receptor-type protein tyrosine phosphatases (RPTPs), which are the focus of this review, are grouped into 8 subtypes (R1–R8) and have a single transmembrane spanning domain, variable N-terminal extracellular regions and either a single or tandem intracellular phosphatase domain (
Figure 1
). The diverse extracellular regions have a modular architecture composed of multiple domains, often found in cell-adhesion molecules that enable extracellular events to be conveyed to intracellular signaling. On the intracellular side, most RPTPs have a tandem arrangement of PTP domains with the membrane proximal domain possessing full catalytic activity, while the distal domain has either weak activity, or is catalytically inactive.
Currently we have a detailed understanding of the structure and mechanism of phosphatase domains; however, our knowledge of the structure of RPTP ectodomains and understanding of their role in regulating function is incomplete. Many mechanisms for the regulation of RPTPs have been proposed, including activatory and inhibitory ligands, dimerization-induced inactivation, and size-exclusion models (these and other mechanisms have been reviewed elsewhere [
3
,
5
,
6
]). There is no unifying model of regulation and while some RPTPs have multiple ligands, many others are orphan receptors, or are thought to function in the absence of a ligand. To inform discussion in later sections of this article, we provide a brief explanation of the inhibitory wedge model and the head-to-toe dimerization model. Both models propose RPTP regulatory mechanisms involving dimerization and inhibition. The inhibitory wedge model was initially proposed based on the crystal structure of a single PTP catalytic domain from PTPRα, which crystallized as a dimer with a sequence near the N-terminus, the wedge, occluding the active site of the other PTP domain in the dimer [
7
,
8
]. Subsequent experiments with other full-length RPTPs demonstrated that homodimerization led to inhibition of phosphatase activity leading to the hypothesis that this is a general regulatory mechanism involving the wedge region. The secondary structure of this region (helix-turn-helix) is conserved in all classical PTPs although amino acid conservation is low [
2
]. However, this model is controversial since it is incompatible with structures of tandem PTP domains from multiple RPTPs [
9
,
10
], and the inhibited dimeric state involving the wedge has not been observed in any other PTP structure [
10
]. An alternative and distinct model of regulation for RPTPγ and RPTPζ proposes head-to-toe homo-dimerization of the tandem phosphatase domain in which the active site of the active phosphatase domain is occluded by the distal phosphatase domain from the dimer partner, leading to inhibition of phosphatase activity [
10
].
Research over the past decades has established that aberrant PTP signaling, through genetic mutation or altered expression levels, is associated with many human diseases and PTP knock-out mice studies have identified potential therapeutic opportunities for PTP inhibitors (reviewed in [
11
,
12
,
13
,
14
,
15
]). The challenges associated with small molecule PTP drug development have been well documented and as yet there are no clinically approved drugs targeting PTPs, although recent notable developments have included the identification of the compound SHP099 [
16
], a src homology 2-containing protein-tyrosine-phosphatase (SHP2) inhibitor for treatment of cancers, and low-molecular-weight PTP (LMPTP) inhibitors for diabetes [
17
]. Here we provide an update on the emerging area of receptor PTP-targeted biotherapeutics for CD148, VE-PTP, RPTPσ, CD45, RPTPγ, and RPTPζ, and discussion of future potential in this area.
2. Background on Currently Used Biotherapeutics
Therapeutic antibodies offer many advantages as is evident from the rapidly increasing number of antibodies in clinical use and the significant number in development [
18
]. For RPTPs, antibodies may be directed at less well conserved regions of the ectodomain with high specificity and affinity, avoiding off-target toxicity. Monoclonal antibodies, and other biotherapeutics, can have various modes of action that may not be achieved with small molecules [
19
]. For example, binding of the antibody to a ligand, either soluble or cell-associated, can interfere with activation of the therapeutic target. Bevacizumab (anti-vascular endothelial growth factor, VEGF), infliximab (anti-tumor necrosis factor, TNF), and eculizumab (anti-complement C5) are examples of approved antibodies with this mechanism of therapeutic action in oncology, inflammatory disease and haematology, respectively. In addition, antibodies may stabilize a distinct inactive receptor conformation, promote internalization of a cell-surface receptor, block ligand binding by directly competing for the ligand binding site, or modulate the oligomerization state of a receptor. Examples of such antibodies include Trastuzumab (human epidermal growth factor receptor, HER2-blocking antibody) and cetuximab (epidermal growth factor receptor, EGFR-blocking). Other functional effects of antibodies may be mediated via the crystallisable fragment (Fc) region mediating cell killing functions. In addition monoclonal antibodies often have a much longer half-life than small-molecule compounds, allowing reduced dosing frequency [
20
]. Variation in plasma concentration among individuals can be lower in comparison to small molecules [
21
]. During the drug development phase, it has been documented that the rate of attrition is much lower than for small molecules [
22
]; however, they do have the limitation that manufacturing costs are significantly higher.
3. Therapeutic Potential of Biotherapeutics Targeting CD148 (
PTPRJ

)
4. Therapeutic Potential of Biotherapeutics Targeting VE-PTP (
PTPRB

)

Vascular endothelial protein tyrosine phosphatase (VE-PTP) is an endothelial cell-specific RPTP that plays important roles in maintaining vascular integrity and angiogenesis. VE-PTP associates with vascular endothelial cadherin (VE-cadherin), a junctional adhesion molecule that is key for maintenance of vascular integrity, and also regulates both the angiopoietin receptor Tie-2 and VE growth factor receptor-2 (VEGFR-2). In recent studies, the potential of anti-VE-PTP antibodies, and a VE-PTP inhibitor, have been evaluated for use in vascular diseases and as therapeutic agents against breast cancer metastases, macular edema, neovascularization in the eye, and stroke [

39

,

40

,

41

,

42

,

43

].

Antibodies directed to the VE-PTP ectodomain trigger blood vessel enlargement in allantois explants from mouse embryos, mimicking the effects observed with deletion of the VE-PTP gene [

43

]. Analysis of the mechanism determined that the presence of the angiopoietin receptor tyrosine kinase Tie-2 was required, and that the antibodies selectively displace VE-PTP from Tie-2 triggering Tie-2 activation, and VE-PTP endocytosis, its down-regulation from the cell surface and subsequently degradation (

Figure 3

). In addition, VE-PTP blocking antibodies counteracted vascular leakage induced by inflammatory mediators and leukocyte transmigration through the endothelial cell barrier was reduced again by a mechanism involving Tie-2 [

44

]. The same anti-VE-PTP antibody previously shown to activate Tie-2 has been tested in mouse models of neovascular age-related macular degeneration (AMD). AMD is a leading cause of irreversible blindness characterized by abnormal growth of new blood vessels under, or within, the macula of the retina that is responsible for high-resolution vision. Intraocular injection of the antibody suppressed ocular neovascularization, and similar results were obtained with systemic administration of a small molecule VE-PTP inhibitor, AKB-9778, which also suppressed VEGF-induced vascular leakage that is relevant to diabetic macular edema [

45

]. The studies demonstrate that blocking VE-PTP either via an antibody or small molecule has the potential to be of therapeutic benefit clinically. In a phase I dose-escalation clinical trial with systemic administration of AKB-9778 over four weeks no safety concerns were identified [

46

]. A phase II trial has also been conducted assessing the efficacy of AKB-9778 alone or in combination with ranibizumab, a VEGF-neutralizing antibody, in patients with diabetic macular edema (DME) [

47

]. The study results indicated that monotherapy with the dose of AKB-9778 used in the study was not a viable approach to treat DME; however, the combination therapy of systemic AKB-9778 and intraocular injections of ranibizumab resulted in a significantly greater reduction in DME than ranibizumab alone. It would be of interest to establish if an anti-VE-PTP antibody delivered by intraocular injection is more effective than systemic AKB-9778, and whether such an agent could offer some advantage via its inherent high affinity and selectivity for VE-PTP.

In addition to eye disease, the AKB-9778 inhibitor has been evaluated in mouse breast cancer metastasis models and experimental models of stroke. In vitro and in vivo studies in breast cancer models showed that the drug impaired angiogenesis and slowed growth of micrometastases by limiting extravasation of tumour cells. The drug also enhanced tumour perfusion which was viewed as a benefit for enhancing responses to cytotoxic treatments [

48

]. In studies of experimental stroke, a disorder associated with disruption of the blood-brain barrier, increased permeability and stroke size were rescued by activation of Tie2 signaling using the VE-PTP inhibitor [

49

]. Therefore, both metastasis and stroke may be other therapeutic applications in which anti-VE-PTP antibodies have potential.
5. Therapeutic Potential of Biotherapeutics Targeting RPTPσ (
PTPRS

)

The receptor-type protein tyrosine phosphatase sigma (RPTPσ) functions in the nervous system to control axon growth and repair, and several recent studies have explored the potential of pharmacological intervention at this receptor as an approach to enhance neuronal regeneration following injury or disease. In addition, the identification of RPTPσ in joint-lining cells, called fibroblast-like synoviocytes (FLS) has led to the suggestion that targeting RPTPσ might provide a novel approach to treatment of rheumatoid arthritis; while other recent reports have provided evidence that RPTPσ is important for suppressing immune and autoimmune responses, and selective activation of this pathway might be an effective treatment for multiple sclerosis and related disorders. Here we discuss these exciting areas and progress in development of biological agents targeting RPTPσ.
6. Therapeutic Potential of Biotherapeutics Targeting CD45 (
PTPRC

)

The RPTP CD45 (also called the leukocyte common antigen) is expressed on all haematopoietic cells, with the exception of platelets and erythrocytes, and functions as a key regulator of T and B cell signalling. It is the sole member of the R1/R6 subtype of RPTPs and consists of an extracellular region, short transmembrane segment and tandem PTP domains in the cytoplasmic region. Multiple isoforms of CD45 are generated by complex alternative splicing of exons in the extracellular domain of the molecule, which are expressed in a cell type specific manner depending on the cell differentiation and activation status [

63

]. It has been the target of immunotherapeutics in several studies as a conditioning pre-treatment prior to haematopoietic stem cell transplantation (HSCT), which is used for malignant and non-malignant haematological disorders. The purpose of conditioning is to destroy haematopoietic stem cells in the host's bone marrow and facilitate engraftment through host immunosuppression. Current approaches to conditioning involve total body irradiation with or without chemotherapy drugs and since these are non-targeted they can have serious adverse effects through cytotoxic and genotoxic effect on healthy tissue. Newer antibody-based conditioning agents are expected to have much less off-target toxicity and anti-CD45 monoclonal antibodies have received much attention in this role. Unlabelled anti-CD45 antibodies have been tested; however, they depleted only lymphoid cells and additional chemotherapy was required to deplete haematopoietic stem cells [

64

,

65

]. Anti-CD45 antibodies radiolabelled with

131

I have been tested in phase I and II trials with chemotherapy agents as conditioning agents before HSCT in acute leukaemia [

66

,

67

]. More recent efforts have focussed on antibodies labelled with α-emitters, rather than β-emitters, since they have a shorter range and higher linear energy transfer meaning that there is a reduction in bystander toxicity where non target cells close to target cells are affected [

68

]. Recently, Palchaudhuri et al. reported exciting results using a CD45 antibody conjugated with the plant toxin saporin (CD45-SAP) as a haematopoietic-cell-specific immunotoxin [

69

] (

Figure 5

). Saporin produces its cytotoxic effects by both inhibiting protein synthesis via its N-glycosidase activity, which cleaves the 28 S rRNA of eukaryotic ribosomes, and by genomic DNA fragmentation via DNAase activity. Alone it is not internalised efficiently and is non-toxic, but on conjugation to an antibody to a cell surface antigen that gets rapidly internalized via endocytosis it becomes a potent toxin [

70

,

71

]. The CD45-SAP agent efficiently conditions immuno-competent mice for HSCT and minimizes undesirable toxicity compared with conventional total body irradiation conditioning, indicating this may be a promising approach in the future.
7. Therapeutic Potential of Biotherapeutics Targeting RPTPγ and RPTPζ (
PTPRG

and

PTPRZ1

)

The RPTPs RPTPγ and RPTPζ form the R5 RPTP subfamily, with an extracellular carbonic anhydrase domain, a fibronectin type III like-domain and an intracellular tandem phosphatase domain. Both molecules are highly expressed in the central nervous system (CNS), and RPTPγ is expressed widely in many peripheral tissues, including leukocytes, epithelial cells, and endocrine cells of various organs [

72

,

73

,

74

]. RPTPγ is known to act as tumour suppressor in various cancers [

75

], and a recent report has demonstrated that RPTPγ-directed monoclonal antibodies have a potential use as a tool for biomarker detection in chronic myeloid leukaemia (CML) [

76

]. In a group of newly diagnosed CML patients, Vezzalini et al. used an RPTPγ antibody (TPγ B9-2) to confirm down-regulation of RPTPγ at diagnosis and demonstrated that following tyrosine kinase inhibitor treatment its expression recovered, together with a return to normal haematopoiesis [

76

].

While both RPTPγ and RPTPζ have high-level CNS expression in common, they differ in their expression patterns, with RPTPγ found almost exclusively on neurons and RPTPζ localized on both glial cells, specifically oligodendrocytes and their precursor cells that are important in myelination of nerve axons, and neurons [

77

,

78

,

79

]. Another key difference is that RPTPζ, unlike RPTPγ, is heavily modified with chondroitin sulfate side-chains, which are required for high-affinity binding of inhibitory ligands, such as pleiotrophin, midkine and interleukin-34 [

79

]. A recent study by Kuboyama et al. presented an elegant model of RPTPζ regulation by chondroitin sulfate and pleiotrophin and its relevance to demyelination in brain regions in multiple sclerosis (

Figure 6

). The chondroitin sulfate modification of RPTPζ was found to be essential for maintaining RPTPζ in a monomeric active state associated with inhibition of oligodendrocyte precursor cell (OPC) differentiation. Pleiotrophin was found to be the ligand responsible for inducing OPC differentiation, and associated myelination, during brain development, by binding to the negatively charged chondroitin sulfate side-chains, and inducing clustering and inactivation of RPTPζ by the head-to-toe model [

10

]. In MS it is thought that chondroitin sulfate proteoglycans in lesions interfere with the binding of pleiotrophin to RPTPζ causing an inhibitory effect on remyelination [

80

]. An antibody to RPTPζ tested in this study did not enhance OPC differentiation; however, it is possible in the future that modulation of this pathway may be achieved with other biotherapeutics, monoclonal antibodies, or fusion proteins, as a strategy for tackling MS.
8. Conclusions
A wide range of therapeutic opportunities for biotherapeutics targeting RPTPs have been reported in a broad range of disease conditions in the scientific literature, including: asthma, diabetes, thrombosis, diabetic eye disease, cancer metastasis, stroke, rheumatoid arthritis, multiple sclerosis, spinal cord injury, myocardial infarction, and as conditioning agents prior to HSCT. RPTP ectodomains are obvious targets, and the biotherapeutic approach circumvents the issues associated with getting small-molecule phosphatase inhibitors across the plasma membrane and achieving specificity. Monoclonal antibodies, decoy fusion proteins, and peptides have all been used to modulate RPTP ligand binding and regulation of catalytic activity to achieve therapeutically relevant effects. The heterogeneity of RPTP ectodomains and different isoforms of some RPTPs may also provide an additional degree of specificity that can be exploited in the future. With the exciting recent developments in the field of biotherapeutics targeting RPTPs and development of small-molecule PTP inhibitors [
16
,
17
], the race is on for the first approved PTP-targeted drug.
Acknowledgments
Y.A.S. is a British Heart Foundation (BHF) Senior Basic Science Research Fellow (FS/13/1/29894). His work on RPTPs is funded by BHF Programme Grant RG/15/13/31673.
Author Contributions
Y.A.S. revised the manuscript. A.J.B. wrote and revised the manuscript.
Conflicts of Interest
The authors declare no conflict of interest.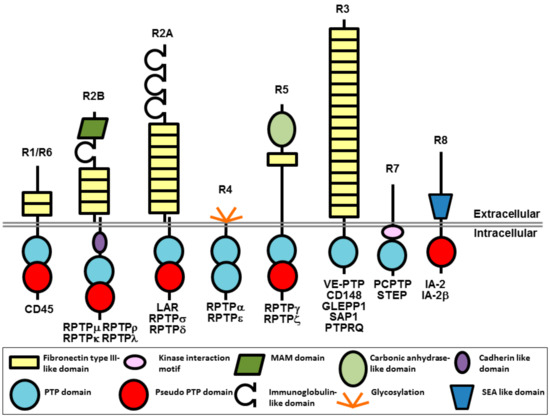 Figure 1.
Schematic representation of RPTPs (adapted by permission from N.K. Tonks, Nature Reviews Molecular Cell Biology; published by Springer Nature, 2006, reference [
3
]). The gap at the extracellular juxtamembrane region of R2B and R2A represents the potential of these RPTPs to be proteolytically cleaved into two subunits that remain non-covalently associated at the cell surface [
4
]. MAM, Meprin/A5/μ domain; SEA, sea urchin sperm protein/enterokinase/agrin.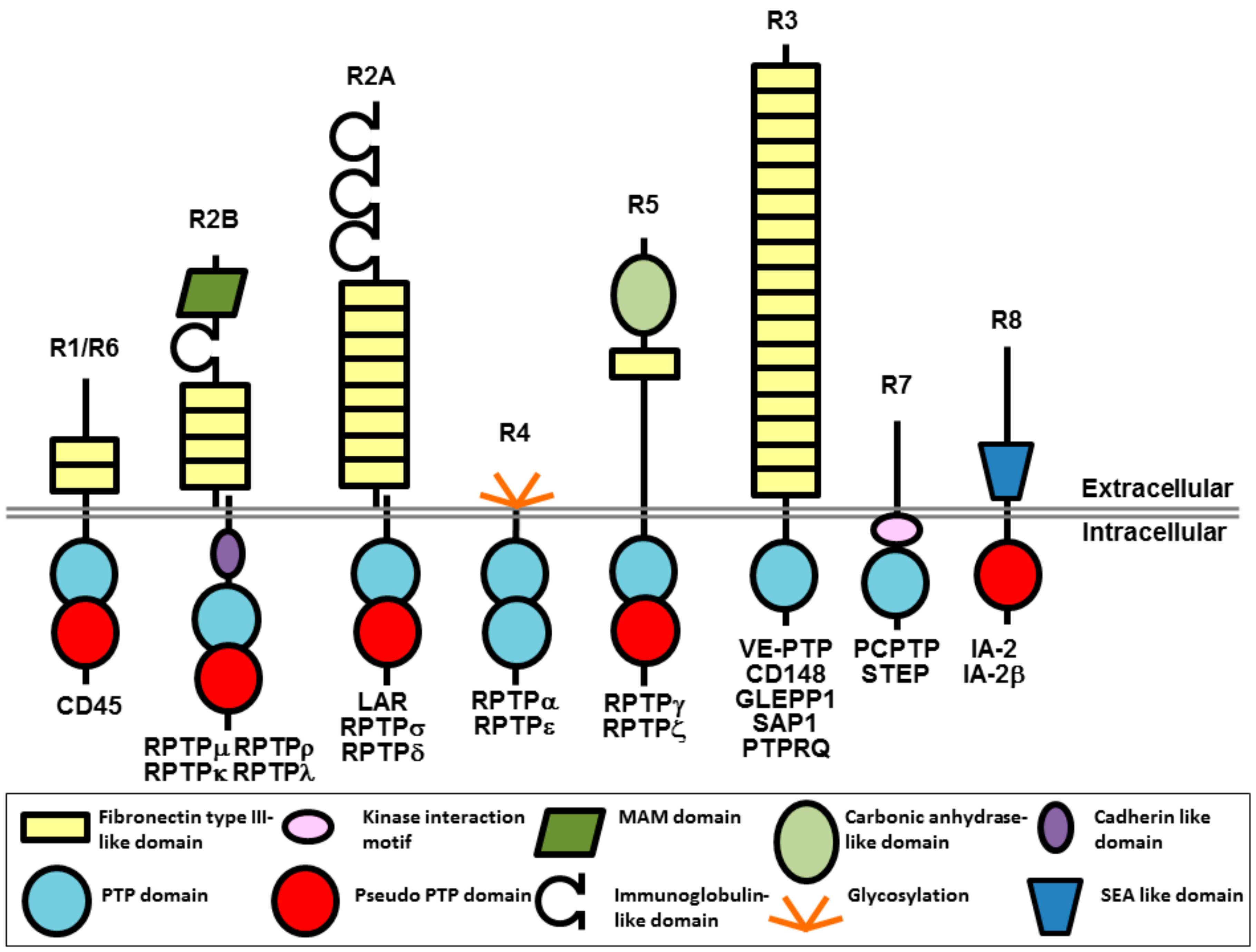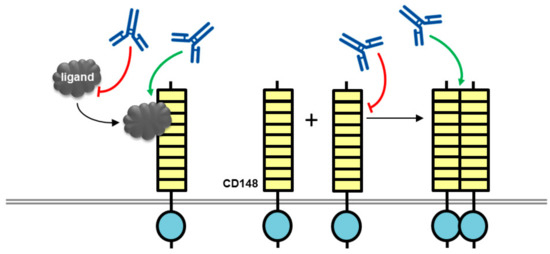 Figure 2.
Potential mechanisms of action for CD148 antibodies with biological effects. An antibody (blue lined object) directed to the ligand binding domain, the ligand itself or the ligand-receptor complex may modulate ligand-mediated increases in phosphatase activity. Alternatively, antibodies may modulate phosphatase activity by inducing or inhibiting oligomerization, which is thought to regulate catalytic activity. RPTP domains are represented by objects as detailed in
Figure 1
.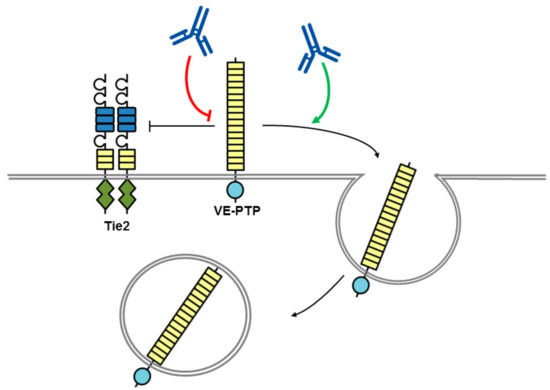 Figure 3.
Potential mechanism of action for VE-PTP antibodies with biological effects. An antibody to the ectodomain of VE-PTP may displace VE-PTP from Tie2 triggering Tie-2 activation and VE-PTP endocytosis. Alternatively, phosphatase activity may be modulated by a VE-PTP domain directed antibody. The tyrosine kinase receptor Tie2 is shown as a dimer with a split tyrosine kinase domain (green) and an extracellular domain consisting of three epidermal growth factor (EGF)-like domains (blue rectangles) flanked by Ig1–3, followed by three fibronectin type III-like domains (yellow rectangles. RPTP domains are represented by objects as detailed in
Figure 1
.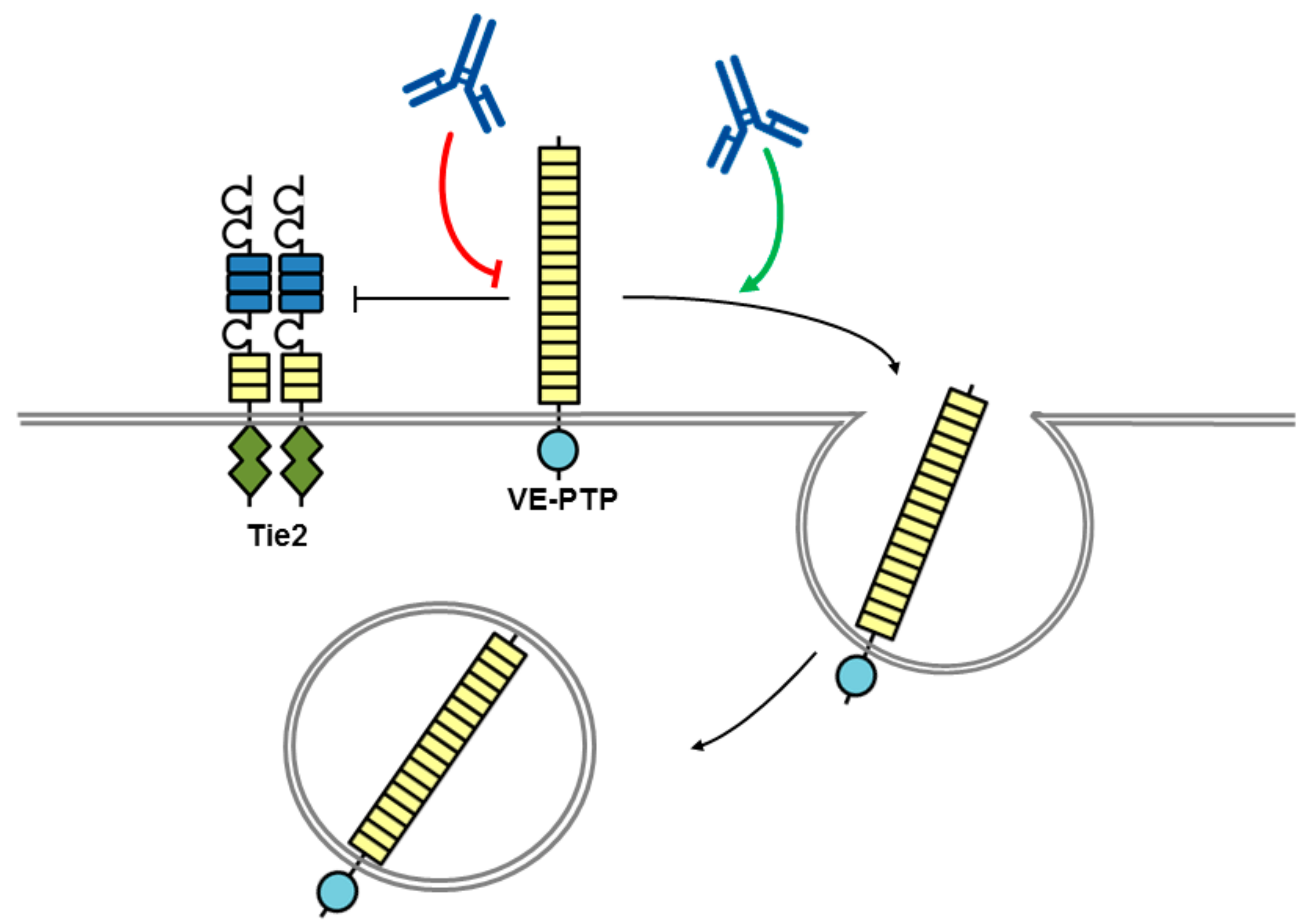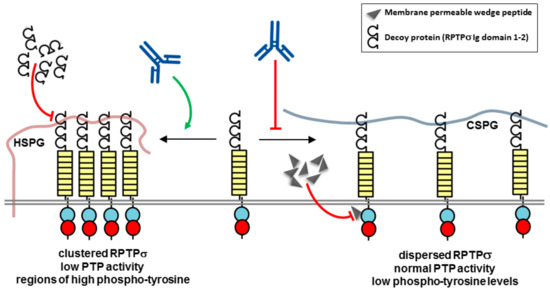 Figure 4.
Potential mechanism of action of biotherapeutics targeting PTPRσ. Model showing heparan sulfate proteoglycans (HSPGs) acting
in cis
promoting PTPRσ oligomerization, while chondroitin sulfate proteoglycans (CSPGs) acting
in trans
oppose this effect. A decoy protein or antagonist peptide corresponding to the ectodomain may be used to block HSPG effects. A membrane permeable RPTPσ wedge domain peptide may also be used to block RPTPσ. RPTP domains are represented by objects as detailed in
Figure 1
.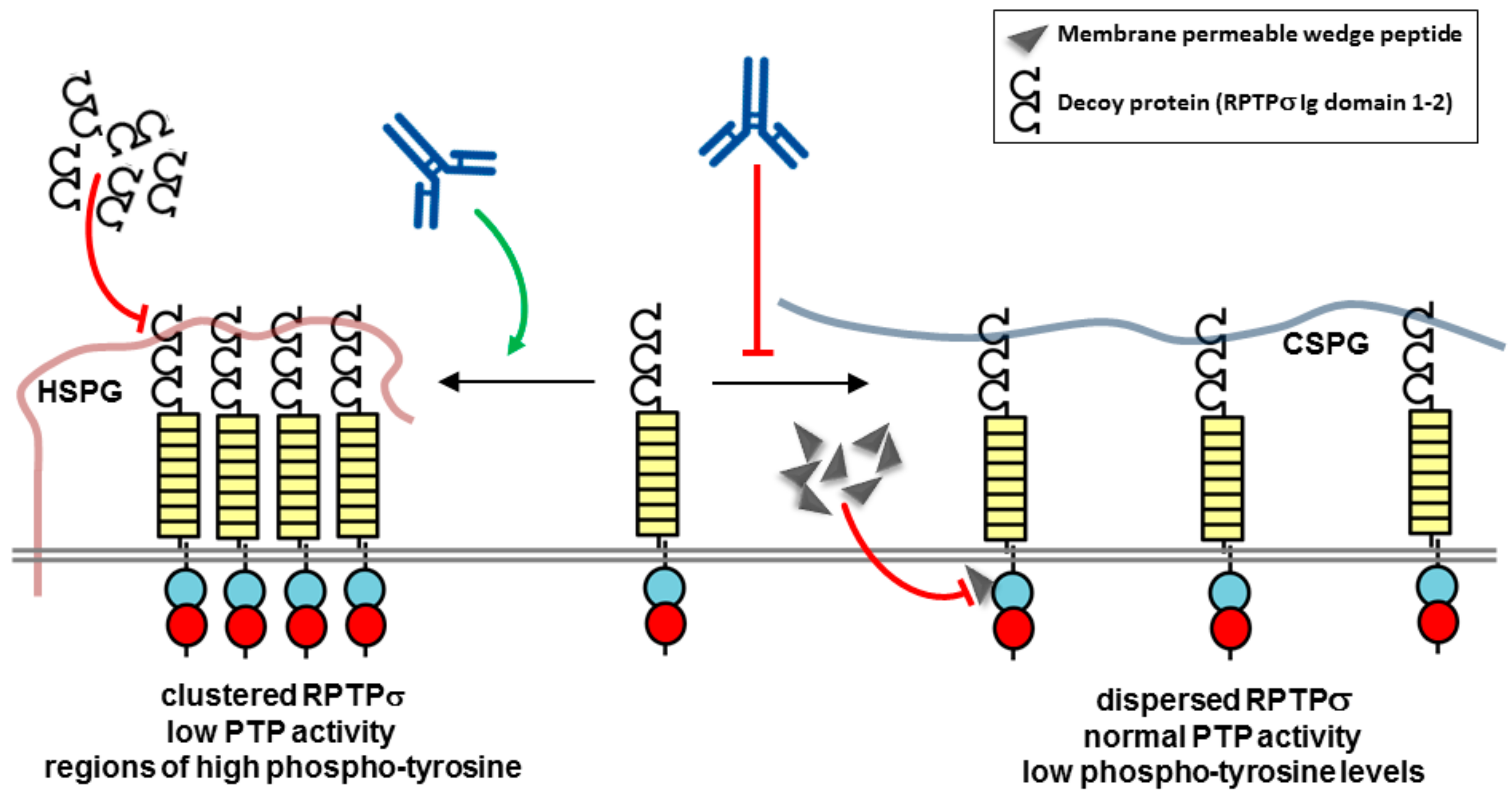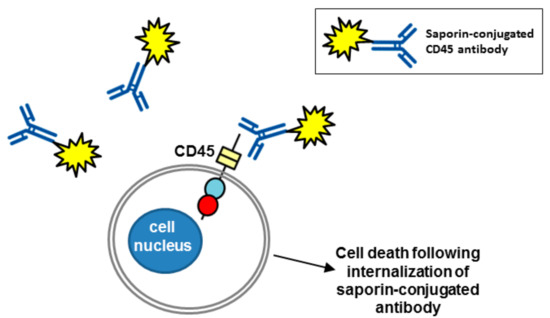 Figure 5.
A CD45 antibody conjugated with saporin as a cell-specific immunotoxin. Saporin conjugated to a CD45 antibody gets rapidly internalized via endocytosis (not shown) leading to cell death. RPTP domains are represented by objects as detailed in
Figure 1
.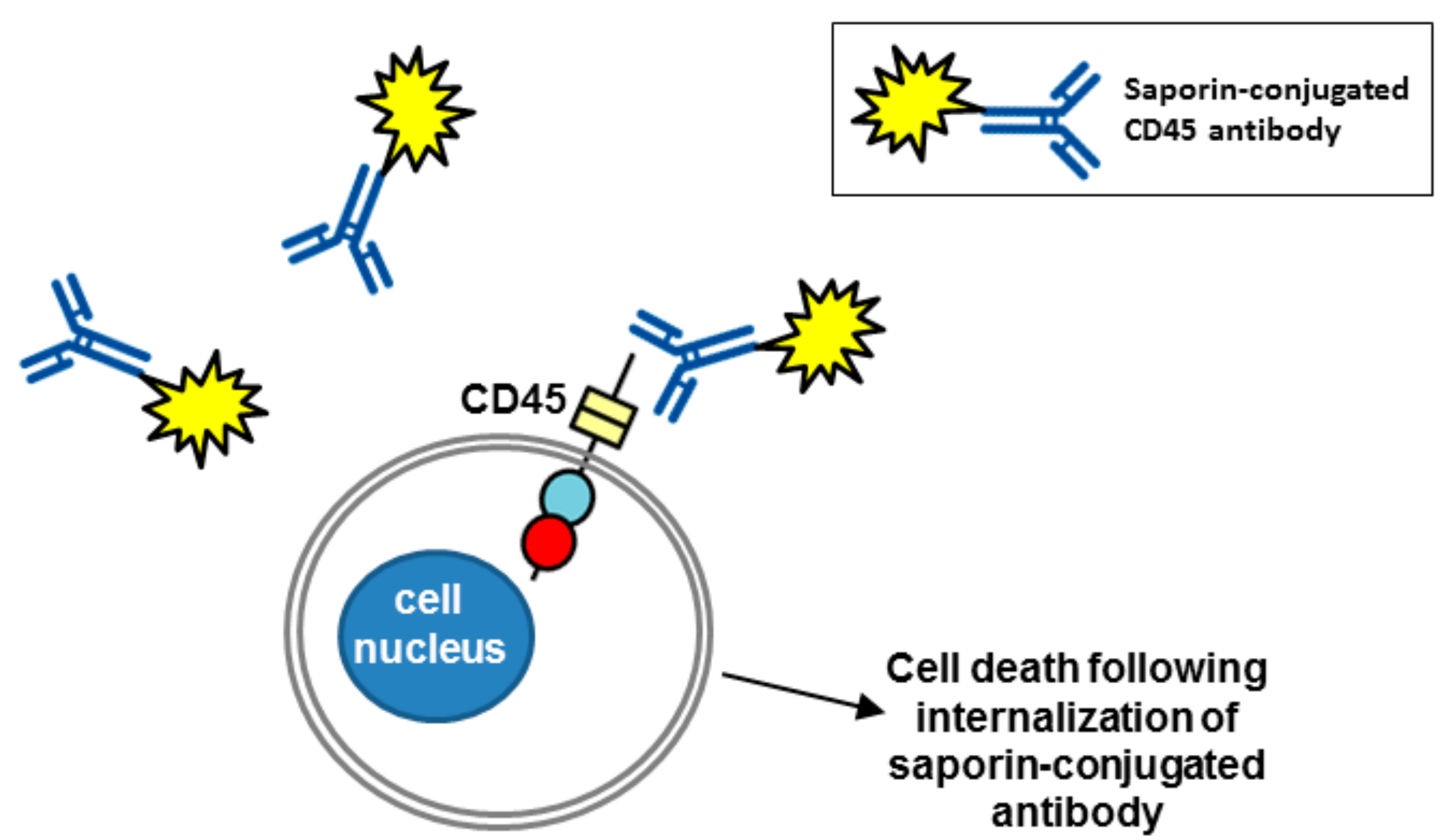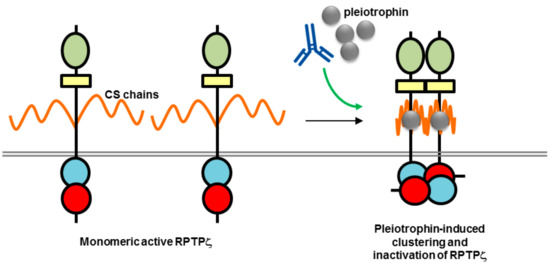 Figure 6.
Potential mechanism of action of biotherapeutics targeting RPTPζ (adapted from reference [
68
]). The high chondroitin sulfate (CS) modification of RPTPζ is thought to maintain the RPTP in a monomeric active form by electrostatic repulsion. Binding of a ligand such as pleiotrophin is thought to neutralize the negative charge and induce clustering and inactivation of phosphatase activity. An antibody may be used to mimic or enhance ligand-induced clustering. RPTP domains are represented by objects as detailed in
Figure 1
.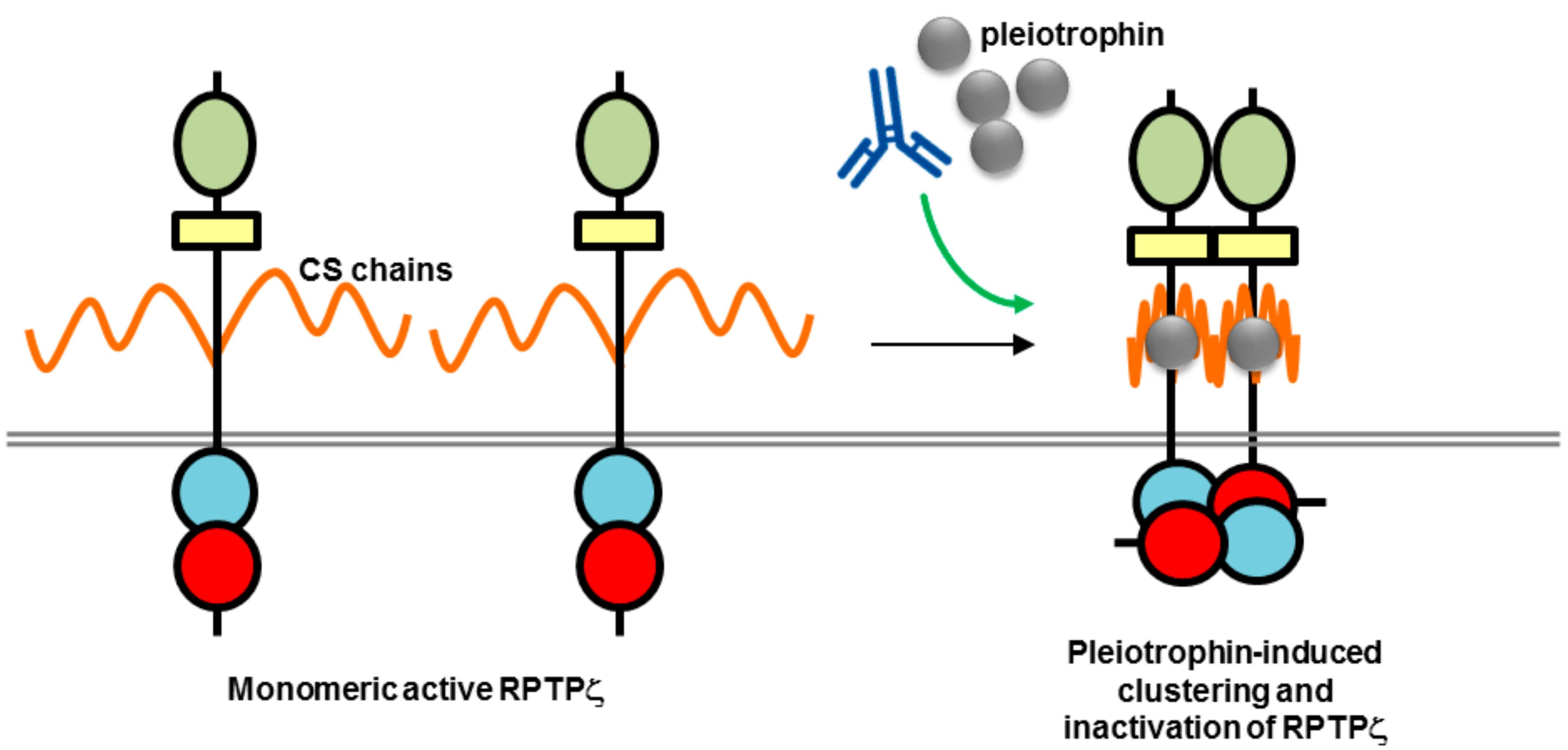 © 2018 by the authors. Licensee MDPI, Basel, Switzerland. This article is an open access article distributed under the terms and conditions of the Creative Commons Attribution (CC BY) license (http://creativecommons.org/licenses/by/4.0/).