Overexpression of Receptor Tyrosine Kinase EphB4 Triggers Tumor Growth and Hypoxia in A375 Melanoma Xenografts: Insights from Multitracer Small Animal Imaging Experiments†
1
Department Radiopharmaceutical and Chemical Biology, Helmholtz-Zentrum Dresden-Rossendorf, Institute of Radiopharmaceutical Cancer Research, Bautzner Landstrasse 400, 01314 Dresden, Germany
2
Department Positron Emission Tomography, Helmholtz-Zentrum Dresden-Rossendorf, Institute of Radiopharmaceutical Cancer Research, Bautzner Landstrasse 400, 01314 Dresden, Germany
3
Department Radionuclide Theragnostics, Helmholtz-Zentrum Dresden-Rossendorf, Institute of Radiopharmaceutical Cancer Research, Bautzner Landstrasse 400, 01314 Dresden, Germany
4
Faculty of Chemistry and Food Chemistry, School of Science, Technische Universität Dresden, 01062 Dresden, Germany
*
Author to whom correspondence should be addressed.
‡
These authors contributed equally to this work.
†
This publication is dedicated to Professor Dr. Jörg Steinbach, Helmholtz-Zentrum Dresden-Rossendorf and Technische Universität Dresden, on the occasion of his 65th birthday.
Received: 15 January 2018 / Revised: 13 February 2018 / Accepted: 16 February 2018 / Published: 17 February 2018
Abstract
Experimental evidence has associated receptor tyrosine kinase EphB4 with tumor angiogenesis also in malignant melanoma. Considering the limited in vivo data available, we have conducted a systematic multitracer and multimodal imaging investigation in EphB4-overexpressing and mock-transfected A375 melanoma xenografts. Tumor growth, perfusion, and hypoxia were investigated by positron emission tomography. Vascularization was investigated by fluorescence imaging in vivo and ex vivo. The approach was completed by magnetic resonance imaging, radioluminography ex vivo, and immunohistochemical staining for blood and lymph vessel markers. Results revealed EphB4 to be a positive regulator of A375 melanoma growth, but a negative regulator of tumor vascularization. Resulting in increased hypoxia, this physiological characteristic is considered as highly unfavorable for melanoma prognosis and therapy outcome. Lymphangiogenesis, by contrast, was not influenced by EphB4 overexpression. In order to distinguish between EphB4 forward and EphrinB2, the natural EphB4 ligand, reverse signaling a specific EphB4 kinase inhibitor was applied. Blocking experiments show EphrinB2 reverse signaling rather than EphB4 forward signaling to be responsible for the observed effects. In conclusion, functional expression of EphB4 is considered a promising differentiating characteristic, preferentially determined by non-invasive in vivo imaging, which may improve personalized theranostics of malignant melanoma.
View Full-Text
►

▼

Figures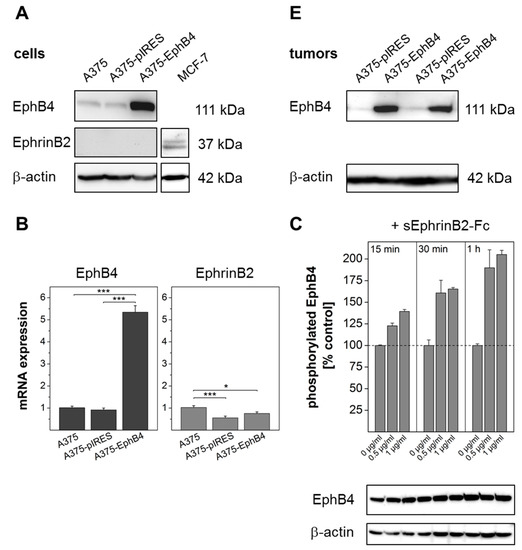 Figure 1
This is an open access article distributed under the
Creative Commons Attribution License
which permits unrestricted use, distribution, and reproduction in any medium, provided the original work is properly cited (CC BY 4.0).

Share & Cite This Article
MDPI and ACS Style
Neuber, C.; Belter, B.; Meister, S.; Hofheinz, F.; Bergmann, R.; Pietzsch, H.-J.; Pietzsch, J. Overexpression of Receptor Tyrosine Kinase EphB4 Triggers Tumor Growth and Hypoxia in A375 Melanoma Xenografts: Insights from Multitracer Small Animal Imaging Experiments. Molecules 2018, 23, 444.
Note that from the first issue of 2016, MDPI journals use article numbers instead of page numbers. See further details here.
Related Articles
Comments
[Return to top]