Novel Conjugated Polymers Prepared by Direct (Hetero) arylation: An Eco-Friendly Tool for Organic Electronics
1
Key Laboratory of Flexible Electronics (KLOFE) & Institute of Advanced Materials (IAM), Jiangsu National Synergetic Innovation Center for Advanced Materials (SICAM), Nanjing Tech University (Nanjing Tech), 30 South Puzhu Road, Nanjing 211816, China
2
Nanjing Kuo Hua Electronics Technology Pte. Ltd., Innovation Building B816, Xinmofan Road 5, Nanjing 210009, China
*
Author to whom correspondence should be addressed.
Received: 20 January 2018 / Revised: 8 February 2018 / Accepted: 13 February 2018 / Published: 13 February 2018
Abstract
The phthalimide (PhI) moiety has been attracting more attention as an excellent acceptor building block in donor-acceptor (D-A) conjugated polymers. In this paper; three D-A conjugated polymers with or without thiocarbonyl moieties are successfully prepared by the direct (hetero)-arylation polymerization (DHAP), which is an atom efficient and facile synthetic strategy to obtain polymer materials. Compared with the traditional carbon-carbon coupling reactions, this method possesses more advantages, including: fewer synthetic steps, avoidance of the preparation of the organometallic reagents, higher atom economy and fewer toxic byproducts, better compatibility with chemically sensitive functional groups and so on. All three of these designed PhI-based polymers exhibited favourable optoelectronic and thermal performance. The optical, thermodynamic and electrochemical properties of the synthesized polymers were systematically investigated using ultraviolet-visible (UV-vis) spectroscopy, thermogravimetric analysis (TGA), differential scanning calorimetry (DSC) and cyclic voltammetry (CV). The results of these three polymers indicated that thionation of the carbonyl was a highly effective methods to improve the properties of PhI-based polymers; and provided impetus for the development of thionated PhI derivatives for organic electronic applications.
View Full-Text
►

▼

Figures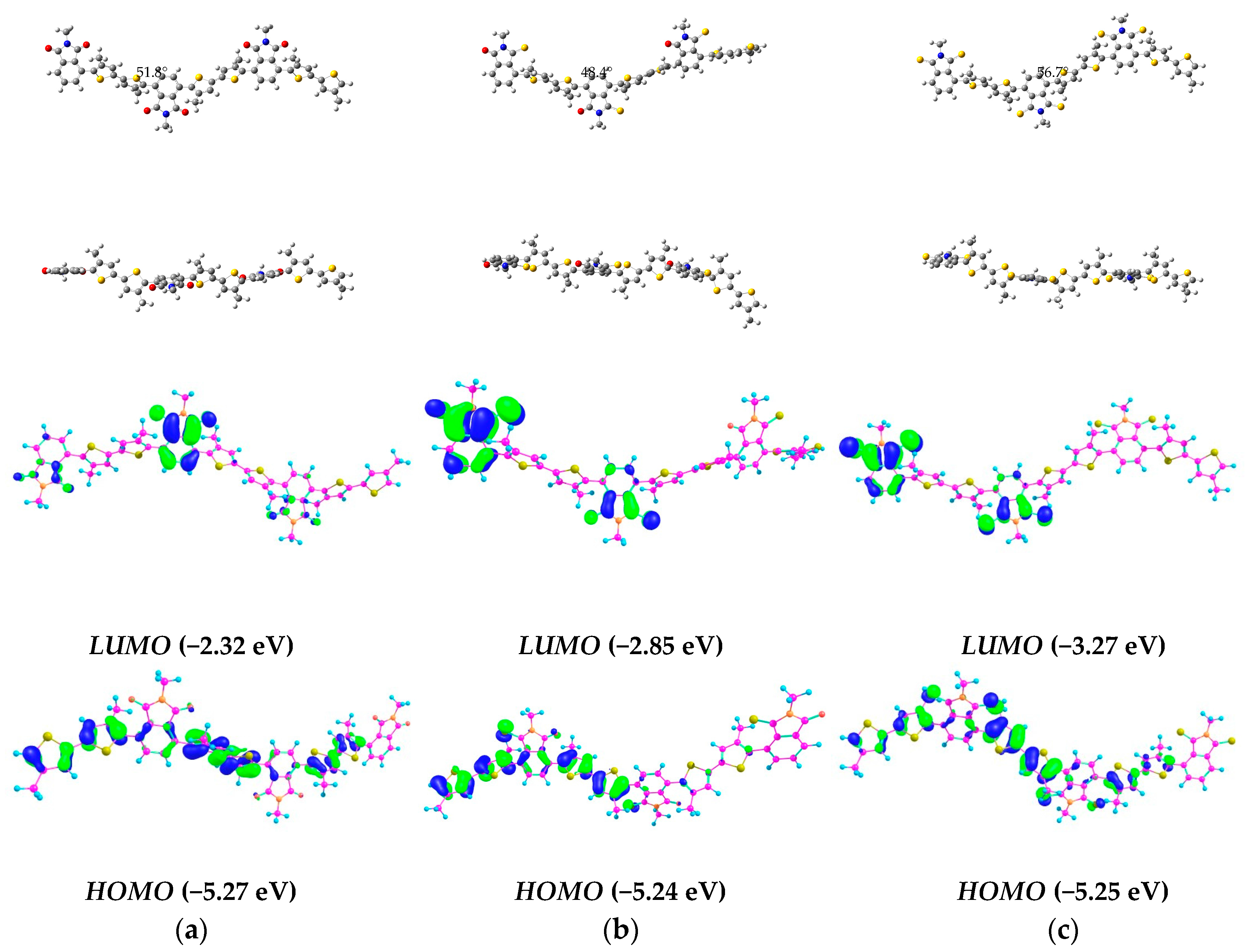 Figure 1
This is an open access article distributed under the
Creative Commons Attribution License
which permits unrestricted use, distribution, and reproduction in any medium, provided the original work is properly cited (CC BY 4.0).

Share & Cite This Article
MDPI and ACS Style
Liu, F.; Zhang, Y.; Wang, H.; Zhang, S. Novel Conjugated Polymers Prepared by Direct (Hetero) arylation: An Eco-Friendly Tool for Organic Electronics. Molecules 2018, 23, 408.
Note that from the first issue of 2016, MDPI journals use article numbers instead of page numbers. See further details here.
Related Articles
Comments
[Return to top]