Open Access This article is
freely available
re-usable
Review
MiR200 and miR302: Two Big Families Influencing Stem Cell Behavior
†
1
Department of Biomedical Sciences, University of Sassari, Viale San Pietro 43/B, 07100 Sassari, Italy
2
Laboratory of Molecular Biology and Stem Cell Engineering, National Institute of Biostructures and Biosystems, Innovation Accelerator, CNR, Via Piero Gobetti 101, 40129 Bologna, Italy
3
Department of Experimental, Diagnostic and Specialty Medicine (DIMES), University of Bologna, Via Massarenti 9, 40138 Bologna, Italy
4
GUNA ATTRE (Advanced Therapies and Tissue REgeneration), Innovation Accelerator, CNR, Via Piero Gobetti 101, 40129 Bologna, Italy
5
Istituto di RicercaGenetica e Biomedica, Consiglio Nazionaledelle Ricerche (CNR), Monserrato, 09042 Cagliari, Italy
6
Center for Developmental Biology and Reprogramming (CEDEBIOR), Department of Biomedical Sciences, University of Sassari, Viale San Pietro 43/B, 07100 Sassari, Italy
†
miRNA and epigenetic changes in stem cell fate.

Received: 9 January 2018 / Accepted: 27 January 2018 / Published: 30 January 2018
Abstract
:
In this review, we described different factors that modulate pluripotency in stem cells, in particular we aimed at following the steps of two large families of miRNAs: the miR-200 family and the miR-302 family. We analyzed some factors tuning stem cells behavior as TGF-β, which plays a pivotal role in pluripotency inhibition together with specific miRNAs, reactive oxygen species (ROS), but also hypoxia, and physical stimuli, such as ad hoc conveyed electromagnetic fields. TGF-β plays a crucial role in the suppression of pluripotency thus influencing the achievement of a specific phenotype. ROS concentration can modulate TGF-β activation that in turns down regulates miR-200 and miR-302. These two miRNAs are usually requested to maintain pluripotency, while they are down-regulated during the acquirement of a specific cellular phenotype. Moreover, also physical stimuli, such as extremely-low frequency electromagnetic fields or high-frequency electromagnetic fields conveyed with a radioelectric asymmetric conveyer (REAC), and hypoxia can deeply influence stem cell behavior by inducing the appearance of specific phenotypes, as well as a direct reprogramming of somatic cells. Unraveling the molecular mechanisms underlying the complex interplay between externally applied stimuli and epigenetic events could disclose novel target molecules to commit stem cell fate.
Keywords:
stem cells; miRNA; epigenetics; cell reprogramming
Acknowledgments
This work was funded by Banco di Sardegna Foundation, Project "Myrtus 2.0: from waste to resource (Bioactivity of myrtle by-products)", and GUNA ATTRE (Advanced Therapies and Tissue REgeneration), Bologna, Italy.
Conflicts of Interest
The authors declare no conflict of interest.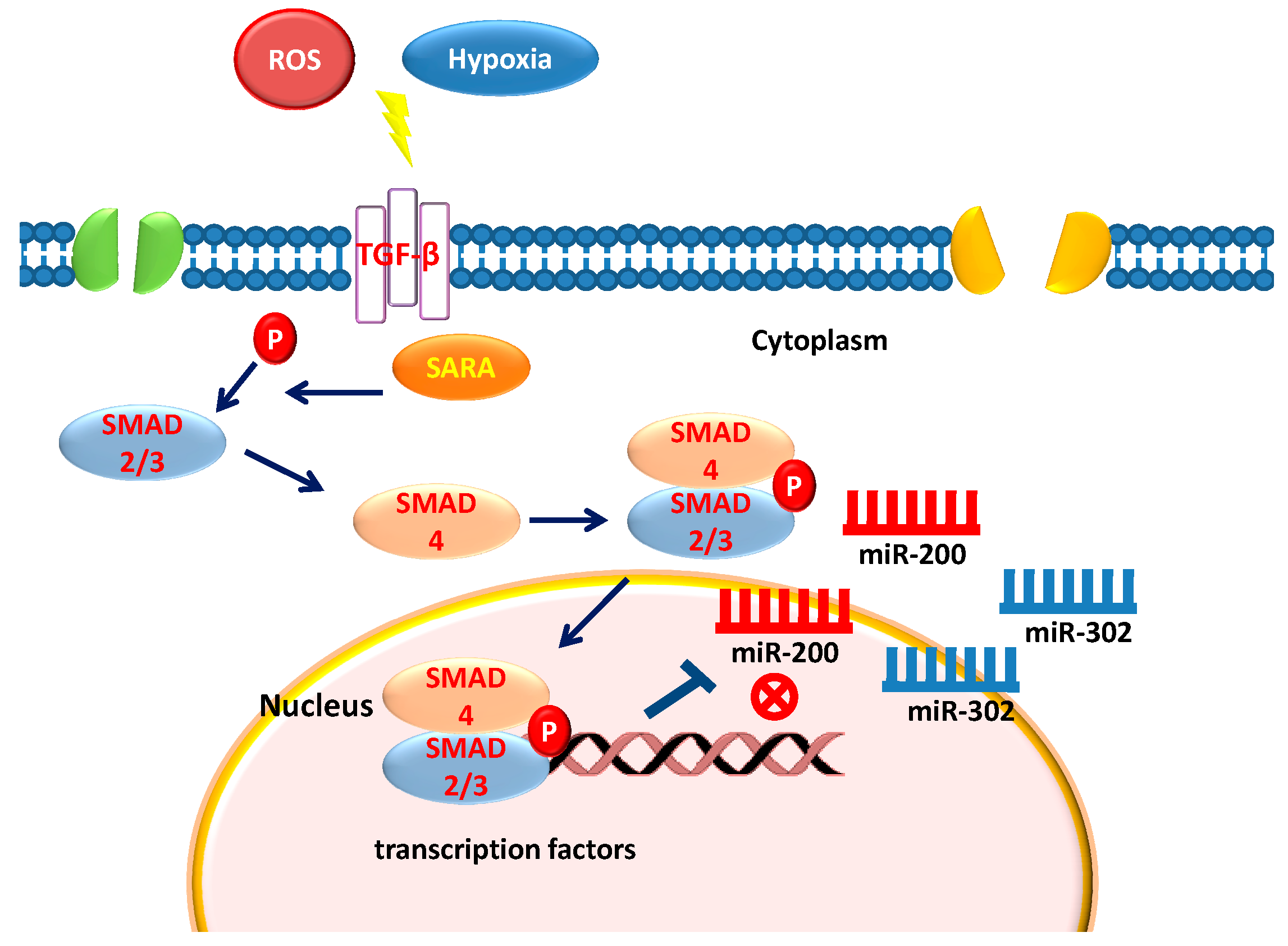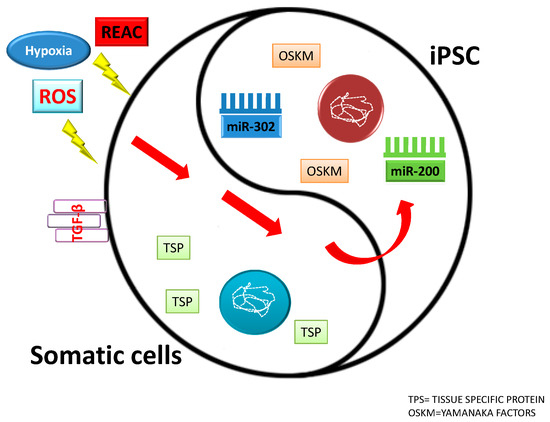 Figure 2. Influence of different factors on somatic cells and induced pluripotent stem cells (IPSCs) fate.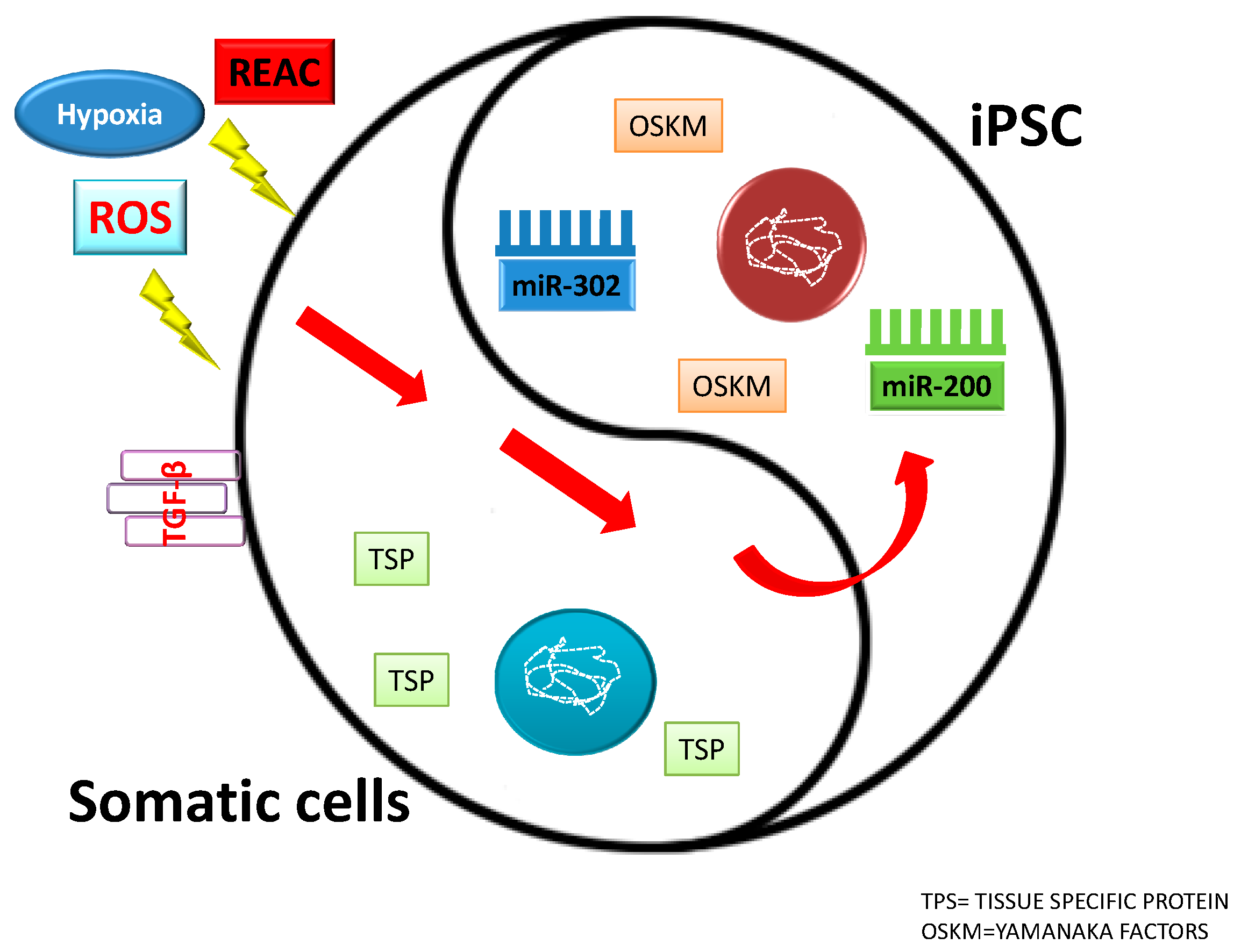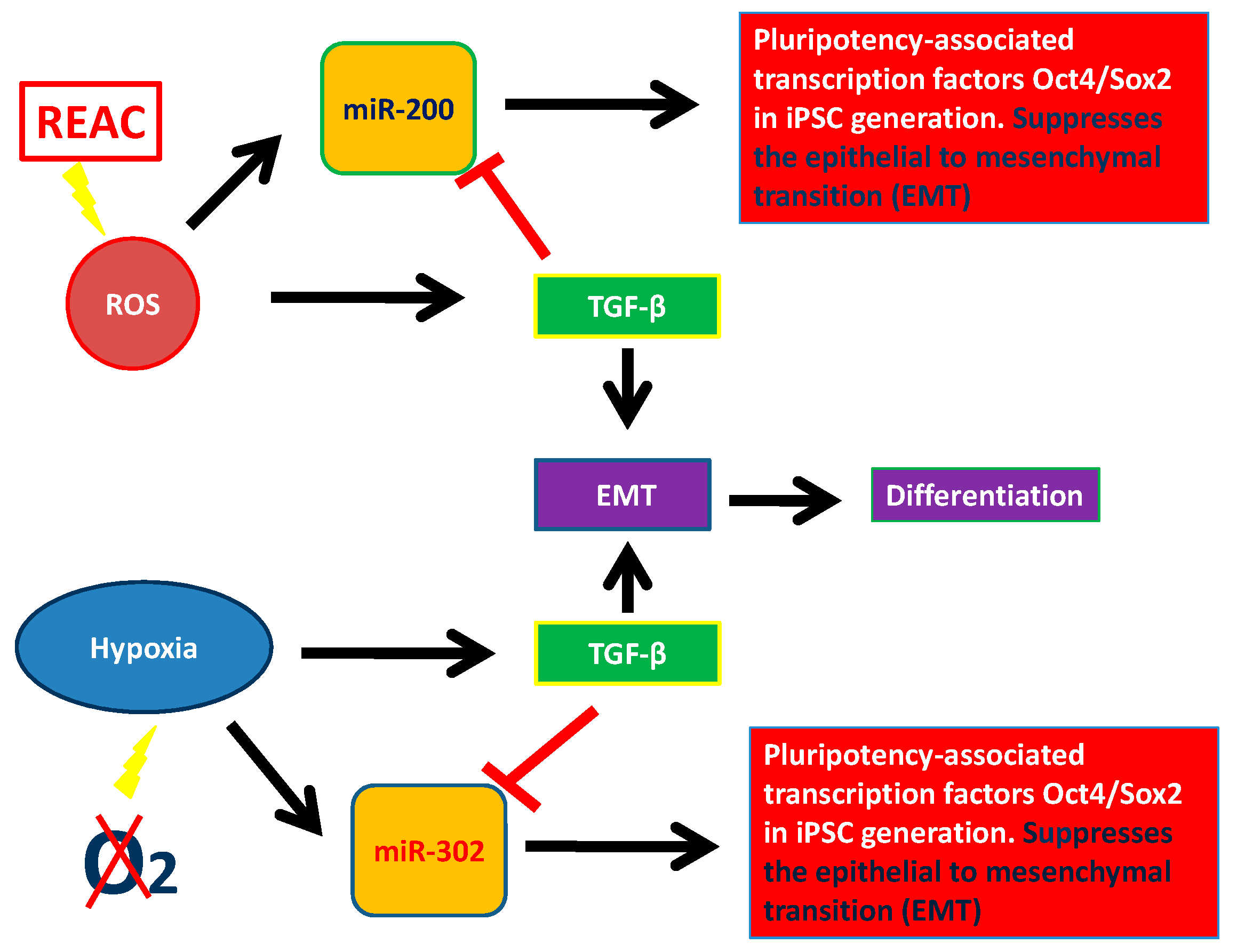 Table 1. MiRNA regulation on stemness.

| miRNA | Influence on Pluripontecy | Influence on Differentiation | Inhibition of EMT /MET |
| --- | --- | --- | --- |
| miR-200 family | yes | no | yes |
| miR-302 family | yes | no | yes |

© 2018 by the authors. Licensee MDPI, Basel, Switzerland. This article is an open access article distributed under the terms and conditions of the Creative Commons Attribution (CC BY) license (http://creativecommons.org/licenses/by/4.0/).