Open Access This article is
freely available
re-usable
Communication
Analysis of Protein-Phenolic Compound Modifications Using Electrochemistry Coupled to Mass Spectrometry
Institute of Food Chemistry, Hamburg School of Food Science, University of Hamburg, Martin-Luther-King-Platz 6, 20146 Hamburg, Germany
*
Author to whom correspondence should be addressed.
Received: 13 December 2017 / Accepted: 24 January 2018 / Published: 29 January 2018
Abstract
:
In the last decade, electrochemical oxidation coupled with mass spectrometry has been successfully used for the analysis of metabolic studies. The application focused in this study was to investigate the redox potential of different phenolic compounds such as the very prominent chlorogenic acid. Further, EC/ESI-MS was used as preparation technique for analyzing adduct formation between electrochemically oxidized phenolic compounds and food proteins, e.g., alpha-lactalbumin or peptides derived from a tryptic digestion. In the first step of this approach, two reactant solutions are combined and mixed: one contains the solution of the digested protein, and the other contains the phenolic compound of interest, which was, prior to the mixing process, electrochemically transformed to several oxidation products using a boron-doped diamond working electrode. As a result, a Michael-type addition led to covalent binding of the activated phenolic compounds to reactive protein/peptide side chains. In a follow-up approach, the reaction mix was further separated chromatographically and finally detected using ESI-HRMS. Compound-specific, electrochemical oxidation of phenolic acids was performed successfully, and various oxidation and reaction products with proteins/peptides were observed. Further optimization of the reaction (conditions) is required, as well as structural elucidation concerning the final adducts, which can be phenolic compound oligomers, but even more interestingly, quite complex mixtures of proteins and oxidation products.
Keywords:
adduct formation; protein interaction; electrochemical oxidation; phenolic compounds
1. Introduction
This present study focused on the comparison of the redox potential of various phenolic compounds and the characterization of oxidation products with regard to their ability to act as reaction partners for food proteins or peptides thereof using electrochemistry. It aimed to evaluate the different redox potentials for forming either monomeric, dimeric, or even oligomeric oxidation products and their reactivity towards peptides resulting from a tryptic digest of the whey protein alpha-lactalbumin.
2. Results
2.1. Electrochemical Oxidation of Phenolic Acids by Means of EC/ESI-MS
In the first step of this study, the applicability of an electrochemical oxidation for transforming phenolic compounds was evaluated. Exemplarily, the electrochemical oxidation of chlorogenic acid was optimized by varying the voltage from 0.3 V to 3 V in steps of 0.3 V using a boron-doped diamond electrode and a Roxy
®
potentiostat (Antec Scientific, Zoeterwoude, The Netherlands). In the following mass spectrometry, the scan mode was used to identify the optimal potential concerning maximum recovery of the oxidation products. For chlorogenic acid, voltages from 0.6 V up to 1.8 V led to a bundle of oxidation products. Consequently, 1.8 V were chosen for the further experiments due to reproducible reaction product formation, diversity, and intensity. The resulting mass spectra are shown in
Figure 1
.
While the intensity of monomeric chlorogenic acid (
m
/
z
353.7 [M − H]
−
) and dimeric derivatives (
m
/
z
707.0 [M − H]
−
), as well as caffeic acid (
m
/
z
179.0 [M − H]
−
) and quinic acid (
m
/
z
191.1 [M − H]
−
), decreased during the oxidation, the ion intensity of three, so far unknown, compounds (
m
/
z
381.5 [M − H]
−
;
m
/
z
735.2 [M − H]
−
;
m
/
z
765.2 [M − H]
−
), as well as the intensity of the trimeric derivative (
m
/
z
1054.3 [M − H]
−
), increased significantly.
2.2. Comparison of the Oxidation of Various Phenolic Acids
To achieve comparability of the oxidability of the several phenolic compounds of interest, the electrochemical oxidation of four phenolic acids was evaluated. Besides chlorogenic acid, ferulic acid, caffeic acid, and sinapinic acid were oxidized electrochemically with a potential of 1.8 V analogously to chlorogenic acid. In all four reactions, a formation of dimeric and oligomeric products was observed. Considering caffeic acid and chlorogenic acid, the formation of oligomeric products was already detected at 0 V (caffeic acid: monomer (
m
/
z
180.8 [M − H]
−
), dimer (
m
/
z
363.0 [M − H]
−
), and trimer adduct (
m
/
z
583.0 [M + 2Na − H]
−
). In addition, adduct and cleavage products are already recognizable: (caffeic acid: 3,4-dihydroxystyren (
m
/
z
137.0 [M − H]
−
); chlorogenic acid: caffeic acid (
m
/
z
179.0 [M − H]
−
), and quinic acid (
m
/
z
191.1 [M − H]
−
). Upon application of 1.8 V, an increase of the oligomeric products (e.g., trimer of chlorogenic acid with
m
/
z
1054.3 [M − H]
−
), and a decrease of the initial signals was observed. With regard to ferulic acid and sinapinic acid, only the monomeric molecules and various adducts or cleavage products were detected at 0 V (monomeric ferulic acid (
m
/
z
194.2 [M − H]
−
) or sinapinic acid (
m
/
z
224.2 [M − H]
−
)). There were no dimeric or oligomeric products detectable above the limit of detection. Upon application of 1.8 V, an increase of the corresponding dimers (ferulic acid:
m
/
z
389.1 [M − H]
−
; sinapinic acid:
m
/
z
445.0 [M − H]
−
) and oligomeric products was recognized, analogously to chlorogenic acid and caffeic acid.
2.3. Investigation of Adduct Formation of Chlorogenic Acid and Alpha-Lactalbumin Using EC/LC/ESI-MS
For evaluating the reactivity of the electrochemically generated oxidation products of chlorogenic acid towards tryptic peptides of alpha-lactalbumin, the reaction of those two reactants was initiated via a reaction coil. Alpha-lactalbumin is a major component in mammalian milk. It is a whey protein with allergenic properties and, therefore, a very well-studied protein, and many epitopes have already been elucidated [
17
]. It is an acidic globular protein with a moderate size of 123 amino acids and a molecular mass of 14.2 kDa. The two-domain protein is stabilized by 4 disulfide bonds: The alpha-domain has disulfide bonds at positions Cys6-Cys120 and Cys28-Cys111, and the beta-domain has Cys61-Cys77 and Cys73-Cys91 disulfide bonds [
18
]. With its amino acids cysteine (in total 8) and lysine (in total 12), it provides several potentially reactive amino acid side chains, which could serve as binding sites for activated, electrophilic quinones or semiquinones. Defined volumes of both reactant solutions, phenolic acid and tryptic peptides, were injected to the electrochemical system via a syringe pump and a flow of 20 µL/min. Afterwards, the reaction products were directly transferred into an LC/ESI-MS system for chromatographic separation and detection. Negative ion mode in a scan range from 100 Da to 2000 Da was used to identify protein-phenol-adducts. Quinic acid, monomeric chlorogenic acid, and polymerization products were observed at a retention time of 13.5 min (
m
/
z
192 [M − H]
−
(quinic acid; 192 g/mol),
m
/
z
354 [M − H]
−
(monomeric chlorogenic acid; 354 g/mol),
m
/
z
711 [M − H]
−
(dimeric chlorogenic acid 711 g/mol), and
m
/
z
1063 [M − H]
−
(trimeric chlorogenic acid; 1063 g/mol) (
Figure 2
). It was even possible to detect the tetrameric derivative of chlorogenic acid with an
m
/
z
1417 [M − H]
−
(1417 g/mol)) (
Figure 2
).
At 18.5 min, a signal with
m
/
z
967.5 [M − H]
−
was detected (
Figure 3
B), being assumed to be a reaction product of the monomeric form (
m
/
z
354 [M − H]
−
) and one of the peptides (
m
/
z
616 [M − H]
−
; Glu-Gln-Leu-Thr-Lys) of alpha-lactalbumin. This assignment can be supported by the fact that the peptide mentioned contains lysine residues and thus represents a very potent reaction partner. Furthermore, there were two signals at 14.6 min (
m
/
z
1260.3 [M − H]
−
;
m
/
z
1321.6 [M − H]
−
) (
Figure 3
A). The second signal correlates with an adduct formation between the dimer of chlorogenic acid (
m
/
z
711 [M − H]
−
) and the peptide
m
/
z
616 [M − H]
−
. In contrast, signal
m
/
z
1260.3 [M − H]
−
is different. It was hypothesized to be a condensation product of the peptides
m
/
z
749 [M − H]
−
and
m
/
z
544 [M − H]
−
due to their reactivity instead of a reaction product with a phenolic compound.
3. Discussion
Electrochemical systems provide a well-controlled application for generating activated metabolites and for further inducing redox-based adduct-formation. The prediction of the reaction mechanisms of highly reactive compounds is still challenging. Electrochemistry coupled to mass spectrometry is suitable to characterize optimum reaction conditions of the oxidation of phenolic compounds. Consequently, it is possible to generate starting material for follow-up reactions of the quinones that result. By controlling the reaction conditions and the use of on-line monitoring with, e.g., mass spectrometry, the adduct formation can be studied, and so far non-considered intermediates can be identified.
The EC/LC/ESI-MS method introduced in this study indicated a significant contribution of the components to addition reactions. Many of the polymerization products could be assigned; three signals could be assigned to potential protein-phenol-adducts. However, many signals still could not be finally clarified at this time. Structural elucidation of the detected compounds by means of NMR is recommended. It is mandatory to isolate and separate the structures, for example, by means of preparative HPLC in advance. Due to the reactivities of the analytes, many signals were generated that could not yet be assigned. At this point, reactions between peptides next to peptide-phenol-interactions can be assumed. In comparison to the signals of the tryptic peptides of the protein digest, many previously detectable peptide signals of the tryptic digestion of alpha-lactalbumin could no longer be perceived with comparable intensity after the chromatographic separation of the electrochemically generated reaction products. This indicated that multiplicities of the tryptic peptides are significantly involved in reactions that may contribute to polymerization or adduct formation. Resulting from these investigations, it was shown that it is possible to produce and identify reaction products under controlled and defined conditions using electrochemistry coupled with mass spectrometry. Compared to traditional methods for the preparation of reaction products between phenolic compounds and peptides (pH value, temperature), reaction parameters could be optimized and the applicability of the electrochemical oxidation of phenolic compounds and subsequent coupling with another flow system to verify interactions could be demonstrated.
5. Conclusions
Electrochemistry coupled with mass spectrometry was successfully used to investigate the redoxpotential of phenolic acids such as chlorogenic acid. It was possible to create optimized conditions for the oxidation of chlorogenic acid to generate a wide variety of oxidation products. Electrochemically oxidation of chlorogenic acid, caffeic acid, ferulic acid, and sinapinic acid generated a variety of reactive intermediates. Feasibility of this technique for the research topic was shown. Structural elucidation using NMR after isolation of generated oxidation products is planned in further studies to determine reaction mechanisms. The applicability of electrochemistry coupled with mass spectrometry for investigating reaction products of phenolic compounds and proteins could be demonstrated by the reaction of oxidized chlorogenic acid with peptides of alpha-lactalbumin. The method is suitable for generating adducts between proteins and phenolic components and is able to supplement or replace traditional methods. A detailed clarification of the resulting chemical structures of the products was not possible at this time. For this purpose, a synthesis of higher amounts of reaction products for an analysis with NMR is mandatory. With regard to a potential change of the protein allergenicity due to modification of the protein, methods such as ELISA, HPTLC-immunostaining, or HPTLC-aptastaining can be used [
30
,
31
].
Acknowledgments
The authors gratefully thank ERC GmbH (München, Germany) for supplying the electrochemically equipment.
Author Contributions
C.K. and S.R. planned and designed the experiments; C.K. and S.S. performed the experiments and analyzed the data; C.K. and S.R. contributed reagents and analysis tools; C.K. and S.R. wrote the paper.
Conflicts of Interest
The author declares no conflict of interest.
Sample Availability: Samples of the compounds are not available.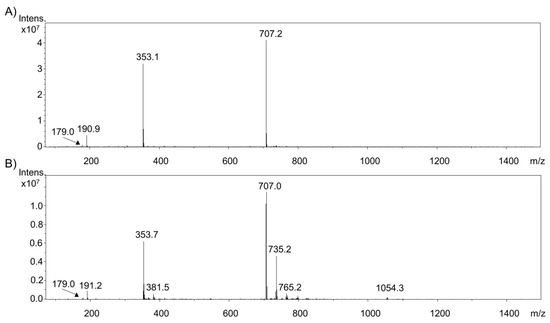 Figure 1. Full scan mass spectra of (A) intact chlorogenic acid and (B) oxidized chlorogenic acid using a potential of 1.8 V.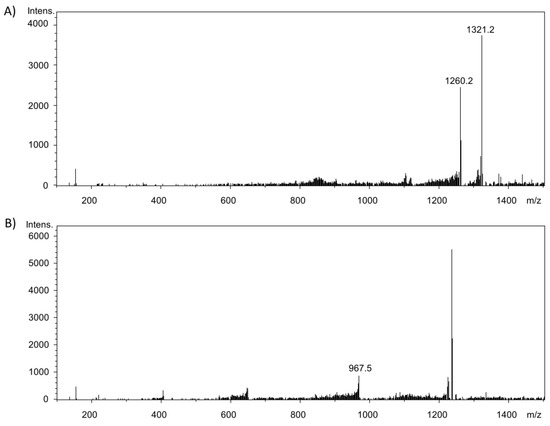 Figure 3. Full scan mass spectra after chromatographic separation via UPLC and detection using ESI-MS. (A) Potential adduct formation at retention time 14.6 min; (B) Potential adduct formation at retention time 18.5 min.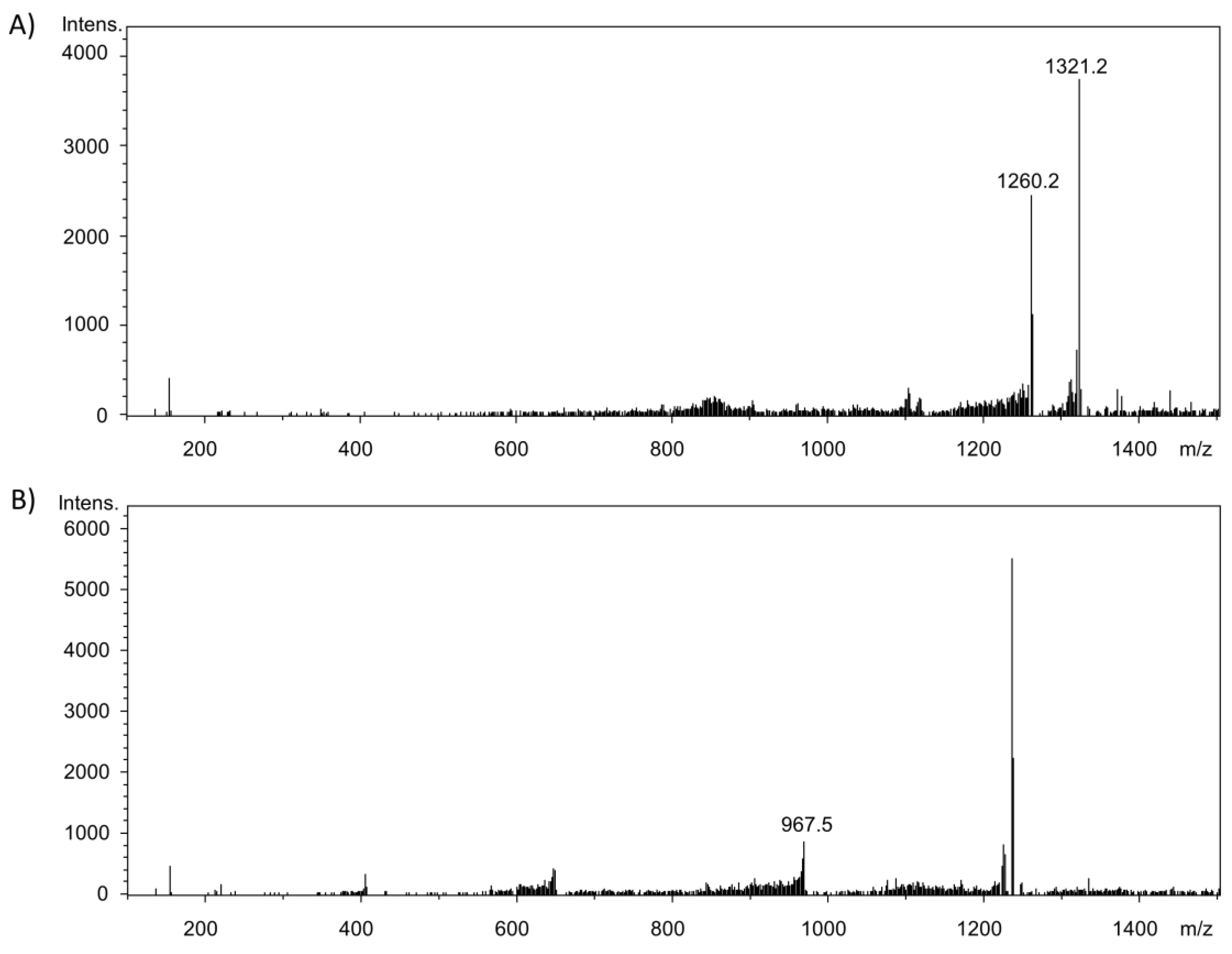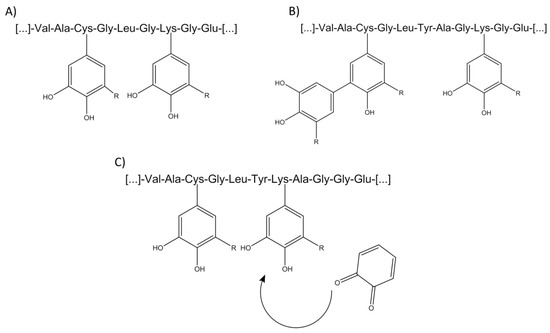 Figure 4. Varying reaction possibilities between peptides and phenolic compounds. (A) monomeric phenolic compound bound to a single amino acid residue of a peptide; (B) binding of different polymerization products of phenolic compounds to a peptide; (C) further reaction between bound phenolic compound with a further activated phenolic compound.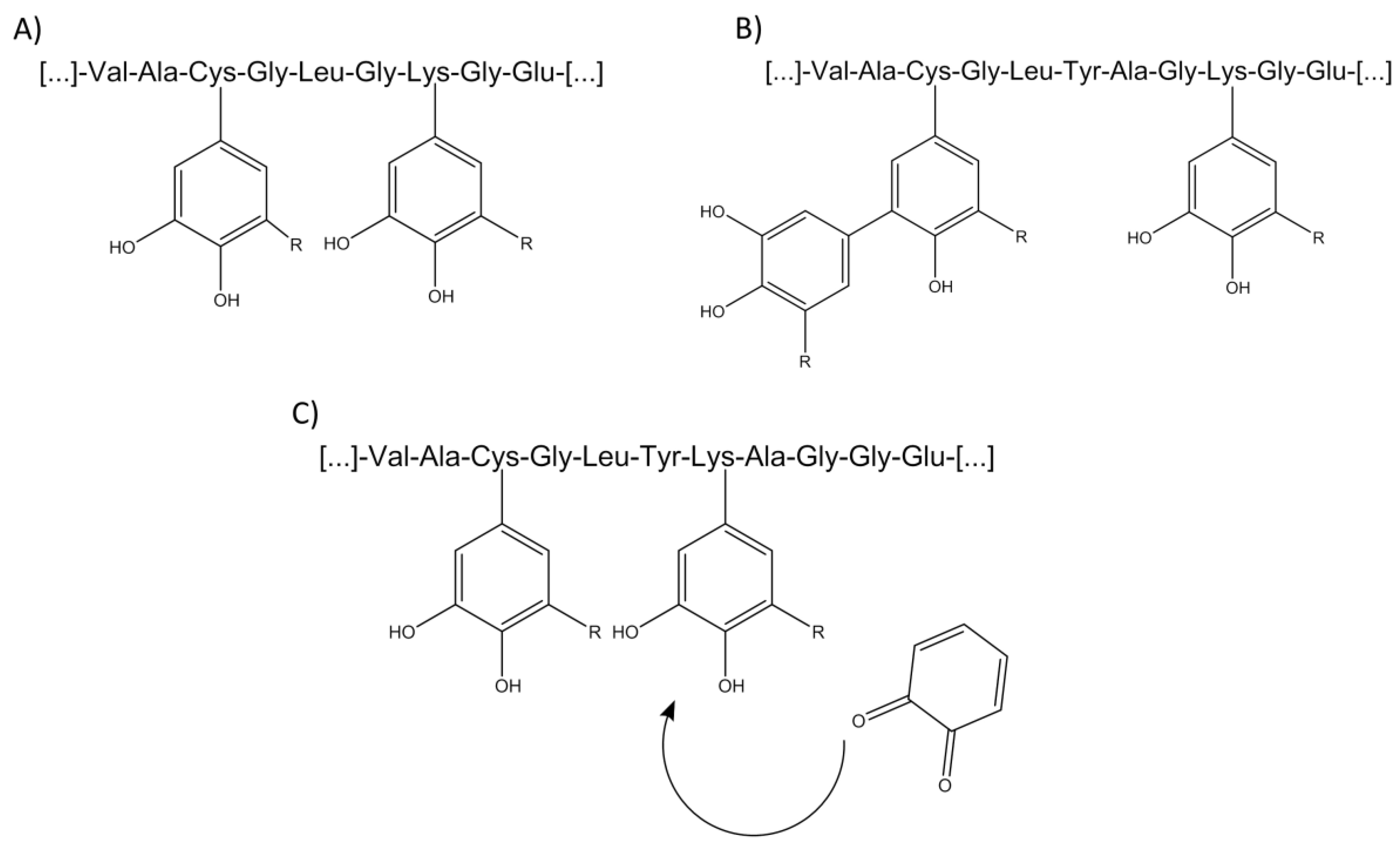 Figure 5. Instrumental setup for oxidation of phenolic acids by EC/ESI-MS. Phenolic acids are oxidized electrochemically via thin-layer cell including boron-doped diamond working electrode and are directly infused to ESI-MS.


Figure 6. EC/LC/ESI-MS instrumental setup for oxidation, reaction, and separation of potentially phenol-protein-adducts. Phenolic acids are oxidized electrochemically via a thin-layer cell including a boron-doped diamond working electrode. A second flow system consists of a solution of tryptic peptides. Both solutions were combined using a three-way valve and a reaction coil and afterwards infused into the LC/ESI-MS system.


Table 1. Fragments, position in protein, and sequence of detectable peptides after tryptic digestion. Detection by use of high resolution mass spectrometry.
Table 1. Fragments, position in protein, and sequence of detectable peptides after tryptic digestion. Detection by use of high resolution mass spectrometry.
Fragments [

m

/

z

]
Position
Sequence
1198.6
118-127
Val-Gly-Ile-Asn-Tyr-Trp-Leu-Ala-His-Lys
749.4
113-118
Glu-Leu-Lys-Asp-Leu-Lys
652.3
25-29
Cys-Glu-Val-Phe-Arg
616.3
20-24
Glu-Gln-Leu-Thr-Lys
544.3
78-81
Ile-Trp-Cys-Lys
486.3
114-117
Ile-Leu-Asp-Lys
387.2
30-32
Glu-Leu-Lys
373.2
33-35
Asp-Leu-Lys

© 2018 by the authors. Licensee MDPI, Basel, Switzerland. This article is an open access article distributed under the terms and conditions of the Creative Commons Attribution (CC BY) license (http://creativecommons.org/licenses/by/4.0/).