Informing Efforts to Develop Nitroreductase for Amine Production
1
Department of Chemistry, University of Kentucky, Lexington, KY 40506-0055, USA
2
School of Chemical and Biomolecular Engineering, Georgia Institute of Technology, Atlanta, GA 30332-0100, USA
3
School of Chemistry and Biochemistry, Georgia Institute of Technology, Atlanta, GA 30332-0100, USA
4
Department of Chemistry, University of Kentucky, Lexington, KY 40506-0055, USA
5
School of Chemical and Biomolecular Engineering, School of Chemistry and Biochemistry, Georgia Institute of Technology, Atlanta, GA 30332-0100, USA
*
Authors to whom correspondence should be addressed.
†
Present address: Department of Chemistry, University of Michigan, Ann Arbor, MI 48104, USA.
‡
Present address: Department Biochemistry, Brandeis University, Waltham, MA 02453, USA.
Received: 10 December 2017 / Revised: 3 January 2018 / Accepted: 12 January 2018 / Published: 24 January 2018
Abstract
Nitroreductases (NRs) hold promise for converting nitroaromatics to aromatic amines. Nitroaromatic reduction rate increases with Hammett substituent constant for NRs from two different subgroups, confirming substrate identity as a key determinant of reactivity. Amine yields were low, but compounds yielding amines tend to have a large π system and electron withdrawing substituents. Therefore, we also assessed the prospects of varying the enzyme. Several different subgroups of NRs include members able to produce aromatic amines. Comparison of four NR subgroups shows that they provide contrasting substrate binding cavities with distinct constraints on substrate position relative to the flavin. The unique architecture of the NR dimer produces an enormous contact area which we propose provides the stabilization needed to offset the costs of insertion of the active sites between the monomers. Thus, we propose that the functional diversity included in the NR superfamily stems from the chemical versatility of the flavin cofactor in conjunction with a structure that permits tremendous active site variability. These complementary properties make NRs exceptionally promising enzymes for development for biocatalysis in prodrug activation and conversion of nitroaromatics to valuable aromatic amines. We provide a framework for identifying NRs and substrates with the greatest potential to advance.
View Full-Text
►

▼

Figures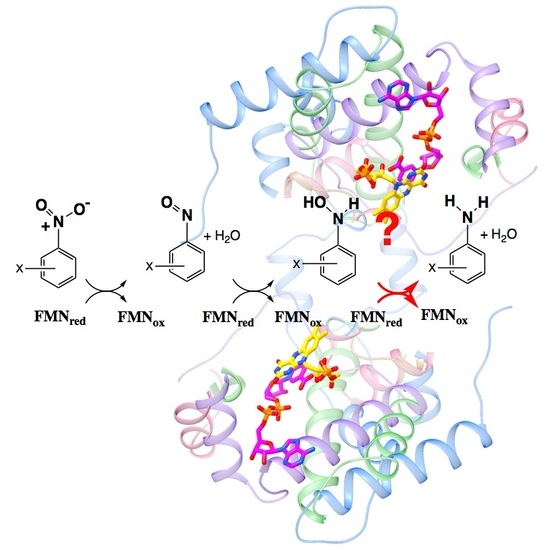 Graphical abstract
This is an open access article distributed under the
Creative Commons Attribution License
which permits unrestricted use, distribution, and reproduction in any medium, provided the original work is properly cited (CC BY 4.0).

Share & Cite This Article
MDPI and ACS Style
Miller, A.-F.; Park, J.T.; Ferguson, K.L.; Pitsawong, W.; Bommarius, A.S. Informing Efforts to Develop Nitroreductase for Amine Production. Molecules 2018, 23, 211.
Note that from the first issue of 2016, MDPI journals use article numbers instead of page numbers. See further details here.
Related Articles
Comments
[Return to top]