23-Hydroxyursolic Acid Isolated from the Stem Bark of
Cussonia bancoensis

Induces Apoptosis through Fas/Caspase-8-Dependent Pathway in HL-60 Human Promyelocytic Leukemia Cells

1

Department of Pharmaceutical Biochemistry, College of Pharmacy, Kyung Hee University, Seoul 02447, Korea

2

Life and Nanopharmaceutical Science, College of Pharmacy, Kyung Hee University, Seoul 02447, Korea

3

Oriental Pharmaceutical Science, College of Pharmacy, Kyung Hee University, Seoul 02447, Korea

4

Department of Chemistry, Faculty of Science, University of Dschang, Box 183, Dschang, Cameroon

5

Division of Applied Plant Sciences, Sang-Ji University, Wonju 220-702, Korea

6

Department of Clinical Pharmacology, Faculty of Pharmaceutical Sciences, Hokuriku University, Kanazawa, Ishikawa 920-1181, Japan

7

Department of Pharmacy, College of Pharmacy, Kyung Hee University, Seoul 02447, Korea

8

Department of Medicinal Chemistry, Faculty of Pharmacy, Mansoura University, Mansoura 35516, Egypt

*

Author to whom correspondence should be addressed.

†

These authors contributed equally to this study.

Academic Editor: Francesca Giampieri

Received: 20 November 2018 / Revised: 12 December 2018 / Accepted: 12 December 2018 / Published: 13 December 2018
Abstract
The natural product 23-hydroxyursolic acid (23-HUA) is a derivative of ursolic acid, which is known to induce cancer cell apoptosis. However, apoptotic effects and mechanisms of 23-HUA have not been well characterized yet. Herein, we investigated the molecular mechanisms of 23-HUA-induced apoptosis in HL-60 human promyelocytic leukemia cells. 23-HUA-treated HL-60 cells showed apoptotic features including internucleosomal DNA condensation and fragmentation as well as externalization of phosphatidylserine residues. 23-HUA induced a series of mitochondrial events including disruption of mitochondrial membrane potential (
ΔΨm
), cytochrome
c
and Smac/DIABLO release and loss of balance between pro-apoptotic and anti-apoptotic Bcl-2 proteins in HL-60 cells. In addition, 23-HUA activated caspase-8, caspase-9 and caspase-3. Pretreatment with a broad caspase inhibitor (z-VAD-fmk), a caspase-3 inhibitor (z-DEVD-fmk), and a caspase-8 inhibitor (z-IETD-fmk) significantly attenuated 23-HUA-induced DNA fragmentation. After 23-HUA-induced apoptosis, proteins expression levels of FasL, Fas and FADD constituting the death-inducing signaling complex (DISC) were upregulated in HL-60 cells. Moreover, transfection with Fas or FADD siRNA significantly blocked 23-HUA-induced DNA fragmentation and caspases activation. Taken together, these findings indicate that 23-HUA induces apoptosis in HL-60 human promyelocytic leukemia cells through formation of DISC and caspase-8 activation leading to loss of
ΔΨm
and caspase-3 activation.
View Full-Text
►

▼

Figures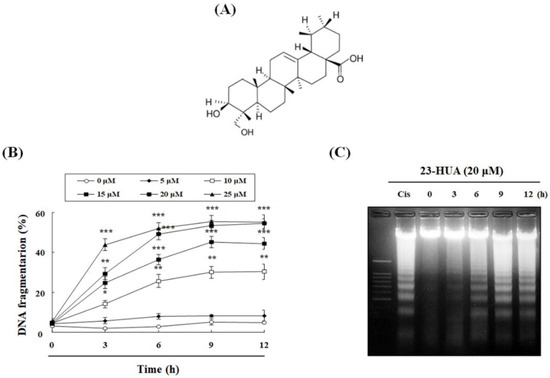 Figure 1
This is an open access article distributed under the
Creative Commons Attribution License
which permits unrestricted use, distribution, and reproduction in any medium, provided the original work is properly cited (CC BY 4.0).

Share & Cite This Article
MDPI and ACS Style
Won, J.-H.; Chung, K.-S.; Park, E.-Y.; Lee, J.-H.; Choi, J.-H.; Tapondjou, L.A.; Park, H.-J.; Nomura, M.; Hassan, A.H.; Lee, K.-T. 23-Hydroxyursolic Acid Isolated from the Stem Bark of Cussonia bancoensis Induces Apoptosis through Fas/Caspase-8-Dependent Pathway in HL-60 Human Promyelocytic Leukemia Cells. Molecules 2018, 23, 3306.
Note that from the first issue of 2016, MDPI journals use article numbers instead of page numbers. See further details here.
Related Articles
Comments
[Return to top]