Screening of a Library of Oligosaccharides Targeting Lectin LecB of
Pseudomonas Aeruginosa

and Synthesis of High Affinity Oligoglycoclusters

1

Ecole Centrale de Lyon, UMR 5270 CNRS, Institut des Nanotechnologies de Lyon, Université de Lyon, 36 Avenue Guy de Collongue, 69134 Ecully CEDEX, France

2

IBMM, Université Montpellier, CNRS, ENSCM, 34095 Montpellier, France

3

Elicityl SA, 746 avenue Ambroise Croizat, 38920 Crolles, France

4

Unité de Glycobiologie Structurale et Fonctionnelle (UGSF) - UMR 8576 CNRS - Université de Lille 1, Cité Scientifique, Avenue Mendeleiev, Bat C9, 59655 Villeneuve d'Ascq CEDEX, France

*

Authors to whom correspondence should be addressed.

Received: 29 October 2018 / Revised: 15 November 2018 / Accepted: 21 November 2018 / Published: 24 November 2018
Abstract
The Gram negative bacterium
Pseudomonas aeruginosa
(PA) is an opportunistic bacterium that causes severe and chronic infection of immune-depressed patients. It has the ability to form a biofilm that gives a selective advantage to the bacteria with respect to antibiotherapy and host defenses. Herein, we have focused on the tetrameric soluble lectin which is involved in bacterium adherence to host cells, biofilm formation, and cytotoxicity. It binds to
l
-fucose,
d
-mannose and glycan exposing terminal fucose or mannose. Using a competitive assay on microarray, 156 oligosaccharides and polysaccharides issued from fermentation or from the biomass were screened toward their affinity to LecB. Next, the five best ligands (Lewis
a
, Lewis
b
, Lewis
x
, siayl-Lewis
x
and 3-fucosyllactose) were derivatized with a propargyl aglycon allowing the synthesis of 25 trivalent, 25 tetravalent and 5 monovalent constructions thanks to copper catalyzed azide alkyne cycloaddition. The 55 clusters were immobilized by DNA Directed immobilization leading to the fabrication of a glycocluster microarray. Their binding to LecB was studied. Multivalency improved the binding to LecB. The binding structure relationship of the clusters is mainly influenced by the carbohydrate residues. Molecular simulations indicated that the simultaneous contact of both binding sites of monomer A and D seems to be energetically possible.
View Full-Text
►

▼

Figures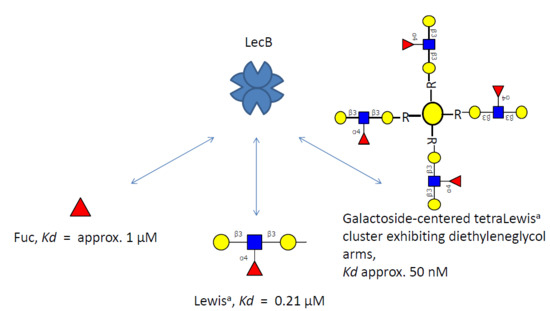 Graphical abstract
This is an open access article distributed under the
Creative Commons Attribution License
which permits unrestricted use, distribution, and reproduction in any medium, provided the original work is properly cited (CC BY 4.0).

Share & Cite This Article
MDPI and ACS Style
Dupin, L.; Noël, M.; Bonnet, S.; Meyer, A.; Géhin, T.; Bastide, L.; Randriantsoa, M.; Souteyrand, E.; Cottin, C.; Vergoten, G.; Vasseur, J.-J.; Morvan, F.; Chevolot, Y.; Darblade, B. Screening of a Library of Oligosaccharides Targeting Lectin LecB of Pseudomonas Aeruginosa and Synthesis of High Affinity Oligoglycoclusters. Molecules 2018, 23, 3073.
Note that from the first issue of 2016, MDPI journals use article numbers instead of page numbers. See further details here.
Related Articles
Comments
[Return to top]