The β-
N

-Acetylhexosaminidase in the Synthesis of Bioactive Glycans: Protein and Reaction Engineering

1

Laboratory of Biotransformation, Institute of Microbiology, Czech Academy of Sciences, Vídeňská 1083, CZ-14220 Praha 4, Czech Republic

2

Center for Nanobiology and Structural Biology, Institute of Microbiology, Czech Academy of Sciences, Zámek 136, CZ-37333 Nové Hrady, Czech Republic

3

Laboratory of Molecular Structure Characterization, Institute of Microbiology, Czech Academy of Sciences, Vídeňská 1083, CZ-14220 Praha 4, Czech Republic

*

Author to whom correspondence should be addressed.

Academic Editor: Lothar Elling

Received: 13 January 2019 / Revised: 4 February 2019 / Accepted: 6 February 2019 / Published: 8 February 2019
Abstract
N
-Acetylhexosamine oligosaccharides terminated with GalNAc act as selective ligands of galectin-3, a biomedically important human lectin. Their synthesis can be accomplished by β-
N
-acetylhexosaminidases (EC 3.2.1.52). Advantageously, these enzymes tolerate the presence of functional groups in the substrate molecule, such as the thiourea linker useful for covalent conjugation of glycans to a multivalent carrier, affording glyconjugates. β-
N
-Acetylhexosaminidases exhibit activity towards both
N
-acetylglucosamine (GlcNAc) and
N
-acetylgalactosamine (GalNAc) moieties. A point mutation of active-site amino acid Tyr into other amino acid residues, especially Phe, His, and Asn, has previously been shown to strongly suppress the hydrolytic activity of β-
N
-acetylhexosaminidases, creating enzymatic synthetic engines. In the present work, we demonstrate that Tyr470 is an important mutation hotspot for altering the ratio of GlcNAcase/GalNAcase activity, resulting in mutant enzymes with varying affinity to GlcNAc/GalNAc substrates. The enzyme selectivity may additionally be manipulated by altering the reaction medium upon changing pH or adding selected organic co-solvents. As a result, we are able to fine-tune the β-
N
-acetylhexosaminidase affinity and selectivity, resulting in a high-yield production of the functionalized GalNAcβ4GlcNAc disaccharide, a selective ligand of galectin-3.
View Full-Text
►

▼

Figures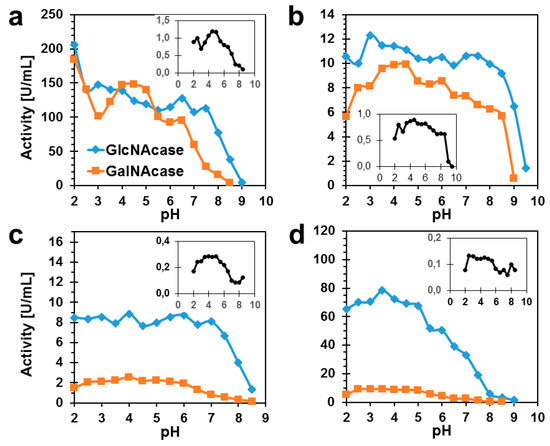 Figure 1
This is an open access article distributed under the
Creative Commons Attribution License
which permits unrestricted use, distribution, and reproduction in any medium, provided the original work is properly cited (CC BY 4.0).

Share & Cite This Article
MDPI and ACS Style
Bojarová, P.; Kulik, N.; Hovorková, M.; Slámová, K.; Pelantová, H.; Křen, V. The β-N-Acetylhexosaminidase in the Synthesis of Bioactive Glycans: Protein and Reaction Engineering. Molecules 2019, 24, 599.
Note that from the first issue of 2016, MDPI journals use article numbers instead of page numbers. See further details here.
Related Articles
Comments
[Return to top]