Optimisation of Milk Protein Top-Down Sequencing Using In-Source Collision-Induced Dissociation in the Maxis Quadrupole Time-of-Flight Mass Spectrometer
1
Department of Economic Development, Jobs, Transport and Resources, AgriBio Centre, Bundoora, Victoria 3083, Australia
2
Genedata AG, 4016 Basel, Switzerland
3
School of Applied Systems Biology, La Trobe University, Bundoora, Victoria 3083, Australia
*
Author to whom correspondence should be addressed.
Academic Editor: Paolo Iadarola
Received: 8 October 2018 / Revised: 24 October 2018 / Accepted: 25 October 2018 / Published: 26 October 2018
Abstract
Top-down sequencing in proteomics has come of age owing to continuous progress in LC-MS. With their high resolution and broad mass range, Quadrupole Time-of-Flight (Q-ToF) hybrid mass spectrometers equipped with electrospray ionisation source and tandem MS capability by collision-induced dissociation (CID) can be employed to analyse intact proteins and retrieve primary sequence information. To our knowledge, top-down proteomics methods with Q-ToF have only been evaluated using samples of relatively low complexity. Furthermore, the in-source CID (IS-CID) capability of Q-ToF instruments has been under-utilised. This study aimed at optimising top-down sequencing of intact milk proteins to achieve the greatest sequence coverage possible from samples of increasing complexity, assessed using nine known proteins. Eleven MS/MS methods varying in their IS-CID and conventional CID parameters were tested on individual and mixed protein standards as well as raw milk samples. Top-down sequencing results from the nine most abundant proteoforms of caseins, alpha-lactalbumin and beta-lactoglubulins were compared. Nine MS/MS methods achieved more than 70% sequence coverage overall to distinguish between allelic proteoforms, varying only by one or two amino acids. The optimal methods utilised IS-CID at low energy. This experiment demonstrates the utility of Q-ToF systems for top-down proteomics and that IS-CID could be more frequently employed.
View Full-Text
►

▼

Figures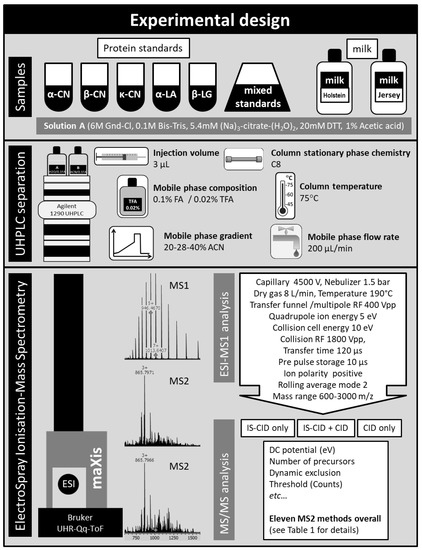 Figure 1
This is an open access article distributed under the
Creative Commons Attribution License
which permits unrestricted use, distribution, and reproduction in any medium, provided the original work is properly cited (CC BY 4.0).

Share & Cite This Article
MDPI and ACS Style
Vincent, D.; Mertens, D.; Rochfort, S. Optimisation of Milk Protein Top-Down Sequencing Using In-Source Collision-Induced Dissociation in the Maxis Quadrupole Time-of-Flight Mass Spectrometer. Molecules 2018, 23, 2777.
Note that from the first issue of 2016, MDPI journals use article numbers instead of page numbers. See further details here.
Related Articles
Comments
[Return to top]