Open Access This article is
freely available
re-usable
Article
Inhibition of a Snake Venom Metalloproteinase by the Flavonoid Myricetin
1
Programa de Ofidismo/Escorpionismo, Facultad de Ciencias Farmacéuticas y Alimentarias, Universidad de Antioquia UdeA, Calle 70 No. 52-21, Medellín 050010, Colombia
2
Institute of Computational Comparative Medicine, Kansas State University, Manhattan, KS 66506, USA
3
Escuela de Microbiología, Universidad de Antioquia, UdeA, Calle 70 No. 52-21, Medellín 050010, Colombia
*
Authors to whom correspondence should be addressed.
Received: 4 September 2018 / Accepted: 25 September 2018 / Published: 16 October 2018
Abstract
:
Most of the snakebite envenomations in Central and South America are caused by species belonging to
Bothrops
genus. Their venom is composed mainly by zinc-dependent metalloproteinases, responsible of the hemorrhage characteristic of these envenomations. The aim of this study was to determine the inhibitory ability of ten flavonoids on the in-vitro proteolytic activity of
Bothrops atrox
venom and on the hemorrhagic, edema-forming and myonecrotic activities of Batx-I, the most abundant metalloproteinase isolated from this venom. Myricetin was the most active compound, exhibiting an IC value of 150 M and 1021 M for the inhibition of proteolytic and hemorrhagic activity, respectively. Independent injection experiments, with a concentration of 1600 M of myricetin administered locally, immediately after toxin injection, demonstrated a reduction of in the hemorrhagic lesion. Additionally, myricetin at concentrations 800, 1200 and 1600 M promoted a reduction in plasma creatine kinase activity induced by Batx-I of , and , respectively. Molecular dynamics simulations coupled with the adaptive biasing method suggest that myricetin can bind to the metalloproteinase active site via formation of hydrogen bonds between the hydroxyl groups 3', 4' and 5' of the benzyl moiety and amino acid Glu143 of the metalloproteinase. The hydroxyl substitution pattern of myricetin appears to be essential for its inhibitory activity. Based on this evidence, myricetin constitutes a candidate for the development of inhibitors to reduce local tissue damage in snakebite envenomations.
Keywords:
flavonoids; free-energy calculations; local tissue damage; molecular dynamics simulation; snake venom metalloproteinase
4. Materials and Methods
4.1. Venoms and Toxins
Bothrops atrox
venom was obtained by manual extraction from five adult specimens from the Department of Meta, in southeastern Colombia. These specimens are kept in captivity at the Serpentarium of Universidad de Antioquia. The venom was centrifuged at 800×
g
for 15 min, and supernatants were lyophilized and stored at −20 C until used.
The inhibition assays were performed with the P-I type metalloproteinase Batx-I, purified from
B. atrox
venom by ion-exchange chromatography (CM-Sephadex) following the protocol described by [
46
]. The toxin purity was evaluated by reverse-phase high-performance liquid chromatography (RP-HPLC) and sodium dodecyl sulfate polyacrylamide gel electrophoresis (SDS-PAGE) [
49
] (
Figure S1
). Batx-I was dialyzed, lyophilized and stored at −20 C.
4.2. Chemicals and Reagents
Apigenin, catechin, epicatechin, genistein, hesperidin, kaempferol, luteolin, myricetin, naringenin and quercetin were purchased from Sigma-Aldrich, Inc. (St. Louis, MO, USA). These compounds were diluted in 1% dimethyl sulfoxide in sterile saline solution (SS-D).
4.3. Animals
The experiments were done in Swiss-Webster mice (18–20 g body weight, 8 weeks old) following the guidelines of the Universidad de Antioquia Ethics Committee (License No. 90, August 2014).
4.4. Inhibition of Proteolytic Activity of B. atrox Venom or Purified Toxin
Fluorescein conjugates of gelatin were used for the detection of Batx-I inhibitors with the method described by Preciado et al. [
43
], using the EnzCheck Gelatinase/Collagenase assay kit (Molecular Probes Inc., Eugene, OR, USA). Briefly, g of Batx-I or g of
B. atrox
venom were mixed with 20 L of DQ
TM
-gelatin (100 g/mL) and different flavonoids concentrations for 60 min at C. The fluorescence intensity was measured for excitation at 485 nm and emission at 515 nm, at 1 min intervals for 60 min with a Synergy HT Multi-Mode Microplate Reader (BioTek Instruments, Inc.; Winooski, VT, USA). All samples were assayed in triplicate wells. The inhibition percentage of Batx-I reaction was calculated as follows:
where and are the slopes of the graph fluorescence versus time of the control and sample, respectively.
4.5. Inhibition of Hemorrhagic Activity
Hemorrhagic activity was quantitatively determined following the method of Kondo et al. [
50
] with some modifications. Concentrations ranging from 100 to 1250 M of myricetin and 30 g of Batx-I or 6 g of
B. atrox
venom were pre-incubated at 37 C for 30 min. Later, groups of three mice were intradermally injected in the ventral abdominal region with L of these mixtures. Batx-I alone (g) or
B. atrox
venom (g) were used as positive control for each experiment. After two hours, the specimens were euthanized by CO inhalation. The skin was removed, spread and fixed on a glass plate avoiding distortion of the original size. The cross-diameters of each hemorrhagic spot were measured from the visceral side of the skin through the glass plate. Saline solution and dimethyl sulfoxide 1 % (SS-D) and myricetin + SS-D (1250 M) were used as negative controls. Additionally, independent injection experiments were performed in order to reproduce the circumstances of snakebites, when venom is injected and the inhibitor is administered after envenomation at the site of venom injection. Thus, groups of three mice were injected with g i.d. of Batx-I or 6 g of
B. atrox
venom. Then, myricetin (1600 M) was injected immediately after toxin or venom injection. A higher dose than the IC value obtained in pre-incubation studies was chosen since this experiment will require a higher concentration of inhibitor, due to the rapid initiation of hemorrhage.
4.6. Inhibition of Edema-Forming Activity
Edema was evaluated following the methodology proposed by Lomonte et al. [
51
]. In addition, g of Batx-I were injected into the right footpad in groups of three mice. Inhibition studies were performed with pre-incubation of Batx-I with myricetin at concentrations of 300, 450 or M. Control groups were injected with L of SS-D or myricetin. The progression of edema was evaluated with a caliper two hours after the injection.
4.7. Inhibition of Myotoxic Activity
The myotoxicity was determined according to the method described by Gutiérrez et al. [
52
]. Groups of three mice received an intramuscular injection (gastrocnemius) of 60 g of Batx-I in 100 L of SS-D. After three hours, a blood sample was collected from the caudal vein, in order to evaluate the creatine kinase () activity using a kinetic assay (Weiner Lab, CK-NAC UV-AA). Activity was expressed in L. For inhibition studies, mice were injected with 100 L of toxin pre-incubated for 30 min at 37 C with different concentrations of myricetin (800, 1200 or 1600 M). Control groups received 100 L of SS-D or myricetin at a concentration of 1600 M.
4.8. Intrinsic Fluorescence Experiments
The relative intrinsic fluorescence intensity of Batx-I with and without myricetin was monitored with a PerkinElmer spectrofluorometer (Waltham, MA, USA). The reaction mixture of 500 L in a quartz cuvette (1 cm path length) contained 100 mM Tris HCl buffer (pH 7.4), Batx-I (1 g/mL) and 150 M of myricetin. Fluorescence spectra were measured between 300 and 500 nm after excitation at 280 nm. Three spectra were taken for each sample and all spectra were corrected by subtraction of buffer blanks.
4.9. Statistical Analysis
In order to determine significant differences between control and myricetin doses in the inhibition of proteolytic, hemorrhagic and myotoxic activities, an ANOVA followed by Tukey test was applied. Significant differences between control and myricetin in the inhibition of hemorrhagic activity with independent injection were determined by an unpaired Student's
t
-test. For this study, was accepted as the level of significance. Results are shown as mean ± SEM (standard error of the mean), with the number of samples
n
indicated in each case.
4.10. Computational Studies
4.10.1. Molecular Docking
The software Avogadro 1.90.0 [
53
] was used to build the myricetin structure and to optimize its conformation by an energy minimization process based on the MMF94 force field. Although the sequence of Batx-I is not completely characterized, portions of the sequence are identical to BaP1. Furthermore, the two SVMPs have comparable biological activities [
46
]. Therefore, the structure of the metalloproteinase BaP1 from
B. asper
(PDB code 2W15) [
45
] was used as a model toxin for the computational studies. The program AutoDock Vina (Scripps Research Institute, San Diego, CA, USA) [
54
] was used to dock myricetin into BaP1.
4.10.2. Molecular Dynamics
The myricetin structure was parameterized with the CHARMM General Force Field using the ParamChem web interface [
55
,
56
]. The metalloproteinase was represented in the simulations by the CHARMM36m force field for proteins [
57
,
58
] and constructed using the server CHARMM-GUI [
59
,
60
]. Conventional molecular dynamics simulations were performed with NAMD [
61
] and analyzed with VMD (Visual Molecular Dynamics) [
62
]. Lennard–Jones interactions were calculated with a 12 Å cutoff, smoothly truncated beginning at 10 Å. The pressure was maintained at 1.01325 bar using the Langevin piston method. The temperature was maintained at 310.15 K using a Langevin thermostat with a damping parameter of 1 . All simulations were performed with mass repartitioning of ligand and protein hydrogen atoms [
63
]. The mass distribution of water molecules was not altered. Electrostatic interactions were calculated using the particle-mesh Ewald method [
64
] with a grid spacing of 1.2 Å. Water molecules were represented by the TIP3P model [
65
]. Sodium and chloride ions (0.15 M NaCl) were added to the aqueous phase. Additional ions were added to obtain charge neutrality.
4.10.3. Free Energy Calculations
The potentials of mean force were calculated by the adaptive biasing force method (ABF) [
66
,
67
] using the implementation provided in the Colvars module of NAMD [
68
]. In order to calculate the binding free energy of myricetin to the metalloproteinase BaP1 active site, the transition coordinate
Z
was defined as the distance along the
z
-axis of the center of mass of myricetin from the center of mass of the amino acids Asn106, Ile107, Thr139, His142, Glu143, His146, His152 and Ala167, located close to the binding site defined by docking calculations. The
z
-axis was established approximately through the center of mass of the amino acids Val123 to Leu144. After minimization and equilibration of the system, ABF was applied along the transition coordinate on the interval 2.0 ≤
z
≤ 20.0 Å. A harmonic restraint was applied when the distance between myricetin and the line defining the transition coordinate surpassed 5.0 Å, keeping the ligand within a cylinder of radius 5.0 Å. Force samples were collected in bins having widths of 0.05 Å. The standard binding free energy was calculated by:
where is the inverse thermal energy, R = 5 Å is the radius of the restraining cylinder and is the standard concentration (1/1660.5389Å [
69
]. Four independent calculations were performed using the simulation conditions previously described totaling 2.5 s each of the systems.
Supplementary Materials
The following are available online at
https://www.mdpi.com/1420-3049/23/10/2662/s1
, Figure S1: Purity of Batx-I isolated from
B. atrox
venom analyzed by SDS-PAGE under reduced conditions and reverse-phase high-performance liquid chromatography (RP-HPLC).
Author Contributions
Conceptualization, L.M.P., J.C. and J.A.P.; Formal Analysis, L.M.P., J.C. and J.A.P.; Funding Acquisition, J.C. and J.A.P.; Investigation, L.M.P., J.C., V.N., P.R.-S. and J.A.P.; Methodology, L.M.P., J.C., V.N., P.R.-S. and J.A.P.; Project Administration, J.A.P.; Writing—Original Draft, L.M.P.; Writing—Review and Editing, L.M.P., J.C., V.N., P.R.-S. and J.A.P.
Funding
This work was supported by Comité para el Desarrollo de la Investigación (CODI-CIQF-217), Fondo de tiquetes internacionales (UdeA), Universidad de Antioquia (UdeA) and the Kansas Bioscience Authority funds to the Institute of Computational Comparative Medicine (ICCM) and to the Nanotechnology Innovation Center of Kansas State University (NICKS). Computing for this project was performed on the Beocat Research Cluster at Kansas State University, which is funded in part by NSF grants CNS-1006860, EPS-1006860, EPS-0919443, and CHE-1726332.
Acknowledgments
L.M.P is grateful to the National Doctoral Program of COLCIENCIAS for provision of a doctoral fellowship.It was performed as partial requirement for the Ph.D. degree of Lina María Preciado at Universidad de Antioquia. This project was developed with the permission to access to genetic resources and their derived products from Ministerio de Ambiente y Desarrollo Sostenible No. 152 of 2017, resolution 2405, Colombia.
Conflicts of Interest
The authors declare no conflict of interest.
Abbreviations
The following abbreviations are used in this manuscript:
| | |
| --- | --- |
| ABF | Adaptive biasing force |
| Colvars | Collective variables |
| IC | Concentration of myricetin where the enzyme activity is reduced by half |
| SS-D | 1% dimethyl sulfoxide in sterile saline solution |
| SVMPs | Snake venom metalloproteinases |
| | |
| --- | --- |
| | Sample Availability: Samples of the compounds are not available. |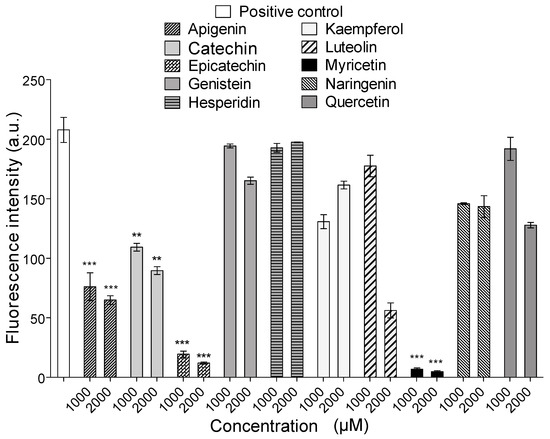 Figure 2.
Inhibition of proteolytic activity of
Bothrops atrox
venom. *** represents statistical significant differences respect to positive control with and **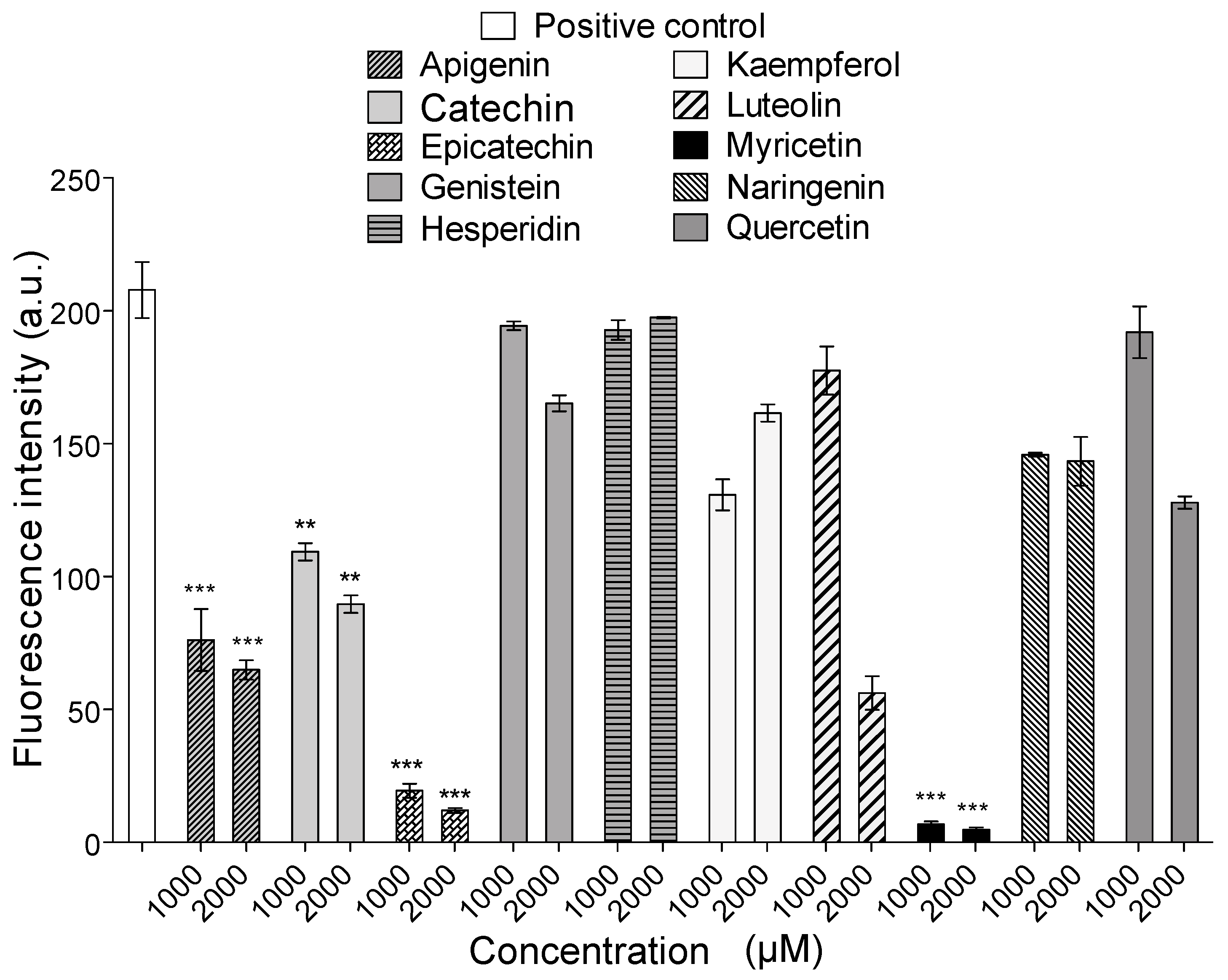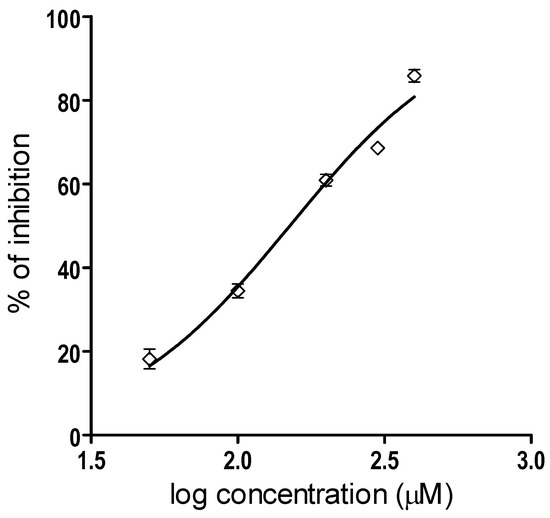 Figure 3.
Graphical representation of the IC determination of Batx-I proteolytic activity inhibition. Five different concentrations of myricetin (ranging from 50 to 400 M) were tested. Data are represented as % of inhibition and are expressed as mean values ± SEM (
n
= 3).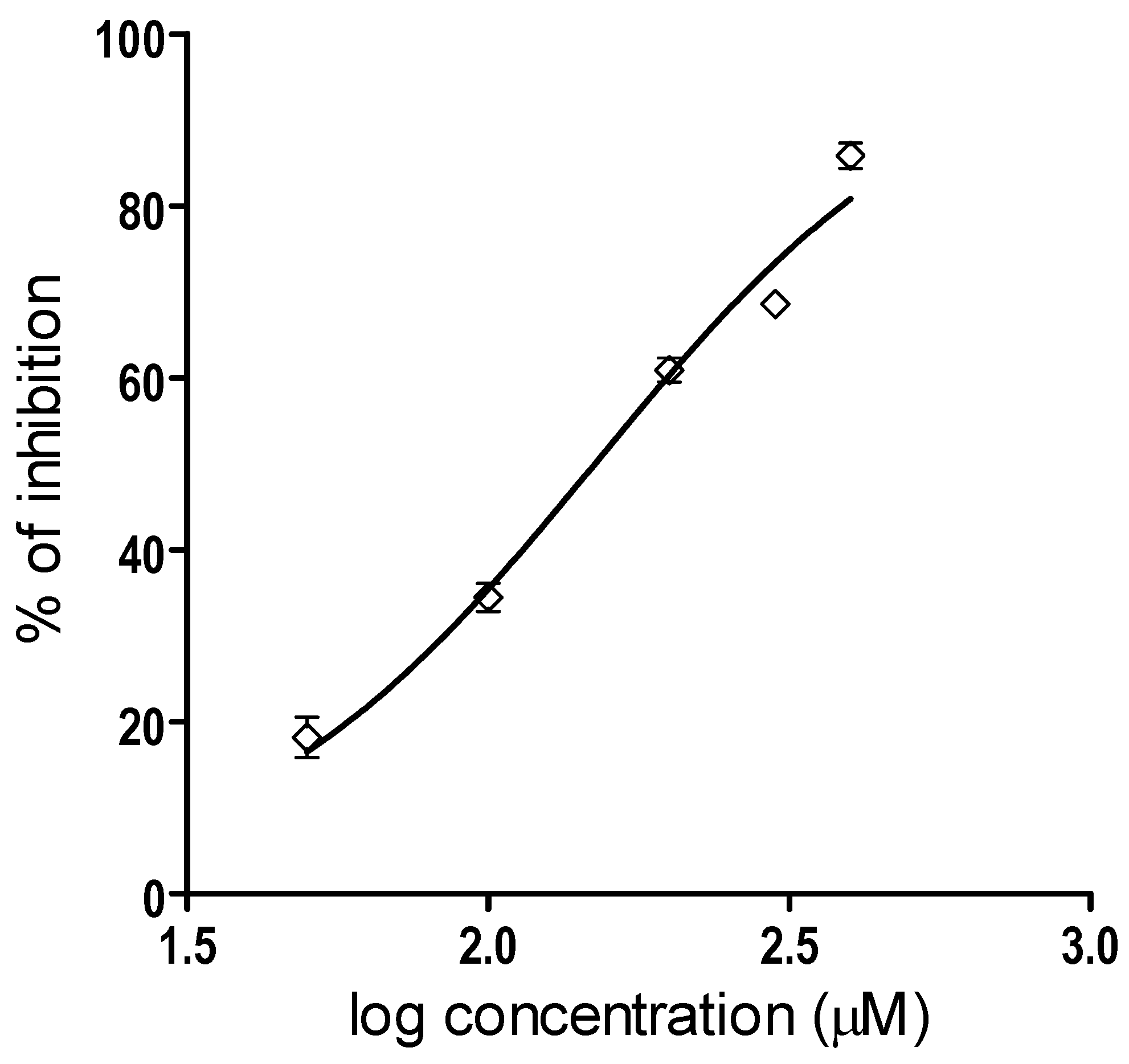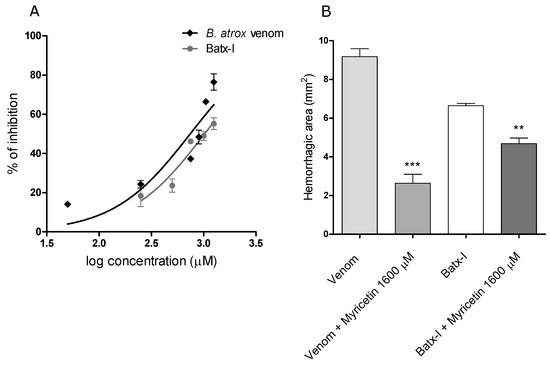 Figure 4.
Inhibition of
B. atrox
venom and Batx-I hemorrhagic activity by myricetin. (
A
) graphical representation of the value determination on
B. atrox
venom and Batx-I hemorrhagic activity. Different concentrations of myricetin were tested in pre-incubation assays as was described in the materials and methods section. Data are represented as % of inhibition and are expressed as mean values ± SEM (
n
= 3); (
B
) inhibition of
B. atrox
venom and Batx-I hemorrhagic activity by myricetin with independent injection. The minimum hemorrhagic dose for
B. atrox
venom (6 g /mouse) or Batx-I (30 g /mouse) was injected intradermally into mice and subsequently a solution 1600 M of myricetin was injected. Results are shown as mean ± SEM,
n
= 3. *** Represent statistical differences with 0.001 respect to
B. atrox
venom injection. ** Represent statistical differences with 0.01 respect to Batx-I injection.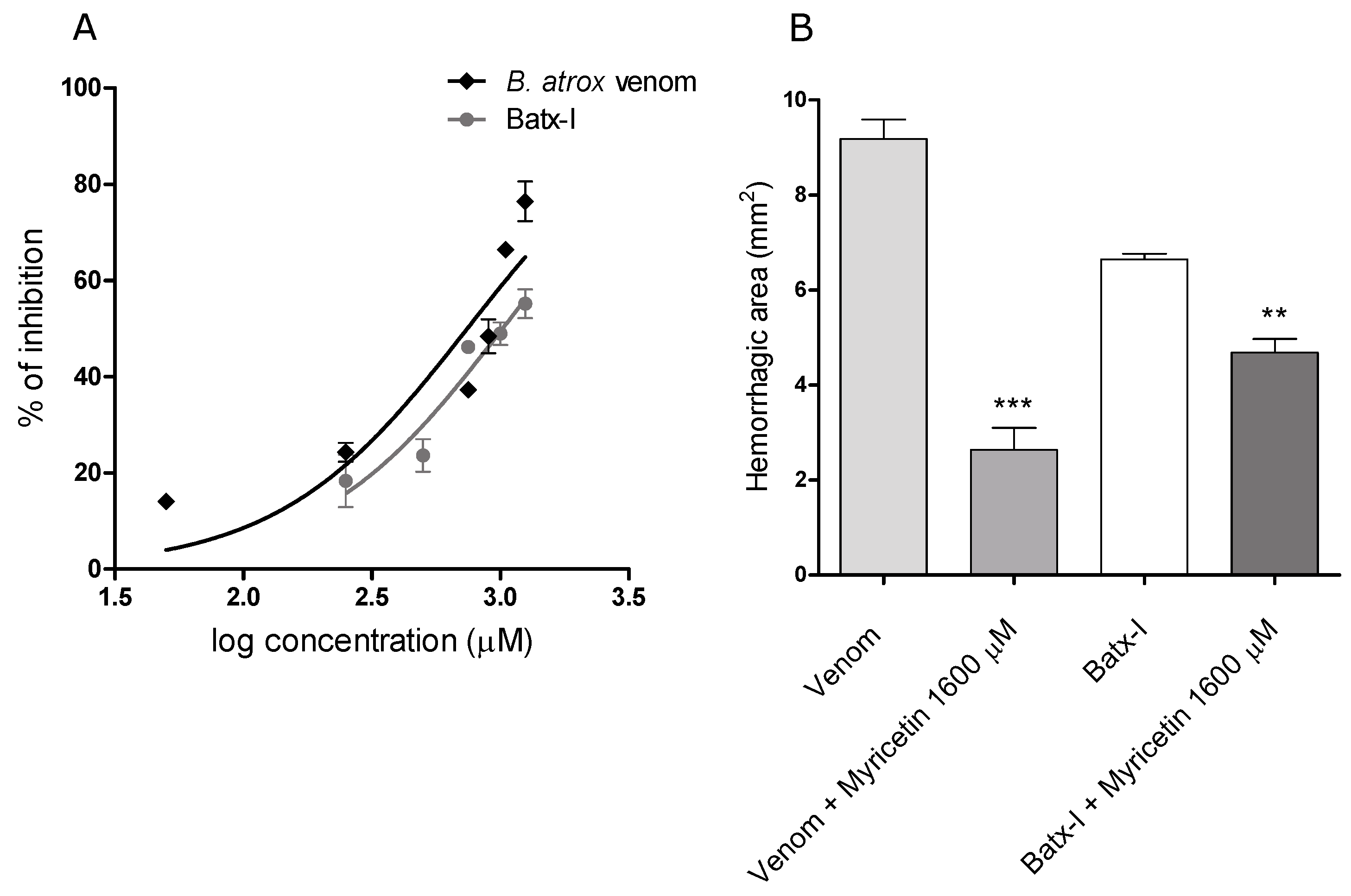 Figure 5.
Inhibition by myricetin of myotoxic activity induced by Batx-I. *** Represents statistical differences with respect to Batx-I with
p
-value < 0.001. (
n
= 3).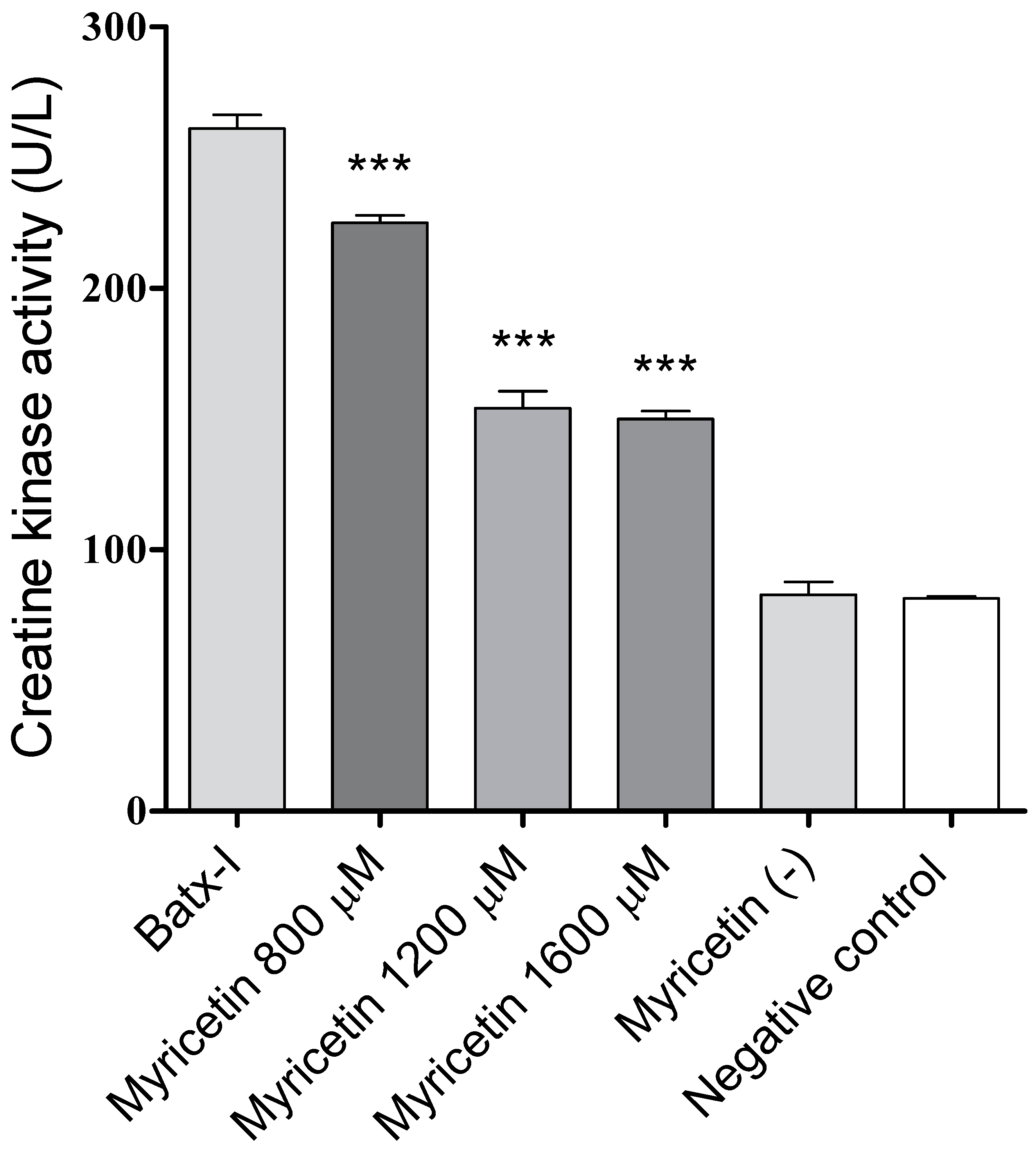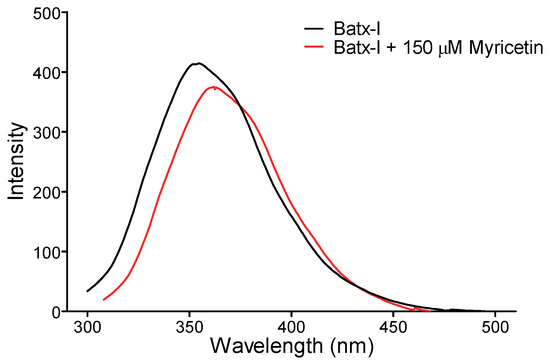 Figure 6. Intrinsic fluorescence spectrum of Batx-I in the presence or absence of 150 M of myricetin. Results are shown as a mean of three independent experiments.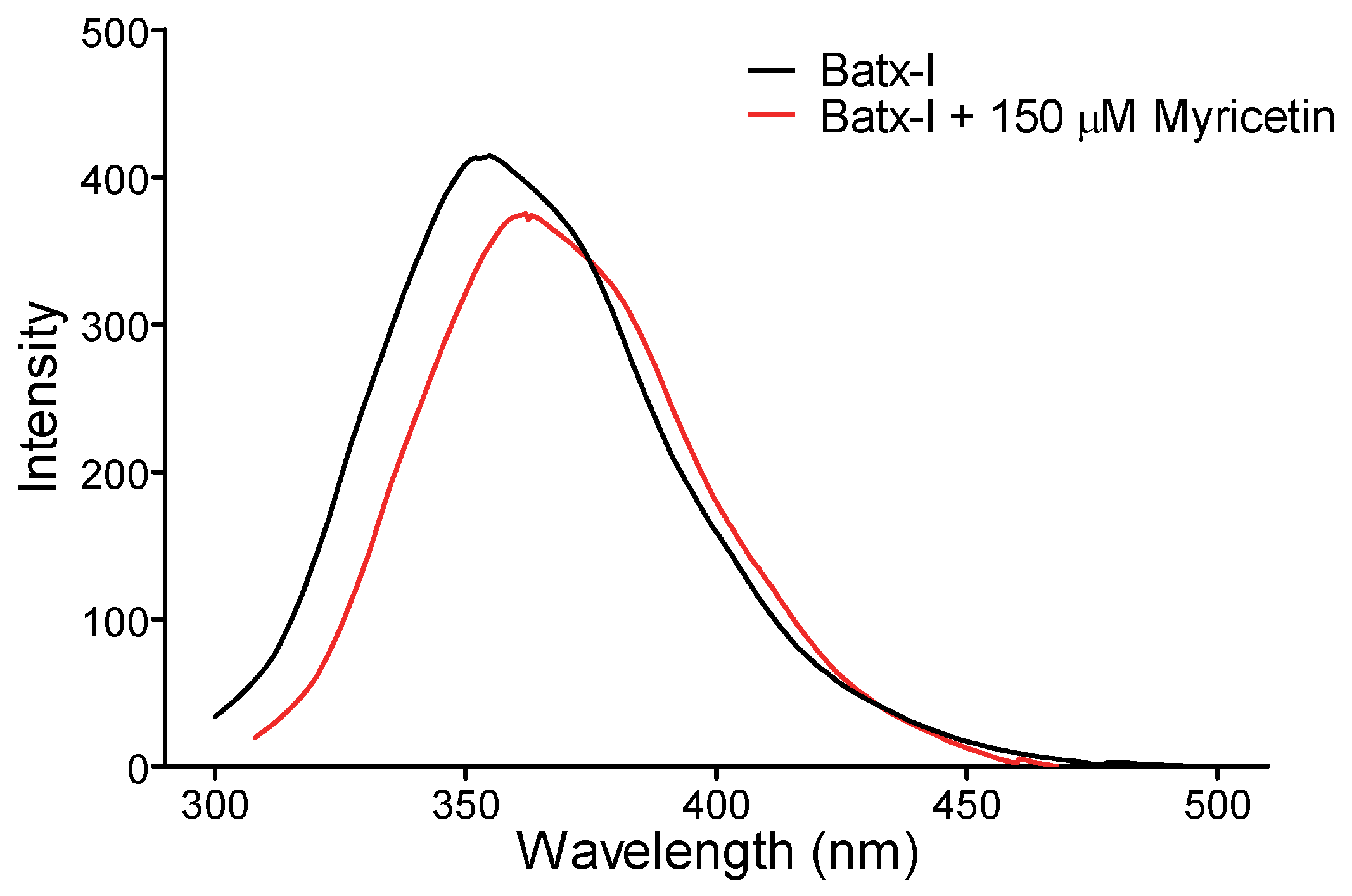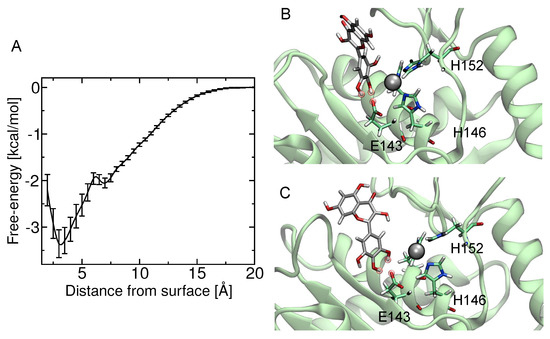 Figure 7. Free-energy calculation of myricetin binding to the active site of BaP1. (A) potential of mean force as a function of distance between the myricetin and metalloproteinase obtained from adaptive biasing force calculations; (B) image showing the proposed putative binding site for myricetin, with hydrogen bonds between hydroxyl groups at positions 3 and 4 of B-ring and one of the oxygens of the carboxylate group of the amino acid Glu143; (C) formation of hydrogen bonds between hydroxyl groups at positions 4 and 5 of B-ring and the amino acid Glu143.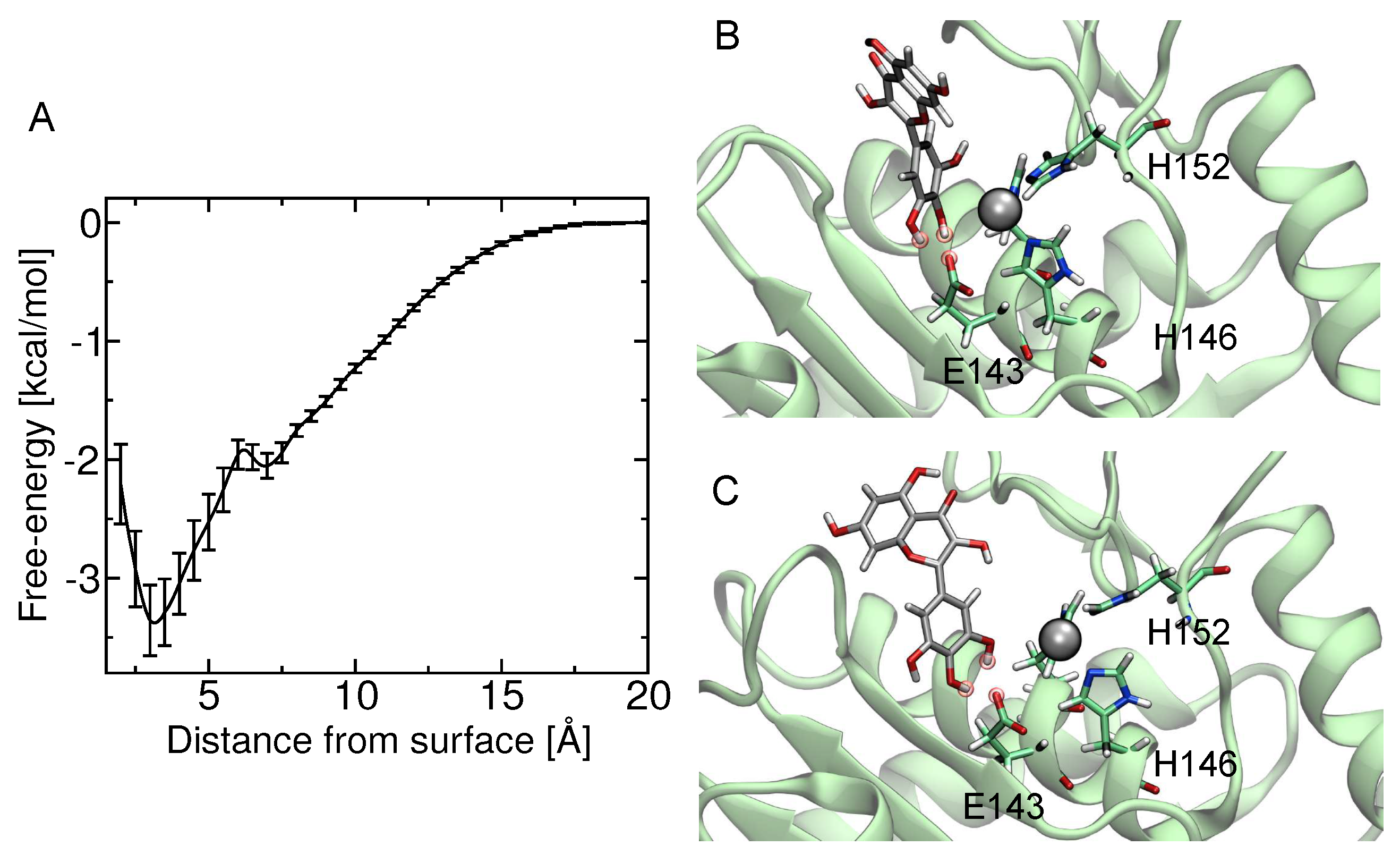 © 2018 by the authors. Licensee MDPI, Basel, Switzerland. This article is an open access article distributed under the terms and conditions of the Creative Commons Attribution (CC BY) license (http://creativecommons.org/licenses/by/4.0/).