Loss of the Phenolic Hydroxyl Group and Aromaticity from the Side Chain of Anti-Proliferative 10-Methyl-aplog-1, a Simplified Analog of Aplysiatoxin, Enhances Its Tumor-Promoting and Proinflammatory Activities
1
Division of Food Science and Biotechnology, Graduate School of Agriculture, Kyoto University, Kyoto 606-8502, Japan
2
Division of Molecular Pharmacology, Cancer Chemotherapy Center, Japanese Foundation for Cancer Research, Tokyo 135-8550, Japan
3
Laboratory of Molecular Pharmacology, Biosignal Research Center, Kobe University, Kobe 657-8501, Japan
4
Department of Applied Biological Science, Faculty of Agriculture, Kagawa University, Kagawa 761-0795, Japan
*
Author to whom correspondence should be addressed.
Academic Editor: Shunichi Fukuzumi
Received: 13 March 2017 / Revised: 5 April 2017 / Accepted: 11 April 2017 / Published: 13 April 2017
Abstract
Aplysiatoxin (ATX) is a protein kinase C (PKC) activator with potent tumor-promoting activity. In contrast, 10-methyl-aplog-1 (
1
), a simplified analog of ATX, was anti-proliferative towards several cancer cell lines without significant tumor-promoting and proinflammatory activities. To determine the effects of the phenolic group on the biological activities of
1
, we synthesized new derivatives (
2
,
3
) that lack the phenolic hydroxyl group and/or the aromatic ring. Compound
2
, like
1
, showed potent anti-proliferative activity against several cancer cell lines, but little with respect to tumor-promoting and proinflammatory activities. In contrast,
3
exhibited weaker growth inhibitory activity, and promoted inflammation and tumorigenesis. The binding affinity of
3
for PKCδ, which is involved in growth inhibition and apoptosis, was several times lower than those of
1
and
2
, possibly due to the absence of the hydrogen bond and CH/π interaction between its side chain and either Met-239 or Pro-241 in the PKCδ-C1B domain. These results suggest that both the aromatic ring and phenolic hydroxyl group can suppress the proinflammatory and tumor-promoting activities of
1
and, therefore, at least the aromatic ring in the side chain of
1
is indispensable for developing anti-cancer leads with potent anti-proliferative activity and limited side effects. In accordance with the binding affinity, the concentration of
3
necessary to induce PKCδ-GFP translocation to the plasma membrane and perinuclear regions in HEK293 cells was higher than that of
1
and
2
. However, the translocation profiles for PKCδ-GFP due to induction by
1
–
3
were similar.
View Full-Text
►

▼

Figures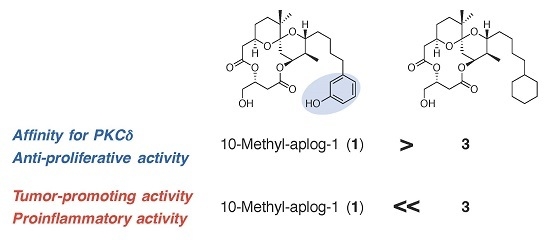 Graphical abstract
This is an open access article distributed under the
Creative Commons Attribution License
which permits unrestricted use, distribution, and reproduction in any medium, provided the original work is properly cited (CC BY 4.0).

Share & Cite This Article
MDPI and ACS Style
Hanaki, Y.; Kikumori, M.; Tokuda, H.; Okamura, M.; Dan, S.; Adachi, N.; Saito, N.; Yanagita, R.C.; Irie, K. Loss of the Phenolic Hydroxyl Group and Aromaticity from the Side Chain of Anti-Proliferative 10-Methyl-aplog-1, a Simplified Analog of Aplysiatoxin, Enhances Its Tumor-Promoting and Proinflammatory Activities. Molecules 2017, 22, 631.
Note that from the first issue of 2016, MDPI journals use article numbers instead of page numbers. See further details here.
Related Articles
Comments
[Return to top]