Assessment of Lipophilicity Indices Derived from Retention Behavior of Antioxidant Compounds in RP-HPLC
1
Faculty of Chemistry and Chemical Engineering, Babeş-Bolyai University, Arany Janos Str., No. 11, RO-400028 Cluj-Napoca, România
2
Faculty of Chemistry, Gdansk University of Technology, 80-233 Gdansk, Poland
*
Author to whom correspondence should be addressed.
Received: 27 February 2017 / Revised: 26 March 2017 / Accepted: 27 March 2017 / Published: 29 March 2017
Abstract
Reverse phase high pressure liquid chromatography was employed in order to evaluate the lipophilicity of antioxidant compounds from different classes, such as phenolic acids, flavanones, flavanols, flavones, anthocyanins, stilbenes, xantonoids, and proanthocyanidins. The retention time of each compound was measured using five different HPLC columns: RP18 (LiChroCART, Purosphere RP-18e), C8 (Zorbax, Eclipse XDBC8), C16-Amide (Discovery RP-Amide C16), CN100 (Saulentechnik, Lichrosphere), and pentafluorophenyl (Phenomenex, Kinetex PFP), and the mobile phase consisted of methanol and water (0.1% formic acid) in different proportions. The measurements were conducted at two different column temperatures, room temperature (22 °C) and, in order to mimic the environment from the human body, 37 °C. Furthermore, principal component analysis (PCA) was used to obtain new lipophilicity indices and holistic lipophilicity charts. Additionally, highly representative depictions of the chromatographic behavior of the investigated compounds and stationary phases at different temperatures were obtained using two new chemometric approaches, namely two-way joining cluster analysis and sum of ranking differences.
View Full-Text
►

▼

Figures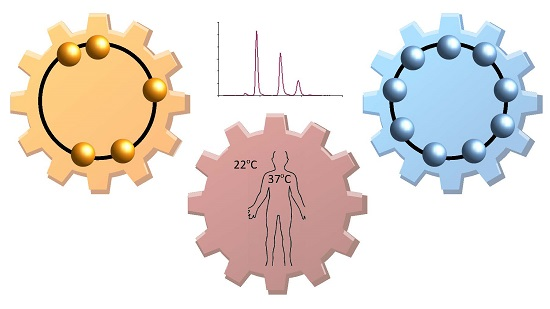 Graphical abstract
This is an open access article distributed under the
Creative Commons Attribution License
which permits unrestricted use, distribution, and reproduction in any medium, provided the original work is properly cited (CC BY 4.0).

Share & Cite This Article
MDPI and ACS Style
Sima, I.A.; Kot-Wasik, A.; Wasik, A.; Namieśnik, J.; Sârbu, C. Assessment of Lipophilicity Indices Derived from Retention Behavior of Antioxidant Compounds in RP-HPLC. Molecules 2017, 22, 550.
Note that from the first issue of 2016, MDPI journals use article numbers instead of page numbers. See further details here.
Related Articles
Comments
[Return to top]