Comparison of the Sulfonamide Inhibition Profiles of the β- and γ-Carbonic Anhydrases from the Pathogenic Bacterium
Burkholderia pseudomallei
1
Laboratorio di Chimica Bioinorganica, Dipartimento Di Chimica, Università degli Studi di Firenze, Polo Scientifico, Via della Lastruccia 3, 50019 Sesto Fiorentino, Florence, Italy
2
Istituto di Bioscienze e Biorisorse, CNR, Via Pietro Castellino 111, 80131 Napoli, Italy
3
Sezione di Scienze Farmaceutiche e Nutraceutiche, Dipartimento Neurofarba, Università degli Studi di Firenze, Via U. Schiff 6, 50019 Sesto Fiorentino, Florence, Italy
4
School of Chemistry, University of New South Wales, Sydney, New South Wales 2052, Australia
*
Authors to whom correspondence should be addressed.
Academic Editors: Derek J. McPhee and Diego Muñoz-Torrero
Received: 6 February 2017 / Revised: 16 February 2017 / Accepted: 3 March 2017 / Published: 7 March 2017
Abstract
We have cloned, purified, and characterized a β-carbonic anhydrase (CA, EC 4.2.1.1), BpsCAβ, from the pathogenic bacterium
Burkholderia pseudomallei
, responsible for the tropical disease melioidosis. The enzyme showed high catalytic activity for the physiologic CO
2
hydration reaction to bicarbonate and protons, with the following kinetic parameters: k
cat
of 1.6 × 10
5
s
−1
and k
cat
/K
M
of 3.4 × 10
7
M
−1
s
−1
. An inhibition study with a panel of 38 sulfonamides and one sulfamate—including 15 compounds that are used clinically—revealed an interesting structure–activity relationship for the interaction of this enzyme with these inhibitors. Many simple sulfonamides and clinically used agents such as topiramate, sulpiride, celecoxib, valdecoxib, and sulthiame were ineffective BpsCAβ inhibitors (K
I
> 50 µM). Other drugs, such as ethoxzolamide, dorzolamide, brinzolamide, zonisamide, indisulam, and hydrochlorothiazide were moderately potent micromolar inhibitors. The best inhibition was observed with benzene-1,3-disulfonamides—benzolamide and its analogs acetazolamide and methazolamide—which showed K
I
in the range of 185–745 nM. The inhibition profile of BpsCAβ is very different from that of the γ-class enzyme from the same pathogen, BpsCAγ. Thus, identifying compounds that would effectively interact with both enzymes is relatively challenging. However, benzolamide was one of the best inhibitors of both of these CAs with K
I
of 653 and 185 nM, respectively, making it an interesting lead compound for the design of more effective agents, which may be useful tools for understanding the pathogenicity of this bacterium.
View Full-Text
►

▼

Figures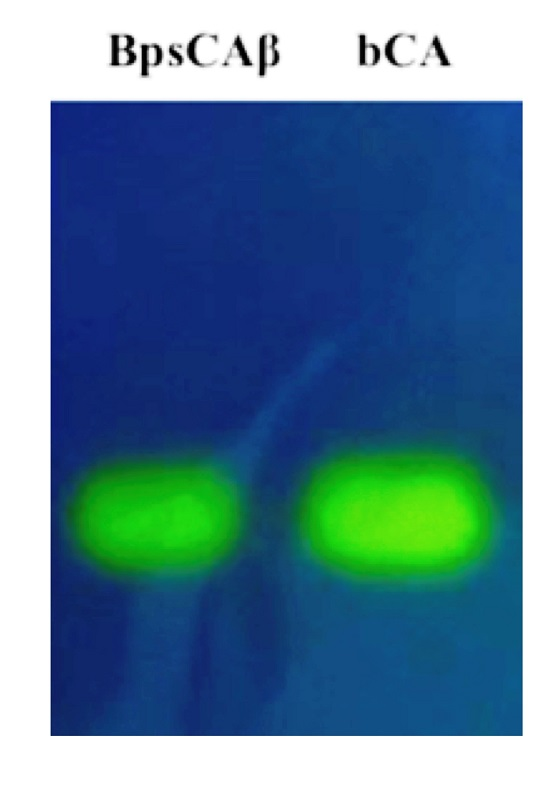 Graphical abstract
This is an open access article distributed under the
Creative Commons Attribution License
which permits unrestricted use, distribution, and reproduction in any medium, provided the original work is properly cited (CC BY 4.0).

Share & Cite This Article
MDPI and ACS Style
Vullo, D.; Del Prete, S.; Di Fonzo, P.; Carginale, V.; Donald, W.A.; Supuran, C.T.; Capasso, C. Comparison of the Sulfonamide Inhibition Profiles of the β- and γ-Carbonic Anhydrases from the Pathogenic Bacterium Burkholderia pseudomallei. Molecules 2017, 22, 421.
Note that from the first issue of 2016, MDPI journals use article numbers instead of page numbers. See further details here.
Related Articles
Comments
[Return to top]