Ginkgolic Acid C 17:1, Derived from
Ginkgo biloba

Leaves, Suppresses Constitutive and Inducible STAT3 Activation through Induction of PTEN and SHP-1 Tyrosine Phosphatase

1

College of Korean Medicine, Kyung Hee University, 24 Kyungheedae-ro, Dongdaemun-gu, Seoul 02447, Korea

2

College of Korean Medicine, Woosuk University, 46 Eoeun-ro, Wansan-gu, Jeonju-si, Jeollabuk-do 54987, Korea

3

Department of Radiation Oncology, University of Ulsan College of Medicine, Asan Medical Center, Seoul 05505, Korea

4

Department of Botany and Microbiology, College of Science, King Saud University, Riyadh 11451, Saudi Arabia

5

School of Biomedical Sciences, Curtin Health Innovation Research Institute, Curtin University, Perth, WA 6009, Australia

6

Department of Pharmacology, Yong Loo Lin School of Medicine, National University of Singapore, Singapore 117600, Singapore

*

Authors to whom correspondence should be addressed.

Academic Editors: Dong-Kug Choi and Palanivel Ganesan

Received: 8 November 2016 / Revised: 25 January 2017 / Accepted: 7 February 2017 / Published: 13 February 2017
Abstract
Ginkgolic acid C 17:1 (GAC 17:1) extracted from
Ginkgo biloba
leaves, has been previously reported to exhibit diverse antitumor effect(s) through modulation of several molecular targets in tumor cells, however the detailed mechanism(s) of its actions still remains to be elucidated. Signal transducer and activator of transcription 3 (STAT3) is an oncogenic transcription factor that regulates various critical functions involved in progression of diverse hematological malignancies, including multiple myeloma, therefore attenuating STAT3 activation may have a potential in cancer therapy. We determined the anti-tumor mechanism of GAC 17:1 with respect to its effect on STAT3 signaling pathway in multiple myeloma cell lines. We found that GAC 17:1 can inhibit constitutive activation of STAT3 through the abrogation of upstream JAK2, Src but not of JAK1 kinases in U266 cells and also found that GAC can suppress IL-6-induced STAT3 phosphorylation in MM.1S cells. Treatment of protein tyrosine phosphatase (PTP) inhibitor blocked suppression of STAT3 phosphorylation by GAC 17:1, thereby indicating a critical role for a PTP. We also demonstrate that GAC 17:1 can induce the substantial expression of PTEN and SHP-1 at both protein and mRNA level. Further, deletion of
PTEN
and
SHP-1
genes by siRNA can repress the induction of PTEN and SHP-1, as well as abolished the inhibitory effect of drug on STAT3 phosphorylation. GAC 17:1 down-regulated the expression of STAT3 regulated gene products and induced apoptosis of tumor cells. Overall, GAC 17:1 was found to abrogate STAT3 signaling pathway and thus exert its anticancer effects against multiple myeloma cells.
View Full-Text
►

▼

Figures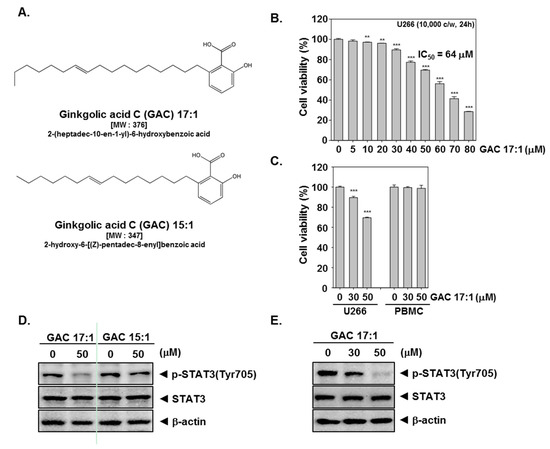 Figure 1
This is an open access article distributed under the
Creative Commons Attribution License
which permits unrestricted use, distribution, and reproduction in any medium, provided the original work is properly cited (CC BY 4.0).

Share & Cite This Article
MDPI and ACS Style
Baek, S.H.; Lee, J.H.; Kim, C.; Ko, J.-H.; Ryu, S.-H.; Lee, S.-G.; Yang, W.M.; Um, J.-Y.; Chinnathambi, A.; Alharbi, S.A.; Sethi, G.; Ahn, K.S. Ginkgolic Acid C 17:1, Derived from Ginkgo biloba Leaves, Suppresses Constitutive and Inducible STAT3 Activation through Induction of PTEN and SHP-1 Tyrosine Phosphatase. Molecules 2017, 22, 276.
Note that from the first issue of 2016, MDPI journals use article numbers instead of page numbers. See further details here.
Related Articles
Comments
[Return to top]