Pathogenic
Acanthamoeba castellanii

Secretes the Extracellular Aminopeptidase M20/M25/M40 Family Protein to Target Cells for Phagocytosis by Disruption

1

Institute of Basic Medical Sciences, College of Medicine, National Cheng Kung University, Tainan 701, Taiwan

2

Institute of Biotechnology, College of Bioscience and Biotechnology, National Cheng Kung University, Tainan 701, Taiwan

3

Department of Biotechnology and Bioindustry Sciences, College of Bioscience and Biotechnology, National Cheng Kung University, Tainan 701, Taiwan

4

Department of Microbiology and Immunology, College of Medicine, National Cheng Kung University, Tainan 701, Taiwan

5

Physiology Division, Livestock Research Institute, Council of Agriculture, Taichung 41362, Taiwan

6

Department of Parasitology, College of Medicine, National Cheng Kung University, Tainan City 701, Taiwan

†

The first two authors contributed equally.

*

Author to whom correspondence should be addressed.

Received: 23 November 2017 / Revised: 14 December 2017 / Accepted: 15 December 2017 / Published: 18 December 2017
Abstract
Acanthamoeba
is free-living protist pathogen capable of causing a blinding keratitis and granulomatous encephalitis. However, the mechanisms of
Acanthamoeba
pathogenesis are still not clear. Here, our results show that cells co-cultured with pathogenic
Acanthamoeba
would be spherical and floated, even without contacting the protists. Then, the
Acanthamoeba
protists would contact and engulf these cells. In order to clarify the contact-independent pathogenesis mechanism in
Acanthamoeba
, we collected the
Acanthamoeba
-secreted proteins (Asp) to incubate with cells for identifying the extracellular virulent factors and investigating the cytotoxicity process. The Asps of pathogenic
Acanthamoeba
express protease activity to reactive Leu amino acid in ECM and induce cell-losing adhesion ability. The M20/M25/M40 superfamily aminopeptidase protein (ACA1_264610), an aminopeptidase be found in Asp, is upregulated after
Acanthamoeba
and C6 cell co-culturing for 6 h. Pre-treating the Asp with leucine aminopeptidase inhibitor and the specific antibodies of
Acanthamoeba
M20/M25/M40 superfamily aminopeptidase could reduce the cell damage during Asp and cell co-incubation. These results suggest an important functional role of the
Acanthamoeba
secreted extracellular aminopeptidases in the
Acanthamoeba
pathogenesis process. This study provides information regarding clinically pathogenic isolates to target specific molecules and design combined drugs.
View Full-Text
►

▼

Figures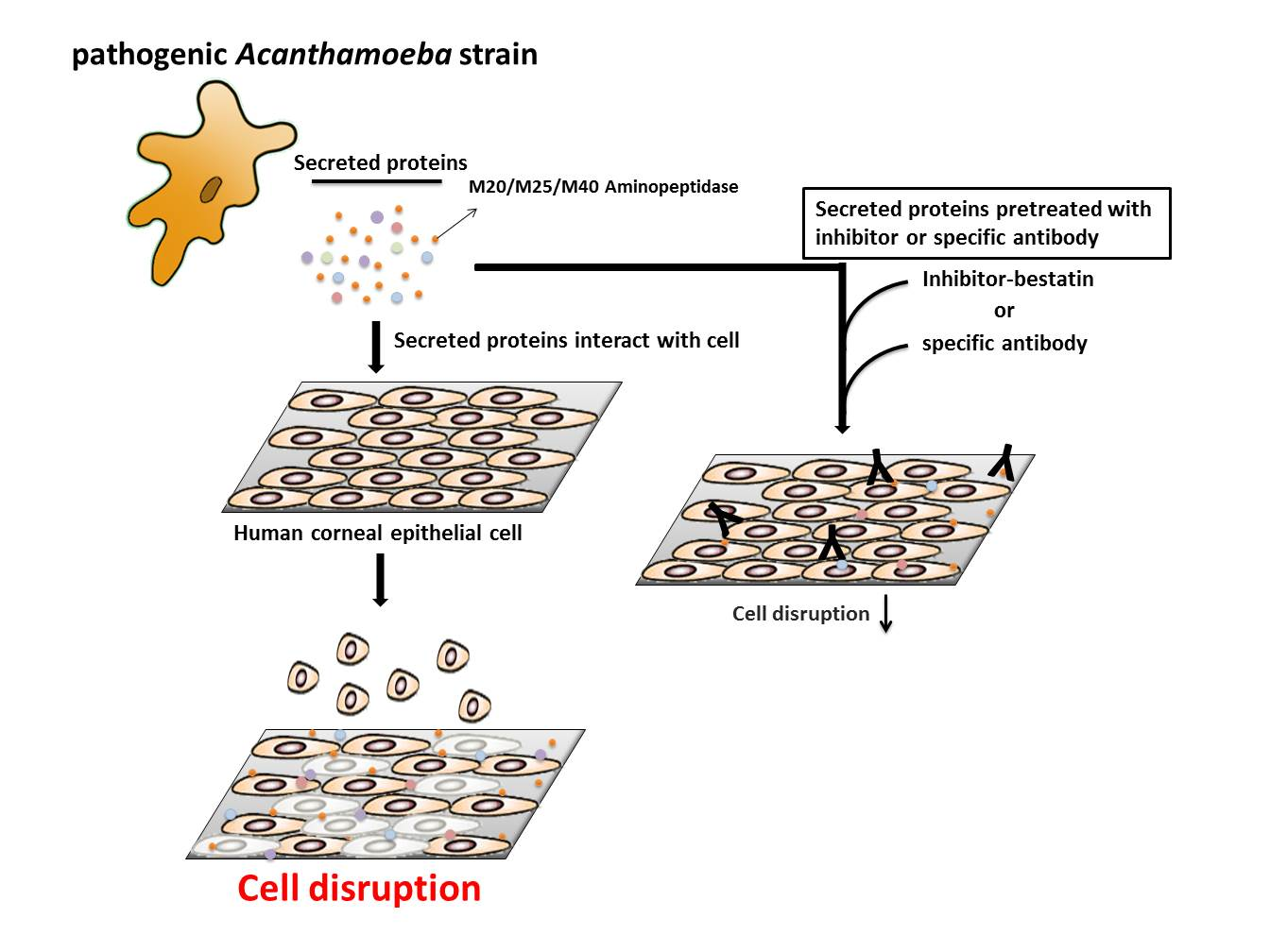 Graphical abstract
This is an open access article distributed under the
Creative Commons Attribution License
which permits unrestricted use, distribution, and reproduction in any medium, provided the original work is properly cited (CC BY 4.0).

Share & Cite This Article
MDPI and ACS Style
Huang, J.-M.; Liao, C.-C.; Kuo, C.-C.; Chen, L.-R.; Huang, L.L.H.; Shin, J.-W.; Lin, W.-C. Pathogenic Acanthamoeba castellanii Secretes the Extracellular Aminopeptidase M20/M25/M40 Family Protein to Target Cells for Phagocytosis by Disruption. Molecules 2017, 22, 2263.
Note that from the first issue of 2016, MDPI journals use article numbers instead of page numbers. See further details here.
Related Articles
Comments
[Return to top]