Synthesis, Analysis, Cholinesterase-Inhibiting Activity and Molecular Modelling Studies of 3-(Dialkylamino)-2-hydroxypropyl 4-[(Alkoxy-carbonyl)amino]benzoates and Their Quaternary Ammonium Salts
1
Department of Chemical Drugs, Faculty of Pharmacy, University of Veterinary and Pharmaceutical Sciences, Palackeho 1, 61242 Brno, Czech Republic
2
Department of Natural Drugs, Faculty of Pharmacy, University of Veterinary and Pharmaceutical Sciences, Palackeho 1, 61242 Brno, Czech Republic
3
Facultad de Química, Bioquímica y Farmacia, Universidad Nacional de San Luis-IMIBIO-SL-CONICET, Chacabuco 915, San Luis 5700, Argentina
4
CEITEC–Central European Institute of Technology, Masaryk University, Kamenice 753/5, 62500 Brno, Czech Republic
5
Global Change Research Institute CAS, Belidla 986/4a, 60300 Brno, Czech Republic
*
Author to whom correspondence should be addressed.
Received: 30 September 2017 / Revised: 8 November 2017 / Accepted: 21 November 2017 / Published: 23 November 2017
Abstract
Tertiary amines 3-(dialkylamino)-2-hydroxypropyl 4-[(alkoxycarbonyl)amino]benzoates and their quaternary ammonium salts were synthesized. The final step of synthesis of quaternary ammonium salts was carried out by microwave-assisted synthesis. Software-calculated data provided the background needed to compare fifteen new resulting compounds by their physicochemical properties. The acid dissociation constant (p
K
a
) and lipophilicity index (log
P
) of tertiary amines were determined; while quaternary ammonium salts were characterized by software-calculated lipophilicity index and surface tension. Biological evaluation aimed at testing acetylcholinesterase and butyrylcholinesterase-inhibiting activity of synthesized compounds. A possible mechanism of action of these compounds was determined by molecular modelling study using combined techniques of docking; molecular dynamics simulations and quantum mechanics calculations.
View Full-Text
►

▼

Figures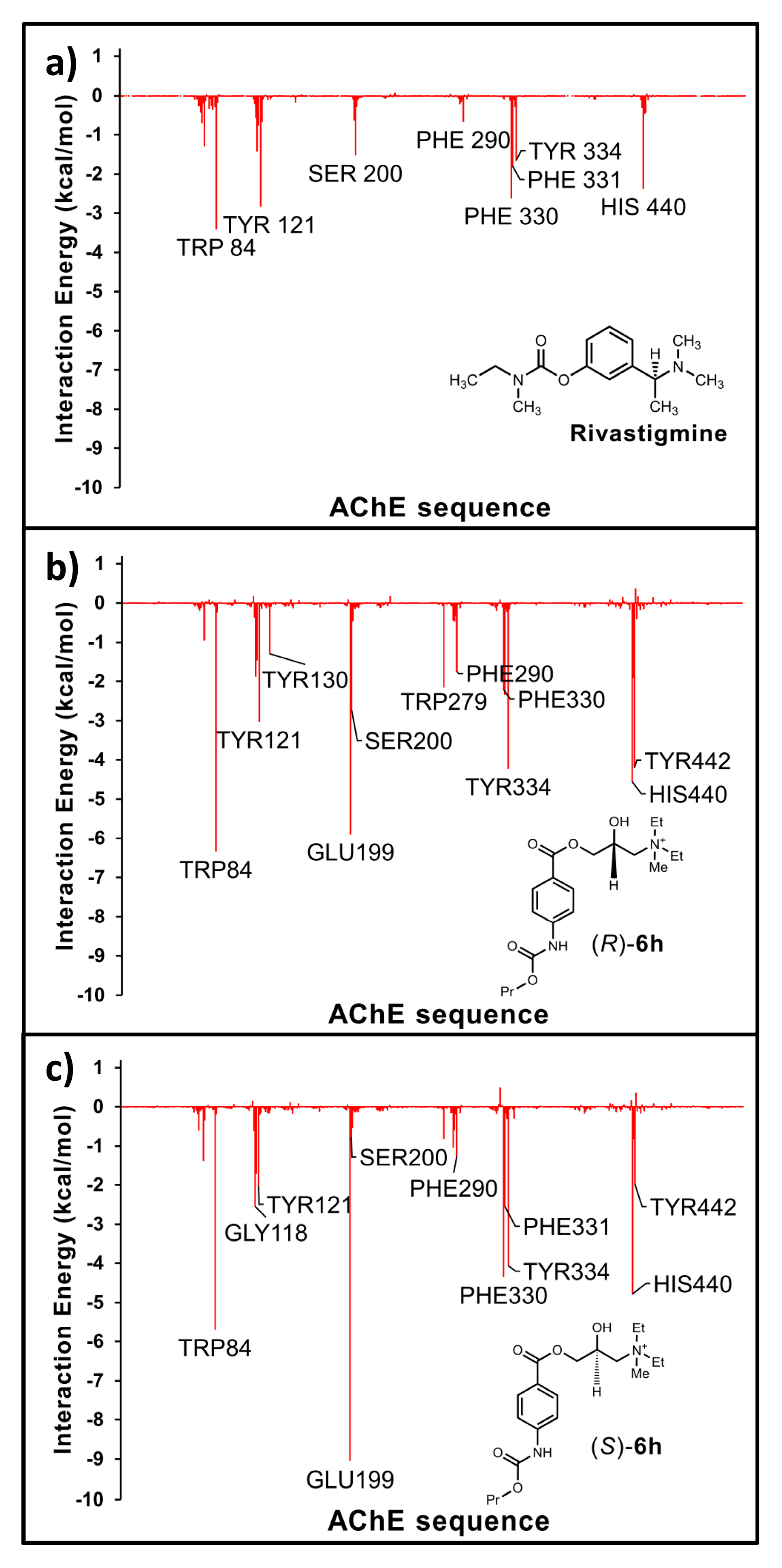 Figure 1
This is an open access article distributed under the
Creative Commons Attribution License
which permits unrestricted use, distribution, and reproduction in any medium, provided the original work is properly cited (CC BY 4.0).

Share & Cite This Article
MDPI and ACS Style
Padrtova, T.; Marvanova, P.; Odehnalova, K.; Kubinova, R.; Parravicini, O.; Garro, A.; Enriz, R.D.; Humpa, O.; Oravec, M.; Mokry, P. Synthesis, Analysis, Cholinesterase-Inhibiting Activity and Molecular Modelling Studies of 3-(Dialkylamino)-2-hydroxypropyl 4-[(Alkoxy-carbonyl)amino]benzoates and Their Quaternary Ammonium Salts. Molecules 2017, 22, 2048.
Note that from the first issue of 2016, MDPI journals use article numbers instead of page numbers. See further details here.
Related Articles
Comments
[Return to top]