Lanthanide Photoluminescence in Heterometallic Polycyanidometallate-Based Coordination Networks
Faculty of Chemistry, Jagiellonian University in Kraków, Gronostajowa 2, 30-387 Kraków, Poland
*
Author to whom correspondence should be addressed.
Received: 16 October 2017 / Revised: 2 November 2017 / Accepted: 2 November 2017 / Published: 4 November 2017
Abstract
Solid-state functional luminescent materials arouse an enormous scientific interest due to their diverse applications in lighting, display devices, photonics, optical communication, low energy scintillation, optical storage, light conversion, or photovoltaics. Among all types of solid luminophors, the emissive coordination polymers, especially those based on luminescent trivalent lanthanide ions, exhibit a particularly large scope of light-emitting functionalities, fruitfully investigated in the aspects of chemical sensing, display devices, and bioimaging. Here, we present the complete overview of one of the promising families of photoluminescent coordination compounds, that are heterometallic d–f cyanido-bridged networks composed of lanthanide(3+) ions connected through cyanide bridges with polycyanidometallates of d-block metal ions. We are showing that the combination of cationic lanthanide complexes of selected inorganic and organic ligands with anionic homoligand [M(CN)
x
]
n−
(
x
= 2, 4, 6 and 8) or heteroligand [M(L)(CN)4]
2−
(L = bidentate organic ligand, M = transition metal ions) anions is the efficient route towards the emissive coordination networks revealing important optical properties, including 4f-metal-centred visible and near-infrared emission sensitized through metal-to-metal and/or ligand-to-metal energy transfer processes, and multi-coloured photoluminescence switchable by external stimuli such as excitation wavelength, temperature, or pressure.
View Full-Text
►

▼

Figures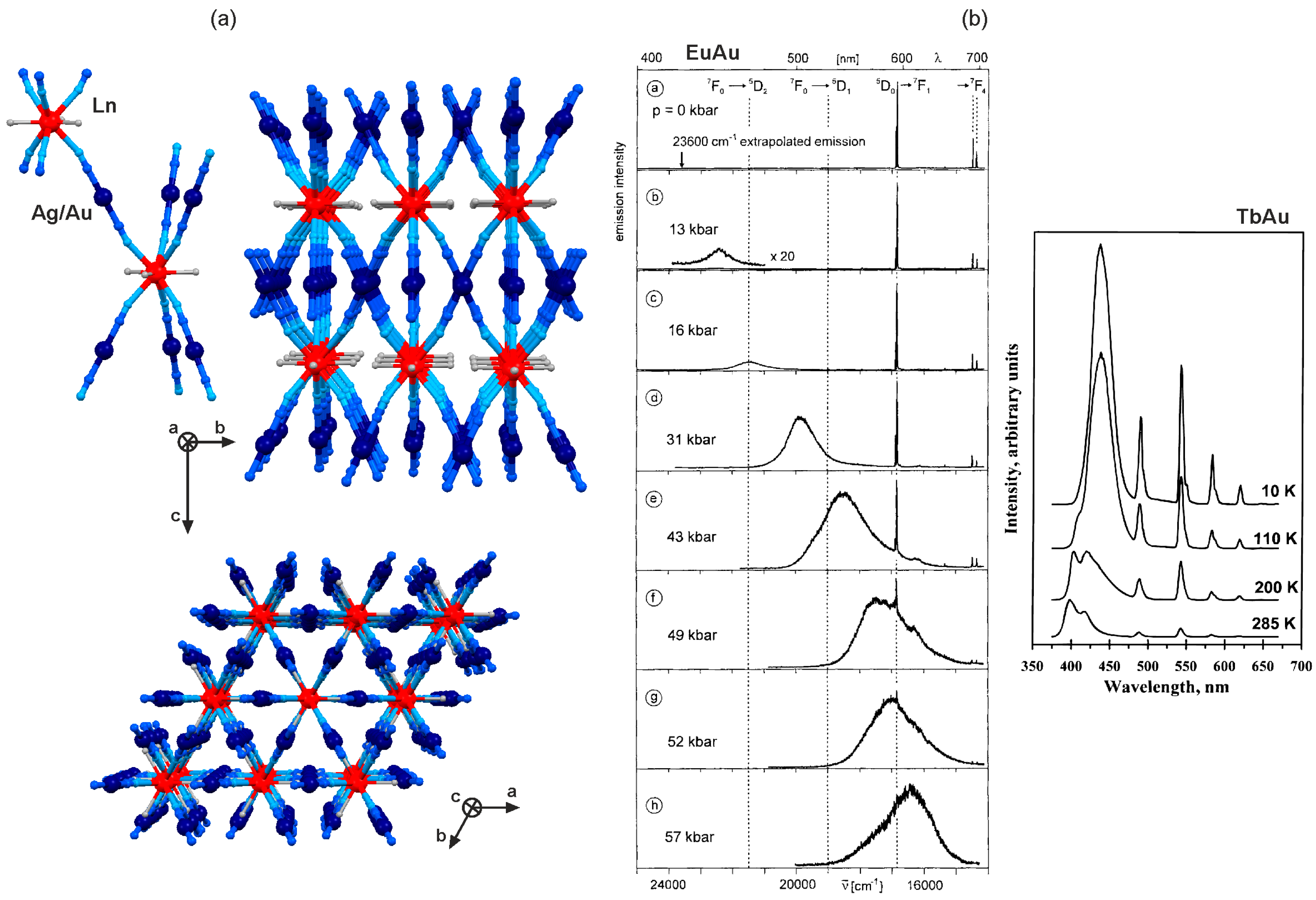 Figure 1
This is an open access article distributed under the
Creative Commons Attribution License
which permits unrestricted use, distribution, and reproduction in any medium, provided the original work is properly cited (CC BY 4.0).

Share & Cite This Article
MDPI and ACS Style
Chorazy, S.; Wyczesany, M.; Sieklucka, B. Lanthanide Photoluminescence in Heterometallic Polycyanidometallate-Based Coordination Networks. Molecules 2017, 22, 1902.
Note that from the first issue of 2016, MDPI journals use article numbers instead of page numbers. See further details here.
Related Articles
Comments
[Return to top]